Our Bond Is Our Strength On This Himalayan Expedition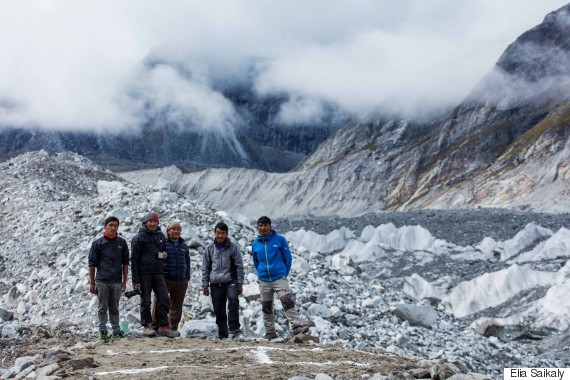 A few weeks back I watched in sheer horror as my best friend and climbing partner Gabriel Filippi flew off the cliff he was scaling, upside-down and backwards to what I was certain would be paralysis or death. He bounced uncontrollably like a rag doll, over 60 feet, from cliff to cliff, before eventually coming to a stop just feet next to where the third member of our team, Pasang Kaji Sherpa, was belaying him. In total shock, I ran down to his aid praying for the best, yet terrified of the worst possible outcome.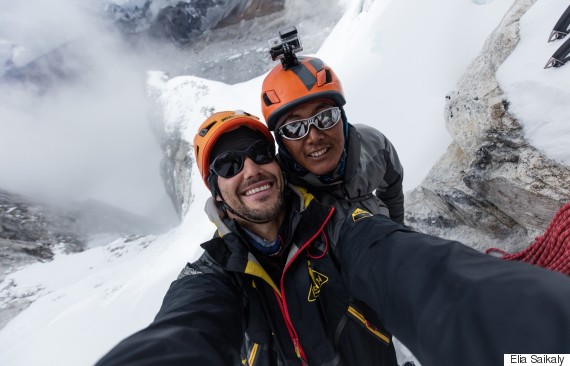 Miraculously, Gabriel survived. He escaped death. We spent nearly 30 minutes helping him orient himself as he had no idea where we were or what we were doing in Nepal. He was alive, but we needed to get him down to safety.

Pasang Kaji Sherpa and I went into rescue mode, belayed and short roped Gab down to safety, 500 metres below -- a Herculean effort to cut and kick steps in the thin 5,700-metre air, for one tumble could potentially escalate the miracle on hand into a code red evacuation. Miraculously again, Gab was able to stand on his own, demonstrating incredible will to survive.

In short, we evacuated Gab. The following morning, the incredible porters working with us at basecamp built a helicopter landing pad with their bare hands and we got Gab on the chopper down to safety in Kathmandu.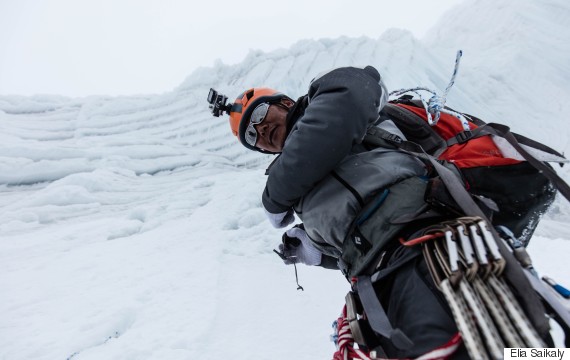 It's been one hell of an emotional roller coaster ride since the accident. The priority was and always has been Gab's safety and well being. He is now home, almost unscathed, with a severe concussion and the tale of a fall that would have killed most climbers.

We came to Nepal to live a dream and for many days, that dream was over. Our mission was to attempt scale two mountains recently re-named in honour of Sir Edmund Hillary and Tenzing Norgay, the first two men to successfully climb climb Mt. Everest. According to the Nepalese Government, both summits are unclimbed.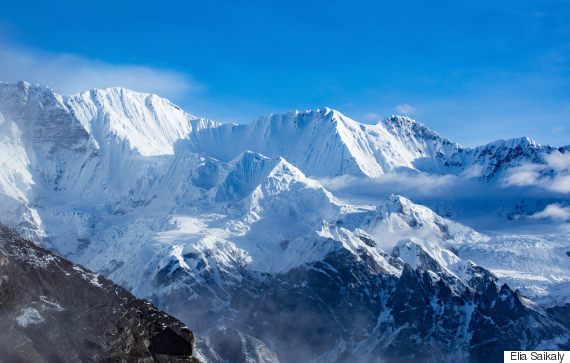 For those who aren't alpinists, allow me to break things down a little for you. We live in the age of commercial climbing expeditions. As illustrated in the recent Everest Hollywood film, based on the best selling book Into Thin Air, clients who aspire to climb Mt. Everest can dish out $65,000 for a spot on an expedition.
There are traditionally hundreds of Sherpas working on the mountain and in essence the only responsibilities the "clients" have are to carry their water, basic snacks, warm clothes for the day and one bottle of oxygen if the client manages to perform and stay healthy long enough for an attempt at a summit push, where all they need to do is clip into a safety line and place one foot in front of another.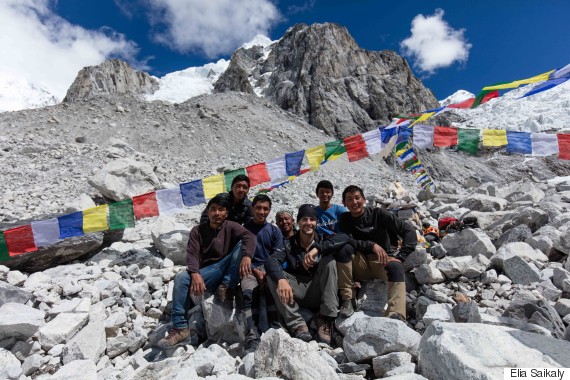 The path is broken, the safety lines are put in place, the tents, the camps, the food and the water is traditionally 100 per cent taken care of by hired guides and climbing Sherpas. The route is known and there is a certain level of rescue support should anything go wrong.

In the spirit of adventure, we decided that we would steer away from the classic Himalayan climbs and set out on our own as a small three man climbing team. We hired a minimal team of porters to help us establish basecamp at 5,200 metres.
We're carrying everything ourselves that we need to survive including 2,000 metres of safety lines, ice screws, snow pickets, biners, stoves, gas and personal climbing gear, not to mention a whole whack of camera gear as my other responsibility is to film and photograph this climb every step of the way. Why you ask?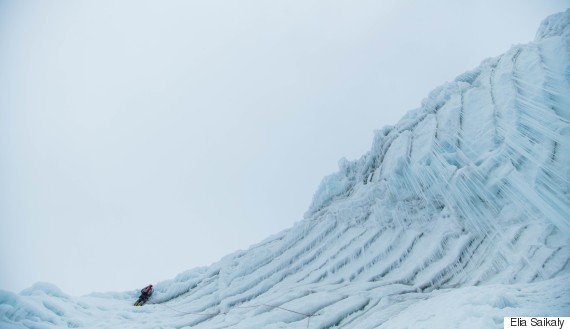 For me, this project was and is about Pasang Kaji Sherpa. A man I've built an unbreakable bond with over the past four years on Himalayan expeditions. We've stood on top of the world together and survived two devastating avalanches on Mt. Everest, in 2014 and 2015.
It was clear to me that the first to attempt, and possibly succeed, on these two peaks should be a Sherpa. These are after all their mountains and Nepal is their beautiful country. After so much hardship in the high Himalayas over the past few years, combined with the reality of being wrongfully cast in the shadows, we wanted to enable Pasang Kaji and help him climb from the shadows into the limelight where he and his Sherpa brothers belong. Not as load carriers, but as leaders.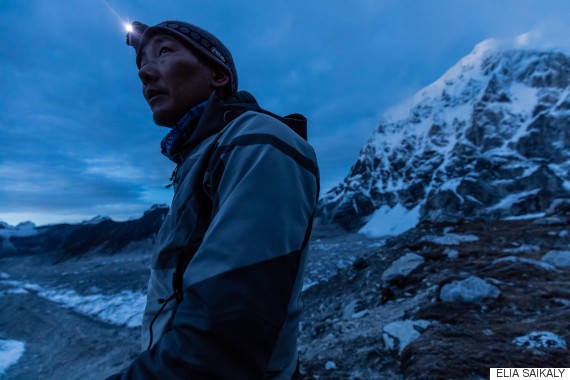 The evening we rescued Gabriel, Pasang Kaji Sherpa welled up in front of me, an uncommon act for a Sherpa, and asked me: Why we going down? Why we don't try? Gabriel is OK? Torn between right and wrong under extreme duress and uncontrollable circumstances, I decided to listen. I was so caught up with the evacuation that I failed to consider the feelings and the ambition of my dear Sherpa friend. I decided in that moment that I would try to salvage this expedition, ascend as high as we can, as two friends with our team leader's spirit with us.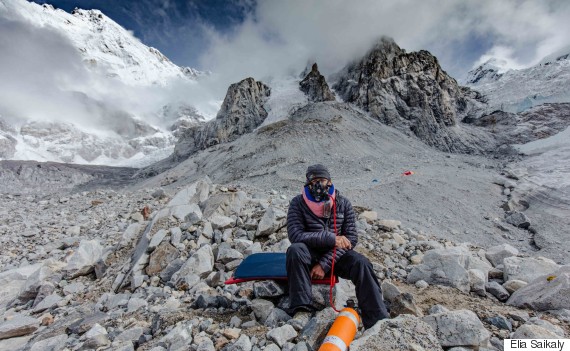 It's been a near-impossible feat trying to reinstate this expedition, but after 19 days of hardship, which includes flying to Kathmandu to support Gabriel to be by his side, only to turn around and return to the Himalayas, walk 55 kilometres uphill to basecamp in the rain, turn the yaks and porters around so we could make a proper attempt, we are finally back at Mt. Hillary and Tenzing basecamp.

Will we make it? We have no idea. But our spirits are strong and our hearts are in the right place. Pasang Kaji and I will climb as high as the mountain Gods will allow us. It's more dangerous than its ever been at this point as we are down our team leader. We both have loved ones and families back home that are supporting us every step of the way. Nothing would be more incredible than to see Pasang Kaji stand up there first as a Sherpa, symbolically, for his people, as a leader, at the forefront, where I believe he and his Sherpa brothers belong.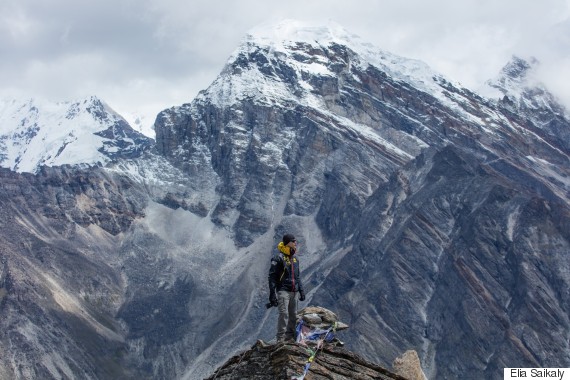 Deepest of breaths as the outcome is now the most uncertain it's ever been. Together we climb.
Follow HuffPost Canada Blogs on Facebook
Also on HuffPost:
The Everest Trail: Over The Years
Mountaineer Bachendri Pal, the first Indian woman to scale the Mount Everest in 1984, poses for The Times of India in Bombay.

A photo shows George Leigh Mallory and other members of 1924 Everest expedition team in an art gallery in New Delhi on May 3, 1999.

Mountaineer Mandip Singh Soin, who scaled the Mount Everest, is captured by The Times of India lenseye at his home on March 3, 1999.

Santosh Yadav, Indian mountaineer who scaled the Mount Everest twice in succession, in 1992 and 93, and was awarded Padam Shree, in New Delhi on June 12, 1992.

Portrait of John Hunt, one of the team members, who conquered Mount Everest, in Delhi on January 19, 1953.

19-year-old Krushnaa Patil, an avid trekker from Pune who scaled Mount Everest last May and also Mt Vinson Massif, the tallest peak in Antarctica in December, inaugurated the 40-minute documentary 'Everest' at the Nehru Science Centre in Mumbai on February 1, 2010.

Mark Inglis, double amputee, mountaineer and motivational speaker, in Mumbai on April 30, 2011. New Zealand mountaineer Mark Inglis, who lost his legs in a climbing accident 31 years ago, is the first double amputee to reach the summit of Mount Everest. The jolly Kiwi is in Mumbai city to deliver a series of motivational lectures to corporates, schools and whoever is willing to borrow inspiration from his survival story.

Major Neha Bhatnagar from Jaipur conquers Mt. Everest on May 27, 2012.

Arunima Sinha, India's first amputee and the world's first female amputee to scale Mount Everest flashes victory sign during a press conference in Ranchi on May 31, 2013. The 26-year-old Arunima reached the summit on May 21, 2013. Arunima, a resident of Ambedkar Nagar in Uttar Pradesh, was pushed out of a moving train after she resisted a chain-snatching attempt by some criminals, as she was travelling from Lucknow to Delhi two years ago. One of her legs had to be amputated below the knee as a result.

Member of the successful Indian mountaineering team to Mount Everest in May 1965, Major H P S Ahluwalia (left sitting), presents his autobiography 'Higher Than Everest' to Prime Minister Indira Gandhi in New Delhi on May 11, 1973.
Follow Elia Saikaly on Twitter: www.twitter.com/eliasaikaly