Yes, I'm Judging Your Stupid Excuse For Not Donating Blood
Many Canadians have good excuses for not donating blood.
Blood Services might have denied them, for a number of different reasons.
They often travel internationally. They have a new tattoo. They're men who have sex with men. Their hemoglobin levels are too low. They have a rare health condition or just a cold.
But I hear some bad excuses, too.
The dumbest excuse I hear is that they're scared of needles.
They're busy and their local clinic doesn't have hours that work with their schedule. Depending on where you live, that excuse doesn't hold up: Many clinics are open on Saturdays and early on weekday mornings.
They're afraid that they either don't have enough blood to give, or that their body won't be able to replenish the blood they've lost. (You do and it does.)
They're scared of catching a disease.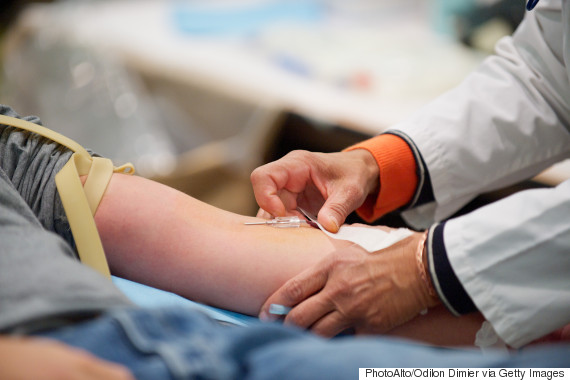 The needle really is not as sinister as you'd think. (Photo: Getty)
But the dumbest excuse I hear is that they're scared of needles.
How old are you? Five? I understand if you were scared of them as a kid when you got your booster shot, but children are afraid of a number of things.
You're an adult who understands what's happening and hopefully trusts that the person delivering your vaccination or taking your blood is a professional and isn't trying to hurt you.
Needles can be sinister if someone you know injects illegal drugs, or you still believe those urban myths we all heard as children about being pricked by one in a movie theatre seat and ending up with HIV.
It only involves giving up less than half a litre, and takes less than an hour of your time.
But needles are still the primary way that medical professionals get substances we need into our bloodstreams, and will be for the foreseeable future.
Listen: donating blood actually saves lives. It only involves giving up less than half a litre (which Canadian Blood Services refers to as a single unit), and takes less than an hour.
And donations have probably helped a few people you know.
Your friend's son who had leukemia? He may have needed eight units a week, according to Canadian Blood Services.
The person on your street who got into a serious car accident? They could have needed up to 50 units.
The blood donor agency needs 100,000 new donors before the end of March to keep up the blood supply.

Little Hunter could be someone you know.
Apparently the main reason people don't give is that they haven't been asked, but I'm going to be mad if fear of needles is up there, too.
The point is that lot of people in Canada need blood, all the time, and it behooves us as people who can actually donate to just suck it up and look away when the needle goes in.
The one that the phlebotomist uses is obviously a bit wider than the one used to give you a malaria shot, but not by much. Insertion stings only a little bit, mostly because of the disinfectant they use to clean the area. You don't have to look as it goes in, and the phlebotomist will cover the area with a piece of gauze during donation.
The person who needs the blood is having a much harder time than you
Then, 10 to 15 minutes later, you're done and it comes out. Hold a wad of cotton on the area for another five minutes and you're sent off with a Band-Aid to get some pop or cookies.
If you're someone who does get nervous at the sight of needles, you can breathe a sigh of relief that it's over and probably realize it wasn't as bad as you imagined.
And you can tell yourself that the person who needs the blood is having a much harder time than you.
Follow HuffPost Canada Blogs on Facebook
Also on HuffPost:
When Dean Willis' father-in-law needed blood after getting heart-bypass surgery in 1975, he unhesitatingly stepped in to help, News4ajax.com reports. Since then, the coveted O-positive blood donor has given 100 gallons of blood and saved 2,000 lives. "I guess it's a cliché, but you know, it makes me feel good," Willis told the news outlet.

Paul Olsen, 79, donated his 400th pint of blood in August, according to Mainlinemedianews.com. The Pennsylvania native donates platelets, which is key to helping cancer patients, and gives twice a month. "I really feel good [about giving] because it helps other people," Olsen told the news outlet. He hopes to ultimately hit his 500-pint goal.

Honored with the "Golden Heart Award" from the Heartland Blood Centers for having donated blood 200 times, Warren Krup continues to give, despite a disability. "I get to sit and take a break, and it saves a life," the 52-year-old Illinois native told the Courier News. "Why wouldn't you want to do that?"

About 40 percent of dogs are universal donors, making Sparkle, a California-based rescue Greyhound, a critical lifesaver for pooches in need. "For every unit of blood that she gives, she will help at least two other dogs," Mary Beth Bartel, Sparkle's owner, told ABC. Sparkle donates once a month and her name is included on a 24-hour emergency call list.

When Ralph "Rocco" Russo hit his 300th donation at the Dana-Farber Cancer Institute, nurses honored him with a cake, the Boston Channel reports. But, the true reward for Russo is knowing that he's helped save hundreds of lives, including Nicole Sorensen, who battled -- and overcame -- cancer when she was 14. "People will give once. People will give twice," Sorensen told the news outlet. "But to give 300 times every other week religiously is incredibly moving."

Barbara Brinkmann has been donating blood since she was 16-years old, KENS5 reports . "I do it on a regular basis and I enjoy doing it," Brinkmann told the news source. "It's a wonderful way to give back to the community." For her generosity, the San Antonio, Texas resident was rewarded with a brand new 2012 Toyota Tundra pickup truck. Naturally, it's bright red.
Follow Emma Prestwich on Twitter: www.twitter.com/emma_prest