Parks Canada Insults All Indigenous Actors With Film's Rejection
North of 60, a 1990s CBC drama set in a small, sub-Arctic community, was probably the first Canadian TV show to accurately portray the lives of indigenous people.
Now one of that show's stars is set to appear in a new production, and once again, not as a First Nations stereotype.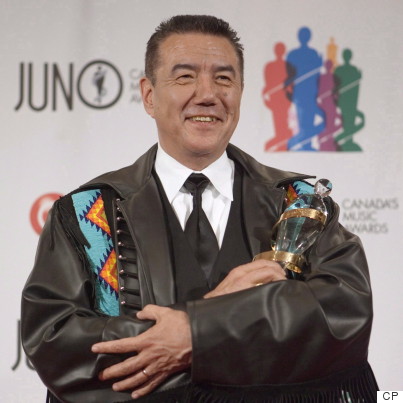 The Humanitarian Award recipient Tom Jackson poses with his award at the Juno Awards gala dinner in Saskatoon, Sask. Saturday, March 31, 2007. (Photo: Adrian Wyld/The Canadian Press)
Seasoned Métis actor Tom Jackson has a role in Hard Powder, a very Liam Neeson action film starring Liam Neeson as a vengeful dad whose son is killed by a drug cartel in a Colorado ski town.
Jackson plays a Native American mafia boss who ends up in a turf war with another gang.
The movie sounds a bit corny, sure, but audiences should be able to decide that for themselves. Instead, the production just experienced a big setback because Parks Canada denied the producers permission to film in parts of national parks, like Banff, the Lake Louise townsite and the Columbia Icefields. Shooting was supposed to start on March 20, the film's team told The Canadian Press.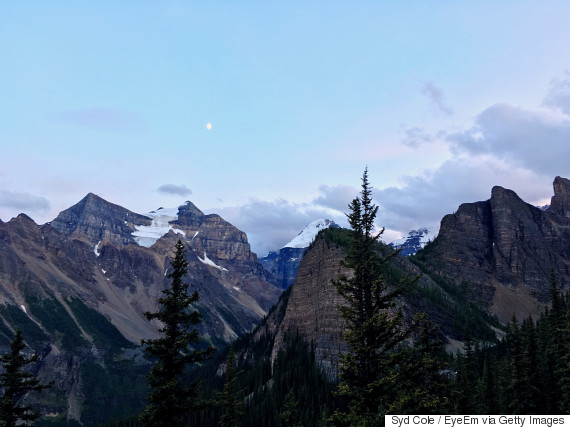 A view of mountains in Banff National Park. (Photo: Syd Cole/Eyeem via Getty Images)
Apparently the government agency had major concerns about Jackson's character when they found out he was indigenous.
"They phoned and asked, 'Is the leader of the rival gang in this picture First Nations?' We said yes. That became an obvious last nail in the coffin for us," location manager Mark Voyce said.
Parks Canada was afraid to offend anyone, he said the team was told.
"The Government of Canada is committed to reconciliation and nation-to-nation relationships with indigenous peoples, based on a recognition of rights, respect, co-operation and partnership," the organization told CP in a statement.
The agency said it has the right to refuse applications that don't fit its mandate. But what the heck is wrong with Jackson playing a mafia boss?
"The question is whether we deprive our own, or do we harvest for our own?"
-- Tom Jackson
Jackson himself was completely fine with the portrayal, saying in a letter of support that he was consulted on the film and felt confident that the script didn't insult indigenous people.
"Hard Powder will be made regardless," he wrote. "The question is whether we deprive our own, or do we harvest for our own?"
The filmmakers want access to protected parkland, and the agency that guards that access is allowed to deny it. But Parks Canada should consider that the message they send with this move is that indigenous people don't get to play the villain, or that they can't appear in potentially corny movies just like everyone else.
Tom Jackson got to decide whether he wanted to appear in this movie or not, so why won't Parks Canada trust his judgment?
Follow HuffPost Canada Blogs on Facebook
Also on HuffPost:
11 Facts About Canada's First Nations
The word Canada comes from the Iroquois word kanata meaning village, settlement or land.

There are currently over 60 First Nations languages in Canada grouped into 12 distinct language families, according to Statistics Canada.

Before European Settlers came to Canada, it was not uncommon for Aboriginal women to hold equal power to men, and even had to ability to take the power away from the chief, reports UBC. Women's suffrage in Canada was not granted until 1918.

The North American headdress was earned, each feather representing an act of bravery.

There are over 600 different tribes in Canada each with their own culture and belief system.

The High King of France commissioned Giovanni da Verrazzano to reach Asia by sailing around North America in 1523. He described the coastline as densely populated and full of bonfire smoke, saying it could be smelt from hundreds of miles away at sea. Some academics place the American Aboriginal population at 50 million while some argue it to have been 100 million. Today's First Nations population of Canada falls around 1.4 million.

During the early days of colonization, Britain saw Aboriginal people as essential to protecting their colonies and considered them powerful allies who helped battle the French during the Seven Year War and fought off American invasion during the War of 1812.

First Nations people played a major role during the fur trade between the 17th and 19th centuries, which attracted merchants from around the world.

Archaeology tells us that aboriginal people have lived in the Maritimes provinces of Canada for at least 11,000 years.

After the decline of the fur trade and the end of the War of 1812, more settlers came to Canada, creating a large enough population to protect their own borders. First Nations were seen as impeding on economic development and were sent to live on isolated reserves, while more land was set aside to accommodate new settlers.

Aboriginal people have the youngest demographic in Canada, with a median age of 28, while the median age for non-aboriginal Canadians is 41.
Follow Emma Prestwich on Twitter: www.twitter.com/emma_prest