Your Corporation Is Killing Innovation Without Knowing It
This post was co-authored by Brian Moelich
Before innovation even starts, corporate alarms are ringing and walls are raised.
In the post-recession economy, markets are changing faster than the mighty corporations of old can keep up with. To combat the epidemic of nimble startups, corporations are advocating fresh thinking such as prototyping, failing fast and quick iterations based on customer feedback.

But few, if any, corporations have been able to point to any concrete successes, no matter the size. Why is that?

Large organizations are always going to be risk averse.
A publicly-traded corporation must not only appease shareholders but also Wall Street analysts, and the corporation's executives that hold the purse strings are rated predominantly on financial performance.

New ideas within corporations don't always achieve short-term profitability, and thus it is difficult to convince decision-makers to reallocate capital from an existing cash cow to an "ugly duckling" innovation project. Corporate resources will inevitably go towards incremental established brand innovations and not inherently risky disruptive new market innovations.

Remember that it was Kodak who invented the first digital camera, and chose to continue investing in film R&D over a risky new venture. Everyone knows how that story ended.

Play into the risk-averse nature of large corporations.

For a corporate innovation project to succeed, it is necessary to recognize that the executive investing in the innovation project has corporate strategic goals to uphold.

The key for the innovation project's success then becomes to fit into the corporation's strategic goals. The following are some key factors to encourage this outcome:
1. Find out what keeps executives up at night. There are two approaches that corporations have found successful: 1) use executive problems for innovation challenges, and 2) tie the innovation project to or search out projects that match an executive challenge.
EMC and Deloitte have been very successful at taking executive challenges and posing them to the corporation as an innovation challenge, for which employees can submit ideas. Success is derived from the fact that executive buy-in is built in from the onset, because the ideas are directly tied to the executive's imperatives.
The Citrix Startup Accelerator's Innovator's Program and recent Citrix hackathons have engaged with executive sponsors prior to kickoff and used their input on challenges as selection criteria. Much like the first approach, executive buy-in is assured as teams enter the program with ideas that match executive needs.

2. Develop a monetization roadmap. -- Innovation projects attain a quick death due to a rapid demand for monetization. In some instances this is possible, but for most, a user base needs to be established before the market is willing to pay.

Ash Maurya is beginning to popularize a framework that calls attention to attaining users prior to revenue.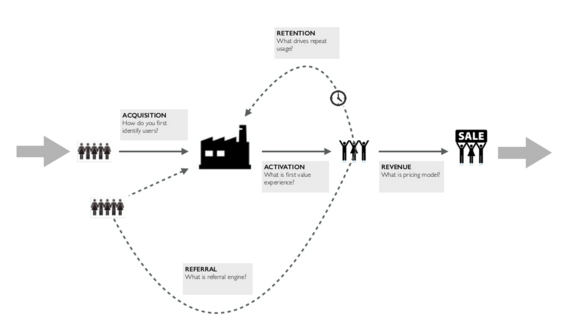 Image credit: Ash Maurya
This model is helpful because it addresses the challenge of organizations understanding the needs of startup marketing versus established brand marketing. Additionally, the framework helps innovation project teams outline what their plans are to eventually reach revenue.
The push to monetization can also be prevented by demonstrating how the innovation project brings other forms of value to the corporation, such as accessing a new user base to cross-sell existing brands.

3. Gauge executive buy-in throughout the process. Using executive buy-in as a gate to pivot, persevere or kill is critical, because without buy-in, the project is already dead on arrival.

The corporate innovation process should have gates where certain criteria should be met before moving on. At each of these gates, executive input must be acquired and should be used as a determining factor as to whether the gate is achieved.
It is also helpful to prime executives with what are the criteria and stages of the innovation process so that they are aware of how to judge and assess the innovation project. Otherwise, the executive might have a higher expectation based on traditional corporate outcomes than what could reasonably be expected of an innovation project.
4. Speak the language of the executive. Not only do innovators need to have vision, they need to be able to explain it in the C-suite's language.
Entrepreneurs are quick to state that startups are liberating versus a stifling corporate culture, but the reality is that even entrepreneurs are beholden to others. Entrepreneurs are bound to their investors, while corporate innovators are indebted to their executives. Both need to translate their vision into a language that their stakeholder understands.
That language is one based on quantitative factors. For investors, the considerations are traction, growth and revenue. For executives, the elements are cost, payback period and top line revenue growth.
5. Get line function buy-in. It isn't only the C-suite that needs to be convinced but also the "doers."
As much as the C-suite needs to be brought into the conversation, the other critical component is the "doers:" mid-level management. Without convincing the "doers" of the project's necessity, these managers will continue to throw up barriers that will eventually kill innovation within the corporation.
6. Be selective. Take baby steps. Dreaming is great, but taking actionable baby steps is better.
Corporate innovators are great at envisioning future states, but often fail to concretely translate their vision into beneficial steps. In other words, corporate innovators tend to be perceived as dreamers, rather than doers, which relegates their concepts to the bottom of the corporate priority list.
Overcome this perception by ensuring that the initial ask is not only actionable, but also achievable in the short term. Present small projects in the language of the C-suite and deliver on them to build the groundwork for the grander vision.
Corporate innovation requires an understanding of the organization's needs.
Innovation within a corporation requires a recognition that the corporation is inherently risk averse and the only way to push innovation through is to accept and appease it. Every move and decision a successful corporate innovator makes is based on directly reducing this risk or taking steps to bypass risk by addressing corporate challenges head-on.
Brian Moelich is an innovation strategist, entrepreneur and educator. He is a business designer for Citrix Systems in Silicon Valley, where he co-manages an internal innovation incubator and is also a mentor for the Citrix Startup Accelerator. In a past life, he was a physical security consultant to IBM in Canada.
MORE ON HUFFPOST:
8 Ways to Create Great Corporate Culture
THE BIG IDEA: Corporate culture isn't built from the top-down -- you can't simply impose an ethos on your business and hope that your employees absorb its values. Company culture is about hiring individuals who embody the core values of your brand. Some companies accomplish this through referral programs: According to a recent study by Evolv, referred employees are 20 percent less likely to quit their jobs and are more productive compared to other new employees. Other companies vet employees through unusual interview questions: Amazon.com, for example, may ask you the following question: "Jeff Bezos walks into your office and says you can have a million dollars to launch your best entrepreneurial idea. What is it?" HOW YOU CAN USE IT: According to Entrepreneur.com, you must ask yourself some direct questions about what you want your brand to represent: What is your company's mission? What qualities do you want them to associate with your company? Always interview and hire with these principles in mind. And when building a team, don't forget that diversity matters. A diverse team means that you're building your brand by attracting the most talented group of people possible. The added benefit of diversity is, of course, the creativity and innovation that comes from differing viewpoints.

THE BIG IDEA: If you want your business to be a place that rewards creativity, you may want to implement a "20 percent" model -- that is, allow your employees to devote 20 percent of their working hours (one day a week), to side projects. Legend has it that this practice originated at 3M, where Art Fry used his "15 percent" time to invent the Post-It Note in 1974. Recently the concept has been popularized by Google (who may have unofficially pulled the program recently), where "tinker time" has led to the creation of Gmail, Google News, Google Talk, and AdSense. This tactic has been imitated by legions of other tech companies.HOW CAN YOU USE IT: You've already hired talented employees -- now use them wisely. Too often, business owners are blinkered by the day-to-day demands of running a company. Working on passion projects is a great morale-booster for independent-thinking employees, and you'll be able to incubate great ideas to boot.

THE BIG IDEA: Big businesses have come up with many ways to increase worker productivity and boost morale. As reported here at the Huffington Post, the average American worker receives two weeks of paid vacation annually and will leave an average of nine vacation days unused at year's end. Some companies (Netflix, Gilt) have begun to offer unlimited time off. Although these companies posit that unlimited vacation days will help remedy worker burnout, others are more wary. The latter camp believes that open-ended policies create confusion over how many days are appropriate to take. This could, in turn, actually breed a bad work-life balance, since flexible holidays tend to turn into "working vacation" days.HOW YOU CAN USE IT: Set clear standards for vacation days and encourage your employees to use them. If you're the workaholic type, don't hesitate to impose a vacation on yourself -- or else employees may be too intimidated to take the appropriate amount of days. If you can swing it, take a page from tech startup Evernote's book and offer your employees incentives for taking at least a week off (in Evernote's case, a $1,000 stipend).

THE BIG IDEA:The open floorplan has become a standard feature in many upstart companies -- the idea being that it maximizes collaboration and creativity among employees. Other companies have taken their design principles a step further in an attempt to reinforce their brand culture. One example is the apartment-rental service Airbnb, which has designed conference rooms that closely mimic some of its coolest and most unusual rentals. Many companies try to foster a "home-away-from-home" ethos by implementing ergonomics programs and strongly encouraging employees to add personal touches to their workspace.HOW YOU CAN USE IT: The "open floorplan = more creativity" theory isn't watertight -- studies have shown that it may actually increase stress and decrease productivity among employees -- but it's useful to create a variety of spaces where your employees have room to collaborate, both formally (in conference rooms) and informally (through casual proximity to one another). The key is to have a good mix of "zones": open space for collaboration, private spaces where one can hunker down and work without interruption, and "fun" spaces where employees can blow off steam or simply relax. While it's true that some of the space-age-style tech campuses are a bit gimmicky (see: Google's slides), design is important to both your brand's culture and your employees' health and happiness.

THE BIG IDEA: Team-building: It doesn't have to mean trust falls and canned "get-to-know-you" games. Zappos, the online retailer that has literally written a book on corporate culture, places an extremely high premium on both customer and employee happiness. The company operates on the basis of ten core values, one of which is "create fun and a little weirdness." The company hires with a keen eye on culture fit, and the casual work environment helps employees to feel comfortable being themselves at work, allowing them to form authentic relationships. As one reviewer on Glassdoor wrote, "If you're on the right team, it can feel more like family than work." HOW YOU CAN USE IT: While a casual work environment may not be for every business, a sustained focus on employee happiness is the key to keeping talent around. This doesn't mean one-off "team-building" sessions, but an environment in which employees have regular and informal opportunities to socialize with one another. Hiring with a focus on culture fit is also a great foundation for building solid teams.

THE BIG IDEA: While "my door is always open" has become a management cliche, some companies take an extremely proactive approach to open communication. Online eyewear retailer Warby Parker, for example, has grown from a small startup to a 300-employee company in just three years. In order to keep the lines of communication open, the company has an "Ask Anything" segment of its weekly meetings, in which employees can, well, ask anything. The quirky and transparent company culture extends to each of its employees submitting weekly "happiness ratings" (on a zero to 10 scale) and participating in quarterly, one-on-one, "360 reviews" in which brutal honesty is encouraged.HOW YOU CAN USE IT: Here, small scale works to your advantage: It's easier to communicate informally when you have a small corps of employees. But keeping your door open isn't quite enough -- more introverted employees may be less likely to come forward with concerns. Schedule time to catch up with your employees, and create clear channels for any concerns that may arise. If you want to grow your business, it helps to keep your finger on the pulse of your employees' happiness -- and longevity.

THE BIG IDEA: Every company has its own method for onboarding new employees, but there are a special few that dedicate themselves to ongoing employee development. Zappos offers life coaching for employees throughout their tenure at the company. J.M. Smucker (the jam company) offers a tuition reimbursement program for employees who want to further their undergraduate or graduate education -- they will pay 100 percent, with no price limit. Biotech giant Genentech allows its employees to take fully paid six-week sabbaticals after they've been at the company for six years. The company calls this "an opportunity for personal or professional development, or simply a time to recharge every six years." HOW YOU CAN USE IT: Onboarding is crucial: Instead of throwing your new employees directly into the fire, make sure they have a solid idea of your brand's values and their role in your company's success. Encourage your employees to attend trainings and conferences to gain new skills that they can share with their coworkers. By showing that you have a stake in your employees' development, you'll be improving engagement, productivity, and retention.

THE BIG IDEA: Some companies are well-known for their flashy campuses with perks that include dry-cleaning services, rock-climbing walls, free food, free daycare, paid birthday off (Thrillist), pet insurance (Zappos), and even on-site medical care (Google). HOW YOU CAN USE IT: While you might not have the cash flow to supply the lavish perks of a tech giant, benefits such as maternity and paternity leave, flexible working hours, and promoting well-being through fitness classes or healthy snacks can help your employees have a healthy work-life balance. Perks can help with employee retention while also attracting top talent to your business.
Follow Eric Quon-Lee on Twitter: www.twitter.com/equonlee