Four Cities That Let You Travel The Globe Without Leaving Canada
Many Canadians will make resolutions to travel more in 2017. And like every year, tens of thousands of us will venture across the border to the U.S., south to Mexico, or across the globe to faraway destinations like Thailand, Indonesia and Australia. However, not everyone will get the opportunity to pack their bags and escape for weeks, or even months, at a time in the new year.
Those with slightly less nomadic lifestyles can still experience new cultures, taste exotic foods, and fill their Instagram pages with comment-worthy travel photos by visiting these four worldly cities right here in Canada.
Montreal, Quebec

Photo credit: Michel Curi
Forget about that budget-breaking ticket to Europe and travel to Montreal instead. Not only will you finally get to practice your French accent, you'll wander cobblestone streets, wind through narrow avenues, gawk at the elegant Basilique Notre-Dame, and shop boutiques that resembles those of Rome and London.
Experience Montreal's Paris-like romantic side by cozying up in an Old Montreal boutique hotel, renting bicycles for a leisurely ride through the city, or dining on fresh, seasonal eats at Toque or Bouillon Bilk. Montreal is a destination for travellers that want to experience the Old World without the plane tickets and baggage fees.
Victoria, British Columbia
Victoria is not your average capital city. More than simply a clean and comfortable place for politicians to live and work, Victoria's downtown is loaded with green spaces, charming shops, world-renowned eateries, and historic castles and churches that transport visitors back in time.
Travellers trying to stay close to home can still experience much of the culture they'd experience in other parts of the world by visiting the Gothic style Christ Church Cathedral, the Congregation Emanu-El (the oldest surviving synagogue in Canada), the Royal BC Museum, and Vancouver Island's largest professional theatre company, the Belfry Theatre.
Toronto, Ontario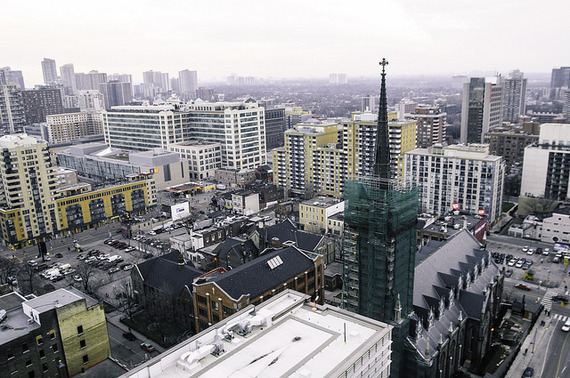 Photo credit: michael_swan
Also known as the City of Neighborhoods, those who visit Toronto in 2017 have the chance to experience multiple faraway countries in a single metropolis. The 5.2 million people who live in Toronto flow between a long list of neighbourhoods, including Corktown (replete with vintage architecture), the Harbourfront (home of the famous CN Tower) and numerous cultural centres, like Little Italy, Koreatown and Chinatown.
You'll find that Toronto is home to so many unique neighbourhoods, each with its own quirky shops, museums, theatres, pubs and eateries, that a single visit just isn't enough.
Quebec City, Quebec
Quebec is the province to visit if you love the Old World, and similar to Montreal, Quebec City is known for its distinctly European flair. French cuisine works its way onto nearly every restaurant menu, 400-year-old buildings wear snow just how you'd imagine in Charles Dickens' A Christmas Carol, and the top floor of the world's most photographed hotel, Chateau Frontenac, sit overlooking it all.
Historic fortifications and ancient neighbourhoods are complemented by new-age eateries, state-of-the-art attractions (like the Aquarium du Quebec), and trendy accommodation options to reassure you that you're not travelling in the olden times. Visit Quebec City in 2017, and you'll realize Europe is a whole lot closer than it seems.
Follow HuffPost Canada Blogs on Facebook
Also on HuffPost:
Best Canadian Cities For New Year's Eve Fireworks
Be among the first people in North America to ring in the New Year at Quidi Vidi Lake in St. John's, Newfoundland. The party begins at 10:30 p.m with a music broadcast and countdown by OZFM.

Visitors who find themselves in Halifax this New Year's Eve can be part of the city's Party on the Parade. The two-and-a-half hour concert features entertainers around the Maritimes and this year marks the celebration's 20th anniversary. Head down to Halifax's Grand Parade to watch everything kick off at 9:30 p.m..

The island will be ringing in 2014 with outdoor celebrations including fireworks, performances by east-coast artists, ice sculptures and a children's play area. Indoor entertainment will require tickets but also allow you to catch additional musical performances.

Those in New Brunswick looking for a New Year's Eve party might want to check out Market Square. The annual family event is free and begins at 5 p.m. in the Market Square Atrium with activities for the kids. Events will continue throughout the evening with a midnight fireworks finale.

Head down to Montreal's Old Port to experience a fireworks display during the final countdown to 2014. Fireworks will be starting right at the ten-second countdown to midnight. Live bands will be playing on the Rickard's stage from 10 p.m. until midnight.

Canada's capital will be hosting a free New Year's party along Sparks Street and includes the Maple Leaf Drop at 11:58 p.m., along with fireworks. There will also be a main stage at Elgin and Sparks St. with performances by Loon Choir, Cardboard Crowns, Mohrs, K-OS and 8barz.

Head down to Clifton Hill to catch fireworks over the Falls and a concert in Queen Victoria Park featuring artists Serena Ryder, Demi Lovato and Sam Roberts Band. For families with kids, there will be an early fireworks display at 8:45 p.m., as well as a second display at midnight.

The annual New Year's Eve party at Canada's largest city will once again take place at Nathan Phillips Square. The event is free and will include outdoor ice skating, an interactive curling experience, street food, musical performances, and of course, plenty of fireworks.

The Scotiabank Family New Year's Eve event will be taking place at The Forks Market in Winnipeg. Events kick off at 5 p.m. and include crafts, musical performances, a dance party and a fireworks show put on by two-time world champions, Archangel Fireworks.

Travellers looking for a more private viewing of fireworks might want to consider the Elk Ridge Resort in Waskesiu, Saskatchewan. The lodge features the Northern Lights New Year's Party, which is a full evening of indoor and outdoor activities on New Year's Eve. Admission is $60 for adults, $35 if you're 16-18, and $25 if you're under 16. The resort will also have a fireworks display at 11 p.m.

Inside Sir Winston Churchill Square in downtown Edmonton, visitors can take part in the free, family-freindly events starting at 7 p.m. inside City Hall. The outdoor events kick off at 10 p.m. and include live music, ice skating, food concessions and fireworks at midnight. Photo Credit: mastermaq

Downtown Banff holds an annual fireworks display at midnight, best viewed from the corner of Banff Avenue and Caribou Street. The event is free of admission.

What was once home to the 2010 Winter Olympics, Whistler Village will be a prime spot to ring in 2014. You can say goodbye to 2013 while watching a fireworks display best viewed from the Skier's Plaza located at the base of the mountain. There are no wristbands required to see this event and it is an alcohol-free evening with both indoor and outdoor celebrations.

"Go big or go home" seems to be the unofficial motto of Dubai. The city is promising to break the Guinness World Record for the largest firework display, featuring more than 400,000 fireworks set off over two of its man-made islands -- The World and The Palm Jumeirah -- and choreographed to a special music soundtrack. It promises the most memorable six minutes of the year, witnessed by an expected crowd of just under two million people.

If you're looking for a more intimate event, be among the 50,000 coming to downtown Baltimore for the biggest fireworks show on the East Coast. It's a huge draw for the city, pouring about seven million dollars into the local economy of "Charm City." It may be a bit chillier than places like Dubai, but you can stick around afterwards for a feed of Maryland famous steamed blue crabs at a place like Al's Seafood.

With Edinburgh Castle as a majestic backdrop, the skies light up seven times during what's called Hogmanay, a world famous event that sees travellers from over 60 countries on hand to bring in the New Year. It's considered one of the best parties on the planet. By the numbers, it takes: two weeks for a team to fuse the fireworks properly, 40 hours to design, 20 tonnes of equipment, 13 kilometres of cables and wires, and 14 people to set up over six days.

Sporty types flock to Kitzbuehel, the home of some of the world's gnarliest downhill skiing. Zip on your most fashionable ski gear and join over 30,000 spectators in a winter wonderland, punctuated by towering mountain peaks in every direction. New Year's Eve events include a parade of torch-bearing skiiers, jumps over fire, and a fireworks' display created by master pyrotechnician Armin Lukasser.

Most people can identify Sydney, Australia in a nano-second because of the Sydney Harbour Bridge. It provides a dramatic backdrop for a fireworks display shown on television for more than a billion viewers worldwide. The bridge itself is gussied up with 16 kilometres of rope lighting, stretching 12 storeys high and 72 metres high. Fireworks will also be launched from the Sydney Opera House to mark its 40th anniversary. With 1.5 million people expected to attend, it's going to be a heck of a birthday party.

Glitz and glamour are no stranger to Las Vegas so it's no surprise its firework display will be of a grand scale. The fireworks launch from seven rooftop locations around the city and will burst into the sky to a soundtrack featuring "Feel This Moment", from Pitbull and Christina Aguilera. The bombastic display starts 10 seconds before midnight.

Manchester, England, is gunning for Sydney and New York City as the place with the grandest New Year's Eve celebrations. Mancunians will flock to the city centre's Piccadilly Gardens for party, which will include fireworks and an attempt to break the Guinness World Record for the most people dancing to Michael Jackson's "Beat It," "Billie Jean" and "Thriller." Shake your groove thing and join in.

Locals head to the Zocalo, Mexico City's main square to shout "Feliz año nuevo!" And when the clock strikes 12, they'll pop a grape in their mouth at each chime and make a wish for each one. As they nibble, it gets noisy as fire crackers, sparklers and fireworks light up the night sky. Afterwards, energetic types head to the city's night clubs and dance until dawn.

The historic centre of Brussels jams up with families and couples waiting for the fireworks to start at midnight at Mont des Arts. As the sky lights up, attendees can spot the famous tower of Brussels City Hall in the Grand Place -- one of the city's most stunning views. In surrounding neighbourhoods, locals set off their own fireworks and toast the New Year with champagne.

The New Year's Eve festivities in Berlin are considering the best in Europe with more than one million people whooping it up as the countdown to midnight begins. The epicentre of the party is the famous Brandenburg Gate and the Victory Column with DJs and international bands keeping the beat until the wee hours of the morning. Pick up some VIP tickets to one of the events held at restaurants and bars nearby for a good view away from the crowd.

The capital city of Iceland gets into a party mood with fire in various forms. In neighbourhoods, giant bonfires draw together families for casual celebrations away from the throngs of partiers in the city centre. Meanwhile, other Icelanders head downtown to celebrate until the start of the fireworks at midnight. Those will energy left then they make their way into nightclubs that stay open until 5 a.m..

The beach at Copacabana in Rio de Janeiro brings together almost one million people, turning it into one massive, energetic open-air party with live bands and a firework display made more spectacular with colourful explosions reflected on the water. This is considered one of the world's best parties with a dress code dead simple: dress in white to bring you good luck for the New Year.

Any ensemble worn for New Year's Eve in Naples, Italy, has to start with red underwear. It ensures good luck for the year ahead (as long as you don't launder them with white garments). Italians flock to the south to balmy Naples, one of the oldest continuously inhabited cities in the world. Its raucous event turns the waterfront into a giant nightclub with live music, DJs, hip hop and a dance floor big enough for you and every one of your Facebook friends and their friends. The madness also leads up to a fireworks display at midnight.

If fireworks leave your jumpy and start your hangover headache early, consider visiting a city that has a light show rather than fireworks displays. Paris is a favourite for its spectacular Eiffel Tour show where lights bathe the landmark in brilliant colourful hues. Or go for a tried-and-true favourite: New York City's Time Square. No fireworks, but a ball drop that is broadcast around the world. Happy, happy, new year!
Follow Flight Network on Twitter: www.twitter.com/FlightNetwork