3 Day Trips You Need To Take On Your Vacay In Puerto Vallarta
Puerto Vallarta is a coastal city that's tough to leave. From strolling the cobblestone streets of Old Town to sipping margaritas at Playa Los Muertos and lounging by the pool at the Casa Karma Boutique Resort, you don't have to venture outside of the city centre to have an unforgettable getaway.
But those who don't travel beyond the bustling oceanside city streets are missing out on some of Jalisco's most beautiful beaches, charming small towns and richest culture. These three nearby destinations are ones that can be reached by car or water taxi in less than two hours and are guaranteed to transport you to Mexico's simpler days.
Playa Las Gemelas
The views of the Pacific Ocean from the sand in central Puerto Vallarta are stunning, but they're often disrupted by half-naked beachcombers carrying ice-cold Coronas. When you're tired of sharing the beach with hundreds of other warm weather seekers, it's time to venture 40 minutes south to Playa Las Gemelas.
Travellers who take the journey to the pristine sand and aquamarine waters of Playa Las Gemelas feel a sense of calm and relaxation immediately upon arrival. Palms and other tropical foliage provide shade for sun-kissed skin and the crystal clear ocean waters become a playground for local families on Sunday. Playa Las Gemelas is a place to discover some of Jalisco's postcard-worthy coastal scenery without the bracelet-selling beach vendors and selfie sticks.
Lo De Marcos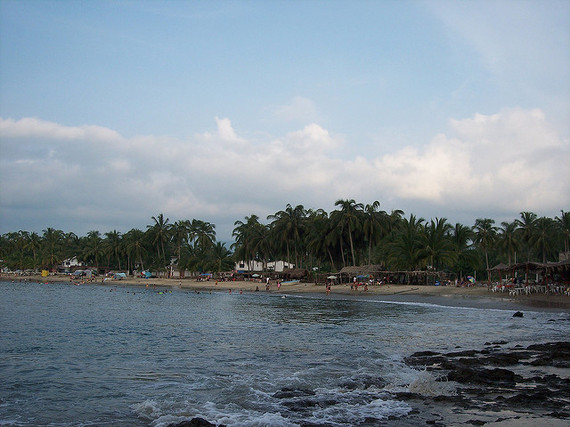 Photo credit: Christian Frausto Bernal
Puerto Vallarta feels more authentic than other popular Mexican beach destinations like Cancun and Playa Del Carmen, but the towering resorts in the Hotel Zone and tourist-packed Senor Frogs can take some of the charm away. Lo de Marcos, roughly 1.5 hours north of Puerto Vallarta and 25 minutes north of the popular surf town of Sayulita, will put the authentic Mexican charm back into your beach vacation.
Mellow streets, flower-covered trees, quaint eateries and oceanfront palapas transport visitors to the Mexico of decades ago. Shop for fresh seafood sold by local fishermen, explore the town square and sip a drink on the sand without worrying about tourist taxes. Often overshadowed by nearby Sayulita and San Pancho, Lo de Marcos is one of the Vallarta area's best-kept secrets.
Yelapa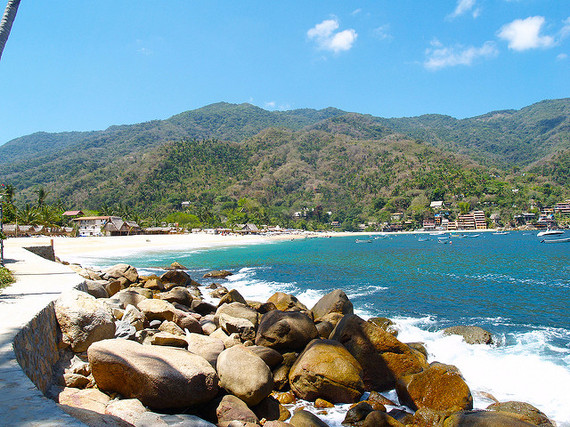 Photo credit: Ernest McGray, Jr.

Travellers seeking even more adventure can travel to the remote, but not so far away, pueblo of Yelapa. Although it's not truly an island, this historic fishing village can only be accessed by boat, making it one of the best places to escape the crowds and admire unforgettable coastal scenery without venturing too far from the comfort of your hotel in the heart of town.
The indigenous community dates back to the 16th century, and because no roads lead to Yelapa, you'll see locals and visitors getting around on horseback instead of by bus or rental car. Open-air restaurants, National Geographic-worthy scenery and Chelly the iconic "pie lady" are just a few of the experiences you can have in this off-the-beaten path town nestled between a thick tropical rainforest and the deep blue Pacific.
Follow HuffPost Canada Blogs on Facebook
Also on HuffPost:
11 Awesome Things About Mexico
Our southern neighbor buys more of our products than any country other than Canada. Some 6 million U.S. jobs depend on trade with Mexico, according to the Wilson Center's Mexico Institute.

Despite the common conception in the United States that Mexico is a poor country, Mexico's economy is growing faster than its northern neighbor's -- 3.9 percent compared to 1.7 percent in 2011, according to the UK Independent.

According to Robert A. Pastor, a professor and co-director of the Center for Democracy and Election Management at American University who has observed Mexican elections since 1986, the Mexican system is more professional, non-partisan and independent than the American one.

Along with corn, avocados, chili peppers, tequila and many other awesome foods.

While Mexico may be the largest Spanish-speaking country in the world, that's not the only language spoken in the country. More than 60 indigenous languages are spoken in Mexico.

With a population of 112 million, Mexico is the country with the most Spanish speakers in the world.

If size impresses you, you'll probably admire Mexico City. With around 20.5 million inhabitants, it sits among the world's largest cities. And it's massiveness has a long history -- when the Spanish arrived in the sixteenth century in Tenochtitlán, the heart of the Aztec empire where Mexico City currently stands, it may have been the largest urban area in the world.

Beaches? Ancient ruins? Mountains? Cultural diversity? Awesome food? Mexico's got it all.

As we've pointed out before, Mexico's murder rate isn't particularly high by Latin American standards. Mexico had a murder rate of 23.7 per 100,000 residents in 2011, according to the U.N. Office on Drugs and Crime. That's about equal to Brazil's and roughly half as high as Detroit. Plenty of places in the region have higher murder rates -- including Puerto Rico, the Bahamas, and Jamaica.

Many Americans are already familiar with crossover successes like Gael García Bernal, Salma Hayek and director Guillermo del Toro. But those stars account for just a small fraction of a booming industry.

Mexico's first major civilization, the Olmecs, established themselves by around 1200 BC.
Follow Flight Network on Twitter: www.twitter.com/FlightNetwork