The Election That Really Matters Is At The Bottom Of The Ballot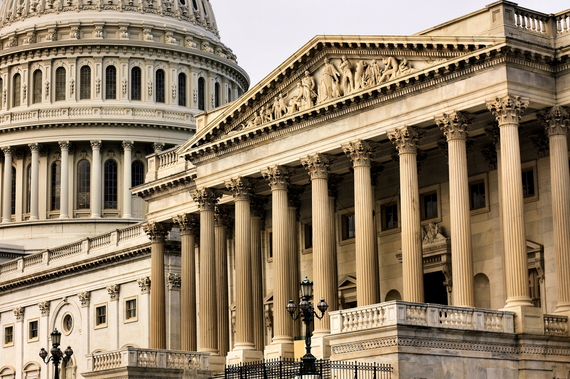 The United States capitol. (Photo: Phil Roeder/Flickr/Creative Commons)
There's a lot more to this election than who becomes president. In fact that's the least of it. Because the real power resides in Congress -- with the members of the Senate and the House of Representatives. And while I suppose we've always known this, it's never been more obvious than during the eight years of Barack Obama's presidency.
For his first two years, the Democrats held a majority in both the House of Representatives and the Senate. In the 2010 midterm elections, the Republicans regained control of the House. And then they regained control of the Senate in 2014.
When you have one party that simply refuses to play nicely with others -- think Ted Cruz reading the Dr. Seuss classic, Green Eggs and Ham in a marathon filibuster intended to bring down the Affordable Care Act -- you don't get too far without a majority.
It wasn't always thus. I remember a time when at least some senators on both sides of the aisle were willing to reach across the aisle and work together to get things done, when they worked in the best interest of the American people.
John McCain was one of them. Which is why I was so shocked (and disgusted) when he recently said that "the Republican Party will block anyone Hillary Clinton names to the Supreme Court."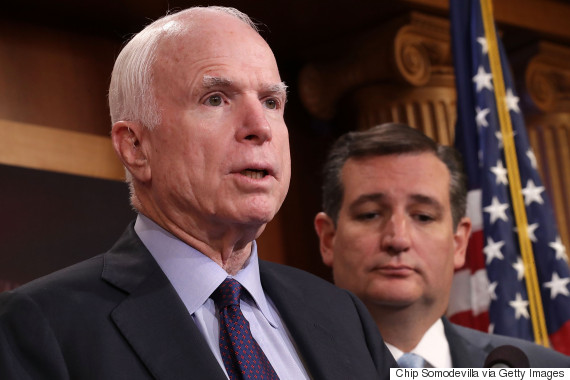 Sen. John McCain (L) and Sen. Ted Cruz (R). (Photo: Chip Somodevilla/Getty Images)
Don't the Republicans realize it's this very attitude that's made Americans so angry? Don't they realize that it's probably the reason why so many Americans have turned against establishment politicians, that it's probably the reason why Donald Trump has defied the odds and done so well?
Don't the Republicans realize that Trump's "dissing" them every bit as much as he's dissing the Democrats? That he wants to change all of Washington? (Albeit not in a good way, not that his supporters care about that.)
Of course, the GOP are desperate now. It looks like they're resigned to the fact that they might lose the White House. So it's no wonder that maintaining control of Congress is top of mind with them, and that's where they're concentrating most of their energy, efforts and cash.
Obviously I have no way of knowing this for sure, but it wouldn't surprise me if that's why John McCain said what he said. To reach out to the party stalwarts, for the good of the party and, obviously, to retain his own seat. He's up for re-election himself.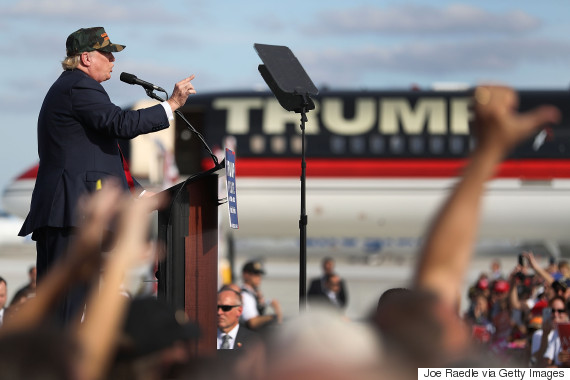 Republican presidential candidate Donald Trump speaks during a campaign rally at the Million Air Orlando. (Photo: Joe Raedle/Getty Images)
Lets hope the congressional races are top of mind with voters, too...
Between the email scandal that just won't go away and the never-ending accusations, threats and lies coming out of Donald Trump's pouty-lipped potty mouth, the down-ballot race going on right now isn't getting the attention it deserves. Not good, because the stakes are very, very high.
To flip control of the House, the Democrats have to pick up 30 seats.Which, even for an optimist, doesn't really seem doable. It's not as onerous a task in the Senate, but the Democrats still have work to do.
So unless voters want the next four years to look like the last eight, they better show up at voting booths and pay as much attention to the bottom of the ballot as they do to the top.
Last Sunday night, Sixty Minutes went to Ohio, often considered the most important swing state. Boy, are they ever divided. Pretty much 50-50. Even married couples are voting for different candidates.
Unless voters want the next four years to look like the last eight, they better pay as much attention to the bottom of the ballot as they do to the top.
One of the voters they interviewed was a pregnant mother of four, a registered Republican who has never voted anything but Republican. Until this year.
She said she could not vote for Donald Trump. She said she was waiting to hear something from Hillary Clinton that would compel her to vote for a Democrat for the first time in her life. She said she was keeping an open mind about it and was hoping she'd get what she needed to vote for her. Her worst-case scenario was that she would not cast a vote for the president, but she would vote down-ballot in an effort to ensure the Republicans keep control of Congress.
I think it's time we all turned our attention to the tight congressional races going on. For that matter, a few prayers wouldn't hurt, either.
Because a Clinton victory without at least a majority in the Senate worries me. As we've already learned the hard way, it would definitely make her job a helluva lot more difficult, if not close to impossible. And what kind of a victory would it be if the Republicans band together to block her every move? It's happened before.
If you enjoyed this story click on "become a fan" at the top of the article, right next to my name. You'll be notified every time I post.
Follow HuffPost Canada Blogs on Facebook
Also on HuffPost:
Republicans Who Have Withdrawn Their Support For Donald Trump
"Donald Trump's behavior this week, concluding with the disclosure of his demeaning comments about women and his boasts about sexual assaults, make it impossible to continue to offer even conditional support for his candidacy," McCain said in a statement.

Ayotte never formally endorsed Trump, but said she was withdrawing her support."I wanted to be able to support my party's nominee, chosen by the people, because I feel strongly we need a change in direction in our country. However, I'm a mom and an American first, and I cannot and will not support a candidate who brags about degrading and assaulting women. I will not be voting for Donald Trump or Hillary Clinton and instead will be writing in Governor Pence on election day."

"I'm out. I'm pulling my endorsement," Chaffetz said in an interview on Friday."I can not support in any way, shape or form the comments or approach Donald Trump has taken. This is so over the top, it is not even acceptable in locker rooms. It shouldn't be acceptable anywhere. We are talking about the president of the United States. I want someone of high moral values."

"I'm incredibly disappointed in our party's candidate. And unlike the Democrats who have proven completely unwilling to hold secretary Clinton accountable for her illegal activities that endangered our national security, I am willing to hold Mr. Trump accountable. I am therefore calling for him to step aside and to allow Mike Pence to lead our party.

"Donald Trump's comments regarding women were disgraceful and appalling," Byrne said in a statement. "There are absolutely no circumstances when it would ever be appropriate to speak of women in such a way.""It is now clear Donald Trump is not fit to be President of the United States and cannot defeat Hillary Clinton. I believe he should step aside and allow Governor Pence to lead the Republican ticket."

"I will no longer support the guy at the top of the ticket," Hardy said on Saturday.

"Donald Trump should withdraw and Mike Pence should be our nominee effective immediately," Thune tweeted.

"I can no longer look past the pattern of behavior and comments that have been made by Donald Trump," Heck said on Saturday. "Therefore, I cannot in good conscience continue to support Donald Trump."

"We need national leaders who can lead by example on [sexual assault and domestic violence]. The reprehensible revelations about Donald Trump have shown me that he can't. Therefore I am withdrawing my support for his candidacy," Sullivan said in a statement.

"I have committed my short time in Congress to fighting for the most vulnerable in our society. As a strong and vocal advocate for victims of sex trafficking and assault, I must be true to those survivors and myself and condemn the predatory and reprehensible comments of Donald Trump," Wagner said in a statement to the St. Louis Post-Dispatch. ""I withdraw my endorsement and call for Governor Pence to take the lead so we can defeat Hillary Clinton."

"The abhorrent comments made by Donald Trump are inexcusable and go directly against what I've been doing in Washington to combat assaults on college campuses. Because of this, I am rescinding my support for Donald Trump and asking to have my name removed from his agriculture advisory committee. With the terrible options America has right now, I cannot cast my vote for any of the candidates, so I hope Donald Trump withdraws from the race so the American people can elect Mike Pence as our next president," Davis said in a statement to the St. Louis Post-Dispatch.

"As a woman, a mother, and a grandmother to three young girls, I am deeply offended by Trump's remarks, and there is no excuse for the disgusting and demeaning language. Women have worked hard to gain the dignity and respect we deserve. The appropriate next step may be for him to reexamine his candidacy.

Garrett said that Trump's running mate, Indiana Gov. Mike Pence, would be "the best nominee for the Republican Party to defeat Hillary Clinton," according to the AP.

"I will not vote for Donald Trump," he said in a statement. "If Donald Trump wishes to defeat Hillary Clinton, he should do the only thing that will allow us to do so — step aside, and allow Mike Pence to be the Republican party's nominee. If he fails to do so, I will not vote for Hillary Clinton but will instead write-in my vote for Mike Pence."

"The comments made by Mr. Trump were disgusting and totally unacceptable under any circumstance. It would be wise for him to step aside and allow Mike Pence to serve as our party's nominee," Fischer said in a statement.

"I endorsed Governor John Kasich for President, because I felt like he was the most qualified and the best person to lead our nation. I certainly won't vote for Hillary Clinton, but I cannot and will not vote for Donald Trump," Bentley said in a statement.

"As the father of three young sons, I don't want my boys growing up in a world where the President of the United States is allowed to speak or treat women the way Donald Trump has," Rooney said in a statement. ""My greatest responsibility in life is to try and be a good husband and father. If I support Donald Trump, I will be telling my boys that I think it is okay to treat women like objects – and I'll have failed as a dad."

"I will not be voting for him," Paulsen said in a statement.

"Saying this election has been incredibly disappointing is an understatement. It never had to be this way. We should be debating the issues that affect our nation's future. Instead we have two horribly flawed choices. It is clear that neither Donald Trump nor Hillary Clinton can unify a deeply divided country."I have repeatedly and strongly spoken out against Mr. Trump when he degrades and insults women, minority groups and Gold Star military families. I will not vote for a candidate who boasts of sexual assault. It is my conclusion that Mr. Trump is unfit to be President."Similarly Secretary Clinton's dishonorable actions – flagrantly ignoring federal laws, repeated failures in judgment on critical foreign policy and national security decisions, and intentionally lying to Congress and the American people – have disqualified her."I cannot support and will not vote for Donald Trump or Hillary Clinton to be President of the United States. I will write in Governor Mike Pence for President," LoBiondo said in a statement.
Follow Fransi Weinstein on Twitter: www.twitter.com/3catsmeow