I'm Starting To Fall For Fall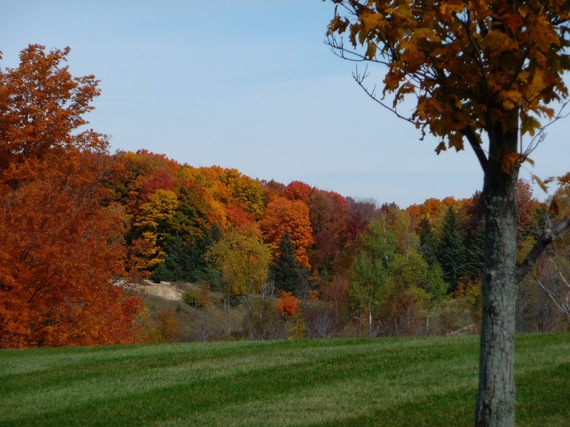 Image by Fransi Weinstein
I'm probably getting ahead of myself. The leaves haven't even started to change colour yet, at least not downtown where I live. And there's really no chill in the air either, just the humidity's gone, which I love.
So from my perspective, the weather couldn't be better. But it is almost the end of September and I've always dreaded fall.  
Silly really, especially as it's probably one of our most beautiful seasons but in all honesty I've never appreciated it because winter follows, and I certainly couldn't be called a cold weather enthusiast. How ironic is it, then, that I have lived, my whole life, in a part of the country where it snows for several months every year? Talk about the luck of the draw.
Extreme temperatures, in either direction, either too hot or too bone-chillingly cold make me miserable.

Something's happened to me, though, and, dare I say, autumn is fast becoming my favourite time of year ...
I know, maybe I should lay down and see if it passes.
First off, there's the colours. Some of the reds are so intense, so almost neon it's as if the leaves are literally on fire. And all the different shades of yellow and gold and orange and rust and green and even chartreuse, all mixed together willy nilly, as only nature could 'paint' it. Juxtaposed against a clear, cloudless blue sky and it's a sight that simply takes your breath away. At least it does mine.
Plus there is definitely something to be said for putting on a cozy sweater, wrapping a scarf around your neck and going for a long walk. Especially when the sun is shining brightly and, because of it, you don't feel any chill in the air at all. It's just lovely and crisp. You can walk, at a brisk pace, for hours and never feel even the slightest bit sweaty.
And speaking of crisp, what's more delicious than biting into a gorgeous, tart, crunchy apple? 
I used to love Granny Smith's, but I am now addicted to Honey Crisp. And I am finding them a very pleasant change from all the peaches and plums and nectarines I gorged myself on all summer.
As the days pass I also find myself sniffing the air, anticipating the scent of wood burning in fireplaces. Birch smells especially good and I love the crackling sound it makes. I've also been going through my cook books and lingering at recipes for bolognese sauce, hearty soups and stews, looking at lamb shanks and short ribs and parsnips, beets and other root vegetables in the grocery store.
What have I missed all these years when I longed for 365 days of summer?  
All I can say is if, come December and January, I start waxing poetic about snow and ice and below zero temperatures please call my doctor. There's no telling what I might do next.
If you enjoyed this story click on "become a fan" at the top of the article, right
next to my name. You'll be notified every time I post.
Also on HuffPost:
15 Beautiful Fall Destinations In Canada
Fundy Coastal Drive, N.B. What to do: Walk along the shoreline trail to take in the fall foliage; enjoy the famous tides; camp in Fundy National Park; or hike coastal, wetland, and forest trails.

Elliston, N.L. What to do: View Atlantic puffins until late September; attend the Roots Rants and Roars musical and culinary festival; or visit nearby Bonavista for dinner, history, and lighthouse viewing.

Tofino, B.C. What to do: Put on a wet suit and go surfing; visit Virgin Falls; catch grey whales before they migrate south to Baja; walk trails in the Pacific Rim National Park Reserve; or attend the Queen of the Peak surfing competition late September.

Banff National Park, Alta What to do: Rent a trailer and camp at Lake Louise Trailer campground; warm up in the hot springs; take an overnight horseback riding trip; view the fall trees during dinner on a train; hike or cycle on trails; or attend the Banff Mountain Film and Book Festival.

Whitehorse, Yukon What to do: Time your visit to when Kate Middleton and Prince William will be there; catch the northern lights late in the fall; hike to waterfalls and hot springs; or drive the Alaska Highway.

Algonquin Provincial Park, Ont. What to do: Camp in the spots you couldn't book in the summer months, when the bugs are less plentiful; canoe; watch for moose during mating season; enjoy the brilliant fall foliage; or go on a photography safari.

Mont Tremblant, Que. What to do: Check out the fall colours; golf; enjoy the scenic Laurentian Mountains; go horseback riding; hike at all levels in the Laurentians; or attend the Symphony of Colours Festival.

Gros Morne National Park, N.L. What to do: View the fall canopy on a zip-line tour; walk on the Earth's mantle at the Tablelands; hike the Western Brook Pond Trail; or hike through nearby community trails.

Okanagan Falls Provincial Park, B.C. What to do: Visit the many fruit orchards; tour a local winery; check out the fall leaves along the coast of the Okanagan River; or go both bird watching and bat watching.

Churchill, M.B. What to do: Visit later in the fall for prime polar bear-viewing season; view the northern lights in late November; view beluga whales in early September; or view more than 250 species of birds.

Prince Edward Island What to do: Enjoy fall foliage for one of the longest time periods in North America; visit Anne of Green Gables sites ahead of the upcoming TV remake; eat fresh oysters; walk the sandy shorelines; hike and bike; and do Charlottetown's Taste The Town walking tour.

Niagara-on-the-Lake, Ont. What to do: Take a side trip to see the falls; drink some ice wine; take in the fall colours; tour wineries; drive the Niagara Parkway; or catch the tail end of the Shaw Festival.

Cape Breton Highlands, N.S. What to do: Camp by the sea or at the backcountry "Fishing Cove" site; hike through fallen leaves on the Cabot Trail, to the Skylight Trail; view gorgeous sunrises and sunsets; and attend the Hike The Highlands Festival.

Jasper National Park, Alta. What to do: Hike some of the 1,200 kilometres of trails; camp by mountains and trees with changing leaves; stargaze at the world's largest Dark Sky Preserve; or seek out the park's waterfalls.

Thornbury, Ont. What to do: Attend the Apple Harvest Festival; enjoy off-road and on-road cycling; or hit up the Apple Pie Trail.
Follow Fransi Weinstein on Twitter: www.twitter.com/3catsmeow