A Dying Breed: Ontario's Forgotten Abandoned Houses
In the year 2001 the population in the small town of Milton, Ontario was just over 31,000 people -- making this an ideal small town in the province to raise a family.
Now, in 2016 the estimated population in Milton is well over 100,000 with projections of 228,000 by 2031. Milton is a town surrounded by farmers fields and the Niagara Escarpment and divided by the 401 highway. This small town that is west of Mississauga, north of Burlington and Oakville and not too far from Toronto and right on the 401 quickly became the ideal place to start a family with an easy commute to work. Now as you travel between Oakville or Burlington into Milton it's hard to notice where one city ends and the next one begins.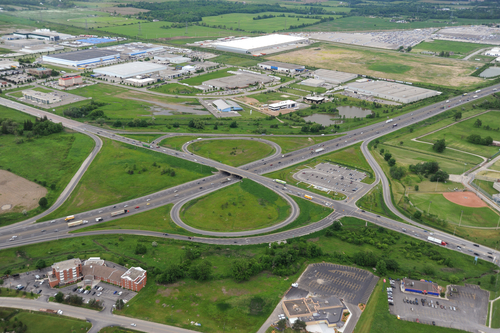 Overhead view of Milton, Ontario
Milton is just one of many Ontario cities that are building homes all over what were once vast fields and family farms. As developers purchase land and as builders wait for the permits and for the lots to sell, what's left behind are the houses that used to run those farms. Farms where the kids learned the importance of a hard days work, where the farmers made a living on blood and sweat and hard work and a place where city dwellers could escape for a long country drive with the family.
In a 2015 Toronto Star article titled Ontario farmland under threat as demand for housing grows we learn of a farmer named Don Howard who is a fifth generation farmer north of Newmarket. Nine years ago Don's mother sold their land to a developer and Don now pays that developer rent to live and work on his own family farm -- but he is living there on borrowed time. The article states that developers are "...banking that urban sprawl will soon find a new home among the York Region towns and hamlets that form an island, slated for development, right in the heart of Ontario's 10-year-old protected Greenbelt zone."
There are surely many more "Don Howard's" out there in his same situation, I have personally had conversations with a handful of men who are living on land now owned by developers, their family homestead left abandoned and derelict, waiting for the eventual development of more modern cookie cutter housing. Farmers living on borrowed time in homes that have been there for generations, homes with charm, character and hours upon hours of stories from the many years.
These old and derelict houses are what curious explorers and photographers like myself and many others seek to document and photograph before the urban sprawl takes over.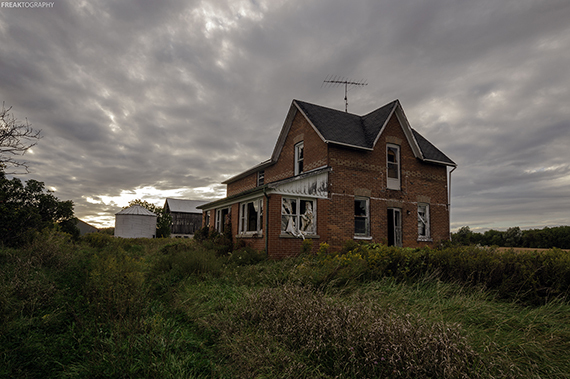 A popular abandoned house along a back road in New Tecumseth
We still have back roads and we still have lots of open countryside but take a drive anywhere in Ontario and head down any of those country roads and it won't be long until you start noticing all of the abandoned and forgotten houses that are scattered all over the province.
Some of them are visible in plain sight, some of them are hidden behind years of bushes, trees and overgrowth and some are down long driveways and well hidden in what was once a farmers field.
Shattered windows with curtains flowing in the breeze, screen doors open and barely hanging on, crumbling roofs and siding hanging on by a screw. Old rusty farm equipment left in the fields, barns with fallen roofs, left to become an eventual heap of wood that will end up being the "authentic barn-board kitchen table" sold for $2,000 at Pier 1.
I have written about the abandoned houses of Ontario many times from 25 Abandoned Houses From Across Ontario to Abandoned Buildings Are Full of Lives Left Behind and Here's What I Found While Taking Photos of Abandoned Homes.
Now, for the next in my ongoing series of documenting the many abandoned houses left behind all across Ontario, here is a brand new selection of the derelict and abandoned houses I've visited and photographed in my travels around the province.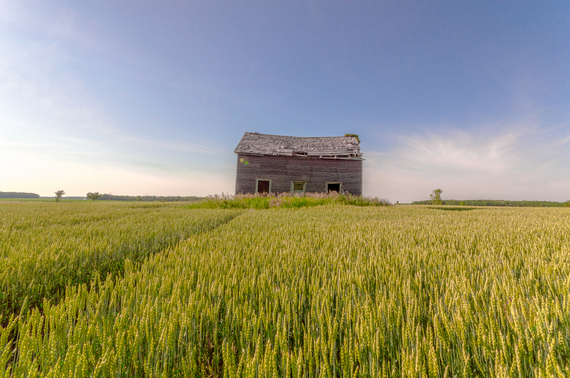 An abandoned house found in the middle of a wheat field near Listowel, Ontario.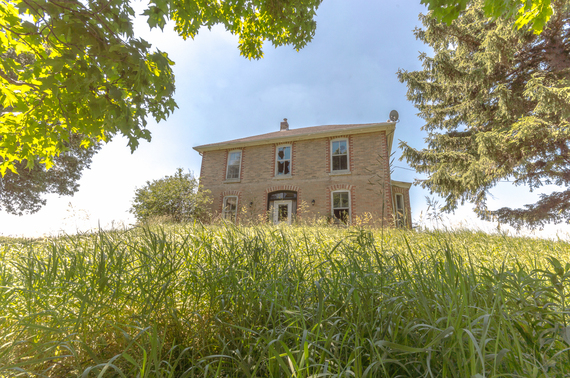 A home near Rockwood, Ontario that was at one time undergoing restoration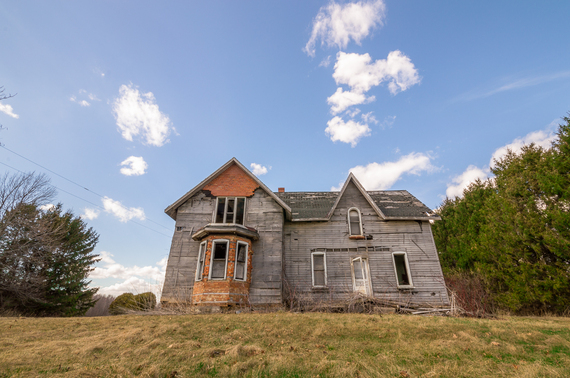 The back roads between London and Chatham are peppered with old houses like this one.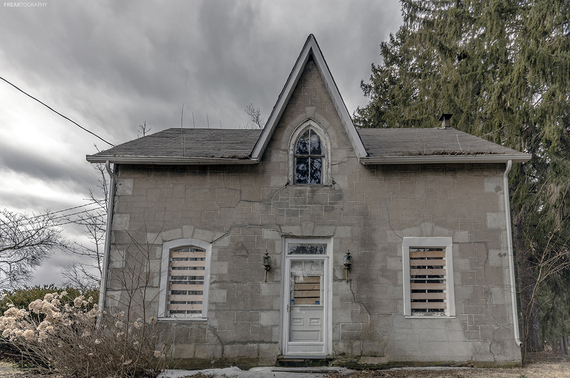 An abandoned home built with the Gothic Revival style in Milton, Ontario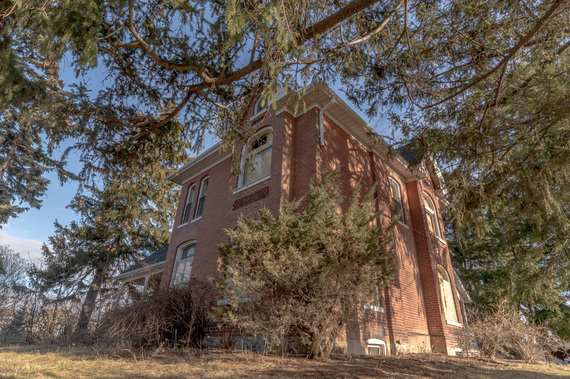 This home in Halton region is slated for demolition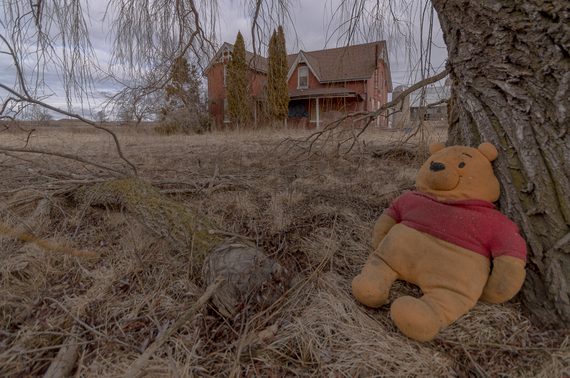 A child's Winnie the Pooh stuffed animal ironically sitting beside a fallen hornets nest somewhere near Georgetown, Ontario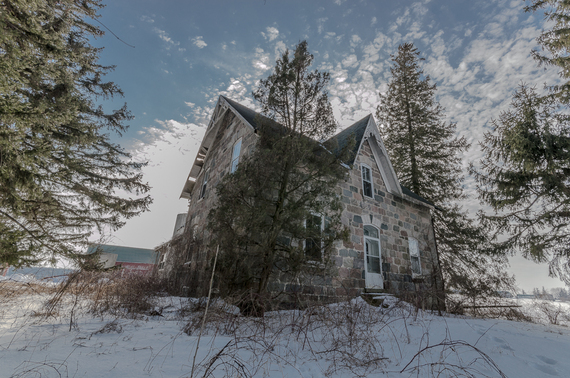 This beautiful stone house near Lake Michigan will soon be fallen into itself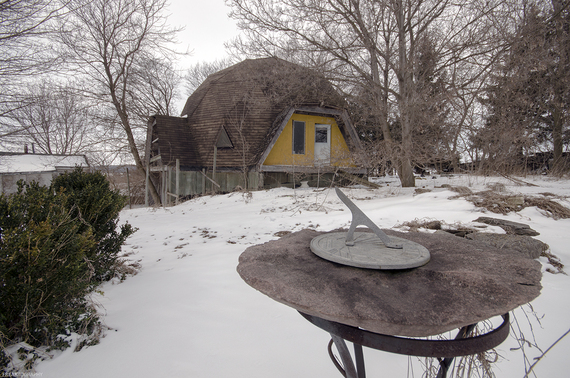 A geodesic dome house in Huron County seems to be a reno project left unfinished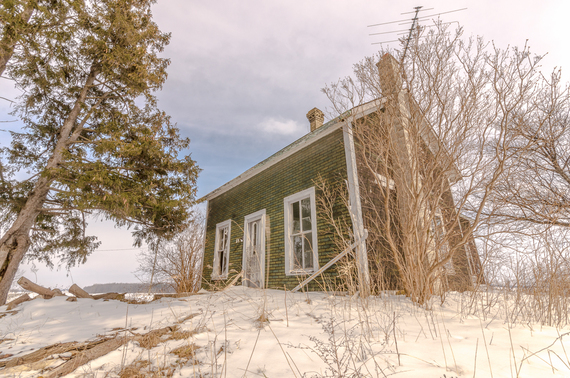 This small green house sits right in the middle of a corn field somewhere in Southwestern, Ontario. ntirely hidden in the summer months.
Somewhere down a long overgrown driveway in Binbrook, Ontario.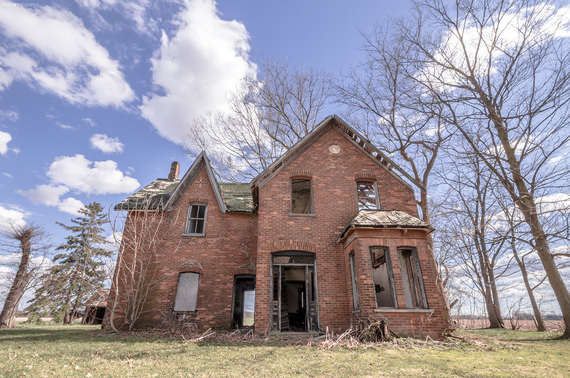 An abandoned house found somewhere east of Chatham, Ontario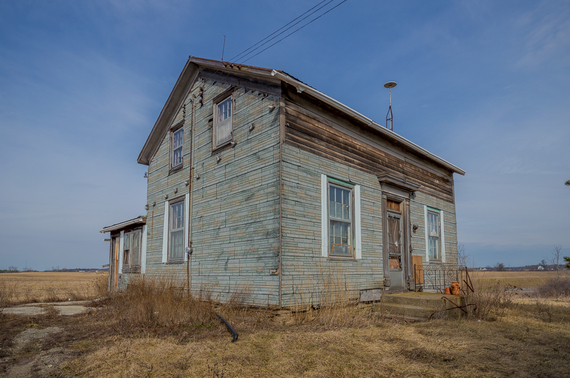 Power still runs to this old insulbrick home in the Hamilton area but home sits vacant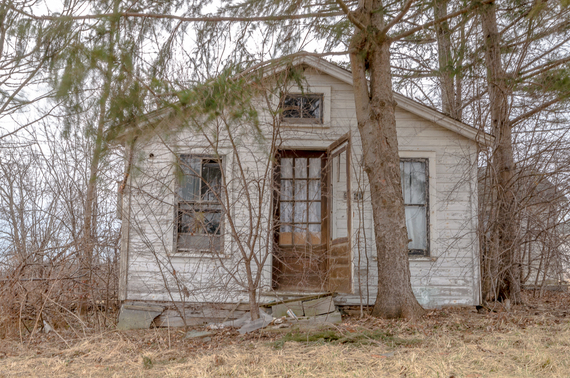 Near Welland, Ontario many people drive past this abandoned house every day and probably don't even notice it.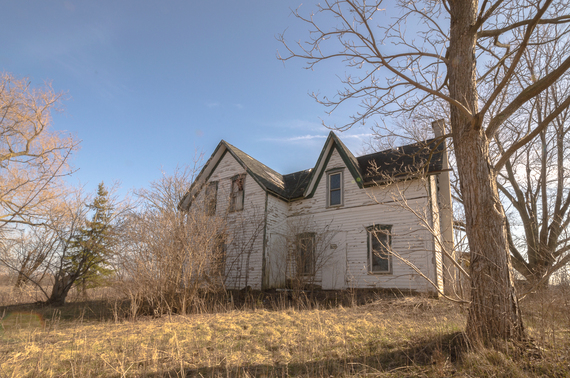 Inside this abandoned house sits a bear head rug in the living room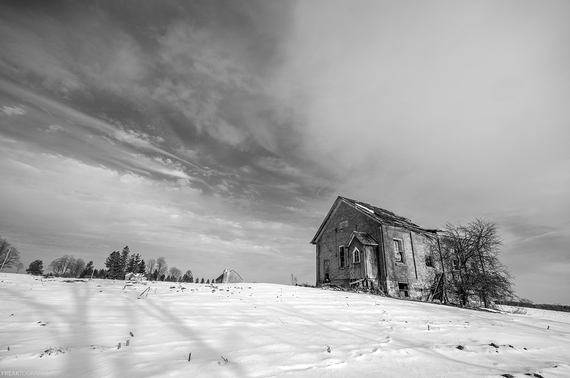 An abandoned school house north of London, Ontario. In the summer months this building is entirely surrounded by corn.
Thank you for taking the time to read, I look forward to your thoughts and feedback in the comments section below.
If my photography and subject matter interests you feel free to visit my website on Urban Exploration Photography or follow me on Facebook or Instagram.
Follow HuffPost Canada Blogs on Facebook
MORE ON HUFFPOST:
Canada's Most Haunted Places
Before it was home to the Ontario legislature, the grounds of Queen's Park belonged to a psychiatric hospital. Rumour is, three former female inmates roam the current building in their ghostly form. Other spirits have been spotted in the Lieutenant Governor's suite and a scowling man in a red military uniform is believed to haunt the main staircase.

In 1907, the expansive Tranquille Sanatorium, a mini, self-sustaining community, opened to treat tuberculosis patients; then became a mental hospital before closing for good in 1983. A series of underground tunnels run under the decaying, crumbling complex. Today, frequent sightings of glowing orb and paranormal activity have earned it a reputation as Canada's most haunted place. Book a nighttime tour (through tranquillefarmfresh.ca), a fitting prelude to nightmares.

Do you mind having a roommate for the night? Some hotel guests avoid the notorious room 202 and request suites as far away as possible, while others embrace the idea of having an entity for company and ask for it. Housekeeping staff has reported blood oozing down the walls in the room. Former guests say a figure in a cloak stood at the end of the bed watching them. A long-ago suicide and a murder in the grand hotel built in 1913 may be the root of this evil. Photo Credit: Lil_Zebra

The rocks upon which the lighthouse sits are picturesque, yet potentially deadly. In 1800, a woman named Margaret watched in horror as her new husband slipped and suffered a fatal head injury. She took her own life shortly after. Tourists have said they see a woman wearing a blue dress about to jump into the sea. The lesson here: Be careful on the rocks.

Here's another downer love story... a woman engaged to a soldier and happily prepares for their nuptials. But her finance's called to war and killed in the battle of Montmorency Falls in 1759. A year later, she puts on her wedding dress and jumps into the falls. Her body has yet to be recovered. Now, visitors say they've seen the Lady in White through the mist. Urban legend, wishful thinking, or too much wine?

This elegant hotel built in 1935 is known for friendly staff, some of which never retire. Word is, a former employee fell to his death, down seven stories onto the marble floor of the main lobby. His spirit, dressed in a gray suit and fedora, lingers on, greeting guests silently with a warm smile.

Fort Louisbourg has oodles of history. Once a military cornerstone of New France, this historic site now marks its 300th birthday this year. Some say at least four spirits roam this Parks Canada site. The cries of a baby pierce the silence of the evening hours; a sea captain steps in to stop visitors from falling down stairs; a weeping nurse and a violent entity which locks doors in the bakery and moves 300-pound industrial bread holders. Say hi to all of them during a Louisbourg After Dark tour. Photo Credit: BRAYDAWG

Green slime, unexplained noises, and a demonic energy. Welcome to the Merritton, a.k.a The Blue Ghost, Tunnel in Thorold, Ontario, not far from the Welland Canal. Ghost hunters say that the men mangled and killed during the building of the canal haunt this tunnel, closed permanently in 1915 after being used for just 39 years. Photo Credit: Rumalowa

Built in 1868, this grand house on Jarvis St. was once the home to Toronto's most elite families, the McMasters and the Masseys. The Keg bought it in 1976 to turn it into a restaurant. Ghostly encounters have occurred around the central staircase and the second floor women's washroom. Hearing phantom footsteps and seeing a male ghost child playing on the stairs may be included gratis with your steak dinner.

Her name was Jennie Pearl Cox, but around the hotel, she's known as the Lady in Red. She was a regular at the hotel in the 1930s and 1940s. After her death, she never checked out. Her ghost has been seen passing through elevator doors, especially on the 14th floor. Staff says she's a nice apparition. The hotel even named a cocktail after her.

You can't miss them. Dressed in black capes and holding lanterns, guides of the Haunted Walks through the Limestone City as well as Fort Henry look the part as they take guests on a stroll to see the places where tragedy happened. They claim to have converted the biggest of skeptics, so beware!

One of the oldest and most famous hotels in Victoria, there's almost too many spirits reportedly haunting this place to count! A lost woman, ghoulish little girl, a chambermaid and a carpenter who hung himself from the rafters are all said to haunt the landmark hotel.

Although the tracks are no longer there, a mysterious light appears in the area after dark. There are a number of paranormal and natural theories as to why it happens, but the legend about a railroad worker who lost his head on the tracks and searches for it by lantern light is the most bone-chilling.

This red-coated guard is giving a tour to students but there's also been reports of a guard (who is not among the living) who haunts the fort's barracks. Some claim a female spirit hangs around the officers' quarters too. Visitors to the fort can take part in the After Dark Lantern Tour between Oct. 23-27 to get the ghoulish details.

The site of a battle between the French and British empires in 1759, the area is allegedly haunted by soldiers who perished in the clash. Ghoulish walks are taking place on the site Oct. 19 at 7 p.m. and 9:30 p.m. and on Oct. 20 at 6:30 p.m. as well as 9:30 p.m.

Everyone likes to be entertained but if you run into one of this theatre's two resident ghosts, it will be a night you won't forget. One spirit reportedly opens doors in the dressing area, while the other one has been spotted in the theatre's seats. His attire? A tuxedo.

A top pick among travellers for its history and the Canadian Rockies as a picturesque backdrop, this property attracts guests of the living and non-living! From a bellman named Sam who disappears when guests ask for help to a bride who allegedly fell down the hotel's staircase to her death, this hotel has its fair share of spirits. Is it just us, or can the same be said for many Fairmont properties?

Popular for its cultural, art galleries, boutiques and restaurants, a visit to Montreal isn't complete without exploring the older part of the city. But with anything old comes the possibility of ghostly spirits. According to Trip Advisor, there's been reports of a prostitute looking for her head in the area.

It operated as a jail for a century, so there's no wonder guests of this hostel report paranormal activity from prisoners who never left. From sounds of crying at night to clothes reportedly being scattered around unexplained, this place isn't for the faint of heart. Credit: HI-Canada

According to a report by Hotels.com, this historic hotel has a few guests that are, um, permanent. The eighth floor is said to be haunted by children's voices, and there's also a man in a purple jacket who haunts the grounds.
Follow Freaktography on Twitter: www.twitter.com/Freaktography