Compelling New Book Details Wrongful Conviction Of B.C.'s Ivan Henry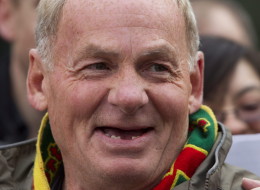 I admit it: I'm a crime junkie. I've read every true crime book written by Ann Rule and Jack Olsen. I'm also a big fan of "America's Most Wanted," and I frequently peruse the FBI Most Wanted List. Don't hate me when I tell you that I follow the executions in the States, even though I'm against capital punishment.
Having established my credentials to review Vancouver lawyer Joan McEwen's new book "Innocence on Trial: The Framing of Ivan Henry" (Heritage House Publishing 2014), I should also add that I'm a criminology graduate and have been married to a police officer for almost three decades.
Beginning with Steven Truscott and on to David Milgaard, Guy Morin, Romeo Phillion, Michael Morton, and so many others, I have been horrified by the number of men who have languished in prison for crimes they did not commit, both in Canada and the United States.
But Joan McEwen's story of the persecution of Ivan Henry brings it all home, right to our doorstep in Vancouver, where a down-on-his-luck ex-con and father to two young daughters found himself ensnared in a nightmare that still has not ended, after serving 27 years in prison.
Ivan Henry, age 35, was in an on-again/off-again relationship with ex-wife Jessie, a drug addict, when he was detained by the Vancouver Police Department as a burglary suspect. What he didn't know was that the police were really after him for 15 sexual assaults attributed to a sex offender the police called the "rip-off rapist," based on the offender's pretense that he was looking for someone who had stolen from him. Henry's record contained one hit for attempted rape, a charge he pleaded guilty to on the advice of his lawyer when he lived in Winnipeg.
He denied being involved in any sexual offences and offered to take a polygraph test. The police declined his offer, but were adamant that he participate in a line-up. When he resisted, three "lean and mean" uniformed officers grabbed him and maneuvered him into a line with an assortment of their dark-haired colleagues, wrapping themselves around him, while gripping his head of red hair.
The photo of that lineup became a crucial part of Henry's case and it was later revealed to be a "trophy," retained by trial judge Justice Bouck, who proudly displayed it in the Judge's Lounge in the courthouse at 800 Smithe Street in Vancouver. Cheap laughs...
Henry was immature and ornery, and too foolish to realize he was in water over his head when, after a preliminary hearing before His Honour Wallace Craig, he was committed to trial for 10 counts of rapes. Before his 1983 jury trial began, Henry fired his legal aid lawyer. When offered the services of legal star Richard Peck as trial counsel, Henry declined, believing the system was rigged and that Peck was just another player in the grand conspiracy against him.
How difficult could it be? There was no evidence against him: no hair, fibre, DNA, confession, or eye witnesses, and he had an alibi for many of the times he was alleged to be in flagrante delicto.
His trial tactics were unconventional, to say the least. Because he knew he had not assaulted any of the parade of women who identified him as their rapist, some of whom said they recognized his voice, he argued they were all making it all up.
Before the trial completed, Henry came to the realization that while he could handle the facts, he needed a lawyer to help him with the law. When he asked Justice Bouck to allow him to obtain a lawyer for that purpose, Bouck J. said:
"You should have thought of that before.. I said you should have a lawyer. You turned it down. You elected to represent yourself. You take the chances.. We've given you a copy of Martin's Criminal Code."
After 10 hours of deliberation, the jury convicted Ivan Henry on all 10 counts, whereafter Crown Counsel Mike Luchenko announced the Crown was seeking a dangerous offender designation. As night follows day, Henry was "bitched," the expression used to describe criminals found to be "habitual" or dangerous offenders.
Henry poured over law books in preparation for his appeal but could not afford the thousands of dollars required for the court transcripts. Eventually he appeared before British Columbia's Court of Appeal on a motion to dismiss the appeal for want of prosecution, brought by appellate crown Al Stewart, later Mr. Justice Stewart. Of course, the Crown won and Henry was banished to purgatory. Later, his leave to appeal to the Supreme Court of Canada was also rebuked.
McEwen's carefully researched story reveals indifference, betrayal, class discrimination, and worst of all, a cast of characters who didn't give a damn about Ivan Henry. He was just the usual collateral damage in the state's zeal to close the books on a series of assaults that continued after Henry was locked away.
As the truth spills out, we learn that Henry's ex-wife sold him down the river, a la Judas Iscariot, in exchange for a few pieces of silver and gold that ended up in her arms.
The unfortunate women who were victimized by a rapist were then victims of a justice system that wasn't really interested in the truth, for if it had been, they could have seen it staring in their face.
It is difficult to say who comes off worse in this sordid tale. Based on McEwen's careful narrative, it must be a tie between Crown Counsel Mike Luchenko and trial judge Justice Bouck, both of whom deserve censure for the roles they played. By 1983, it was no secret that eyewitness testimony was unreliable and could never, by itself, be the foundation for a life sentence. But that's what happened.
Years later, when Crown Counsel Jean Connor voiced her suspicions to the Attorney-General of British Columbia concerning the convictions of Henry, McEwen reports that Luchenko tried, undeservingly, to take credit for an eleventh hour redemption.
With twists and turns galore, as well as an unvarnished glimpse of Canada's brutal prison system, McEwen's book is a compelling must-read for anyone who still believes justice should be blind, and that it is better that 10 guilty men go free than to have one innocent man suffer.
ALSO ON HUFFPOST:
Audrey Edmunds poses at the John C. Burke Correctional Center in Waupun, Wis., 10 years into serving an 18-year sentence for shaking a baby to death while babysitting. She was freed in February 2008 after an appeals court said new research into shaken baby syndrome cast doubt on her guilt. According to Northwestern University's Center on Wrongful Convictions, experts concluded that symptoms they once thought were proof of a shaken baby can result from other causes, including accidents, illness, infection, old injuries and congenital defects.

Kirk Bloodsworth spent eight years in a Baltimore County, Md., prison, two of those on death row. He was convicted of raping and murdering a 9-year-old girl. In 1993, DNA testing both excluded Bloodsworth as the child's killer and helped convict the real killer. It was the first capital conviction case in the U.S. to be overturned through DNA testing. Read Bloodsworth's firsthand account here.

Michael Blair was sent to death row in Texas for the murder of 7-year-old Ashley Estell in 1994. More than a decade later, genetic testing showed he was innocent. But while behind bars, Blair confessed to raping two other children, a crime for which he's serving multiple life sentences. In 2012, Blair asked the state for nearly $1 million as compensation for being wrongfully convicted of Ashley's murder.

Damon Thibodeaux was absolved of the rape and murder of his 14-year-old step cousin. A seven-year investigation produced DNA evidence contradicting his confession to the crime. Investigators say Thibodeaux confessed in 1997 while under duress from detectives. The 37-year-old had spent 23 hours a day in solitary confinement in a Louisiana prison awaiting his execution.

John Edward Smith, a former gang member, spent 19 years in prison for murder following a gang-related drive-by shooting in Los Angeles. He was released in September 2012 after the only witness to the incident admitted that the police had pressured him to blame Smith for the murder.

Lynn DeJac Peters spent more than 13 years in the maximum-security Bedford Hills Correctional Facility in New York. She was wrongfully convicted of strangling her 13-year-old daughter on Valentine's Day in 1993. In 2007, DNA testing placed Peters' boyfriend, Dennis Donohue, at the scene of the crime, but prosecutors could not bring charges against him: He'd received immunity when testifying before the grand jury that originally charged Peters. Donohue was later convicted in the September 1993 strangulation death of another woman and is serving 25 years to life in prison.

William Dillon, wrongly incarcerated in a Florida prison for 27 years, sang the National Anthem as a free man at a Tampa Bay Rays baseball game in July 2012. Dillon had been charged -- just days before a scheduled Detroit Tigers tryout -- with beating James Dvorak to death in a wooded area near Canova Beach, Fla. He was exonerated in 2008.

On March 29, 2012, Michael Morton of Austin, Texas, spoke to the public for the first time since he was freed from prison after spending nearly 25 years behind bars for murdering his wife. New DNA tests done on a bandana found near Morton's home discovered blood from his wife and a California felon, suggesting the the latter man, not Morton, committed the crime.
Follow Georgialee Lang on Twitter: www.twitter.com/lawdivas