Big Oil Hits New Low With Financial 'Blackmail' Of Government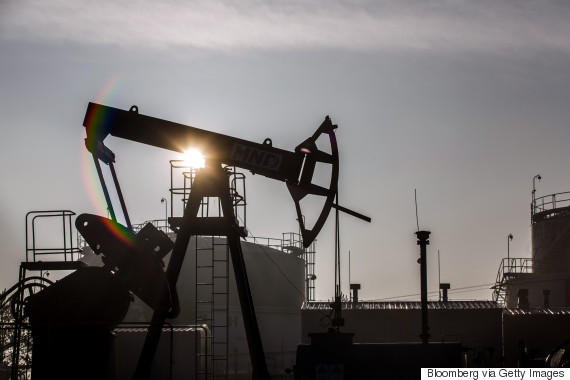 (Photo: Martin Divisek/Bloomberg via Getty Images)
In the September 5 edition of the Calgary Herald, we read that "A group that represents oilfield service and supply companies asked Ottawa earlier this year to use equalization payments as leverage to get reluctant provinces onside with pipeline projects."
Mr. Mark Salkeld, president of the Petroleum Services Association of Canada, recommended that Ottawa "amend equalization payment criteria such that transfer payments can be reduced or forfeit if a recipient province refuses transit of extra-provincial goods and/or products, or unduly impedes another province's market access, including unreasonable delays to transportation infrastructure projects."
This is not the first attempt by fossil fuel companies to use equalization payments to essentially blackmail citizens and governments.
First off, equalization payments are an intrinsic part of the Constitution of 1982, meaning the spokesman for the Petroleum Services Association of Canada seems to be suggesting something illegal according to the fundamental law of the country.
Secondly, many groups in Quebec are demanding that the National Energy Board(NEB) for the Energy East project and its president should not be allowed to hold public hearings since they had secret meetings with Mr. Jean Charest, a consultant of TransCanada Pipeline at the time. Such meetings are unethical for a judicial or quasi-judicial institution like the NEB.
In addition, Commissioner Jacques Gauthier even admitted to insider trading a few years ago. Does Mr. Salkeld really consider that demanding a fair and ethical process under the law constitutes "unreasonable delays" and should warrant withdrawal of equalization payments?
This is not the first attempt by fossil fuel companies to use equalization payments to essentially blackmail citizens and governments. Mr. Michael Binnion, CEO of Questerre Energy and president of the Quebec Oil and Gas Association (QOGA), made a similar pitch in April 2013. May I remind Mr. Salkeld and Mr. Binnion that in Quebec we are working overtime to get rid of corruption and collusion; these efforts can be observed in investigative journalism by organizatiosn such as Radio-Canada's Enquête, the Charbonneau Commission and the Permanent Police Against Corruption (UPAC). Would Mr. Salkeld claim that fighting corruption and collusion with due process of the law is creating "unreasonable delays?"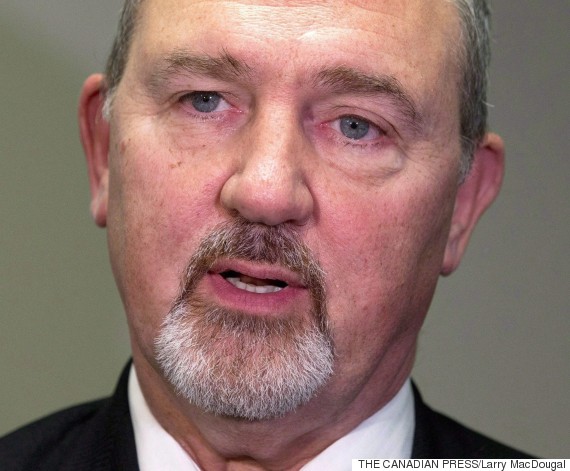 Mark Salkeld of the Petroleum Services Association of Canada. (THE CANADIAN PRESS/Larry MacDougal)
Before using the threat of equalization payments as a "poke in the ribs" to provinces such as British Columbia and Quebec, perhaps the petroleum industry should rethink its own dependency on subsidies. It should be aware that it, too, is vulnerable to budgetary policy.
In Canada, federal and provincial taxpayers subsidize the fossil-fuel industry to the tune of $3.3 billion a year in cash handouts or tax breaks. The federal government's share is $1.3 billion. In other words, a percentage of the federal income tax I pay each year helps the already rich oil industry.
True, my tax dollar helped Ontario's automobile industry during the recession of 2008. That's OK! But why should my tax dollar help the oil industry instead of the renewable energy sector? Promoters of free enterprise regularly claim that subsidies are for inefficient companies that don't deserve to survive! So, why those billions to the oil industry?
I am not the only one who believes that subsidies for the oil industry should be a thing of the past. In Reuters, (August 29, 2016), we read: "Insurers with $1.2 trillion under management called on Tuesday for the Group of 20 to set a timetable to phase out subsidies for fossil fuels by 2020 when they meet at a summit in China this weekend." To be consistent with the Conference of Paris, the governments of the G-20 must end costly tax subsidies to the fossil fuel industry.
If questionable actions don't work behind closed doors, then TransCanada will undermine a government's self-determination with judicial and financial blackmail.
Over and above the call to remove equalization payments for provinces who question its pipeline projects, the arrogance of the petroleum industry is apparent when it applies brutal blackmail to browbeat legitimate and duly elected governments to do its bidding, invoking NAFTA's Investor State Dispute Settlement (ISDS) clause.
Last year, President Barack Obama rejected Keystone XL because he was convinced it was not "in the best interest" of his country. With many options possible, his administration chose one course of action for the good of the USA. Future historians will decide if he made the right decision. As in any public policy made for the common good, some people are happy with this decision, others are not. Such are the political realities of a free, open and democratic country.
Unhappy with this decision, TransCanada Pipelines chose to directly challenge the sovereignty of the government of the United States with a $15 billion lawsuit. As the public affair program TTIP, Might is Right by VPRO explained in October 2015, these ISDS clauses are often used to steamroll any government who dares to put the interest of people ahead of the interest of big money. If the American democracy won't accept its pipeline, then Trans Canada Pipelines demands that American taxpayers pay $15 billion out of the $16 billion required to build Energy East. What arrogance!
Speaking of ISDS clauses, on March 16, 2016 in Lévis, during the Quebec environmental review agency's (BAPE) hearing, Patrick Bonin of Greenpeace asked Mr. Bergeron, vice-president of Energy East for Quebec and NB, if his company would refrain from suing Quebec or Canada under NAFTA's chapter 11 if its pipeline should be rejected, either because it is inconsistent with the legal obligation to reduce green houses gases (GHG) or because it lacked social acceptance.
Mr. Bergeron dodged the question. In other words, if questionable actions don't work behind closed doors, then TransCanada will undermine a government's self-determination with judicial and financial blackmail.
Honesty is the best policy. With that in mind, my parents and my teachers taught me that the law is the supreme example of fairness in society. Furthermore, my readings, many rooted in the fifth report of the IPCC, have convinced me that mankind must head rapidly towards a low-carbon economy in the 21st Century.
These are my values. Does the use of financial blackmail based on the withdrawal of equalization payments and ISDS clauses to promote its 20th Century infrastructures represent the real values of the petroleum industry?
Follow HuffPost Canada Blogs on Facebook
MORE ON HUFFPOST:
Energy East Pipeline Explained
Calgary-based TransCanada Corp., the company behind Keystone, plans to build a pipeline that would ship mostly light oil, but also heavy crude, from oil rich Western provinces across the country the East Coast. The Energy East Pipeline could have the capacity to transport as many as 850,000 barrels of crude oil per day beginning in 2017. The plan is to convert about 3,000 kilometres of an existing natural gas pipeline and add an additional 1,400 kilometres of new pipeline.

Oil from Western Canada is essentially landlocked, making it difficult to move to international markets, which drives down its price by as much as $40 a barrel compared to the world standard. It is also difficult to ship Western crude across the country to Atlantic Canada, which instead relies on foreign sources of oil, a situation that is less than ideal in a country that has so much of its own oil waiting to be sold. TransCanada says the pipeline could reduce the need to import foreign oil to process at refineries in Eastern Canada, while Natural Resources Minister Joe Oliver argues that the Energy East Pipeline could deliver Canadian oil to large energy consumers in Asia, in addition to making the country less dependent on foreign oil. In addition, a lack of pipelines to export oil has left a glut of oilsands crude sitting in a bottleneck in the U.S. Midwest, which has depressed Canadian oil prices compared to the U.S. benchmark, West Texas Intermediate, which in turn trades at a discount to the cost of Brent crude. Those low prices have cost the Canadian and Alberta governments millions in lost royalties.

(Pictured: Russ Girling, president and CEO of TransCanada Corp.)

In October, 2014, TransCanada formally applied to the National Energy Board to make the Energy East pipeline a reality. The NEB has 15 months to review the project and make a recommendation to Prime Minister Stephen Harper.

The exact route will be determined after a public and regulatory review, but the starting point would be a new tank terminal in Hardisty, Alta. Three other terminals would be built along the line: one in Saskatchewan, another in the Quebec City area and a third near Saint John., N.B. The line would be about 4,400 kilometres long, including the segment already built for TransCanada's natural gas line. New sections will need to be built in Alberta, Saskatchewan, Eastern Ontario, Quebec and New Brunswick.

Crude from the pipeline would be shipped to energy-hungry markets in Asia and elsewhere, as well as to refineries and eventually consumers in the Atlantic provinces. The proposed terminals in Quebec City and Saint John would include facilities for marine tanker loading for export. The project would also include delivery to existing Quebec refineries in the Montreal and Quebec City areas, as well as a large Irving Oil refinery in Saint John.

Environmentalists argue the pipeline could put waterways and communities along its route at risk as well as add the potential of a major oil spill on the east coast from export tankers waiting to take the crude abroad. Because oilsands product emits an estimated five to 15 per cent more carbon than conventional oil, refining more of it in Canada would likely increase the country's total carbon emissions. However, the U.S Defence department recently determined that emissions from transporting and using fuel from oil sands was not significantly different from those made with conventional oil.

Technical issues include relatively small refineries on Canada's east coast that have only limited capacity to refine tarry bitumen and a short-term potential overcapacity if all three proposed pipelines are completed on schedule between 2015 and 2018. But the more immediate obstacle is from environmentalists who warn, among other potential risks, that the plans to convert a gas pipeline to oil could pollute Canadian sources of waters. Vocal criticism from environmentalists and First Nations groups have held up the approval process for both Northern Gateway and Keystone. The project will be subject to public and regulatory reviews.

Politicians appear to be lining up behind the idea of a west to east pipeline. Potentially because 3,000 kilometres of the project is already in the ground, the proposal suggests refining at least some of the oil at home, which could reduce high gas prices in Atlantic Canada. The project has the support of the federal government as well as the provinces of Alberta and New Brunswick and support in principle from Quebec. Federal Liberals have also expressed support, and even NDP Leader Thomas Mulcair, who is staunchly opposed to Northern Gateway, has voiced support.

According to the industry, all three lines are necessary if Canada wants to meet its export potential in the coming decades. The west-east pipeline would complement, rather than replace, the other two pipelines and build capacity to ship oil west east and south, the industry argues.

Drivers in Atlantic Canada currently pay as much as 20 per cent more to fill up than those in the Western provinces. Among other factors driving prices higher, they are paying a premium to import foreign oil, while Canadian oil sits ready for use. Proponents say the pipeline will create a new domestic market for Western Canadian oil, as well as potentially open a new door for international export. In addition, the project could contribute to job creation and economic growth, with some estimates saying it has the potential to create thousands of jobs during construction and a few hundred permanent positions.