The Latest Sun News Endorsement Is Out of Line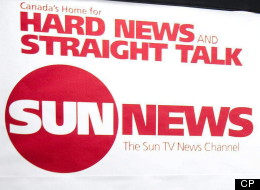 The National Citizens Coalition is an organization that, in theory at least, is supposed to stand for the conservative principle of "more freedom through less government."
But it has recently taken on a cause that promotes the exact opposite.
It's true.
Recently, NCC "Director" Stephen Taylor sent out an email blast urging the group's supporters to demand the CRTC force cable carriers to distribute the Sun News Network.
"Help me save Sun News and help ensure conservatism becomes a permanent fixture on the cable news TV dial," writes Taylor in the email.
Admittedly, it's a call to action many Canadian conservatives would likely support. In fact, the Sun News Network has been actively and successfully rallying conservatives to back its highly publicized appeal to the CRTC.
But even though the Sun News Network's position might be popular with grassroots conservatives, that doesn't make it right.
Simply put, the conservative-leaning network says it needs a "mandatory carriage" license to help it stay in business. And a mandatory carriage license means cable carriers would be compelled to offer Sun News and consumers would be forced to pay a fee.
Clearly, this runs counter to the conservative free market principle of allowing consumers to make their own choices. And that's why the NCC's support for Sun News on this issue is so wrong.
To be blunt, the NCC shouldn't be in favour of "mandatory" anything. And certainly the group should oppose, on principle, the idea of forcing Canadians to pay for the Sun News Network whether they like it or not.
Now don't get me wrong. I am not by any means anti-Sun News. In fact, I agree with Taylor when he writes, "Before Sun News Network came along, conservative voices were only token attractions on the likes of CBC and CTV. Now, we're finally having the principled conversations that we want to have and we're doing it our own terms."

To which I might add, Sun News provides a perspective on the issues that you won't find on the other networks and it breaks stories mainstream outlets might ignore.
Plus it's fun to watch.
In short, having Sun News on the air is good for conservatism and it's good for the news industry. The more voices the better. For these reasons, I want the network to survive and thrive.
And I can even understand and fully sympathize with the network's desire to get mandatory carriage. After all, the Sun Network's primary goal isn't to promote conservatism, it's to make money. And right now, it's losing money. Lots of it.
So from a business perspective, it makes all the sense in the world for the Sun News Network to do what it can to stem its financial losses. Hence, its appeal to the CRTC for mandatory carriage.
Besides, as the network rightly argues, it isn't competing in a true free market. In fact, both of its main rivals, CTV News Channel and CBC's Newsworld, enjoy the advantage of mandatory carriage.
As Pierre Karl Peladeau, the CEO of Quebecor Inc., of which Sun News is a subsidiary, recently wrote, "While a free-market approach is a noble vision, and one to build toward, it bears little resemblance to the television market as it operates today."
In short, Peladeau wants a government agency to use its muscle to level the playing field. And there's nothing unusual about a businessman like Peladeau taking this sort of stance. Indeed, just about every big business and corporation in Canada has at one time or another sought out some form of government intervention.
Sometime that means asking for a government subsidy, sometimes that means asking for protective tariffs, sometimes that means asking for a regulation that could stifle competition.
This is why, ironically, big business is not the best advocate for the free market system; all too often it doesn't practice what it preaches.
And this is why it's so important to have groups like the National Citizens Coalition. The NCC isn't a business and its purpose isn't to make money; its job is to unabashedly promote and defend conservative principles, values and ideals.
That includes promoting the free enterprise system and individual choice, even if that makes its friends in the business world unhappy.
This is not to say the NCC shouldn't come to the aid of Sun News. But it should help the network in a way that's consistent with its philosophy, i.e. run a campaign urging the dismantling of the CRTC and the ending of the mandatory carriage license.
The NCC's goal, in other words, should be to create an environment where the various TV networks compete in a true free market without any form of government assistance or coercion.
The NCC chose instead to mimic the Sun News Network's arguments and in doing so it has undermined its credibility. How can it now oppose any future government subsidies to businesses without looking completely hypocritical?
It's too bad. In this day and age of stimulus spending and run-away government deficits, we need all the principled conservative voices we can get.
Sun News Fake Citizenship Ceremony
The segment begins with Sun News anchors Pat Bolland and Alex Pierson, who introduce the reaffirmation ceremony. "Ten new Canadians are taking their oath right now, here, at our Sun News studio in Toronto," says Pierson.

Citizenship Judge Aris Babikian opens the ceremony and speaks about the meaning of citizenship in Canada.

"Citizenship is much more than a list of things we are allowed to do," Babikian says.

"It is a covenant between indivduals and the country they share."

"By reciting the oath, you are telling your neighbours, colleagues and friends, that you want to join them in creating something great," the judge continues.

"This is not a promise to be entered into lightly or for selfish reasons," the judge says.

Judge Babikian then asks the assembled to reaffirm the oath of citizenship.

Raising their hands, the group repeats after the judge: "I swear that I will be faithful and bear true allegiance to Her Majesty Queen Elizabeth II, Queen of Canada, Her Heirs and Successors.."

"..and that I will faithfully observe the laws of Canada and fulfil my duties as a Canadian citizen."

The group then repeats the oath in French.

Judge Babikan leads the group in an off-key rendition of O Canada.

The judge then gives a certificate to each of the 10 'new' Canadians. Says host Alex Pierson: "And congratulations to all the new Canadians here. Ten of you here at Sun News Network. Finally, Canadian citizens. Wonderful to have you."
Postmedia was born in 2010, when the bankrupt Canwest media chain was broken up. A consortium led by then-National Post CEO Paul Godfrey bought Canwest's newspaper assets, including the National Post, Ottawa Citizen and Calgary Herald, as well as both English-language dailies in Vancouver. Pictured: Postmedia CEO Paul Godfrey *Number denotes latest available revenue figure, for parent company

Torstar's flagship property is the Toronto Star, Canada's largest newspaper. It also owns the Metroland chain of weeklies and the internationally popular Harlequin, publisher of pulp romances. Pictured: The Toronto Star building in downtown Toronto. *Number denotes latest available revenue figure, for parent company

Western Canadian cable TV giant Shaw entered the media big leagues with the 2010 purchase of Canwest's broadcasting assets, including the Global TV network. The company was founded by Jim Shaw and is still controlled by his family. Pictured: CEO Brad Shaw *Number denotes latest available revenue figure, for parent company CORRECTION: An earlier version of this slide stated that Shaw had purchased Canwest's newspaper assets. It only purchased the broadcasting assets. The company had backed out of an earlier attempt to buy three CTV stations.

Founded by Pierre Peladeau and run by his son, Pierre-Karl Peladeau, Quebecor owns the Sun Media and Osprey newspaper chains, as well as cable provider Videotron, Quebec TV network TVA, and a number of publishing houses. Pictured: Pierre-Karl Peladeau *Number denotes latest available revenue figure, for parent company

Founded by Ted Rogers, Rogers Communications is a major player in cable TV and wireless services. The company controls Rogers Media, which operates 70 publications, 54 radio stations and a number of TV properties including CityTV and the Shopping Channel. Pictured: CEO Nadir Mohamed *Number denotes latest available revenue figure, for parent company

Woodbridge is the holding company owned by the billionaire Thomson family. It controls 55 per cent of Thomson Reuters, one of the world's largest news services organizations. Woodbridge's revenue is not reported, but Thomson Reuters reported revenue of $13.8 billion in 2011. Pictured: The late Kenneth Thomson, company chairman, in Toronto in 2003. *Number denotes latest available revenue figure, for parent company

BCE is one of Canada's largest corporations, and owns telephone, Internet and TV infrastructure. Its subsidary Bell Media purchased the CHUM group of radio stations in 2006, and Astral Media in 2012. The company also controls CTV, making it a dominant media player in Canada. *Number denotes latest available revenue figure, for parent company
Follow Gerry Nicholls on Twitter: www.twitter.com/@gerrynic