I'm Proving Women Are Wired For The Male-Dominated Tech Industry
Numbers never lie. Almost never. When it comes to female labour force participation (FLFP) in Russia, the initial statistics looks pretty good: 57 per cent of women 15 and older are employed, which is higher than the world average of 50 per cent. However, when we dig deeper into those numbers, we can clearly see that women are still deprived of opportunities in many fields and are underrepresented in senior levels of management.
Traditional occupations with high rates of female workers in Russia are medicine, education, hospitality and service industries. Ironically, these happen to be the industries with not-so-high salaries and meager career opportunities. The most lucrative careers, such as finance, energy, enforcement or information technology (IT) are predominantly male, and there is no trend of change on the gender front.
What determines the imbalance of women in different sectors of the economy is patriarchal mentality and traditional notions of what is and what`s not a good career for a woman. Girls are not encouraged to be scientists, entrepreneurs or bankers.
In the growing IT field, women are vastly outnumbered by their male colleagues. According to the findings of ITForum 2020, such areas as cyber security and application development demonstrate only six per cent and 16 per cent of female job applicants, respectively, across Russia. Moreover, 73 per cent of surveyed women testified that they feel discriminated against when interviewing for a job in the information technology industry.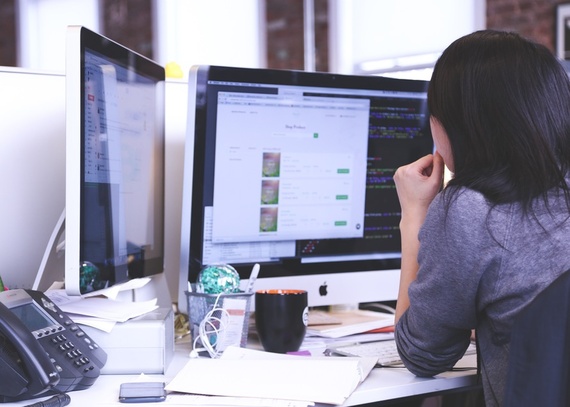 Personally, I studied humanities throughout my school years, but when I joined the workforce I changed my mind and am now concentrating on technology. It is an interesting career with broad prospects and growth, and it is not just for men.
A key to my personal economic independence is a stable job in an expanding field, and this is what IT can offer me and other girls in Russia. We just have to overcome our fears and peer pressure that girls are not wired for high tech.
It took me a few years and many conversations with those I consider as role models to understand that I CAN and WILL have a professional future in technology. If more women will penetrate the fields currently dominated by men, the overall quality of FLFP will improve, as women will get more resources and influence available to them.
In my opinion, high-quality FLFP is when we will see equal rates of men and women across all sectors of economy and across all levels of management. Horizontal and vertical penetration of women in business, politics, media and technology is the goal that my country should move towards. The current overall numbers of employed women in Russia are satisfactory, but it does not make any difference when there are just a few women in leadership positions and among the top entrepreneurs.
A great way to include women in the decision-making process is to introduce quotas. For instance, the Norwegian government has set a 40 per cent quota for women in senior management of national corporations. Other countries, such as Japan and Canada have also successfully incorporated women in their cabinets, which is an example for Russia to follow.
More and more global decision-makers understand the input of women in senior management and set a positive trend for the governments and companies. This is why it is important for Russia to stay competitive in an ever-changing world and improve the quality of FLFP for a more sustainable economy.
Follow HuffPost Canada Blogs on Facebook
MORE ON HUFFPOST:
STEM Stories: The Faces Of Women In Technology
At the Cisco Academy at Effat Univeristy in Saudi Arabia, Dr. Akila Sarirete shows her students that an effective, experienced professional can earn the respect and admiration of her peers — both men and women — with hard work, dedication, and knowledge. "I had a different view of the country. I thought women were oppressed. I wanted to make a difference in women's education," said Dr. Akila. Under her leadership, Effat University became the first women's university in Saudi Arabia to offer an engineering degree, partnering with Duke University. Other universities are following suit with more majors offered for women.

In 2002, Cisco partnered with United Nations Women through the initiative, "Achieving E-Quality in the ICT Sector." This partnership established a gender-focused Cisco Networking Academy program in Jordan, providing high-quality professional information and communications technology (ICT) training for women. Cisco Networking Academy aims to bring more female university students such as Diana Nassar (pictured), into ICT fields, thereby helping to reduce gender inequality. "I've always wanted to make an impact, to participate and interact more with people. I became literate to understand that technology can have a greater impact."

An assistant professor in information and communications technology (ICT) and Cisco Networking Academy instructor in Bulgaria, Stella Stefanova (pictured) sets high standards in her classroom. "Our students go on to work in ICT at big companies as programmers and networking specialists. Most go to university in Sofia or abroad and find opportunities in the growing economy. They go into good careers and take leading positions," said Stella. Bulgaria has had an active Cisco Networking Academy community since 1999 with 50 Cisco Academies, six instructor training centers, and 120 instructors.

Burcu Gürlen, (pictured), hopes to become an anesthesia technician. She enrolled in the Cisco CCNA Discovery course at her high school because she believes it will set her apart. "If I start the industry with this information, I will be one step ahead of my colleagues because IT is effective in every field and in this way I will be ahead of them... We are living in a technology era and I believe that I can progress faster than my peers in every field thanks to this education." Burcu attends ITO Technical and Industrial Professional High School in Istanbul, which offers the Cisco Networking Academy curriculum through a partnership with the Turkey Ministry of National Education and the Turkish Informatics Foundation. Since 2007, 2800 instructors and 17,000 high school students have received training at a Cisco Networking Academy in a vocational high school in Turkey.

Each year 150 applicants apply for 16 highly sought-after spots in a program at the University of Belgrade in Serbia designed just for women. While some have experience in the technology sector, only half are inclined that way. Others have backgrounds as wide ranging as motherhood, artist, language professor and architect. Within each class there are often no common bonds but one: a desire to learn and better themselves personally. More than 65 women have graduated and gained the self-confidence they needed to work in industries they never thought possible. The F_email Project was the brainchild of Cisco Networking Academy instructor Mladen Koprivica, who observed that female students are "more naturally organized because they have been asked to juggle so many activities in their lives." He saw a growing need for his country to develop a stronger workforce in this sector. Focusing on women with great potential to impact a wider change in society, the program combines the technical skills taught in Cisco Networking Academy program with soft skills needed for career success.

Ntombozuko (Soso) Luningo (pictured) grew up in a small village on the Eastern Cape of South Africa and is now part of an elite 19 percent of Cisco Networking Academy instructors in South Africa who are women. Once a Networking Academy student herself, she has become a very employable and valuable networking professional and teacher. "She is the kind of person who is able to break down barriers for students," said Alfie Hamid, Cisco Corporate Affairs Regional Lead. "They might be afraid of IT or have never used computers. She is able to guide them through the process. Students who might be overwhelmed or drop out follow her example and see the program through." Soso teaches at CIDA City Campus in Johannesburg, a non-profit institution of higher education that serves the educational aspirations of students from historically disadvantaged backgrounds at little or no cost. The curriculum helps students raise their skills to a competitive level and achieve at international standards of excellence. Less than 5 percent of the 9000 high schools in South Africa offer ICT as a subject, yet information and communications technology is the backbone of economic growth.

In the small town of Belfast in northeast South Africa, Promise Nkosi loved to study science, math, and technology. She was accepted to CIDA City Campus, a nonprofit institution of higher education in Johannesburg. Promise found her way to the Global Technology Acceleration (GTAP) program, an intensive five-month program that prepares people age 18 to 24 with an aptitude for technology to become network consulting engineers, project managers, customer support engineers, system engineers, and account managers. Promise is the first born of five and the only girl. She is the first in her family to go to university and find a job. She encourages her siblings to stay in school and consider careers in technology. "I will take them around to see the places where technology is used and where technology comes from. If they understand that, they will feel that they can help other people. Because with technology you are not just helping yourself, you are also helping people all over the world." From 2008 to 2012, GTAP recruited 239 candidates who achieved a total of 653 Cisco Technical Certifications; 198 have Cisco Certified Internetwork Expert (CCIE) written certifications, on their way to full certification.

Erica OBrian:Singlebrook, a woman-owned custom web and mobile development firm based in Ithaca, NY builds software with a mission of Technology for Change!

Patrick Glace:Over 500 high school students from 40 schools hash it out with 15 lbs. robots. They design, build, and battle.

Fran Thompson:Engineer in the making @myinventorsclub

no79:In the event of a robot apocalypse, the girls of team 2399 (and our intrepid male /and/ female mentors) like to think we'd be well prepared. Girls from Hathaway Brown School (a small, secular, private girls school) in Northeast Ohio have been participating in the FIRST Robotics Competition (FRC) yearly since the 2008 season. Every year, this student-lead team manages to crank out a (mostly) functional robot in six weeks, for competition with other high school teams-- from as close as the next town over or as far off as Brazil. I honestly believe there is nothing in the world quite like the experience FIRST has given me, and every other girl on my team. You start with nothing more than a challenge and whatever ideas you can come up with, and you make your resources (very limited ones in our case, whether it's mentor-hours, money, materials, or tools) work the best they can. Sometimes it's the first time girls pick up a power tool. For others it's going from their first "Hello, world!", to their first functional drive train code in a matter of weeks. For me it was walking in with absolutely NO STEM experience, and now entering my senior year knowing the FIRST electrical systems inside and out, and with the leadership skills it takes to be the team lead. I can CAD and write in Java and design PCB layouts and without FIRST and our fantastic mentors none of this would have been remotely on my radar. Hell, I might even have been applying to liberal arts schools come fall! I'm proud to say that my team, the Fighting Unicorns, has received awards for design, for spirit, and recently, back to back "Dean's List Finalists", an award given for excellence on the part of individual students. I'm so proud to have been on a team (practically grown up on it really) where all the engineers were female and no one gave it a second thought. I'm looking forward to my last season as a Fighting Unicorn, and I'm excited for whatever it has in store, because I'm positive there will be STEM in my future, and if I don't just survive the robot apocalypse, I'm sure I'll at least have to contribute to the cause!

jkhoey:Kelly Hoey, Deborah Jackson and Veronika Sonsev, the founders of Women Innovate Mobile, first tech startup accelerator funding women founded ventures in mobile technology.

HuffPost Blogger Reshma Saujani:

evonne:As a kid I loved technology, code and computers but I was not encouraged to pursue that path beyond a few colleges that tried to push me toward math and physics programs. I was more interested in the humanities and media and found social sciences compelling for my career as I have learned to blend the tech futurist mind of a programmer with the social artist who enjoys bringing people together to discover new things. I see myself now as a toolbuilder, someone who uses STEAM + creativity to solve problems and help people realize their potential together.

KallieMcCrae:Mary Ann is inspiring future scientists as a volunteer with Students 2 Science (S2S), a non-profit organization that motivates and trains students to pursue careers in STEM subjects. Through this public-private partnership, Mary Ann and her Daiichi Sankyo, Inc. colleagues volunteer their time with middle and high school students in a fully functioning chemistry laboratory. Here, Mary Ann conducts experiments with high school students from Newark Science Park High School during the "Scientist for a Day" lab field trip. "I wanted to make a difference in somebody's life and the best way for me to do that, in my mind, was working for a pharmaceutical company. I use what I learned in school every day… the foundation is so important." Daiichi Sankyo and its employees have been supporting S2S since 2009.

jkhoey:On British Airways' UnGrounded Innovation Lab in the Sky, Team Altitude hacked the problem of retaining women in STEM. The winning hack: AdvisHer.org

Rainy Heath:I taught myself 3d CAD programs to make my own jewelry.

objective-she:Meiling Wu, a TeenDEVELOPreneur, prepares to discuss solution to automate work permit process for students enrolled in the San Francisco Unified School District (SFUSD) as part of the National Day of Civic Hackin in June, 2013.

jkhoey:Celebrating BlogHer'12 with keynote speaker Kass Lazerow, co-founder of Buddy Media and founders of BlogHer, Levo League, Lion'esque Style and Women Innovate Mobile.

jkhoey:Three mobile tech startups all with female co-founders.

jkhoey:

Idit:High school girls in Queens, NY, participated in the first-ever all-girl video game design competition as part of Globaloria, the first social learning network where students develop digital literacies, STEM & Computing knowledge and global citizenship through game design. Forty young women worked individually and in teams for hundreds of hours throughout the school year to design and program educational video games that were entered in the "Globeys" Game Design Competition. Their games were reviewed by a panel of expert judges, and grand prize winners and finalists took home prizes such as Adobe Creative Cloud subscriptions and Cisco Flip Cameras to help support their web design interests.

MelissaGonzalez:Always strategizing about disrupting traditional retail

cynthiaschames:Cynthia Schames, Founder & CEO of AbbeyPost. Empowering independent fashion designers and small boutiques to sell their Plus Size fashions online.

LOREALWID:Rachel Weiss

superandomness:Sisters Cassidy and Camryn Williams (ages 21 and 18, respectively), have taken the US by storm, at conferences like the White House Tech Inclusion Summit this past January and the National Center for Women & Information Technology Summit this past May. Between the two of them they have interned far and wide away from their home in Chicago, IL, and there's no stopping them. Cassidy is currently in Silicon Valley at internship #5 at Intuit before going into her senior year, while her sister Camryn is interning at Microsoft in Redmond, Washington after a successful freshman year. Both computer science majors and Spanish minors at Iowa State University, the sisters are role models for young girls everywhere.

doreenbloch:Doreen Bloch, CEO & Founder of Poshly.com, speaks about personalization on the web for Bazaarvoice's Connected Perspectives video series.

Fran Thompson:Inventors Club STEM Program. Girls learning through building .

milkmusket:Developers / Designers Audrey and Tina working on coding up some new features for PlumAlley.co

21st Century Forensic Science brought to life in your classroom, raising aspirations and attainment in Science & STEM at an early age when it really matters!

pulsecsi:Youngs students involved in a STEM Workshop

Azza is the "EFDA-JET" prize winner in the 23rd European Union Contest for Young Scientists; an initiative from the European Commission that was set up to pr...

Azza Faiad is a 17 year old scientist. She was the winner of the European Union Contest for Young Scientists in 2011 for devising an inexpensive method for c...

lap332:Corinne Pascale is setting the standard for women in STEM. Corinne has worked in government technology consulting, a vascular research lab, new product development, and clinical cardiac care. Currently a program manager at Caradigm, Corinne works on software for accountable care organizations (ACOs). Her day-to-day work includes software feature design, project planning, and system interaction design. Corinne's education includes a Master's degree from Carnegie Mellon University in Engineering and Technology Innovation Management and a Bachelor's degree from Washington University in St. Louis in Biomedical Engineering/Electrical Engineering. Corinne tirelessly promotes STEM to youth. As a Computer Science Educator for the TEALS Program, Corinne presented 4x-weekly lectures and generated course material on basic computer science concepts at Juanita High School. Topics included control, boolean logic and decision-making, user input/output, scoring points, and simulating physics.

Azza Faiad:Hitting bottom is really… a good thing… cuz that's when no where to go but up. Have you ever noticed your dream??Well… I mean literally a dream, when you fall asleep the first thing that comes to your mind is where are you and what are you doing here, that's the first station in simple words "my first bottom".2010 I participated in BASEF with a roughly done project no core or preparation and as you give you take "No awards", I asked myself so much times whether to participate or not and after whether to let go or not. But a silly question that always came on Alice's mind "how to get out of wonder land??" when in fact it is so much better than real life. I started again this time with the only talking cat in the hat left saying "Dare to Dream", I worked on a new project and got ready for BASEF 2011, here where I hit the bottom so many times while working on my project till I became more specifically ... a yoyo, but I went on. On this round I won 1st place environmental management returning home with that inner voice questioning "That's it??!" But that was NOT it. It was the European Union Contest for Young Scientists…It was winning a special award competing with the best European students. And the last step of the dream after running and struggling is to wake up. Holding my pen now I know that Alice is back home but this time she's a different girl, someone who learnt to dream BIG, fight for what she believes in, how to achieve her goal and show her passion. After participation in science fair I know that when anyone would come and tell me that there was never something called wonderland, I'll hold a smile on my face and say it out loud "Never say never".

OptimisticTiger:Jen Padgett began as a Bookkeeper at Community Technology Alliance (CTA) and is now the Executive Director of the rapidly expanding Silicon Valley nonprofit. CTA's mission is to harness technology to empower communities to develop data driven solutions to poverty and homelessness. CTA develops custom database and reporting solutions for public and nonprofit partners in six counties in the San Francisco Bay Area. Jen strongly believes that it is possible to end poverty and homelessness, and every new business venture she undertakes is with that end in sight, saying "If that's not our mission, then why are we here?" Thanks to her leadership and knack for inspiring innovation, Jen was recently invited to join 99 other innovative thinkers on British Airways' UnGrounded Innovation Lab in the Sky. After flying from San Francisco to London, the UnGrounded innovators presented their ideas at the United Nations Decide Now Act Conference. With Jen at the helm, CTA has doubled in size in the past nine months, and is continuing to make great strides in the world of human services technology and data analysis.

Recently joined AOL as head of Sales Strategy and Operations

chickenwitch:Young Australian girl, Elise Marrott, won a trip to Cisco HQ in Silicon Valley through the Cisco Netacad Netriders program. Life changing experience!

llangit:TKP "Teaching Kids Programming' instructor Lynn Langit teaching kids in Molokai, HI

Jen Wingate Sobolewski:For Bowling Green State University senior Merissa Acerbi, hands-on engagement in neuroscience has proven a wellspring of inspiration and discovery. She began her first research experience just one month into freshman year. "Learning more about how the brain works — I didn't realize how interested I would be. Now I'm realizing how passionate I've become about this," she said. As she prepares to begin her final undergraduate year, Acerbi has already amassed a record of research and even publishing that would be the envy of any graduate student. A 2013 Ronald E. McNair Scholar who has also twice participated in National Science Foundation-funded SETGO (Science, Engineering, Technology Gateway Ohio) and received several Center for Undergraduate Research and Scholarship (CURS) grants, Acerbi is one of the many BGSU students who have taken advantage of opportunities to conduct original research and also to receive significant financial and mentoring support. She has also had the benefit of being involved with scientists who are at the top of their fields. BGSU is an international leader in avian hippocampal research and the animal behavior/comparative approach to brain function, a field that was founded by BGSU Distinguished Research Professor Verner Bingman. Acerbi has been working with Dr. Cordula Mora, a research assistant professor and National Science Foundation Fellow in the neuroscience center, since February 2011.

LuzRivas:Elementary school girls from the Pacoima Neighborhood in Los Angeles participate in the @DIYGirls afterschool program.

After becoming a single parent at age 24 with 3 young children Sue aced a math course which enabled her to gain entry to study computing at university. She enjoyed that so much that she followed it with a PhD in software engineering. She has since spent almost 20 years in academia setting up BCSWomen, an online network for women in computing in 2001, she champions support and encouragement for all women in tech. Dr Black believes that technology is the future and we as women need to take part in building that future. Let's do it!!
Follow G(irls)20 on Twitter: www.twitter.com/Girls20