Give Vancouver The Tools To Level The Playing Field In Housing Market
It seems with every passing day, there is a new story out about Vancouver's red-hot real estate market. As mayor, Vancouver's lack of affordable housing is one of the most complex challenges I've faced at City Hall.
That's why I was pleased to hear Premier Christy Clark's recent comments on housing and the need to "attack affordability from all angles." I agree. The rapidly escalating housing prices in Vancouver are creating frustration for many hard-working, middle-income residents and families, and even more strife for those living paycheque to paycheque.
I hear on a daily basis from people who are unable to find quality rental housing in what is effectively a zero-vacancy market, and who are not even within shouting distance of being able to buy in Vancouver. It's time that all levels of government -- the city (and local governments throughout the region), the province, the federal government -- engage with each other and take urgent action to provide affordable housing for people on a range of incomes.
At Vancouver City Hall, we're doing everything we can to get new housing built that meets the needs of local residents. Our Rental 100 program has successfully enabled almost 4,000 new units of rental homes. We have inclusionary zoning requirements in new neighbourhood plans like the Downtown Eastside and the Cambie corridor.
We are investing $61 million into affordable housing this year -- the highest in our history. We've made some progress, but it's clear that without more active collaboration with the B.C. and federal governments we won't be able to moderate the severe impacts of an unbridled housing market.
The first step is supply, and the single biggest step we can take to address the soaring housing costs in Metro Vancouver is to have the B.C. and federal governments generate thousands of new housing units that are affordable for lower- and middle-income taxpayers, such as co-ops and rental housing. Even a sharp correction in the housing market won't enable opportunities for people to rent or buy without an increase in supply of housing geared to low and middle incomes.
While the provincial government funds a number of social housing projects, as well as providing rent supplements, the federal government is increasingly absent from the housing sector. Years of cutbacks have put thousands of co-ops and social housing units at risk, and the lack of new investment is compounding Vancouver's--and the region's--affordability challenges.
In an election year, we need to persuade all federal parties to commit to a serious push on housing: tax incentives to build rental dwellings, renewing and investing in co-op units, and rather than liquidating public lands, using them as an opportunity to maximize affordable housing.
But supply is just one part of the equation. It is time to ensure that B.C. taxpayers see some benefit from the remarkable rise in residential land values in many parts of the province. The city is ready and willing to engage in a serious conversation with the province on housing, and to look at new tools to create a more level playing field in the housing market.
What could these tools be? There are a number of options the province could pursue:
An increased property transfer tax on the most expensive residential properties, with the proceeds invested back into creating more affordable housing;
A tax to discourage the quick resale or "flipping" of new housing, which would reduce speculation--particularly for pre-sales--and help level the playing field for first-time buyers;
Give municipalities the power and data to track property ownership, with tools to ensure timely occupancy of vacant units.
These steps would moderate the excesses of the Vancouver housing market, without unfairly punishing those who have built up home equity over many years. These policies would slow the surging prices that are forcing renters and prospective buyers to leave the city in search of more affordable housing. They would create a more even playing field for the younger generation that is struggling to afford to live in the city.
Let's be clear: no single policy will provide a magic solution to housing affordability. That's why we need a range of tools that we carefully design and deploy. But the huge disconnect between local wages and rising housing prices requires all governments to adjust and respond urgently.
Baby boomers and many people in my generation had the good fortune to enter the housing market at the beginning of a long, steady climb in housing prices. All governments now have a responsibility to ensure that the next generation can share in the benefits of our successful economy, and have the opportunity to live and thrive right here in B.C. Given the urgency of the situation, I'm hopeful that the B.C. and federal governments will sit down with the city, and work with us to on a new set of housing policies that enhance fairness and affordability for a range of incomes.
It's time we take the prudent steps necessary to maintain a strong, stable housing market together. One that provides opportunity for both renters and new buyers, and financial security for those who are already in the market. Housing in Vancouver should be for people to live in, to raise a family, to retire--to be treated as a home, not as a speculative investment.
Our housing market is drastically different from where it was 10 or 20 years ago. Let's recognize that times have changed and that we need a new conversation on housing--and meaningful government action to make sure we're providing housing opportunities for everyone, not just the very wealthy.
Mayor's letter to Premier Christy Clark: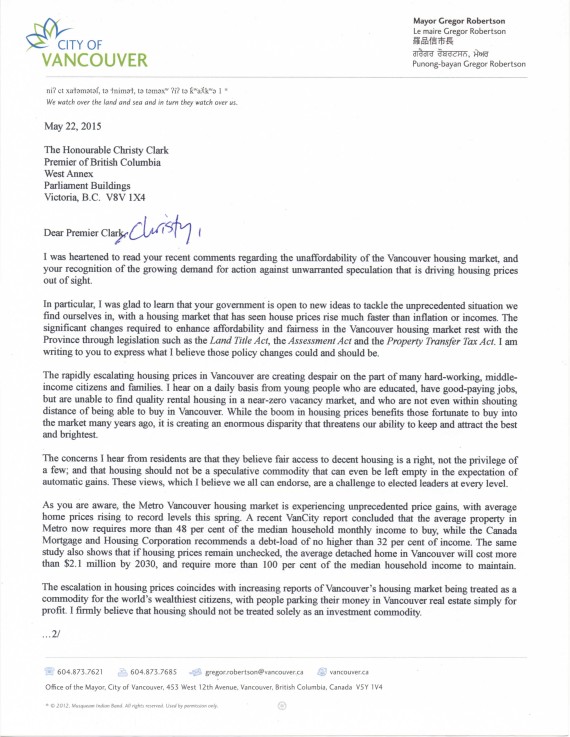 ALSO ON HUFFPOST:
Vancouver Mansion Sold For $51 Million
This 25,000 sq.-ft. property on three lots in Vancouver sold for more than $51 million in December 2014.

NEXT: Most Expensive Houses in Vancouver, December 2014

This gorgeous 11,081 sq.-ft. mansion, sitting on a 36,216 sq.-ft. lot, will set you back $14.98 million. Some of the highlights include a grand foyer that opens up onto a patio and balcony, and an indoor pool room with rock-faced walls. Oh yes.

This First Shaughnessy Estate is near schools like Shaughnessy Elem School, York House, and Little Flower Academy. It can be yours for just $15.6 million.

This house has everything! You will never want to leave. It has an indoor pool, a full production media room, and even an elevator. Have an extra $15.98 million?

Why pay $12 for the movies when you can watch one in your very own home theatre?

This character house features four bedrooms and four-and-a-half bathrooms, plus an beautiful open layout. The stunning home costs $16.8 million.

This house features over 6,600 sq.-ft. of space including six bedrooms, a large living room, a dining room, a game room, and a conservatory. All yours for $16.8 million.

Built in 1990, this 10,984 sq.-ft. space has nine bedrooms and is placed on a huge 28,924 sq.-ft. lot. Buyer(s) of the home get a view of the ocean and mountains. The house also features a grand tw- storey foyer with crystal chandelier and dome skylight ceiling. Talk about fancy! It'll just cost you about $17.8 million.

A game room, rec room with a wet bar, and a tennis court? What more could you want? This home also includes a grand foyer with about a 20-foot high ceiling and a spiral staircase, as well as a total of nine bedrooms, including two masters. Listing price is $18.68 million.

For just $19.88 million one lucky buyer can feel like a king in this mansion. This home has eight bedrooms, seven-and-a-half bathrooms, and a grand foyer with a high ceiling. For any families concerned about their children's future, no worries, it's close to a bunch of schools.

Although based on this picture, the house doesn't look all too great compared to the others. It costs a whopping $21.8 million, but this picture does not do it justice. Keep clicking.

This beautiful home has a lot to offer. The house is wonderfully furnished, plus has an indoor pool, six bedrooms, and nine bathrooms.
Follow Gregor Robertson on Twitter: www.twitter.com/MayorGregor