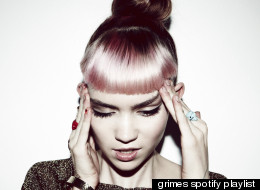 *this post originally appeared on the author's Tumblr.
I don't want to have to compromise my morals in order to make a living.
I don't want my words to be taken out of context.
I don't want to be infantilized because I refuse to be sexualized.
I don't want to be molested at shows or on the street by people who perceive me as an object that exists for their personal satisfaction.
I don't want to live in a world where I'm gonna have to start employing body guards because this kind of behavior is so commonplace and accepted and I'm pissed that when I express concern over my own safety it's often ignored until people see firsthand what happens and then they apologize for not taking me seriously after the fact...
I'm tired of men who aren't professional or even accomplished musicians continually offering to "help me out" (without being asked), as if I did this by accident and I'm gonna flounder without them. Or, as if the fact that I'm a woman makes me incapable of using technology. I have never seen this kind of thing happen to any of my male peers.
I'm tired of the weird insistence that I need a band or I need to work with outside producers (and I'm eternally grateful to the people who don't do this).
I'm tired of being considered vapid for liking pop music or caring about fashion as if these things inherently lack substance or as if the things i enjoy somehow make me a lesser person.
I'm tired of being congratulated for being thin because I can more easily fit into sample sizes from the runway.
I'm tired of people I love betraying me so they can get credit or money.
I'm sad that it's uncool or offensive to talk about environmental or human rights issues.
I'm tired of creeps on message boards discussing whether or not they'd "fuck" me.
I'm tired of people harassing my dancers and treating them like they aren't human beings.
I'm sad that my desire to be treated as an equal and as a human being is interpreted as hatred of men, rather than a request to be included and respected (I have four brothers and many male best friends and a dad and I promise I do not hate men at all, nor do i believe that all men are sexist or that all men behave in the ways described above).
I'm tired of being referred to as "cute" as a "waif" etc., even when the author, fan, friend, family member etc. is being positive.
(fyi)
waif |wāf|
noun
1 a homeless and helpless person, esp. a neglected or abandoned child: she is foster-mother to various waifs and strays .
• an abandoned pet animal.
cute |kyo͞ot|
adjective
1 attractive in a pretty or endearing way: a cute kitten.
• informal sexually attractive.
I'm tired of people assuming that just because something happens regularly it's ok
------------------------------------
I have so much love for everyone who has been cool and amazing. I have the best job in the world but I'm done with being passive about any kind of status quo that allows anyone to suffer or to be disrespected.
Grimes world tour is officially over, the visions album cycle is officially over, and I'm now taking the time to overhaul everything and make it better
Much love to every fan -- stuff can be lame sometimes but it's really cool to have this support <3
AudioFile: Claire Boucher's Grimes project includes electro-pop music, artwork and experimental film. For more on this story, click here: abcnews.go.com

'Genesis' is taken from the album Visions, out now on 4AD/Arbutus Buy Visions - bit.ly www.grimesmusic.com Credits Directed by Claire Boucher Co-starring: Brooke Candy DOP: Drew Bienemann Production: Sebastian Pardo & Lana Kim Special thanks to Seth Pratt, Alfredo Llamas, Mac Boucher, Tokimonsta, Sigrid Lauren, Freidl, Lux, Lindsay & Jessie St.James

(Check out my blog: grimes-claireboucher.tumblr.com) On Display featuring Claire Boucher. Video from www.tvmcgill.com Credits: Chris Tron, Phil MacDougall, Stacey De Souza Duration: 3:18 Posted: 01.18.11 Grimes' website: www.grimesmusic.com Grimes' Myspace: www.myspace.com Grimes' Twitter: twitter.com Grimes on Facebook: www.facebook.com (menos información)

GRIMES MEETS MAdM AT BASILICA HUDSON. Melissa Auf der Maur interviews Claire Boucher about what it's like being women who's birthdays fall on St. Patricks Day, amongst other topics. Footage of her amazing show at Basilica Hudson follows.

VEVO chats with Claire Boucher aka Grimes at SXSW 2012. #VEVOSXSW © 2012 VEVO

A behind-the-scenes look at a Daytrotter session with Grimes, featuring interviews with Claire Boucher (Grimes) and Daytrotter founder Sean Moeller. Echo Mountain Recording Studio hosted several Daytrotter sessions during Moogfest 2011. This video was shot on Saturday, October 29, 2011 at Echo Mountain Recording Studio in Asheville, NC by The Tuned Inn. Check out other live performances and behind-the-scenes footage on our website www.TheTunedInn.com & our YouTube channel at http

She's only 24, but already releasing her third album Visions: Claire Boucher aka Grimes. With a sense of irony, the Canadian musician admits that she's 'pretty good at faking'. She says she doesn't know that much about music at all. "I just push the things I'm naturally good at really hard, but if I would play as a back-up musician in someone else's band, I would totally fuck it up for everybody." More video's: www.FaceCulture.com Twitter www.twitter.com Facebook: www.facebook.com

Catching up with Claire Boucher, AKA Grimes. Boucher is on top of her game right now, following the release of her new record, 'Visions.' We sat down to chat about her recent success, and the ecstatic experience of recording. ** Thanks to www.grimesmusic.com twitter.com itunes.apple.com 4ad.com ** When you want to know what's going on with your favorite new artists, you can head to any number of sites that hosts a bunch of rewritten press releases, or you can head to Noisey to check out our NOISEY MEETS series—we've sat down with Best Coast, Bad Brains, and Danny Brown for some cool, weird, and funny-as-sh*t interviews. Subscribe to Noisey on YouTube to stay updated on our daily releases: www.youtube.com Videos, daily editorial and more: www.noisey.com Like Noisey on Facebook: fb.com Follow Noisey on Twitter: twitter.com Read our tumblr: noiseymusic.tumblr.com

Get a Free Grimes mp3 from Google Play (US Only): goo.gl Google talks to Grimes (nee Claire Boucher) before a recent show in San Francisco. Watch her tell a story involving tug-o-war, her keyboard and an incapacitated fan; talk about songwriting; and explain why she still really loves Marilyn Manson. Get "Genesis" from Visions FREE from the Android Market (US Only): goo.gl

canadianmusician.com Grimes is the stage name of Claire Boucher, an innovative Canadian musician, artist, and video director. Originally from Vancouver, Grimes began experimenting with recording while attending McGill University in Montreal and subsequently immersed herself into the underground electronic and industrial music scenes. Her debut, "Geidi Primes," dropped in 2010 and was quickly followed by another full-length, "Halfaxa," that same year. The two showcased an hybrid of styles ranging from industrial and electronic to pop, hip-hop, R&B, noise rock, and more. Her third release, 2012's "Visions", was heralded by critics from Pitchfork and The New York Times and eventually landed on the shortlist for the Polarics Music Prize. CM Editor Andrew King spoke with Grimes in the stairwell of l'Imperial in Quebec City before a performance with Ariane Moffatt and Mozart's Sister to talk about her approach to making music, her indispensable tools, and more.

Montreal artist Grimes - Claire Boucher visit: yourstru.ly Grimes performs "Genesis" from her debut album Visions at the SUB SF for YT. Read the full blog post here: yourstru.ly Subscribe to our YouTube channel here: www.youtube.com

Grimes live Montreal Metropolis 2011 aka Claire Boucher 21-5-2011

Nardwuar interviews Grimes at SXSW 2012 in Austin, Texas!