Let's be Clear, the G20 was About Economics
While I have always liked Barrack Obama, this move for a military strike in Syria sounds more like a broken record from George W's playlist.
Couldn't the world charge Bashar al-Assad with war crimes and call it a day? I'm scratching my head on this one.
Canada of course takes the passive approach while in support of the U.S., throwing relief dollars on the fire.
I can't escape the quote stuck in my head : "War against a foreign country only happens when the moneyed classes think they are going to profit from it."
~ George Orwell
Food for thought anyway.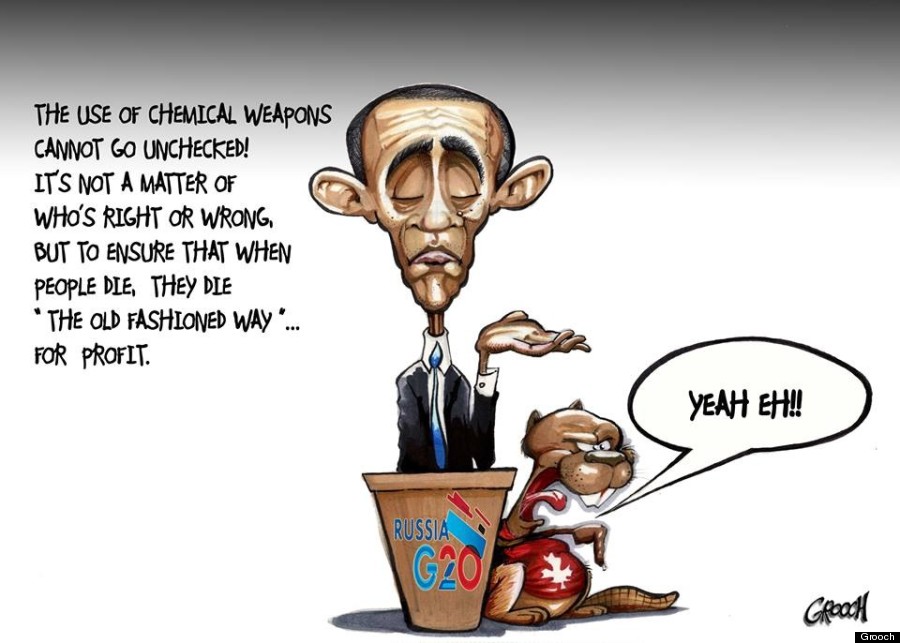 Click through the gallery below for more Grooch.
Lethbridge Comic-con starts Friday. Yours truly "GROOCH" will be there, come on down and get your caricature done, enjoy the festivities , and get a dose of nerd-dum. Some of these folks haven't been out of their parents' basements for a decade !! NYUK NYUK NYUK

I, alas, have a full time job working for the Facilities department at the University of Lethbridge. Last night I pulled a 12 hour shift working through the worst flooding the campus has maybe ever seen. without an official tally yet made, I'm only guessing, but would hazard to say the damage is in the seven figure range, and walking through the carnage I quickly came to the conclusion that the University requires perhaps a new crest.
Follow Grooch on Twitter: www.twitter.com/Artist_GROOCH