A Gratitude Year Rewired My Noodle
I'll be honest ... I wasn't sure I would do it.
The concept was simple. Every night, write down something -- anything -- that I was grateful for that day, fold it and pop it into a glass jar. For 365 days.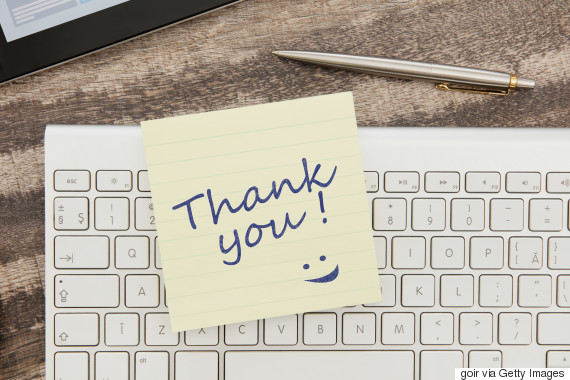 (Photo: Goir via Getty Images)
Ever since Oprah first shared the concept of a gratitude journal on her show years ago, I knew there was something to this whole "living in gratitude" thing. And so every few years and with the best of intentions, I buy a journal and write down five things I am grateful for before going to bed... and within a week, the journal is shelved and I go on with my life.
But last year, when I saw a post about it on Elizabeth Gilbert's Facebook page (Eat Pray Love author and goddess), I was determined to try again for 2016. However, I know myself. And the only way I was really going to do it was to make the process easy, fun and pretty.
What happened was, well, transformational.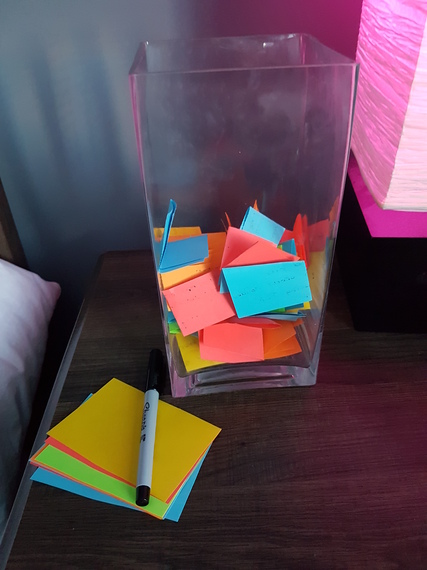 I bought a nice Sharpie and colourful paper that I cut into rectangles. I took a big glass jar leftover from our wedding that I put on the dresser. My plan was to write down AT LEAST one thing every night before bed, finding the blessings even if the day was shitty. My first entries:
I am grateful to have survived 2015.
There, that was easy.
I am grateful that Starbucks now has coconut milk!
For a girl with a dairy allergy, this meant I could have a chai latte for the first time in years.
And then I had some big moments like bathing an elephant on my 40th birthday in Bali.
Or finally seeing my favourite band (Pearl Jam) up close and personal after 20+ years of missed opportunities. This kind of gratitude is easy.
But then, as we all do, I had some crappy days where a pity party was calling my name. And I had to dig deep.
I'm grateful for the heating pad, extra-strength Advil and stretchy pants.
Wicked menstrual cramps.
I'm grateful for my husband listening to me vent about (name withheld) who was an ass today. I feel better now.
Venom over this jerk turned to sweetness and tolerance once I went to gratitude about having my beloved's support.
Very soon into the process, I started to notice that once I shifted my thoughts to being grateful and then wrote them down (this is key to imprinting insights into your psyche), that I would see the blessing in EVERYTHING. Including actually stopping to smell roses at a city intersection one day. How very Hallmark!
Living in gratitude – even for only a few moments a day – can actually change your brain.
And it became clear that by doing this practice before bed, I was in fact letting my soul marinate in gratitude throughout the night. The days were better. I became less fazed by things. When faced with a challenge, it was a game to me to think, "Ah, there is a lesson here. This is tough, dude, but find the blessing."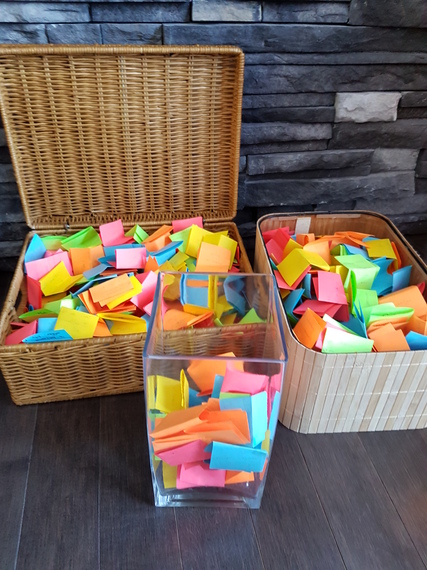 Soon I was dumping the jar of papers -- that began to look like colourful butterflies -- into a basket every few weeks to make room for more. It's become easy to add three to five little papers to the jar now, because I soon learned that one interaction/situation/incident can breed multiple things to be grateful for. This is known as a gratitude spiral, and it's a blissful state to be in.
I'm grateful I had time to meet my friend for dinner today.
I'm grateful for the words of wisdom she bestowed on me.
I'm grateful for my Reiki training so I could offer her some energy insight for her headache.
I'm grateful for the disposable income I have to be able to buy extra wine for us.
There are numerous clinical studies showing that living in gratitude -- even for only a few moments a day -- can actually change your brain. Anecdotally, I can tell you that it made me happier, more able to manage stress, decreased victim mentality and simply made me smile more. Check out writers like Dr. Joe Dispenza, Gregg Braden, and Deepak Chopra for the science-y stuff behind it.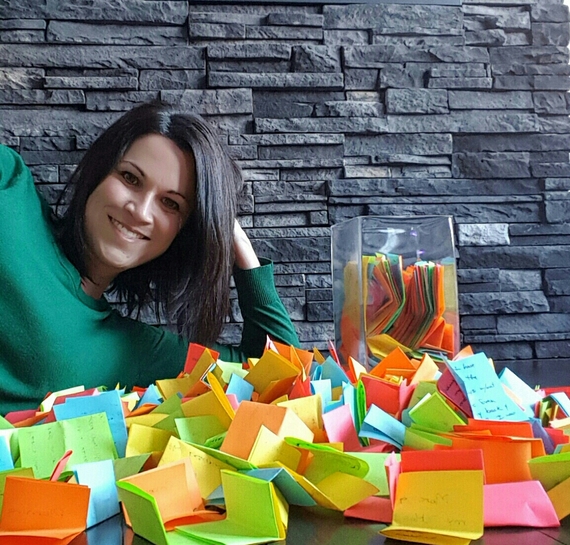 And so as 2016 has ended, I sit here with all of the papers dumped out in front of me. With a glass of wine, I'm reading each and every one of them, remembering, laughing, crying and savouring those moments of gratitude. This simple nightly practice changed me; it re-wired my noodle and my entire being in general. Will you rise to your better self and try it with me in 2017?
Follow HuffPost Canada Blogs on Facebook
Also on HuffPost:
Health Benefits Of Gratitude
Grateful teens are happier, according to a study presented at one of the annual meetings of the American Psychological Association. Researchers also found that teens who are grateful -- defined in this study as having a positive outlook on life -- are more well-behaved at school and more hopeful than their less-grateful peers. They also got better grades, had less envy and more friends due to their optimism. "More gratitude may be precisely what our society needs to raise a generation that is ready to make a difference in the world," said study researcher Giacomo Bono, Ph.D., a psychology professor at California State University.

Being constantly mindful of all the things you have to be thankful for can boost your well-being, research suggests. In a series of experiments detailed in a 2003 study in the Journal of Personality and Social Psychology, daily exercise practices and listing off all the things you are thankful for are linked with a brighter outlook on life and a greater sense of positivity. "There do appear to exist benefits to regularly focusing on one's blessings," the researchers wrote in the study. "The advantages are most pronounced when compared with a focus on hassles or complaints, yet are still apparent in comparison with simply reflecting the major events in one's life, on ways in which one believes one is better off than comparison with others, or with a control group."

Grateful high-schoolers have higher GPAs -- as well as better social integration and satisfaction with life -- than their non-grateful counterparts, according to a 2010 study in the Journal of Happiness Studies. Researchers also found that grateful teens were less depressed and envious. This could be a factor in why the teens got better grades since they were less distracted and lived healthier lives. "When combined with previous research, a clearer picture is beginning to emerge about the benefits of gratitude in adolescents, and thus an important gap in the literature on gratitude and well-being is beginning to be filled," researchers wrote.

According to a 2003 study in the the Journal of Personality and Social Psychology, gratitude could also boost pro-social behaviors, such as helping other people who have problems or lending emotional support to another person. This explains why religious services include reflection days and why so many self-help groups such as AA (Alcoholics Anonymous) use grateful thinking practices.

Writing down what you're thankful for as you drift off to sleep can quiet the mind and help you get better ZZs, according to a study in the journal Applied Psychology: Health and Well-Being. Specifically, researchers found that when people spent 15 minutes jotting down what they're grateful for in a journal before bedtime, they fell asleep faster and stayed asleep longer because they worried less, Psychology Today reported. Participants with neuromuscular disorders reported that they had more refreshing sleep in just 3 weeks.

Being thankful for the little things your partner does could make your relationship stronger, according to a study in the journal Personal Relationships. The Telegraph reported on the study, which showed that journaling about the thoughtful things your partner did was linked with a beneficial outcome on the relationship. The researchers found that gratitude for everyday kind gestures helps people become close to others who care about their well-being. They claim, "Gratitude may help to turn 'ordinary' moments into opportunities for relationship growth, even in the context of already close, communal relations.''

A 1995 study in the American Journal of Cardiology showed that appreciation and positive emotions are linked with changes in heart rate variability. [This] may be beneficial in the treatment of hypertension and in reducing the likelihood of sudden death in patients with congestive heart failure and coronary artery disease.

Athletes are less likely to burn out and more likely to experience high life satisfaction and team satisfaction when they are grateful, according to a 2008 study in the journal Social Indicators Research of high-schoolers. Gratitude sharpens the senses, enhancing athletic performance according to Positive Performance Training.

Gratefulness is linked with optimism, which in turn is linked with better immune health, WebMD reported. For example, a University of Utah study showed that stressed-out law students who were optimistic had more white blood cells (which help boost your immune system) than people who were pessimistic, according to WebMD.

WebMD reported that negative events can boost gratitude, and that gratitude can help to increase feelings of belonging and decrease feelings of stress. Interestingly, adversity can enhance gratitude, helping people to feel more connected after a terrible event, such as 9/11. A survey showed that feelings of gratitude were at high levels after 9/11, according to WebMD.