Add This Caribbean City To Your 2017 Travel List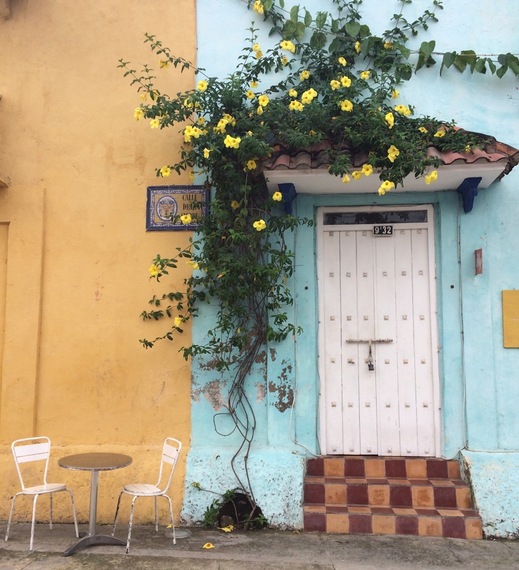 Arriving in Cartagena the day the government signed a historic peace deal with FARC (The Revolutionary Armed Forces of Colombia) heightened both my excitement and anxiety about choosing Colombia for a winter getaway. A peace deal that had been rejected by Colombian voters months before, revised, and has since been approved unanimously by parliament. Luckily, the ceasefire that came into effect between the two groups while peace talks were underway had been extended to the end of the year, just in time for me to safely enjoy my holiday, I reasoned.
Within minutes of being there, any fear I had about venturing into this post-narco controlled country quickly melted away. Cartagena is a photogenic, sexy city for the senses. With the romance and rogue bougainvillea blooms of Capri mixed with remnants of revolutionary eras not unlike Havana, I arrived at so many comparisons. In fact, Cuban flags could be seen throughout the city as Fidel Castro passed away the day after we arrived, signalling the two nations historic ties are still strong. Yet, the Caribbean city has an energy all it's own that simply can't be categorized.
What struck me most, aside from the Spanish-colonial architecture and street art galore was the kindness, patience and chivalry of its people. When young dance troupes decide to perform in the street, traffic literally halts and waits until they're finished and the crowd had an opportunity to applaud. I even noticed some vehicles had turned on their hazard lights in an effort to safely alert oncoming cars.
Poverty isn't overtly evident in Cartagena, but there are notably some people living on the streets. What felt so different from my experiences in North America, though, was the respect and compassion shown towards these folks. Whether it be a friendly buenos dias or someone popping out of a café to offer a bottle of water, these gestures didn't seem charitable, instead they seemed natural.
Whether you're spending a few days, or decide to linger a little longer, here's some tips on eating, drinking and soaking in this stunning city.
What to see
While Cartagena has a modern business district with an expanding skyline of skyscrapers, you'll probably spend most of your time exploring the old city (La Ciudad Vieja). Spilt into four neighbourhoods, El Centro is the most popular, especially when the cruise ships roll in. Visit the iconic Catedral de Santa Catalina de Alejandría, have a coffee in Plaza Santo Domingo and buy an ensalada de frutas from one of the city's famous fruit ladies. Also squeeze in a visit (or an entire afternoon) to Abaco Libros y Café, a bookstore with a café, full bar and good selection of books by Colombian Nobel prize-winning writer Gabriel García Márquez.
San Diego to the north is slightly more modern with high-end shops and restaurants. Have a cerveza in Plaza Fernandez de Madrid and see what's playing at the Teatro Heredia.
Spend most of your time in Getsemani, an up and coming neighbourhood with a local feel. This is the epicentre of the street art craze that's been sweeping Cartagena, some of which has been commissioned by the local government. Prepare to go snap happy along Calle de la Sierpe.
Set out early before the searing heat sets in and explore Castillo San Felipe de Barajas, built by the Spanish in the 1500s. For sunset and a panoramic view of the city, take a taxi to La Popa, the highest point in Cartagena.
If it's beach time you crave, venture to Bocagrande, although better beaches and crystal blue water is only a short boat ride away at one of the nearby islands.
Where to eat
You could easily survive off of street food for your entire stay, with ceviche, paella, and fresh fruit for days. Try an arepas de huevo (disk of fried corn masa, slit open and fried again with an egg inside), especially good if you hit the rum a little too hard the night before.
La Mulata for inventive fish dishes and funky décor. Demente for modern tapas and a retractable roof perfect for stargazing. La Cocina de Pepina for the best meal you'll have your entire trip (reservations recommended).
Where to drink
Nightlife is the cornerstone of culture in Cartagena, in part because it's the most pleasant temperature of the day.
Enjoy a few sundowners at romantic Café del Mar (we witnessed a few proposals here), check out Quiebra-Canto for salsa and reggae and popular Café Havana for live music that begins at 11pm nightly. If you're looking for something more local and nondescript, buy a six-pack of Aguila, perch on a bench in Plaza de Santisma Trinidad and people watch. Finally, a visit to Colombia isn't legit without sampling the coffee. See a proper coffee chemist at work at Cafe del Mural.
Where to stay
From small, boutique hostels to luxury hotels, there's something to suit any budget. For something charming and low key, book a private room at Mi Llave. The pretty, pink two-story has a view of downtown and is walking distance to everything in the Old City. For luxury in the heart of El Centro, book in a the Movich for it's stellar locale and breathtaking rooftop pool (also available to day visitors for a fee).
Travel advisories encourage you to "exercise a high degree of caution" when visiting, specifically in rural areas and the region bordering Venezuela. While these warnings are reasonable, Colombia has made huge strides in recent years to protect tourists specifically in cities like Cartagena, Bogota and Medellín. Be alert and be smart, just as you would traveling anywhere. But don't rule out this country on the cusp of an exciting and promising new chapter. It's a wonder to see and a pleasure to visit.
Follow HuffPost Canada Blogs on Facebook
Also on HuffPost:
Travel Lessons From Our Favorite Movies
"It's dangerous business going out your front door," Bilbo Baggins famously advises his nephew Frodo before he sets off on his heroic adventure. As much as we try to avoid the headaches of travel, there's no denying that to a certain extent, travel is about discomfort. However, our hardest moments are where we find our best stories and if you decide to venture out of your comfort zone, you'll find the adventure you've been dreaming of. RELATED: Lord of the Rings and Hobbit Filming Locations in New Zealand (Photo: Hobbit Village via Shutterstock)

Before Sunrise is the story of two strangers who meet on a train and decide to get off together and spend a night roaming around the streets of Vienna. The whole movie is a conversation between Celine, a French woman, and Jessie, an American, getting to know each other and falling in love. They take a chance on each other and it pays off. Traveling is an excellent opportunity to meet new people, but sometimes you have to be the one to work up the courage to start a conversation. You never know what could happen. RELATED: Romantic Europe: Places in the Heart (Photo: Eye Ubiquitous/Getty Images)

No story in recent history has inspired as many travelers as Elizabeth Gilbert's quest to find herself after her divorce. As she travels through Italy, India, and Bali in the course of a year, the audience stays with her for every revelation along the way. Eat, Pray, Love is a story about using experiences gained from travel to heal old wounds and find new meaning in life that will help you along on your journey. (Photo: Meditation in Bali, Indonesia via Shutterstock)

Whether you're planning to steal an ancient artifact from an army of Nazis or just trying to visit as many museums as you can by the end of the day, you can't expect everything to go perfectly. Between delayed flights, bad weather, and straight-up bad luck, travel is full of variables and as hard as you might try, you can't be prepared for all of them. In cases like these, it's time to channel your inner Indiana Jones and start thinking on your feet. (Photo: Machu Picchu via Shutterstock)

As we learned from Titanic, even "unsinkable" ships can sink. Your dream vacation might be planned out down to the last restaurant reservation, but that doesn't mean much when Mother Nature decides to crash the party. Always be prepared for the worst. RELATED: Travel Insurance 101: Everything You Need to Know Before You Buy (Photo: Thinkstock/iStock)

On her mission to hike the Pacific Crest Trail, Cheryl Strayed suffers throughout and is never truly safe. But despite her overweight pack and blackened toes, she pushes on and braves the elements. She finds support in a friendly community of fellow thru-hikers, but for the most part she is on her own. Her story of solo travel and willpower teaches us that all it takes is a little bit of bravery to go out on your own and accomplish your goals. RELATED: Seven Epic Walking Trails Around the World (Photo: Thinkstock/iStock)

Sometimes we get so caught up in taking in the sights and sounds of a new city, we find ourselves suddenly and totally lost. It's easy to feel scared, especially if you don't have Google Maps, but it's important to remember that little girl from Kansas who also once found herself in a strange new place. Dorothy was unafraid to ask for help and directions and she did it in the kindest, sweetest, most Judy Garland way possible, which is probably why she was able to befriend so many locals and find her way back home. What movies have inspired you to travel? (Photo: Andy Kropa/Getty Images) Read the original story: Travel Lessons From Our Favorite Movies by Jamie Ditaranto, who is a contributor to SmarterTravel.
Follow Heather Magee on Twitter: www.twitter.com/MissusHeatherM