Living In Canada Is A Privilege, Not A Consolation Prize
With the U.S. election less than a week away, the number of celebrities, public figures and everyday people threatening to migrate north should Donald Trump land in the White House are multiplying.
I guess we should feel flattered that our American neighbours consider us a suitable alternative. Like we're the best friend who takes you in after a terrible fight with your boyfriend. Yet, I can't help but feel like a jilted lover reduced to sloppy seconds. Or like first runner-up in a Miss USA pageant. Second choice doesn't really sit well.
Netflix chat show host Chelsea Handler rattled off a roster of celebrities on her show this week who intend to move to Canada should Trump prevail.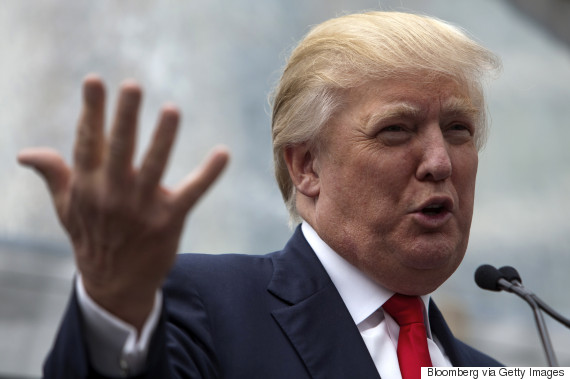 Donald Trump speaks during an event in Vancouver, British Columbia. (Photo: Ben Nelms/Bloomberg via Getty)
"I'm going to need to go to Canada if he [Trump] gets elected," she said. "I don't know what the rules are to move there but a lot of us are feeling that way. A lot of us are going to want to leave the country."
According to the Hollywood Reporter, Girls creator Lena Duhnam has set her sights on the West Coast. "I know a lovely place in Vancouver, and I can get my work done from there," she said.
Actor Bryan Cranston has also said he'll move to Canada if Trump is elected president. "Absolutely. I would definitely move. It's not real to me that that would happen. I hope to God it won't," Cranston told the Bestseller Experiment podcast when asked if he would take an extended holiday to Vancouver if Trump is elected.
"It wouldn't be a vacation. I'd be an expatriate," Cranston added.
Actress and fashion darling Chloë Sevigny says she's moving to Nova Scotia, which I'm sure confused a lot of people who perhaps were not aware that it's a Canadian province.
Even beloved American songtress Barbara Streisand told Australian journalist Michael Usher, "I'm either coming to your country, if you'll let me in, or Canada."
While the thought of Babs donning a toque and sharing a plate of poutine with husband James Brolin is completely and utterly appealing, I have bad news for our famous friends. Immigrating to Canada isn't that simple. In fact, unless you marry a Canadian citizen, it's damn near impossible.
We're busy opening our borders to refugees who really need it, not privileged people with a lousy Republican candidate.
Much like Canadians looking to immigrate south, there is no open door policy between our two nations. Swing by for up to six months on a visitor visa, sure. But during that time you are not permitted to work or have access to health care or any other social services. You're simply a tourist.
I'm wondering if Prime Minister Justin Trudeau should hold a press conference to reinforce our immigration policies to ensure there isn't any confusion come November 9. Perhaps another Vogue spread is in order to drive home the message?
More than anything, Americans need to know that living in Canada is not a consolation prize. Living in Canada is like hitting the cultural and geographical jackpot. A country rich in diversity, where natural resources abound and the scenery will take your breath away. A country whose musical contributions include Neil Young, Joni Mitchell and Drake. While we sympathize with our American friends, we're busy opening our borders to refugees who really need it, not privileged people with a lousy Republican candidate.
I have faith in my American friends. I have faith that they'll make the right decision on election day. And I'm all about telling America it's already great, because I live there and I see it for myself every day. But let's be clear -- Canada isn't a second-rate alternative. Living in Canada is a privilege.
Follow HuffPost Canada Blogs on Facebook
Also on HuffPost:
7 Things Every Donald Trump Supporter Should Know
Launching his Presidential bid last June, Donald Trump held up his financial statement to prove he had assets worth a total of $9 billion. In a tasteless boast, Trump went on to reveal he refused a bank's loan of $4bn. He said: "I don't need it. I don't want it. And I've been there." While millions of Americans continue to suffer the effects of sluggish economic growth, Trump is blissfully unaffected. Well, that's how he makes it sound.

Trump says he's never had to withdraw cash from a cashpoint. During an appearance on 'Late Night with Conan O'Brien', Trump said that he'd never seen the need to use ATMs, all the while hinting at his extraordinary wealth.

Like many of his voters, money is always on Trump's mind. But unlike those struggling to make ends meet, Trump is more concerned with the perception of his wealth, which he says is "more than $9 bn". When an author suggested Trump had a net worth of less than $300m, the property tycoon sued him for libel. Yet during testimony, Trump admitted his own estimations depend on his "feelings". It was reported Trump said: "Yes, even my own feelings (guide estimates of my wealth), as to where the world is, where the world is going, and that can change rapidly from day to day." Trump lost the libel case.

Despite pretending to offer something different from the tired-old ways of Washington, Trump has admitted that he's more than willing to use dubious non-facts and statistics in an effort to further his White House ambitions. In a remarkable exchange with FOX News host Bill O'Reilly, the famously impertinent presenter took exception to flawed statistics banded about by Trump. O'Reilly: This bothered me, I gotta tell ya. You tweeted out that whites killed by blacks — these are statistics you picked out from somewhere — at a rate of 81 percent. And that's totally wrong. Whites killed by blacks is 15 percent, yet you tweeted it was 81 percent. Now … Trump: Bill, I didn't tweet, I retweeted somebody that was supposedly an expert, and it was also a radio show. O'Reilly: Yeah, but you don't wanna be. … Why do you want to be in that zone? Trump: Hey, Bill, Bill, am I gonna check every statistic? I get millions and millions of people, @RealDonaldTrump, by the way. O'Reilly: You gotta, you're a presidential contender, you gotta check 'em.

Trump once told a reporter: "I'm running for office in a country that's essentially bankrupt, and it needs a successful businessman." Yet it's not always been plain sailing for all of Trump's businesses. In the 1980s, Trump entered into the highly competitive casino market in Atlantic City, taking out huge loans on his investments and risking everything when the deals went into bankruptcy. More recently, Trump has seen his name attached to failing properties, including hotels and casinos. Trump Plaza and Trump Taj Mahal in Atlantic City both closed in 2014, while Trump Soho in Manhattan ran into foreclosure. Speaking to the Washington Post, Trump said of the deals: "I didn't want to have any personal liability, so I used junk bonds. I accept the blame for that, but I would do it again," he said. But Trump vehemently denied that the deal represented a personal failing or affected his personal wealth. He continued: "This was not personal. This was a corporate deal. If you write this one, I'm suing you."

He's so obsessed with his image that when a "cybersquatter" took control of hundreds of online domain names, including those using the name "Trump", Donald went on the defensive. J. Taikwok Yung, a self-described "domainer" from Brooklyn, NY, was hauled before judges after Trump noticed he'd bought up a huge amount of his brand online. Trump sought the maximum damages allowed - $100,000 for each of the four Trump-related domain names bought by Yung. And he had legal grounds: Trump is a trademark with the United States Patent and Trademark Organisation and is adorned on many a high-stakes casino, and several hotels.

Evidence of more concerning delusion came last month, when Trump played the theme to Harrison Ford's 'Air Force One' to signal his private jet's arrival in Iowa. Trump even ordered his private Boeing 757 jet to "buzz" the control tower of a local airport, swooping low and thrilling supporters below. Trump even ensured the score to the 1997 film was playing as the jet landed and taxied into position. If that weren't enough, Trump shamelessly stood in perfect place to ensure the jet's huge "TRUMP" logo was captured by TV cameras.
Follow Heather Magee on Twitter: www.twitter.com/MissusHeatherM