Valentine's Day Alternatives in Vancouver
Valentine's Day is a time to celebrate love, relish in romance and spoil that special someone who makes your heart go all a-flutter. Or it's a time to get together with your single friends and throw darts at images of ex-lovers while watching thrasher movies and throwing back copious amounts of wine.
Maybe you're in a happy relationship, but you're sick and tired of spending triple the amount for a bouquet of roses? Or dining among a sea of smug couples all secretly comparing their propensity for romance to your own.
If you fall into the latter two categories, I've got a few V-Day recommendations that may appeal (read, won't cause you to throw up in your mouth):
My Nasty Valentine hosted by Bob Saget
Bob Saget has starred in two of the most family friendly shows network TV has ever produced — "Full House" and "America's Funniest Home Videos" — but he's also rocked standup comedy for over 30 years. From his HBO special "That Ain't Right" to his scene-stealing cameos in "Entourage" and "The Aristocrats," it's always an unpredictable experience when Saget embraces his dark side.
Saget headlines My Nasty Valentine on Friday, Feb. 15 at The Centre as part of the Vancouver Comedy and Arts Festival. Tickets are still available here.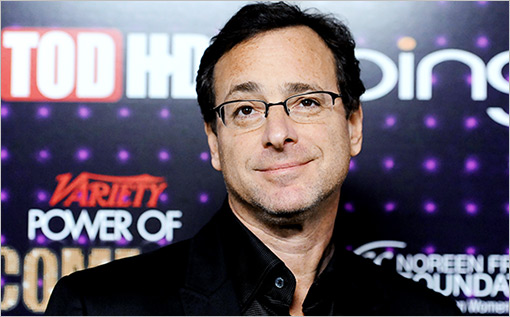 Burlesque Duos at the Rio Theatre
Head to the Rio on V-Day to witness never-seen-before burlesque duets featuring eight of Vancouver's top teasers. Commissioned by producer/performer April O'Peel, Burlesque Duos will see new works featuring pairings from eight of Vancouver's Burlesque elite. Celebrating partnership and feminine creativity, Burlesque Duos are a perfect way for singles and couples alike to celebrate Valentines Day.
Featuring new Burlesque duos by:
CHERRY ONTOP & MELODY MANGLER
BURGUNDY BRIXX & NICKY NINEDOORS
LOLA FROST & BLOODY BETTY
APRIL O'PEEL & MISS FITT
Advance tickets are available here.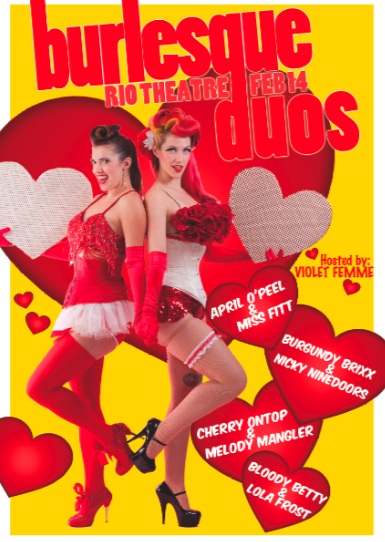 Host a Singles Soiree
V-Day is not a day to envy — or rather, be annoyed — by the blatantly smitten. Celebrate your free and single status by hosting a gathering for all your foxy friends who may be rolling solo Feb. 14.
Start by treating your guests to some fine confections from local chocolatier Thomas Haas. Then play a little game of pass the pasties, ahem, parcel by asking each guest to bring a sexy pre-wrapped gift. Little Sisters in the West End has a great selection of silly to super sensual gifts to choose from.
Remember, possums, V-Day isn't just about romantic love. Send a bouquet of flowers to your grandma. Drop off a handwritten card to one of your best gal pals. Buy the person standing in line ahead of you their morning coffee. Spread the love.
I'll be at the Rio taking in a little burlesque with my Valentine. How will you be spending your V-Day?
Valentine's Day Alone In Vancouver
Single and alone on Valentine's Day? Here are few things you can do in Vancouver. AuBar is hosting a Valentine's Day BLiMP Event where you can mix and mingle with others using QR and barcodes. Because, you know, that's better than talking to people.

Valentine's Day is on a Thursday this year, so it's not out of place to curl up in a cafe with a good book. We recommend JJ Bean, where there's no Internet access. Or Kafka's Coffee and Tea, where you can read... well... Kafka.

Unlike the Seawall, the pathway around the Vancouver Convention Centre great businesses and a roof to protect you from the inevitable Vancouver rain. Plus, there's this thing.

There are only two places in the world where you can ski or snowboard so close to town. One's cool, and the other is Salt Lake City. Seriously though, skiing or boarding at night at Cypress Mountain is a spiritual experience.

Vancouver has very few good movie theatres left, and Fifth Avenue Cinemas is one of them. There's a glut of sobby movies to check out this year like "Amour," "Silver Linings Playbook" or even "Les Miserables."

Did you know the Vancouver Theatresports League has groomed some of the world's best improv comedians, like Colin Mochrie and Ryan Stiles? Every year they host the St. Valentine's Day Massacre, a world-famous improv tournament.

This ain't no date night. East Vancouver's most popular movie theatre turns into a burlesque cabaret as the city's "top teasers" grace the stage in pairs. Burlesque diva Violet Femme hosts the festivities.

Vancouver is packed to the hilt with exercise facilities, whether a yoga studio, Crossfit or weight room. Besides, whatever calories you burn there, some other couple will just pack on at Vij's.

You can't take it out of province, but it's so good, so why would you want to? B.C. has great wines like Nk'mip, Kettle Valley and Blasted Church. Buy one and curl up with your favourite book or a House of Cards episode. Ahhh...
Follow Heather Magee on Twitter: www.twitter.com/MissusHeatherM