Recognize That Black History Is Canadian History
By: Maimuna (Muna) Gaye, Program Coordinator, Historica Canada
For many Canadians, February is a time to celebrate the achievements and remember the sacrifices and challenges faced by black Canadians -- and, more broadly, the history of Canadians of African descent. Due to the valiant efforts of the Hon. Dr Jean Augustine, February has officially been recognized as Black History Month in Canada since 1995.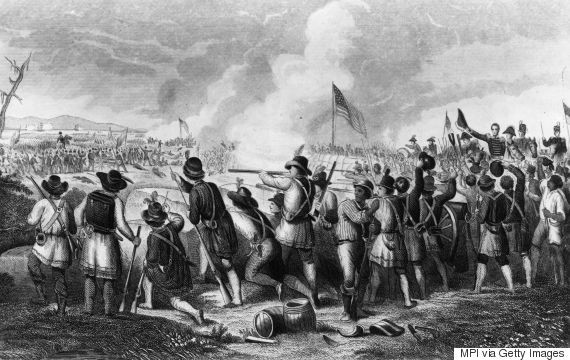 African-American troops at the Battle of New Orleans during the War of 1812, Jan. 8, 1815. (Photo: MPI/Getty Images)
As our country continues to define itself as a welcoming society for all, and as Canada celebrates its sesquicentennial, many black Canadians are looking deeper within Canadian history for recognition and acknowledgement. For too long, the achievements of our community were rarely listed in text books, showcased in film, or shared with a wide audience. Black Canadians have come to expect their stories to be ignored in Canadian history.
It is commonplace for many Canadians to assume that the history of black Canadians is recent -- when, in fact, it is far from that. It dates back to the 1600s when Mathieu Da Costa, a free man, came to Canada as an interpreter for Samuel de Champlain's 1605 excursion. But while there is significant information and anecdotes about Champlain, there is next to nothing on Da Costa.
As black Canadians, will we demand changes and a fitting place in history?
Many Canadians are familiar with the stories of Dr. Martin Luther King, Malcom X and Rosa Parks from the United States as civil rights pioneers. But it was only recently that most Canadians learned about Civil Rights Activist Viola Desmond and the courage and audacity that she demonstrated in standing up against racial injustice in 1940s Nova Scotia. Her story was depicted in a Heritage Minute that was released by Historica Canada in February, 2016. Last autumn, the federal government announced that Desmond will be honoured by having her image depicted on the $10 bill in the next series of banknotes.
Many Canadian high-school students can write a detailed paper on the War of 1812. But how familiar are they with the exploits of the "coloured troops," the Black Loyalists or the heroic efforts of Richard Pierpoint?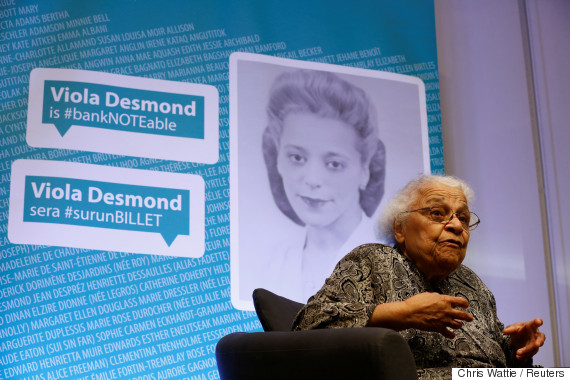 Wanda Robson takes part in an interview after her sister Viola Desmond was chosen to be featured on a new $10 bank note following a ceremony at the Museum of History in Gatineau, Quebec, Dec. 8, 2016. (Photo: Chris Wattie/Reuters)
In the last five years, organizations such as mine -- Historica Canada -- have made notable strides in bridging the knowledge gap and raising awareness about some of the difficult experiences faced by black Canadians. In addition to the story of Viola Desmond, we released another Heritage Minute on Richard Pierpoint, the former slave who, in his late 60s, spearheaded the creation of an all-black regiment to fight in the War of 1812. A Black History in Canada Education Guide produced by Historica Canada, which draws from Lawrence Hill's acclaimed novel The Book of Negroes, has been distributed to schools across the country. The Canadian Encyclopedia has produced digital exhibits on Black Women in the Arts and Hogan's Alley.
There are many diverse and inspiring stories- if Canadians are willing to take the time to look for and learn from them.
This February, Historica Canada hosted a second annual Black History Month event. The evening honoured "Black Canadian Trailblazers -then and now," especially fitting as Canadians celebrate 150 years since Confederation. The event offered an opportunity for guests to learn more about black Canadian contributions. Special guest of honour Wanda Robson -- author, and sister to Viola Desmond -- honoured her sister's legacy and shared her experience growing up in the 1940s as a black woman.
Among the many speakers was veteran City TV reporter Jojo Chintoh, who honoured Felix (Fil) Fraser, a black Canadian broadcaster who began his career in 1951. Jeffrey Orridge -- the 13th commissioner of the CFL and the first black person to hold that position -- celebrated the legacies of Bernie Custis, who was the first black quarterback in the CFL, and the great Warren Moon, who amassed countless records while playing for the Edmonton Eskimos and then went on to further glory in the National Football League. With 400 people in attendance, many walked away knowing more about their history through the stories and personal anecdotes of such speakers.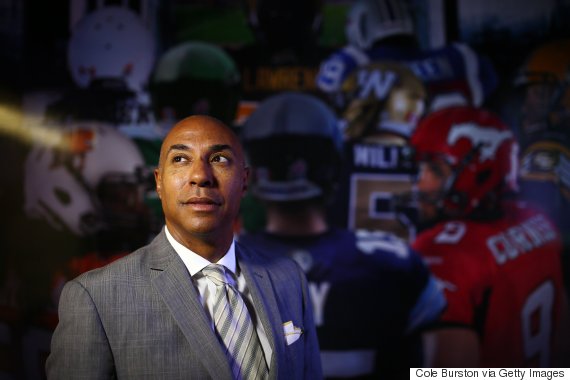 CFL Commissioner Jeffrey Orridge at the CFL Headquarters in downtown Toronto. (Photo: Cole Burston/Toronto Star via Getty Images)
As Canadians, we often assume or even profess that our history is free of the racial discrimination and prejudice that has plagued the United States. Sadly, that is not the case. Before the civil rights marches in Selma, Alabama, there were the 1784 racial riots in Nova Scotia. While the '60s saw a sweep of racial riots across the U.S., there were the stories of black residents of Hogan's Alley, British Columbia and Africville, Nova Scotia, evicted from their homes.
As a people, African-Americans have forced the United States of America to hold a mirror up to its past and to face the unconscionable white enslavement, violence and oppression within. As black Canadians, will we demand changes and a fitting place in history, or will we remain complacent in our expectations of our place within Canadian society? If black history is Canadian history, then why do our textbooks, media, historical, cultural and artistic institutions not accurately and more fully reflect the past and present contributions of black Canadians? There are many diverse and inspiring stories -- if Canadians are willing to take the time to look for and learn from them.
Follow HuffPost Canada Blogs on Facebook
Also on HuffPost:
Greatest Canadians You (Probably) Don't Know
In 1906, Squamish Chief Joe Capilano led a delegation to London to petition King Edward VII over a land claims dispute with the City of Vancouver as well as its ban on potlatches. Though the King proved as obstinate as federal and provincial leaders, Capilano's two-year effort to establish a mandate to represent all B.C. First Nations helped unite the the province's 200,000 indigenous peoples — leading to the first inter-tribal political organization three years later.

Arguably the coolest Canadian ever, Rose Fortune was born into slavery in Virginia and immigrated to Nova Scotia at age 10 with her Black Loyalist parents after the American Revolution. She became a successful entrepreneur in an era where that opportunity was nearly impossible for a black woman. Fortune became one of port town Annapolis Royal's "most notable and respected figures during the first half of the 19th century." So much so that she was entrusted with maintaining order, patrolling the town as Canada's first (albeit unofficial) female police officer. When her descendant Daurene Lewis became Annapolis Royal's mayor in 1984, she kept the family's trailblazing spirit alive as Canada's first black female mayor.

In 1975, Doug Wilson placed an ad in a University of Saskatchewan paper about starting "a campus gay organization." A dean suspended him from supervising student teachers, so Wilson launched an employee discrimination case, one of the first involving sexual orientation. The Sask. Human Rights Council never conducted an inquiry, but the issue became so big the university passed its own anti-gay discrimination policy, cementing Wilson's reputation as a pioneering gay rights activist. His efforts continued until he died of AIDS in 1992 at age 42, leaving behind a legacy of change.

In 1943, Rae Lockock became one of the two first women elected to Ontario's legislature, alongside Agnes Macphail, and served as the her party's education critic fighting for free university and equal pay for equal work. An early environmentalist, she also championed a woman's right to work outside the home after the war. She served in office for a couple years but stayed politically active afterward, serving as president of the Housewives and Consumers Association (HCA), organizing the "March of a Million Names" campaign in 1948 to fight price-fixing of goods like bread and return costs back to pre-war levels. Luckock eventually became president of the Congress of Canadian Women. In 1956, she was diagnosed with Parkinson's disease and spent the rest of her life in hospital.

Dr. Joseph Yu Kai Wong immigrated to Canada from Hong Kong in 1968 to study medicine at McGill, but was prevented from doing so due to degree restrictions on foreign students. (He later got his medical degree in New York). So when he saw a racist segment on CTV news show W5 in 1979 called "Campus Giveaway," claiming Asian students were taking university spots away from white students, he became politicized. Wong not only led a successful Chinese-Canadian protest movement against CTV, he went on to become a leading advocate for human rights. That same year he started an organization to help settle Vietnamese Boat People in Toronto. In 1987 he founded the Yee Hong Centre for Geriatric Care and a decade later he founded Toronto ALPHA to "seek justice for the victims" of the Rape of Nanking. He was named Man of the Year by the Toronto Star in 1986 and received the Order of Canada in 1993. In 2005, he was awarded a Humanitarian Award from the Canadian Red Cross.

Sheila Watt-Cloutier was born in Kuujjuaq, Nunavik (Northern Quebec) where she was raised in traditional Inuit-hunting culture. After studying education and human development at McGill, she went on to a career of activism for Inuit rights and environmental causes. She began her career by working in hospitals as an Inuktitut translator and helping reform education and address land claims in Nunavik. She then became a leader of the Inuit Circumpolar Council from the mid-90s to the mid-2000s, helping to ban PCPs and DDT while demonstrating the affect of global warming in the Arctic. Watt-Cloutier, who now lives in Iqaluit, has won countless awards, including a Global Environment Award, UN Champion of the Earth award, Aboriginal Achievement Award, the Norwegian Sophie Prize, the Order of Canada and honourary doctorates from universities across Canada. Her book The Right to be Cold was released in 2015.

Nine years before Rosa Parks, Nova Scotia businesswoman Viola Desmond similarly refused to budge. (Oh, you thought segregation was just down south?) In 1946, Desmond was dragged out of her movie theatre seat for sitting in the whites-only floor section instead of the blacks-only balcony. She spent a night in jail, paid a $20 fine and fought a charge of "tax evasion" (tax on the balcony ticket was one cent less) all the way to Nova Scotia's top court. Though Desmond lost, the incident helped launch Canada's civil rights movement. In 2010, Nova Scotia apologized and pardoned Desmond, and honoured her with a one-off holiday this past February.

Thornton and Lucie Blackburn escaped slavery in 1831, fleeing Kentucky for Detroit, where they were eventually captured by slave-hunters and put in jail. But before they could be sent back south, they were rescued and escaped to Canada during the Blackburn Riots of 1833, Detroit's first race riots. They moved to Toronto, where Thorton got a horse and carriage and started Upper Canada's first taxicab company. The Blackburns spent the rest of their lives as abolitionist activists and helped settle other escaped slaves who arrived via the Underground Railroad.

Canada's first female medical doctor, Emily Stowe made a lasting impact as the leader of the country's women's suffrage movement. In 1852, after years as a teacher, Stowe's college application was denied on the grounds of her being a woman. Stowe eventually found a school that would accept her, and later became Canada's first female principal. It was after her husband developed TB that she decided to get into medicine. Unable to study in Canada as a woman, she had to go to New York where she met famed suffragette Susan B. Anthony. In 1876, she founded the Toronto Women's Literary Club, later known as the Canadian Women's Suffrage Association. She died a decade-and-a-half before women were granted the right to vote.

Known as "the mayor of Chinatown," Wong Foon Sien immigrated to Canada in 1908 with his parents. He studied law at UBC, one of only 5 Chinese-Canadian students enrolled at the school at the time. In 1945, he began successful campaigns to grant franchise rights to Chinese-Canadians and repeal the notorious 1923 Chinese Immigration Act (also known as the Chinese Exclusion Act) which had separated many families. In 2008, the federal government declared Wong a "National Historic Person."

Montreal's Louise Arbour most recently came off a five-year stint as president of the International Crisis Group, a conflict-resolution NGO, but her storied career has ranged from her early days as a law professor and vice-president of the Canadian Civil Liberties Association to her appointment to Canada's Supreme Court. She's best known as the chief war crimes prosecutor for the Rwandan and Yugoslavian tribunals, which included the first prosecution of rape as a crime against humanity and her landmark indictment of Serbian President Slobodan Milošević.

Born in Jacmel, Haiti, Chérubin fled the Duvalier regime for Quebec in 1970 to attend university. He was elected as a municipal councillor in the predominantly white northern town of Amos in 1994 before becoming one of Canada's first black mayors in 2002. Chérubin -- who was quoted in the Globe&Mail as saying "The colour of skin is not what makes the person. What makes a person is what's in his head, in his heart" -- was awarded the Jackie Robinson Award in 2004 for his pioneering political position. He also won $222,500 on "Le Banquier," the Quebec version of game show "Deal or No Deal" and donated all of it to the city of Amos' 2017 centennial celebrations. Chérubin won his fourth consecutive term with 73 per cent of the vote in 2013, but died a year later at age 70.
Follow Historica Canada on Twitter: www.twitter.com/HistoricaCanada