Balancing A New Blog With Your Full-Time Job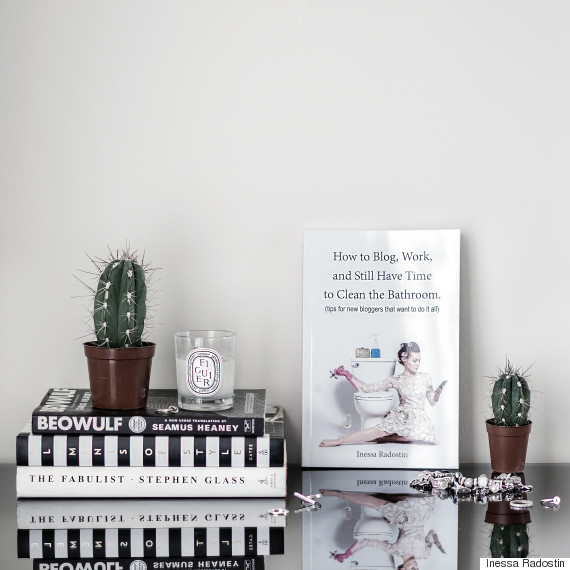 From Instagram to fashion magazines, bloggers are rapidly growing in the niche of brand ambassadorship and everyone wants a piece of the cake! The bloggers currently in the market make it seem so easy, like all you have to do is take a couple of pics, throw some filters in, drop a line or two and voila! You're a blogger! Except wait... turns out there's a lot of work involved behind the scenes most people are not privy to.
It takes some time for a blog to fully develop and to grow and that is one thing most people don't tell you. They don't let you know that behind every photo are tiresome hours of editing, or that every post requires hours of research. So when do you get this done when you also have a full-time job that actually pays the bills? After all, though initially the blog can be a great hobby and a substantial secondary income, it might not be enough for you to drop everything to run after it. Unless you're a debutante whose parents have the oil and gas market cornered...
There are a few things one can do to ease the transition between blogging and a full-time job. Or at least to help organize life into more manageable time periods. When I started this blog, I didn't have much for a guidance system except for what I saw online and what my friends told me they liked. I wish I had someone to tell me what to do, what not to do, and what would be a huge waste of my time. The tips below are some of the things I learned along the way that might help you save some time if you're considering delving into the blogging world.
1. Learn to delegate online as best you could. Use current tools designed to help with time management, such as content and post scheduling to cut time off manual inputs.
2. Pick up a new hobby. Photography is a great way to make your blog stand out and will also help you up your visual styling. Blogging will not feel like you're work if you spend some of the time teaching yourself a new task.
3. Sign up for webinars and read articles, A LOT. The more you learn, the more backup you will have for your opinions and the richer your content will become. Your brain is your tool now so keep it sharp!
4. Make time for exercise and relaxation. Clear your mind in any shape or form you can find really. Blogging and working can feel quite stressful if you don't have some "me time" so hit the pavement or just shut down and meditate in a sauna, whatever floats your boat. Your serene, non-rocking boat.
5. Don't take yourself too seriously. I honestly can't stress this enough. Blogging should be fun and even if you end up doing it full-time one day, none of us are sending rockets to new planets here! Unless you're blogging for NASA then by all means be as serious as you wish...
More from Inessa Radostin:
Book: http://www.inessaradostin.com/book/
Website: www.inessaradostin.com
Instagram: @InessaRadostin
Facebook: Inessa Radostin
Pinterest: Inessa Radostin
YouTube: Inessa Radostin
Google +: Google Plus
Bloglovin': https://www.bloglovin.com/blogs/inessa-radostin-16829699
Follow HuffPost Canada Blogs on Facebook
Also on HuffPost:
... at least, not the physical one. No one cares that you got up at 4am to drive to Gatwick to catch your flight and you went through security and waited in the lounge and got on the plane. Unless there's a particularly hilarious/crazy/interesting anecdote, or you want to tell your readers about the in-flight meals and movies on a particular airline (and some bloggers do this very successfully), start with the part when you're actually there.

Remember learning about 'imagery' at school? The most successful travel writers and bloggers use imagery to bring places to life for the reader, and transport them – the fundamental principle of good travel writing. So, instead of simply reporting what you saw and did, use the five senses, and describe the way a place makes you feel. A scene-setting attention-grabbing anecdotal intro paragraph will ensure they keep on reading. And think about the vocabulary you're using, too (try and ban the word 'nice' from your posts, and avoid clichés.) Which brings us to...

Fabulous photographs are crucial for travel blog posts, whether you instagram or use no filter whatsoever. Try using a slideshow plug-in to show yours off to their best advantage. Vlogs (video blog posts) are particularly popular with travel bloggers: as well as videos of destinations, hotel room vlogs usually get lots of hits on Youtube and can bring a new audience to your blog. You don't need any fancy equipment to make a vlog, just your phone and a steady hand - or better still, a friend with a steady hand, and some basic editing skills. Some travel bloggers achieve amazing results with podcasts, too.

It's important to be fair. Constructive criticism is always welcomed by social media-savvy travel companies - they learn from it, and build on it to make a better customer experience. (The ones that don't will inevitably see their profits fall.) But using a blog post to publicly criticise a company because you didn't get an upgrade or you missed your flight because you were late = not cool.

On Twitter, Pinterest, Google+, your Facebook page. Watch out for #TravelTuesday and #TTOT on Twitter, and also #FriFotos (travel photos posted on a Friday with a chosen theme) - great ways to discover the travel blogging community and reach a bigger audience.

It sounds obvious, when you think about it, but if you think you might want to blog about that great little tapas bar in Barcelona or that perfect beach in Antigua, write down the name of it, so you can remember it and put it in the blog post you're planning to write.

If you want to take photos of famous landmarks and put them on your blog, that's fine... but the chances are, unless you're a truly gifted photographer, you're probably not offering anything very different to hundreds of other travel blogs out there. Go off the beaten track a little, discover something unique and unexpected to photograph and blog about.

Not even full-time travel writers can be away all the time. But if you're going to be a travel blogger, although you can write posts about places you'd love to visit, it helps if you actually go somewhere, too. Even just a trip to a local museum or day out at a National Trust property can make an interesting travel blog post.

Before you hit the 'publish' button, preview the post and make sure you're really happy. Remember, it's going online, and can be seen by (potentially) thousands. No pressure, then.

Write from the heart, and write naturally – the best travel writing is unpretentious. Readers of travel blogs, in particular, appreciate authenticity. Perfect grammar is not as important as passion and a genuine desire to share incredible travel experiences with your readers (although place names should ALWAYS be spelled correctly). Try to find your own voice and USP, and stay true to yourself. Now it's your turn, enter the First Choice Blogging Competition. Good luck!
Follow Inessa Radostin on Twitter: www.twitter.com/inessaradostin