Human Rights Violation: If you Travel, It Could Happen To You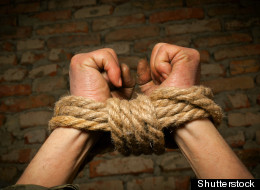 On Aug. 18, 2012, Dr. Cyril Karabus -- a 77-year-old oncologist from South Africa -- was arrested during a stopover at Dubai International Airport, as he was returning from his son's wedding in Toronto. Formerly the senior pediatrician at the Red Cross Children's Hospital in Capetown, Dr. Karabus had last visited Dubai in 2002, when he treated patients at the Sheikh Khalifa Medical City Hospital.
In October of that year, one of Dr. Karabus's patients -- a three-year-old Yemeni girl suffering from acute myelocytic leukemia -- died while under his care. There was no indication at the time that this death resulted from medical malpractice. Upon the completion of his contract at the hospital, Dr. Karabus returned home from the United Arab Emirates. He spent the next decade unaware that the child's family had initiated criminal charges against him in Abu Dhabi (also part of the U.A.E.) alleging medical negligence and forgery as part of an attempted coverup.
In 2004, an Abu Dhabi court tried Dr. Karabus in absentia and convicted him of both fraud and mans -- ughter. He was sentenced to three years' incarceration, but was never notified of the trial or of the judgment. As such, he was afforded no opportunity to defend himself against allegations that his failure to perform a necessary blood-platelet transfusion had resulted in his patient's death and that he had then altered the relevant medical documents.
When Dr. Karabus landed in Dubai last year, he was abruptly arrested and taken to jail in Abu Dhabi. Although a new trial was granted, he was incarcerated for nearly two months and brought to six separate hearings in shackles before finally being granted bail in October.
The U.A.E. has a reputation today for offering the amenities of the West, but its legal system isn't one of them. Due-process rights are simply nonexistent in the U.A.E., and the watchdog group Freedom House rates the U.A.E. as "not free."
Dr. Karabus has maintained throughout that he provided the necessary blood transfusion to his three-year-old patient, and he has vehemently denied that he forged medical documents. Despite a court order that the prosecutors provide a copy of the relevant medical records -- foundational evidence critical to the doctor's ability to rebut the charges -- in 16 court hearings they have failed to do so, grounds alone for the charges to be quashed.
Indeed, the lack of notice for almost a decade about the charges against him in absentia, the arbitrary arrest and detention, the imprisonment without bail for nearly two months, the continuing denial of access to important and exculpatory evidence, the denial of a right to a fair hearing, all constitute a standing denial of Dr. Karabus's fundamental rights.
Finally, on March 18, in a crucial finding of fact, a court-appointed medical committee fully absolved Dr. Karabus of any wrongdoing. On March 21, the Dubai court acquitted him of all charges. It appeared that Dr. Karabus's ordeal had finally ended -- his innocence affirmed -- and that he might yet make it back to South Africa to join his family for the Passover holiday.
But for the prosecutors, the persecution - and prosecution - of Dr. Karabus was not over. On March 28, prosecutors announced that they were appealing his judicial acquittal, even though it had followed upon the complete exoneration of Dr. Karabus by the nine-person expert medical committee. In a deja-vu scenario, Dr. Karabus was forced to appear in court on April 2, only to be informed, yet again, that the hearing would be delayed until April 23 because of the prosecution's failure to bring a medical translator to the court -- not unlike what happened at his first hearing on August 21 when proceedings were likewise postponed because prosecutors could not find the court file. Nor was Dr. Karabus advised of the legal grounds on which the prosecution had based its appeal, such that he is deprived of the right to know -- and the right to rebut - the prosecution's case.
This case is about more than the fate of one unfortunate physician. It implicates important national interests of the United States, Canada and any country whose citizens work or travel in the U.A.E.
As it happens, the international community has considerable leverage to pressure the U.A.E. to abide by the court's acquittal, clear Dr. Karabus's name, and allow him to return to his home and family. If the U.A.E. wants to maintain a modicum of modernity and legitimacy, it must rely on the expertise of international scientific and medical professionals.
Professional trade associations, then, have a duty to inform members that, however lucrative a stint in the U.A.E. may appear, it comes with unforeseen risks. The South African Medical Association, the British Medical Association and the World Medical Association have issued statements to this effect, with South Africa's association advising all South African doctors to "be aware of the medical liability risks if and when practicing medicine in the U.A.E."; while the World Medical Association issued a warning two weeks ago "advising doctors thinking of working in the U.A.E. to note the working conditions and the legal risks of employment there." These are warnings that every international medical association--and all groups representing other professionals who serve the U.A.E. economy--would do well to issue.
If efforts to appeal to the U.A.E. on the basis of basic justice cannot bring about a just resolution, the international community and human-rights organizations must make clear that disregard for human rights not only violates international norms but harms the U.A.E.'s national interests.
Since being arrested in August, Dr. Karabus has seen his 78th birthday come and go. He remains isolated from his family and friends, his passport confiscated, and trapped in a foreign country to which he initially travelled with the intention of providing medical services to a population in need. This 78-year-old doctor cannot wait much longer.
Mr. Cotler, a Canadian member of parliament, emeritus professor of law at McGill University and former minister of justice and attorney general of Canada, is acting as pro bono counsel to Dr. Karabus.
Take a look at the 10 countries most at risk of human rights violations in 2013 according to the Human Rights Risk Atlas in the gallery below.
In this photo taken Friday, Sept. 14, 2012, women carry tarpaulin sheets issued by the UN Refugee Agency (UNHCR) back from a distribution point, in Yida camp, South Sudan.

Yemeni men march during a protest to demand the repeal of an immunity for ousted president Ali Abdullah Saleh in Sanaa on September 11, 2012.

In this Wednesday, Dec. 5, 2012 photo, a fire is seen inside an apartment, right, of a damaged building due heavy fighting between Free Syrian Army fighters and government forces in Aleppo, Syria.

Iraqi federal policemen hold up their national during their graduation ceremony at the Police Training Academy in Baghdad, on November 27, 2012.

Buddhist monks study at a Buddhist monastery in Mandalay, northern Myanmar, Saturday, Dec. 1, 2012.

Pakistani police cadets shout during the passing out parade in Karachi on December 12, 2012.

In this Oct. 23, 2012 photo, Afghan girls share a joke in the center of Lashkar Gah, Helmand province, Afghanistan. In southern Helmand province, one of Afghanistanís deadliest battlefields, angry residents say 11 years of war has brought them widespread insecurity.

This handout photo released by the African Union-United Nations Information Support Team shows on December 12, 2012 shows a Somali boy carries a tray nuts and snacks near a market place in Jowhar in Middle Shabelle region north of the capital Mogadishu on December 11, 2012.

Members of Congolese president Joseph Kabila's Presidential guard stand in the rain outside the polling station where Kabila casts his ballot in the country's presidential election in Kinshasa, Democratic Republic of Congo, Monday Nov. 28, 2011.

Some 100 protesters from the nomadic Arab Misseriya tribe demonstrate in Khartoum on November 28, 2012, proclaiming the flashpoint Abyei region Sudanese territory, ahead of a deadline for Sudan and South Sudan to settle the area's status.

Click fullscreen to see the full map.
Follow Irwin Cotler on Twitter: www.twitter.com/@irwincotler