What's Hot in Food? The Nine Latest Trends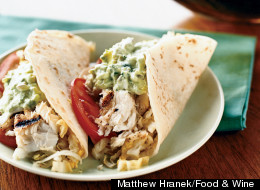 Here's my slice on the hottest food trends from what I've seen at the restaurant level, in my travels and in the news.
SLIDESHOW: HOT FOOD TRENDS
Pop Up dinners
We have seen a variety of pop up dining experiences from collaborations with a group of profiled chefs, themed parties and secret dinners. One of my favourite culinary adventures last year was Toronto's premiere "Diner en Blanc" which was a flash mob picnic held in Toronto's Historic Distillery District. Everybody was clad in white and brought their own dishes and it was an unforgettable night full of beauty, laughter and revelry.
Social Media
The prominence of social media has given businesses the opportunity for marketing, promotion and a way to communicate messages to the end user. Today, 70 per cent of local businesses are marketing through Facebook -- more than anywhere else on the Internet. Using tools like Facebook, Twitter, Foodspotting and Yelp allows both restaurant and restaurant clients to connect, promote and provide immediate feedback to each other.
Furthermore, using items like the iPad to feature menus, foursquare check in specials, and iTouch to take your orders just allows the restaurant to have their finger on the pulse of technology, allowing less paper waste. It also helps with more advance communication from the front and the back kitchen and allowing ease with changing menu items without the cost of reprinting entire menus.
Food trucks
The popularity of food trucks have taken our nation by storm. Food trucks have been fairly popular in Vancouver and we have recently seen a variety of food trucks coming into Toronto and even a Food Network show dedicated to profiling the best food trucks in North America. In our fast-paced society with limited time to sit down and eat and as people are spending less, the appeal of food trucks has increased. With the quality and variety of foods offered in creative ways, people become fanatical about their favourites. Japadog, a truck featuring the authentic "Japanese hotdog" is a popular food truck in Vancouver, and has even been touted as a tourist attraction when visiting the city.
Kimchi
This Korean pickled cabbage seems to be popping up on menus as an ingredient in dishes versus a complimentary appetizer when at a Korean barebecue restaurant. You can see a variety of dishes using this as a topping, stuffing or as a side dish.
The rise of the Argri-Chef
The popularity of chefs using produce and ingredients that they grow themselves in their dishes has been cropping up lately. There are restaurants that feature roof top gardens where they harvest their own ingredients and allow the consumer to experience true freshness and taste the authentic flavour of the ingredient
Doughnuts
Doughnuts in the forms of beignets, churros or in their classic form have made their presence known on many restaurant's menus. I have seen a maple bacon glazed donut and a banoffe (banana dessert) donut served at brunch and I have seen some delicious churros with gourmet dipping sauces served as dessert.
Banh mi sandwiches
These Vietnamese sandwiches are made with assorted cold cuts and toppings that range from fresh cucumbers to slivered carrots, shredded daikon and cilantro. And they're spiced mildly or can have additional chilli peppers for more kick. They are inexpensive lunches and have been cropping up on menus everywhere with popular toppings as pork belly and grilled chicken.
Burrata
This smooth and buttery Italian cheese made from mozzarella and cream has been gaining popularity in the marketplace. Served on its own, it's a mild flavor but drizzle some aged balsamic and olive oil and it's heaven. Burrata has also made itself known on pizzas and pasta dishes.
Tacos
A few years ago it was pitas, then burritos and most recently it was all about poutine but this year cheap eats and late night snacks are all about tacos. Soft or hard shell, whatever your preference, with toppings from the traditional tacos al pastor with pork, to Baja fish tacos to the more daring pork belly and even cow's tongue.
Recently in my travels to Australia, I went to a taco shack which served a secret taco du jour. Patrons would order this and it would come out and the server only tells you after you have finished the taco. I had heard that they served lamb's brains and goat's heart so of course, I was intrigued. I ended up eating sheep's intestine in my taco du jour.
Lavender
Lavender has been used in southern French cuisine for many decades but the fragrant flower has been making more of an appearance in culinary cuisine as of late. Its subtle sweet flavor and floral scent adds a nice and light taste to dishes. I just tried a lavender and chocolate chip ice cream at a restaurant -- the ice cream came out purple and was really pleasing to the palette.
HOT FOOD TRENDS
Food Trends For Right Now
You've seen them around -- especially if you live in Vancouver or Toronto. Food Trucks are definitely in right now. They're quick, cheap, mobile restaurants that are increasingly providing the public with more adventurous and upscale food -- squid tacos, anyone? In other words, this ain't your grandma's hot dog stand.

These are the locavore-conscious food masters who cultivate their own herbs, veggies or cows in order to provide a true local and organic experience. They pride themselves on fresh produce and seasonal flavour.

Keeping up with the technological pace of today, some restaurants are eschewing paper menus for more up-to-date iPad menus. The daily specials can be changed with ease without wasting paper, and communication with the kitchen is quicker than ever.

Tacos are undoubtedly the late-night snack of the summer. Actually, the any-time snack. Spicy carne, Baja fish, roasted chicken -- it's all out there, and it's delicious.

Doughnuts are a Canadian staple, but some places are taking the classic dessert to a whole new level. Maple bacon doughnuts sound truly Canadian, while decadent creme brulee doughnuts are like the Inception of dessert!

The spicy fermented cabbage treat from Korea has long been a mere side dish at your local Korean barbecue joint. Now it's being incorporated into more dishes, giving them a spicy flavour from the East.

Otherwise known as Vietnamese subs, the yummy and inexpensive sandwiches are gaining traction with the lunch crowd. With ingredients you'd never find at Subway -- like cilantro and pork belly -- this sandwich goes the extra mile for the same price.

This lovely addition to any garden might just show up in your next bowl of ice cream! Lavender has a sweet fragrant flavour that, when paired with other natural flavours -- like honey -- makes for an amazing, refreshing dessert.

This mild cheese is making a comeback in restaurants all over the country. From pizzas to salads, you might find it in your meal. Hint: to bring out the flavour in this delicious dairy product, pair with oil and balsamic vinegar.
Follow Jacqueline Vong on Twitter: www.twitter.com/@thevongchoice