Get Into Gardening Mode With Spring Planters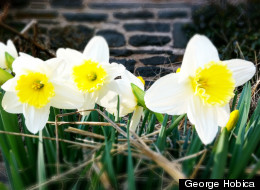 With spring officially here, thoughts of sprucing up our outdoor spaces is coming to mind. This weekend, I popped into our local hardware store and was pleasantly surprised to see their garden shop open. We've had a late spring here on the West Coast, and with the weather all over the place, it seems across the country it's been hard to get into gardening mode. But now I am and have been hunting online for some new planter ideas.
We have three areas I'd like to tackle: the front door (which really has no sun), the backyard patio where I'd like to do some planter vegetables, and a balcony off our upper floor. With all of that outside space in mind, it can add up fast. So I've been collecting ideas; some to buy and some to DIY that I thought I'd share here.
Pantone Planters at Serax

First off, grab an app! I found this little outside spaces app called "Home Outside Design" from All Dreams Digital ($2.99) that I've been playing around with. If you want to draw out a plan or get an app like this, it's always helpful to have a bit of a plan before you head out to the big stores. Photo: Home Outside Design

Not all spaces are equal, so thinking vertical is not only a clever alternative for small spaces like balconies, it can also be a stunning focal point. I love these new Staghorn Fern Mounts by Far Out Flora. They're found pieces of driftwood that have been made into beautiful mounts for staghorn ferns. Available through Flora Grubb Gardens. (Email for prices). Photo: Staghorn Fern Mounts via Flora Grubb Gardens.

Woolly Wall Pockets are probably the easiest way to vertically grow a garden which can hang out on any type of wall (with it's clever eye hooks), indoors or out. Available at Sheridan Nurseries in Toronto, Walrus Home in Vancouver, shop.floragrubb.com, or visit woollypocket.com for a store locator. Various prices. Photo: Woolly Pocket via Flora Grubb Garden

West Elm is also offering up some pretty cool vertical planter ideas with these wall-mounted trellis planters. They hook together, so it's easy to add more layers as your garden grows or hang individually like wall art. $19.76 each. Photo: West Elm

There's also a screen version which has two pockets on each side to hold their Modern Trellis Indoor Planters. $102.97. Photo: West Elm

Make the most of your square footage with stackable planter ideas. Kind of like lego, stacking planters can create a dramatic effect, especially stuffed with draping succulents. West Elm is carrying these Stackable Totem Planters, which are glazed terracotta and can be layered up to three high. $40.57. CB2 has a similar stacking planter set of five called Pony Planters (not shown), made out of galvanized steel ($229.00). Check them out here. Stackable Totem Planters from West Elm

One can get pretty creative with hanging plants off the ledge of railings (I've even seen tote bags), but for safety reasons it's probably best to stick to something that's not going to go crashing on heads below. IKEA offers great outdoor planter options, including these colourful H

Exclamation points here! Colour can make your outdoor spaces pop and this year there are some excellent choices out there in the planter department. Check out these Pantone planters at Serax. The result is a perfect combination of design and colour. Photo: Pantone Planters at Serax

When I found these ceramic handmade garden stakes with their creamy vanilla coloured clay, I was inspired to add a little herb garden to this year's plans. Paula Lopez-Otero of Etsy creates these made-to-order garden stakes (six for $48.00 USD). Each herb name is individually hand printed into the clay and comes in a little cotton drawstring bag for convenient storage. (Also a great housewarming gift idea)!

Bring the terrarium outdoors this summer and add some cozy to your patio. Pop it onto an end table and enjoy the view. These hand-blown glass Pebble Terrariums from West Elm echo the organic shapes of river rocks, and are perfect for an outdoor deck. Add peat moss, small stones and greenery to grow a mini garden on a deck coffee table. Photo - West Elm

Sometimes the best planter is one you make yourself. This brilliant chevron patterned, recycled wood planter box is made from leftover pallet stock, an old bed frame and white trim molding. Visit the 91204 blog for the how-to!
Jan is the co-founder of Poppytalk, a Canadian design blog featuring the beautiful, the decayed and the handmade and Poppytalk Handmade, an online curated marketplace. Follow her on Twitter and Facebook.
Follow Jan Halvarson on Twitter: www.twitter.com/poppytalk