The Ridiculous Ways Quebec Discourages Airbnb Users Cross The Line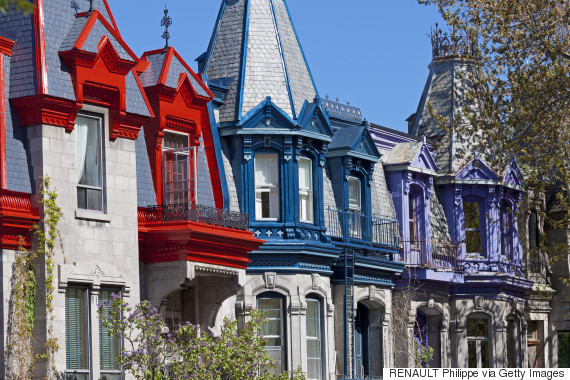 Colourful Victorian houses in Saint-Louis Square, Plateau Mont-Royal, Montreal. (Photo: Gettystock)
The subletting of apartments, rooms or couches over the Internet is a recent phenomenon. The serious measures undertaken to discourage it might lead one to imagine that this activity is extremely harmful to society. The reality, however, is somewhat different, and the means deployed to combat this voluntary exchange are on an absolutely ridiculous scale.
The Plateau Mont-Royal borough employs private detectives to track down people who sublet their apartments over the Internet. Desperate times call for desperate measures, I guess!
It's as if we're in the world of Donnie Brasco, in which Johnny Depp plays Joseph D. Pistone, an undercover FBI agent who infiltrates a New York mafia family after having been recruited by a hit man. But now the gang to be infiltrated on the Plateau Mont Royal is not the mafia, but ordinary people trying to improve their economic situation by renting their apartments occasionally.
What possible legitimate reason could there be for municipalities to cook up schemes for discouraging such exchanges?
One of my colleagues used to be a big user of Airbnb, one of the platforms where one can offer housing, when he was in France. He was living in Marseille, in the southeast of the country, and was teaching economics two days a week in Toulouse, some 450 kilometres west of there. He was earning a living, but renting a room or staying in a hotel in Toulouse in addition to paying his rent in Marseille was out of the question. Subletting platforms allowed him to make his particular situation work financially.
Among his Airbnb hosts there were no hit men, and no tax evaders for that matter, just people who had a free room in their homes and were trying to make ends meet or simply meet other people.
One couple who rented him a room were artists who ran a small theatre troupe and who needed an Airbnb renter to meet their monthly commitments as much as he needed a host.
Another couple close to retirement whose son was studying in another city was renting a room less for the extra income than for the experience and the conversation.
There was a recently divorced father with a house he could no longer afford on his own, and a nurse with a huge house who carefully screened her renters, and where my colleague met other occupants from all around the world, just like in The Spanish Apartment.
The common thread connecting the different experiences he had is that they were all mutually agreed upon and they were all beneficial for the two parties involved. It was always win-win, and no one was conned.
The record of his rentals and the comments of his hosts on his visits show that he was well-behaved, respectful. It's almost as though his coming and going was hardly noticed. What possible legitimate reason could there be for municipalities to cook up schemes for discouraging such exchanges?
The laws that authorize Tourism Quebec to hand out completely unbelievable fines -- from $2,500 to $25,000 according to Vincent Larouche writing in La Presse -- limit the capacity of rental platforms to create value for society.
Housing spaces exist but are unused, and subletting platforms allow these resources to find takers. By creating a market for what would otherwise be dead capital, renters and hosts are better off than they would have been, and society as a whole is better off as well.
The methods being used to fight a phenomenon that is highly beneficial for society, and for people who are sometimes truly in need, are completely ridiculous. Is it really necessary to place a private detective on the trail of every student who has a sofa to rent on Airbnb? Like many of you, my answer is no.
Follow HuffPost Canada Blogs on Facebook
MORE ON HUFFPOST:
Airbnb's 16 Neighbourhoods to Visit in 2016
Not known as a particularly touristy place, this is a central Buenos Aires neighbourhood not far from the more popular Monserrat and San Telmo areas.

A diverse area with food offerings from various countries such as Greece and Vietnam. Cyclists can regularly be seen riding alongside the Yarra River, while rowers heave on its surface. There's also plenty of art throughout the area.

Sit back and relax to the sound of the waves in the Bukit Peninsula. Surfers flock to this locale, where you can find incredible beaches and even a temple that hangs on a cliff.

Not to be confused with "District 9," this Budapest neighbourhood is known as the city's old Jewish quarter. It underwent a change early into the millennium, as old buildings were turned into "ruin bars." The area now plays host to lots of great cafes and places to drink craft beer.

This Atlanta neighbourhood plays host to Druid Hills Baptist Church, a facility that's almost 90 years old, as well as the Beltline Trail, a pedestrian area that also displays plenty of art.

Running. Cycling. Dancing. Oak Lawn has it all. Its Katy Trail is lit 24 hours a day for bikers and joggers, and you can cool off at the Katy Trail Ice House, which is considered one of the city's best patios. Or you can unwind by listening to free music in Klyde Warren Park every Thursday.

One part of the "Colonia Roma," "Roma Sur" is now considered its own neighbourhood, and it's a great place to stay if you want to feel like you live there. There are plenty of family-run coffee shops, or you can grab lunch with the youngsters that frequent Mercado Medellín. There's also an independent cinema, Cine Tonal, which, along with movies, has a strong selection of mezcal, an alcoholic drink made from a Mexican plant.

Meireles is an up-and-coming neighbourhood in the coastal city of Fortaleza, where there are lots of beaches and nearby fishing villages you can reach by boat. Hosts have recommended that visitors buy hammocks at Redes Santa Luzia, and to have a great churrasco-style lunch at Gheller.

It takes a journey through the jungle to arrive at Kaneohe, and it's worth it. This Oahu neighbourhood boasts beaches and hikes such as Friendship Gardens, which take you to a ridge with gorgeous views.

Once known as "Little Venice" due to its canals, this Hamburg neighbourhood is now known as "Hammerbrooklyn," an area where old and and new buildings don't clash, but stand pleasantly alongside one another. The glass Berliner Bogen is a particular attraction you'll find here.

Bullfighting. Flamenco. Both things for which Spain is known. And both can be found in Triana, an area of Sevilla (or Seville) in southern Spain. It has cobbled streets and a great market in the Mercado de Triana, where you can enjoy delicious tapas at various bars.

Sitting close to the Acropolis, the Koukaki neighbourhood has ancient features, but it also plays host to two pedestrian streets that were built recently. Bars and restaurants have since sprung up in the area, making a great place to take a stroll.

"The belly of Bordeaux" is so-named for its food selections. Airbnb recommends visiting La Boulangerie for almond pastries and baguettes, while oysters and other great dishes can be found at the Marche des Capucins. Walk it off with a stroll through squares such as Camille Julian, St Colombe or the Palace Square.

Brickfields, also known as "Little India," is seeing developments that will usher condos, a shopping centre and more into the area. It's a place where you can find Indian clothing stores and restaurants, and fill up on dishes such as curry puffs and banana leaf rice. Don't forget to fold the leaf toward yourself to signal that you're finished.

One of Banglampoo's most prominent features is the Khaosan Road, known worldwide for its bars and marketplace. But the neighbourhood has more than that, like noodle places operated out of apartment buildings and temples hidden from the main street.

This area is home to Osaka Castle, which was built by a 16th-century warlord, and much more. Chūō-ku's Kuromon Market is known as "Gastronome," thanks to a bevy of fresh food you can nosh on there. But the neighbourhood has also seen bars and restaurants spring up along its alleys. In other words, Chūō-ku is a great place to visit on an empty stomach.
Follow Jasmin Guénette on Twitter: www.twitter.com/JasminGuenette