A Tale Of Two Canadas - With Muslims In The Middle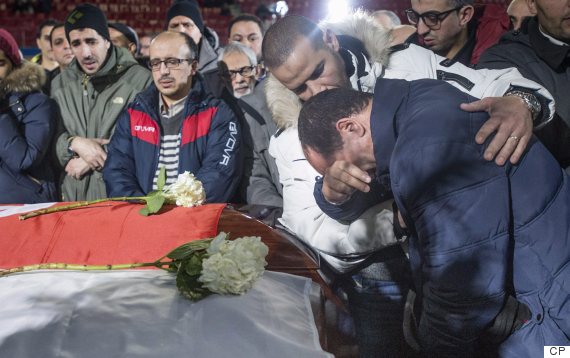 A man breaks down next to the caskets of three of the six victims of the Quebec City mosque shooting during funeral services in Montreal. (Photo: Paul Chiasson/The Canadian Press)
In one of the worst terrorist attacks in Canadian history, six men -- fathers -- were gunned down as they prayed at a Quebec mosque, leaving 17 children from our community fatherless.
The attack, for the most part, was not labelled "terrorism" by the media who instead focused on the requirements of naming it a "terrorist" attack.
In comparison, attacks in which "Muslims" are identified, this scrutiny doesn't seem to be in place. This has unearthed the trauma that Muslim Canadians experience as they increasingly face two Canadas.
Which of these radicals will be the next Alexander Bisonnette? Which of our brothers, sisters or their children might die next?
In one Canada, barely two weeks since the terror attack, as the community was just processing its grief, a group of just over a dozen people showed up to "celebrate Islamophobia" outside of a Toronto mosque when Friday prayer was taking place. The group moved from one Muslim space to another with signs and chants that Muslims don't belong here.
As a community leader and principal, I listened once again to the fears and anguish of community members, women wondering if they should "wear hijab," fears about "taking children to prayer spaces" while hearing others ask which of these radicals will be the next Alexander Bisonnette? Which of our brothers, sisters or their children might die next?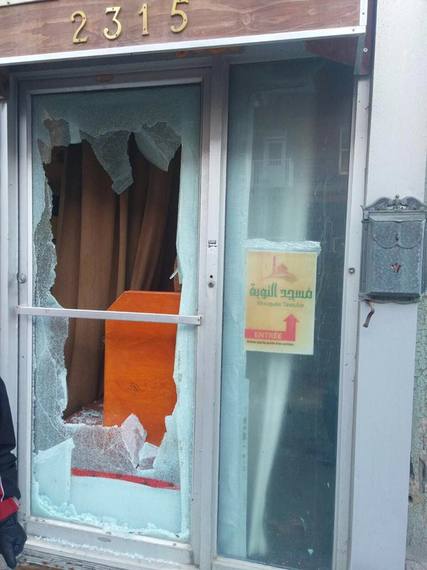 A Montreal mosque was vandalized in the wake of the Quebec City massacre (Photo: Jeewan Chanicka)
Muslims continue to be traumatized and fearful for their safety. They are grieving and in pain. We have been questioned about our identities and ability to "truly be" Canadian, our commitment to our home, our values, our patriotism.
We continue to be scapegoated and not well-represented in media coverage. As a history teacher, I have flashbacks to Hitler's rise and his demonization of Jews.
This is happening at the backdrop of Motion 103 brought to Parliament by MP Iqra Khalid designed to focus on Systemic Racism and Islamophobia. The Conservative party dedicated one of their few opposition days to debating the motion insisting the word Islamophobia be removed.
As a history teacher, I have flashbacks to Hitler's rise and his demonization of Jews.
Although a motion is symbolic with no legislative effect, and Khalid read horrific hate mail that she and her staff received, the opposition MPs argued that this will affect free speech and that taking Islamophobia out would make it more "inclusive."
Conservative party leadership candidates are fanning the flames of fear, hatred and anti-Muslim sentiment by claiming that Muslims are coming to take away "Canada's values."
Hate crimes against Canadian Muslims have doubled over three years. In this Canada, we can't say a word that defines the hate we face and is being used to silence and rob us of our lives and presence within the national fabric.
If we can't even say what harms us, as Canada has done for other communities in the past, then it means Canadian Muslim lives have no value. When our children have to cross lines of hate in order to pray, where do they belong?
Painfully, "inclusivity" is being hijacked to erase not only the hate we face as a community but also our presence.
Painfully, "inclusivity" is being hijacked to erase not only the hate we face as a community but also our presence. And while we may look to the south, the current tactics being used by the Conservatives is enabling is the rise of white supremacy in Canada. They are going against Canadian values, stopping freedom of speech and, in fact, creating conditions where hatred can grow.
In the "other" Canada, the last Conservative government ran on an Islamophobic campaign and lost because of an increased voter turnout. It is here that we are hopeful.
I continue to believe that fellow Canadians will not be silent, but instead stand up and speak out. In Ontario, my hope is that the Anti-Racism Directorate not only acknowledge that the highest rising type of hate crimes are those against Muslims but also articulate an explicit strategy to address it.
In this Canada, after the terrorist attack in Quebec, Canadians by the tens of thousands came out to show love and solidarity. Fourteen thousand Canadians showed up on the streets of Toronto to say this is not the Canada they want. They poured out at vigils, in the cold to console us, grieve with us and stand with us through our tears.
They left messages of hope and symbolically wrapped mosques in their embrace despite freezing temperatures, so we could pray in peace. Their message was clear, Islamophobia has no place in Canada.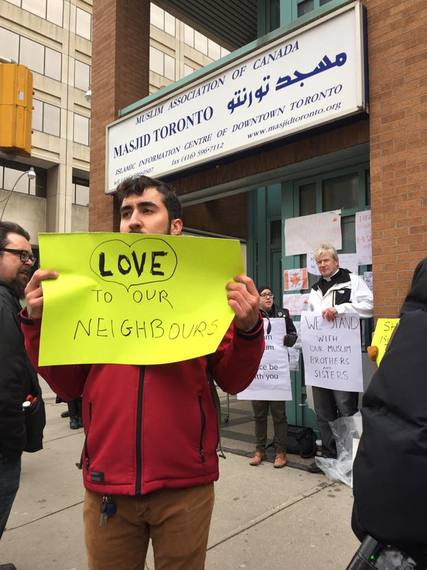 Counter-protesters come to help protect the Masjid Toronto mosque (Photo: Jeewan Chanicka)
Approximately 12 hateful people showed up outside the mosque to intimidate and scare people, the response on that day was over 1200 people joined a Facebook group Coalition Against White Supremacy and Islamophobia.
In this Canada, the solidarity shown by all leaders in Ontario's legislature voting unanimously to support a motion against Islamophobia is possible. It is the same one where allies showed up immediately to stand in solidarity at the Toronto mosque.
In fact, these allies have now formed a "rapid response" team to be able to show up and support if hate-mongers show up again. The following week, the mosque, in time for Friday prayer, was wrapped in a display of love. What was even more moving were the conversations, gratitude and displays of love and respect. It recognizes that racism and hatred will affect all communities and we must work together for the Canada we want, one in which diversity that includes but not limited to race, class, sexual orientation, immigration status, creed, gender and in solidarity with indigenous peoples, is a strength.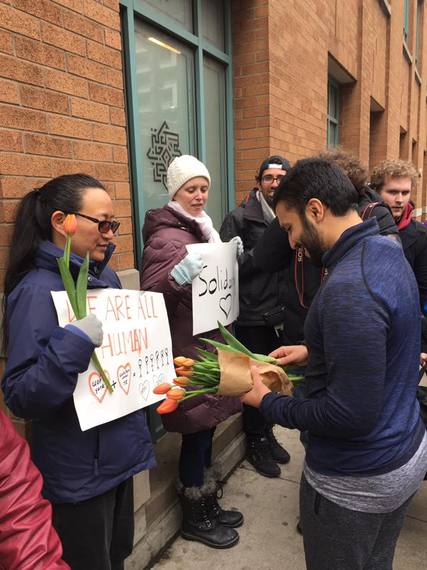 This young man brought flowers for allies protecting Masjid mosque (Photo: Jeewan Chanicka)
When they show hate, we will continue to show love. We cannot allow the Conservative party and its hate-inspired identity politics to destroy a vision we continue to build. The people united, will never be defeated.
This is the Canada that I will do everything I can to support. I invite you to do the same.
Follow HuffPost Canada Blogs on Facebook
Also on HuffPost:
Vigil For Victims Of Quebec City Mosque Attack
People attend a vigil in Quebec City on Jan. 30, 2017 after a shooting at a mosque left six people dead and 19 others injured.

Prime Minister Justin Trudeau and his wife, Sophie Gregoire Trudeua, leave flowers at a memorial.

NDP Leader Thomas Mulcair, Conservative Interim Leader Rona Ambrose and Bloc Quebecois Leader Rheal Fortin lead a march during the vigil.
Follow Jeewan Chanicka on Twitter: www.twitter.com/jeewanc