We Can't Continue Denying Systemic Racism In The Canadian Forces
At what point does racism move from isolated incidents to a systemic problem in the Canadian Forces?
Master Corporal Marc Frenette is quitting his decades-long service after years of racial harassment. Last May, Corporal Esther Wolki went public over the racial abuse she suffered and the damage it did to her mind. Not even the defence minister is immune from racist attacks.
Then there's Private Wallace Fowler. For 16 years he has been trying to get the Forces to properly investigate the racism he says he endured. Fowler has military records pointing to it, witness statements and letters from a lieutenant-colonel chaplain and a navy commander attesting to it. National Defence denies there was any racism.
Dennis Manuge first connected Wally Fowler with me. Dennis told me he had a guy with a hell of a story about racism in the Forces who wanted help with his book. I was pretty skeptical -- hadn't we more or less sorted out that sort of thing back in the 90s?
Yeah, sure, I know there's racists and bigots and bullies everywhere, but what Dennis was talking about wasn't 'a few bad apples, but a very serious problem within National Defence. I found the whole idea hard to believe... but then, I'm white. Since Dennis isn't one to exaggerate, I agreed to talk to Wally.

Taken as isolated incidents, few of Wally's experiences are over-the-top shocking. There's no cross-burnings, for example. But when one considers the volume of incidents in Wally's short career, it becomes clear there is a serious issue. In just three years, Wally says he faced everything from nasty comments and harassment to injury and life-threatening situations.
Wally has now taken his fight very public in his book, Checkmate. The following is backed up by documents Wally obtained under Access To Information, documents which I personally analyzed in assisting him with the book.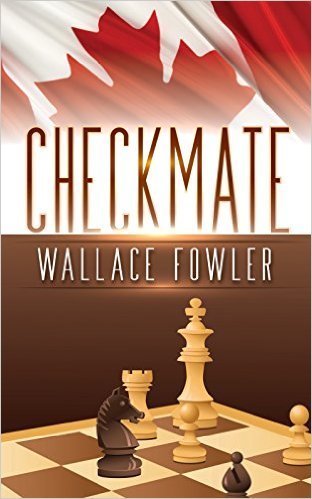 In just his first five months of service at CFB Borden, Wally recalls a sergeant who called him "homeboy" and forced him to run until he blew out his knee, then overloaded him on a later exercise and force-marched him until his knee gave again.
After that, a medical officer ordered an investigation after being tipped off that Wally was being denied meals on a field exercise, and made to stand extended watches outside without proper clothing. Wally moved from army to air force to get away from the abuse.
Posted to CFB Esquimalt, Wally details how he and his spouse were refused service at the base store. Also on base, their kids were spat on, subjected to drive-by verbal assaults, put off the school bus, denied lunch in the cafeteria. His spouse was walking home on base when people in a truck threw at banana at her and called her names.
The base social worker, padre, and the base commander confirmed the racial harassment. The Esquimalt Commander had to fight to get the Fowlers away from the abuse; fight against a career manager chief warrant officer (CWO) who claimed that Wally just wanted to go home, and that he should quit.
The Fowlers were moved to Trenton, where Wally served directly under that same -- and just-posted -- CWO who presided over workplace harassment. The Chief ordered the base harassment officer not to talk to Wally as workplace harassment began. His chain of command, from CWO down to sergeant, played games: sending Wally on pointless errands then punishing him for leaving; booking "counselling" appointments that Wally never asked for and wasn't told about (then assigning punishments when he missed them); assigning Wally to work solo on the worst jobs, separated from the rest of his team.
Wally was escorted by his sergeant "to meet another black" and, under supervision, "to find out there's no racism here." When Wally filed a complaint, he was posted to a basement, alone, with no duties for months.
The abuse took its toll: Wally developed major depression and anxiety. The family had been living under siege and relationships were strained. Wally's complaints went unaddressed. Finally, he asked for a compassionate release based on the years of harassment. He got his release, but it wasn't compassionate: National Defence said he "wasn't advantageously employable."
It's difficult to nail down the point where a series of racial attacks becomes a systemic problem. Between 2000-03, Private Wallace Fowler endured abuse and harassment from within the Forces, often from his superiors.
His complaints largely were ignored by the Forces, despite their then-much lauded Standards of Harassment and Racism Prevention (SHARP) program. DND's victim-blaming would certainly qualify as systemic racism.
But to really see the systemic problem, one needs to look at what happened after Wally got out:
Wally appealed his release terms and asked a Board of Inquiry to rule he was medically unfit because of the abuse he'd suffered. The BOI ignored key witnesses, dismissed evidence provided by Wally, and ruled "there was no evidence of racism."
Military Police maintain that it has no records at all pertaining to Private Wallace Fowler -- no complaints filed, no call outs, no reports against -- even though Wally has documents referencing such records. That makes one wonder if the MPs misplaced the records or they were illegally destroyed or otherwise made unavailable.
The Canadian Forces Ombudsman investigated, interviewed some of the witnesses and took custody of Wally's original evidence, but supported the BOI ruling. Documents show the Ombudsman "misplaced" evidence, ignored corroborating witness statements, and -- worse -- had been drafting their conclusion from the start of the investigation.
That's what makes for evidence of systemic racism: denial and apparent cover-up. Much of Wally's evidence comes from government itself, yet National Defence, multiple ministers thereof, and the CF Ombudsman continue to say there's no evidence of racism.
Then-Minister Peter McKay went so far as to suggest that there is no racism in the Forces... while simultaneously promoting the SHARP program which addresses racism in the Forces.
Who benefits from this fight? Not Wally Fowler, who has spent the past 13-plus years battling the system. Not Wally Fowler, who isn't looking for money, but justice. Not Wally, who wants his release code made accurate, even though that won't change his circumstances. Not Wally, who just wants the Forces to acknowledge what was done to him, to address the issue of racism within the ranks and to prevent others from suffering the same fate.
Who benefits from denying racism is a problem that needs addressing?
The System.
Follow HuffPost Canada Blogs on Facebook
MORE ON HUFFPOST:
Tips To Fight Racism And Discrimination
Even teens with the same identity -- be it racial or gender -- can be guilty of bullying and discrimination. Ontario's Ministry of Education defines bullying as "a form of repeated, persistent, and aggressive behaviour directed at an individual or individuals that is intended to cause (or should be known to cause) fear and distress and/or harm to another person's body, feelings, self-esteem, or reputation."

Social media can be a platform for bullying to continue even after school is out. Cyber bullying occurs when young people take malicious actions online. through chat rooms, email, social sites and instant messaging.

"You don't need to go into full confessional mode, but have fun with it, if that helps. Or be perfectly honest," Author Jonathan R. Miller said. Miller pens e-books with multi-ethnic characters and themes. You don't have to talk about all the nuances of your family tree every time you're asked about your background, He said. That can be exhausting. Find something that works for you personally.

"I like the word 'mixed' because it's a messy word, and in my experience growing-up mixed is exactly that," Miller said. He suggests that it's important to allow yourself to truly wrestle with questions of identity in environments you consider safe.

If you are struggling with your identity, you don't have to tell the whole world, but confide in a friend that you trust. Having someone to confide in is important. "If you can, find someone who you can talk to about your most honest, ever-evolving, often-messy answer to the question, "What am I?" Miller said.

"Maybe you don't have anyone trustworthy to talk to honestly about your experiences. Write about them. It helped me, sometimes, to get those out," Miller said. It may not make a lot of sense initially and it might feel uncomfortably personal, but write. Keep a journal, write short stories and rename the characters, try your hand at poetry -- whatever feels best.

"You are likely being told at different times, more or less, to hurry up and get off the fence, pick a side and get on with it," Miller said. It's not necessarily a bad thing to be unsure of who you are, even if your peers seem to have their acts together, he said. Teenage years are discovery years. Miller also quoted author Rainer Maria Rilke: " 'Have patience with everything that remains unsolved in your heart. ...live in the question.' That's good advice. Difficult to follow, but good."

When it comes to mixed heritage, "you don't have to be 'both' or 'other' or 'all of the above' all of the time. Sometimes the only way to figure out what you are is to choose one thing and be it for a while," Miller said. Explore how it feels to fully embrace a single aspect of your identity, for short period of time. See "what stick and what slides off." It's simply learning, Miller said.

"I can't tell you how many multi-racial people I've met who have chosen a single race or ignored race entirely and been perfectly content with the decision. A biracial friend of mine used to tell me, 'I'm black and white, yes, but I'm black. Period,' " Miller said. He said he knows many people have chosen to identify with only one aspect of their multi-background, while others have embraced the blend.

Find creative ways to occupy your time, Miller said. Join a group or do an activity (with others) where you are empowered to be who you are, instead of having to act how others think you need to be in order to fit in.

Take pride in your ethnic (culture, colour or religion) heritage. You have no control over your heritage, and you can't change that fact that this is who you are. So embrace it and learn as much as you can. "You may feel like it would be an insult to your heritage to embrace one aspect of yourself above the others, but trust me, it wouldn't be. This is important: it is not your job to uphold, with perfect equity and grace, all of the elements that went into your making," Miller said.

"Often they're the 'gatekeepers' that decide whether you're 'in' or 'out.' But what you can do is have a ready answer for the 'charges' they level against you. Whether you use humour, earnestness, or self-righteous anger, it helps to have your defense lined up and ready," Miller said. Sometimes people think all the "members" of their cultural or ethnic community must behave, dress and think a certain way. But as an individual, you can do whatever you want and find your own identity.
Follow Jeff Rose-Martland on Twitter: www.twitter.com/rosemartland