How to Manage Divorce, Distress and Debt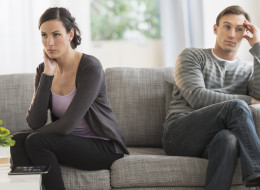 Kevin had a good thing going. In Edmonton, he and his wife were earning a combined six-figure income. They had recently sold their house and had taken a few trips with their kids. They began renting a home, while they figured out where to go next as they closed one chapter and began looking to the next one.
Unfortunately, the next chapter would have one less character -- Kevin's wife wanted a divorce. Suddenly, his household income was split in half and the cost of moving to a new place with his kids meant his expenses doubled.
"I thought I could take care of the costs with my credit card and it'd be over sooner than later," says Kevin, who is using an alias for privacy purposes. "Well, it ended up being later than sooner."
I learned about Kevin in my role as executive director at Consolidated Credit Counseling Services of Canada. He reached out to us after he began racking up credit card debt to cover the costs of moving, setting up a new home and covering basic family needs. His story is common -- debt seems to go hand-in-hand with divorce.
"We didn't have anything that was superfluous," adds Kevin. "We didn't have cable TV, and my cell phone was paid for by work. I used credit cards to pay for essentials -- groceries and school expenses for my kids."
According to Melanie Kraft, a family lawyer with Epstein Cole LLP in Toronto, Kevin is not unique. She says the cost of a divorce can be enormous, even after the legal process is complete.
"Remember, the financial strain of divorce does not end with reaching a settlement," says Kraft. "When couples separate, their expenses can increase by as much as $20,000 to $30,000 a year because of the need to support a second household. This includes the need for duplicate items for children in two homes, as well as the possibility of child support and spousal support payments."
Living lean minimized the amount of debt that Kevin needed to take on. He owed about $10,000 (nearly half of the national average), but it took three years to get financial support from his ex-wife and the pressure was overwhelming.
"You have this feeling in your gut, it's an anxiety and it eats at you all the time," says Kevin. "Honestly, when you're going through the depression of your divorce, the last thing you really need to do is worry about money."
Kraft is all too familiar with the mental impact of divorce among her clients.
"Emotional adjustments to the loss of intimacy, the loss of social connection, reduced finances and the interruption of parental roles can result in people experiencing high levels of anxiety and depression," notes Kraft. "It is important for separating people to reach out for support from doctors, mental health professionals and friends."
But Kevin is breathing easier, now that he is debt-free. Drastically reducing his spending and reaching out for credit counselling helped him get back on his feet, and I think the key in this recovery was his resolve to move forward. Divorce is difficult, but it happens. Don't let the financial burden drag you down for any longer than it needs to.
"What I've learned most out of this process is to be very proactive and go after things," adds Kevin. "I'm not going to let the chips fall where they may anymore, I don't live that way anymore."
MORE ON HUFFPOST:
Biggest Celebrity Divorces Of 2014
Gwyneth Paltrow separated -- err, "consciously uncoupled" -- from Coldplay frontman Chris Martin in March after 11 years of marriage and two kids together. "We have been working hard for well over a year, some of it together, some of it separated, to see what might have been possible between us, and we have come to the conclusion that while we love each other very much we will remain separate," the pair wrote in an announcement on Paltrow's lifestyle website.

Nick Cannon confirmed that he and wife of six years Mariah Carey had separated in August. Cannon and Carey are parents to 3-year-old twins. "There is trouble in paradise," The "America's Got Talent" host said, adding that his "main focus" was on the kids.

Melanie Griffith filed for divorce from Antonio Banderas in June after 18 years of marriage. The exes have an 18-year-old daughter together. "We have thoughtfully and consensually decided to finalize our almost 20 years marriage in a loving and friendly manner honoring and respecting each other, our family and friends and the beautiful time we have spent together," the couple said in a statement.

Former "X-Files" star David Duchovny filed for divorce from actress Téa Leoni in June after 17 years of marriage. Sources said the former couple, who have two children together, had been separated for months. In September, Leoni raved about her ex: "David gave me the two greatest gifts on the planet," she told Parade magazine. "I don't know how I could ever hate him. We've always loved each other, and we adore these kids."

In February, "Blurred Lines" singer Robin Thicke and actress Paula Patton announced they were calling it quits after nine years of marriage. "We will always love each other and be best friends, however, we have mutually decided to separate at this time," the couple, who have a 4-year-old son together, said in a joint statement. In October, Patton officially filed for divorce from Thicke.

In August, rock legend Neil Young filed for divorce from Pegi, his wife of 36 years and frequent musical collaborator.

Food Network's golden couple, Pat and Gina Neely, announced they were calling it quits after 20 years of marriage back in September. "This was a tough decision, but we believe it is the best decision for us," the couple said in a joint statement. "As parents of two beautiful adult daughters that we love dearly, we will continue to be involved in each other's lives as parents and friends."

In July, singer Jewel announced that she and her rodeo star husband Ty Murray were parting ways after six years of marriage. The couple have a 3-year-old son together. "Ty and I have always tried to live the most authentic life possible, and we wanted our separation as husband and wife to be nothing less loving than the way we came together," the Jewel wrote in a blog post confirming the split.

Former "The View" co-host Sherri Shepherd filed for divorce from her husband Lamar Sally in May. Shepherd has one son from a previous marriage. Since the split, she and Sally have been locked in a messy custody battle over the baby boy their surrogate delivered in August.

"Rizzoli & Isles" star Angie Harmon and former NFL player Jason Sehorn called it quits in November after 13 years of marriage. The couple have three daughters together.
Follow Jeffrey Schwartz on Twitter: www.twitter.com/ConsolidatedCA