'Tis the Season...for Identity Theft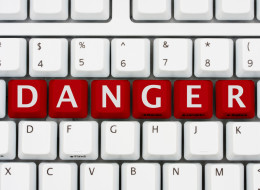 It's the most wonderful time of the year -- especially for online scammers.
Canadians are taking their gift buying to their keyboards this holiday season, with one-million households already shopping online in the past eight months. As Black Friday and Cyber Monday quickly approach, shoppers are starting to plan their wish lists for a wide range of sales and deals.
However, with holiday shopping also comes the downside of scams that are aimed at frugal shoppers trying to stretch their dollars. Contrary to the season of giving, these fraudulent tricks are aimed at taking your identity and financial information, and for scammers to thrive.
Last Christmas season, many Canadians got scammed by buying fake Canada Goose jackets advertised at less than $300 a piece. Victims were offered "free shipping and no tax" incentives, and when checking out, they were asked for a copy of their ID card and credit card "to validate the transaction." At the end of the day, shoppers were left with no gift item, a huge credit card bill and possible identity theft. PayPal users were also victims of identity theft through phishing email scams, where emails that looked representative of the company would re-direct users to a fake site to "gather processing information" including personal and financial information wanted by the thieves.
The numbers add up and show how important secure online shopping is:
• Canadians spend 20.6-billion dollars in online retail spending per year, with a predicted climb to 33.8-billion dollars in the next four years (Forrester Research).
• Last Holiday season, two-thirds of Canadians shopped online, spending an average of $746 online compared to $382 offline (J.C. Williams Group).
• The Canadian Banking Association surveyed the major credit card companies for 2013 and found that credit card loss totals reached $436,135,000.
• In 2013, The Canadian Anti-Fraud Centre logged a total of 44,221 complaints and 12,851 victims.
With these facts in mind, Consolidated Credit offers the following tips to help you avoid holiday scams and to reduce your risk of financial loss as a result of being victimized by scammers:
1. Know the company - Before making any online purchases, check out the seller's information through the Better Business Bureau. Look at customer reviews about the quality of the product. This will help you be a better judge of the website's legitimacy.
2. Secure your network - Do not click on links in email ads. Instead, go directly to the site. Look for the padlock that indicates a secure (HTTPS) connection and install an antivirus program on your computer to ensure a coding error won't compromise your security.
3. Don't over- share - You may have to submit your address and billing information to make a purchase, but don't fill in other fields that aren't necessary. If a site requires your bank account number or SIN number, empty your transaction information and shop elsewhere.
4. Read your statements - Carefully examine your credit card statement for unauthorized charges. If you've been charged for something you didn't buy, contact your credit card issuer immediately. You may have consumer insurance that will eliminate your liability for the debt.
5. Trust your instincts - If a deal sounds too good to be true, it probably is. Consumers should be suspicious of receiving unsolicited emails asking them to visit sites for cheap deals on hard-to-get items. These may contain links that can steal your credentials from your computer.
Use these provided tips to recognize and avoid becoming a victim of holiday shopping frauds for a happy, scam-free holiday shopping season.
ALSO ON HUFFPOST:
10 Tips From The Better Business Bureau To Avoid Online Dating Scams
Find out whether the dating service does any background checks or fraud scans before a person's profile is posted.

Be cautious if the person claims to be recently widowed or says they're an American stationed overseas, possibly in the military.

Watch out if the person immediately asks you to communicate on an email or messaging system outside the dating site. Some dating sites monitor exchanges for signs of fraud, and a fraudster may be anxious to lure you away from the site.

Do a Google search on the person. You can even paste the text of the email, profile description, or pictures into Google and search to see if similar text, pictures or descriptions are used by others. Some criminals create multiple profiles and use the same information over and over.

Run the other way if the person hints that they are in financial trouble or have another sudden need for money. (This can occur after months of online chatting.) If the person asks you to wire money--such as by Western Union, MoneyGram or Green Dot MoneyPak--it more than likely is a scam.

Check the person's name in online databases of sex offenders, which are available in many states.

If you decide to meet the person, go to a place where there are large numbers of people and where you feel safe. Consider taking someone along with you.
Follow Jeffrey Schwartz on Twitter: www.twitter.com/ConsolidatedCA