Should A Cosmetics Brand Be Expected To Play Politics?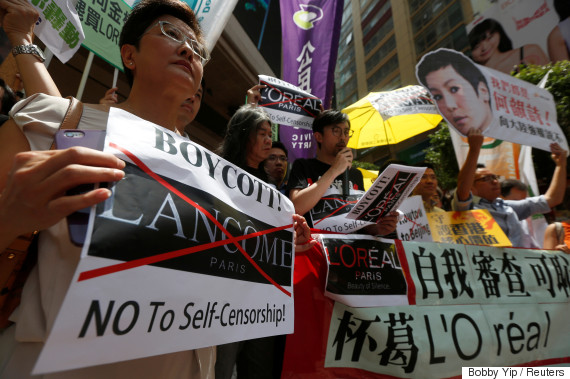 Protesters, with a portrait of a local pop singer Denise Ho, demonstrate outside a shopping mall, where the luxury skincare brand Lancome's stall is located, in Hong Kong, China June 8, 2016. (Photo: Reuters/Bobby Yip)
After the communist Chinese tabloid, Global Times, criticized the L'Oreal group for collaborating with Denise Ho, a pro-democracy cantopop singer, the company abruptly cancelled its Lancôme concert featuring the controversial artist.
From a business perspective, the L'Oreal group's decision to appease its second-largest market, China, is financially sensible; but the public backlash that ensued afterwards was catastrophic. Headlines from all over the world detail the fury of protesters calling out the company for self-censorship and betraying its values, prompting Lancôme stores to close temporarily.
Even in the L'Oreal group's home country, a petition to reverse the cancellation urges Lancôme to uphold its role as "ambassador of France" and defend human rights -- a diplomatic responsibility that the L'Oreal group, or any other company, never expected to undertake.
"When a global brand like Lancôme has to kneel down to a bullying hegemony, we must face the problem seriously as the world's values have been seriously twisted..." writes Ho in a statement posted on her Facebook page. "I say this with respect, but corporations do have social responsibility in addition to pursuing profits."
On the surface, people's political expectations for a corporation like L'Oreal seem outrageously misplaced; how exactly should a cosmetics company be made to crusade for constitutional rights? It seems incredibly naïve to think that a profit-dependent, commercial venture is the final bastion of democratic values. Yet, in an age when companies are capitalizing on social responsibility, are brands unwittingly turning themselves into moral pedestals?
While the growing demands for social responsibility applies to all industries, the lucrative fashion and beauty industry arguably faces greater expectations. Not just because of their ubiquity, nor that female consumers seem to care more about social responsibility, but more importantly, because the fashion and beauty industry has built itself from values of liberty, freedom of expression and personal style, and how these relate to self-worth.
Years ago, progressive values and social commentary were used as stunt advertising, which worked brilliantly for brands like Benetton, as they actively created shocking billboards to chide public dialogues on racial diversity, HIV, politics and war. Over time, progressive values and social responsibility have been regarded as an effective brand differentiation tool, which gave much praise and attention to labels like Timberland, who implemented community service in their business, and for luxury brand Stella McCartney, for adamantly remaining anti-fur and anti-leather in their products.
By today's standards, having a detailed corporate social responsibility (CSR) plan is an essential strategy for building customer loyalty. Although typically applied to building sustainable supply chains, CSR's broad and slightly varied definitions highlight the calling of a business to "do good" and contribute to the welfare of society. It's growing significance in management coincides with a new wave of conscious consumerism, one which recognizes the need to "do good" with their purchasing habits.
Now more than ever consumers are invested in brands that align with their values, especially millennial consumers.
Now more than ever consumers are invested in brands that align with their values, especially millennial consumers. Under the message of values and social responsibility, brands have made marketing campaigns that go beyond their commercial territory and into the field of social, cultural and even political debate.
In 2012, JC Penney featured a gay Father's Day advertisement, a move that unfortunately plummeted their revenues. Last year, fast fashion giant H&M featured their first Muslim model wearing a hijab at a time when Islamophobia was rising against the refugee-migrant crisis. In addition, earlier this year the Japanese beauty company SK-II commissioned an emotional advert spotlighting China's "left-over women," a campaign that went viral for its depiction of socio-cultural pressures on women.
These campaigns are definitely effective in their emotional urgency. But in their race for personal relationships with consumers, could brands be shifting themselves into standards they can't live up to? Critics of CSR have astutely pointed out that the problem with CSR is not creating one, but acting on them precisely and consistently. In practice, CSR is mostly about reporting a socially responsible image than it is actually making a difference.
While we remain uncertain about brands' sincerity in their CSR goals, what is certain is the consumers' seriousness in holding these companies accountable for their broken promises. As the Lancôme boycott illustrates, a moment's hypocrisy could quickly dismantle a brand's enduring image.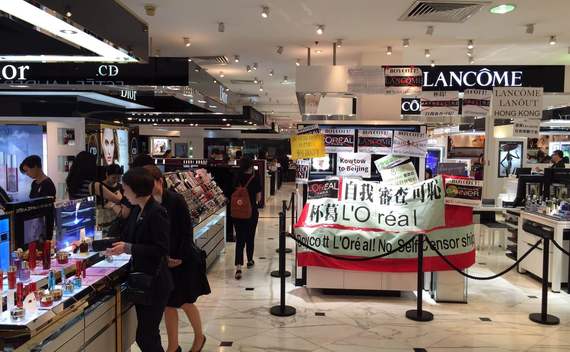 Those apathetic to the L'Oreal group's inadequacy will note the obvious financial motive: as of last year, the L'Oreal group's earnings in the China market is at €320.7, making it four times larger than Hong-Kong's. But for those disappointed by the decision, it is shameful to see how a multi-million dollar corporation claiming to uphold values of "Integrity, Respect, Courage and Transparency", would easily buckle under the jab of a tabloid.
It is also with scathing irony how the L'Oreal group, a brand that once revolutionized the beauty industry by giving women their own voice and value in advertising, would silently disregard a young woman for her stance on democracy.
At hindsight, the controversy raises serious questions about our increasingly branded, globalized generation. As consumers, are we too naïve to expect a brand to put our values ahead of their earnings? And for companies who dare to champion social responsibility, will they be willing to uphold those values, even at the cost of their business?
Photos are courtesy of Frédéric J. Lelièvre
(Twitter: @FL_HK)
Follow HuffPost Canada Blogs on Facebook
MORE ON HUFFPOST:
How To Look And Feel Your Best Without Makeup
Let's face it, sleep deprivation looks good on NO one -- no matter how much makeup you wear. Just one sleepless night can dramatically impact your appearance. So start scheduling in those eight hours!

Get your blood pumping in the morning with a light jog, workout or yoga. Everyone looks healthier and more alert with that rosy post-workout glow.

When you make your morning cup of black tea, don't toss the bags. Put them in the fridge or freezer for about 10 minutes to cool down. Next, place them over your eyes for about 10 minutes to transform your peepers from sleepy and puffy to bright and alert.

For bright glowing skin, be sure to exfoliate at least once a week. Try using an exfoliating brush that will leave your skin extra clean, smooth and radiant. Don't forget to exfoliate your lips as well (you can use your toothbrush) for a smooth and plump pout. Try: Clarisonic Smart Profile Face and Body ($299 at Sephora)

Krystin Goodwin of Buzz60 recommends using witch hazel as a natural toner. It will cleanse your skin, tighten your pores and reduce oil. Find more natural skincare tips here.

Well shaped and groomed eyebrows can frame your face and eyes, and polish your look. Clean up your brows and brush them upward before heading out. If your brows are sparse you can always try brow extensions as you wait for them to grow in (no makeup required!).

Moisturize your face with a brightening cream for a smooth, glowing complexion. You can also use an eye brightening cream to reduce puffiness and brighten beneath your eyes. Try: Camu Camu Power C x 30™ Vitamin C Brightening Serum by Peter Thomas Roth ($102 at Sephora) Try: Eye Duty Triple Remedy: Brighten, Depuff and Smooth ($45 at Sephora)

No one enjoys the look of a bright red sunburn. And too much sun exposure can speed up the aging process causing wrinkles, dark spots and scaly patches. So to maintain your skin's youthful appearance, apply a broad-spectrum sunscreen daily that's at least SPF 30.

For long and curly eyelashes that will open up your eyes without mascara, simply give them a pinch of your eyelash curler. Makeup artist Sona Gasparian also suggests applying a little Aquaphor on your eyelash to make them appear wet and darker as though you're wearing mascara. She also adds it to the high points of her cheeks in place of highlighter for a dewy glow.

To naturally plump up your pout, apply peppermint oil or cinnamon oil to your lips. Try: Cinnamon Plumping Lip Oil by Bite Beauty ($25 at Sephora).

For rosy cheeks without blush, just pinch or pat your cheeks to get your get your circulation flowing. Unfortunately, the rosiness won't last all day as with blush, so you will have to repeat.

Wearing light-coloured earrings or a statement necklace with gems will reflect more light on your face to fill in shadows and make your eyes sparkle.

Wearing the right colour for your skin tone will help to brighten your complexion. Watch this video to learn the most flattering colours for your tone.

Styling your hair is, of course, the perfect way to polish off your look. Try out these braided styles that are great for hot weather, or these styling products that will come in handy for taming frizzy hair.
Follow Jenica Chuahiock on Twitter: www.twitter.com/jenicachuahiock