Bob White Was An Inspirational Leader With A Vision To Follow
Bob White knew that in order to truly lead, you must do more than simply hold the top job you are elected to. You have to inspire others, engage, and offer both a vision and a path for a better future.
He was Canada's greatest labour leader; White had all that, and more.
News that White, founding president of the Canadian Auto Workers, one of the founding unions of Unifor, had died on Sunday made headlines across the country, and shook me and many others involved in the labour movement and social justice causes to our core.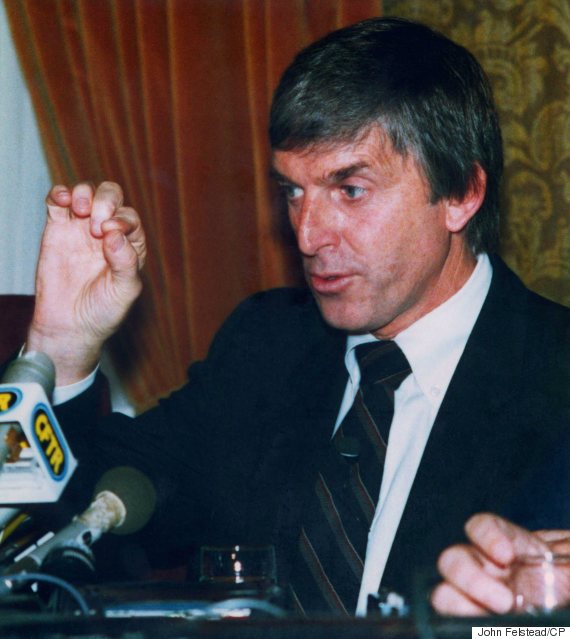 Bob White, who was instrumental in creating the Canadian Auto Workers union, has died at the age of 81. (Photo: John Felstead/CP)
For us, White was both a hero and an inspiration.
I was a young union activist at the Downsview de Havilland plant, now Bombardier, when White led the union I loved through a split from its American parent to form the Canadian Auto Workers (CAW).
It wasn't an easy decision for him, or any of us, at the time. However, White believed a better future was possible for all of us if Canadian unions could pursue their own goals and priorities.
He was among the first to understand that Canadian workers, operating in a different legal and cultural framework than their brothers and sisters in the US, needed to decide for themselves the best course of action in their own country.
More importantly, he was able to help others among us understand how to balance being a proud Canadian union, while standing in solidarity with workers around the world. He brought new meaning to international solidarity at such an important time in history. His vision also led to more workers in this country deciding that they, too, wanted to have their own unions.
Forty years ago, some 70 per cent of unionized workers in Canada were members of an international union - primarily American. Today, only about 20 to 25 per cent belong to an international union.
He helped us understand that everyone benefits when we stand up for one another.
With that came a strong push across the Canadian labour movement, which White led as president of the Canadian Labour Congress through most of the 1990s, to defend and improve Canada's social fabric and cultural programs.
White showed us that unions can and must do more than bargain good contracts for their own members. He showed us through actions and words that unions had a responsibility to build stronger and more equitable communities by fighting not just for our own members, but for all workers and human rights.
White should be commended for his vocal opposition of the Apartheid regime in South Africa, a reflection in his belief that workers must stand together around the world if we are to have truly equitable societies. He stood tall and spoke truth to power and his courage and principles should continue to guide us today in the need to speak out against hate and racism.
He helped us understand that everyone benefits when we stand up for one another. He was a fierce bargainer who realized that real change and real progress is often best made away from the bargaining table where there can be structure in place to create a balance to negotiate. Of course he understood the need to exercise workers power by flexing our collective muscle to stop production, too.
It was this vision that led him to take on many of the issues that not only defined his era, but redefined what it meant to be a trade unionist in this country, and the role of that Canada's labour movement has in fighting for justice, equity and broader community causes.
To White, the link between workers' rights and the needs of our shared communities were obvious and unbreakable. Both as CAW president and later as president of the CLC, he believed in using the collective strength of organized labour to make both our workplaces and our world better places.
It was this commitment that led him to become one of the fiercest and most articulate opponents of the North American Free Trade Agreement. He saw immediately that the deal would favour rich corporations, while hurting working people. His critique has defined criticism of NAFTA ever since, and guides our union still today as we embark on a possible renegotiation to seek a fair trade deal.
Today, it seems natural to many of us that a union would take on social issues beyond the bargaining table, but it wasn't always that way.
Bob White helped change that. It is his legacy, and Canada is a better place for it.
Follow HuffPost Canada Blogs on Facebook
Also on HuffPost:
9 Things Trade Unions Have Done For Us
Without trade unions promoting the aim of a 40-hour work week, there would have been no pressure on employers to limit the amount of time employees spend working. While of course employees are free to choose how long they spend working, trade unions worked to ensure this was the choice of a worker, not their boss. The movement for an 8-hour work day peaked at the turn of the 20th century, just before the First World War. And more recent moves towards re-imagining the working day have seen big businesses use technology to limit after-hours email traffic. Arguably such ideas are borne out of trade union campaigning more than a century ago.

While European rules introduced the basic legal right to paid-for annual leave, it is the trade unions which fought for enhanced entitlements over and above the basic EU provision. Since the early 2000s, the Trades Union Congress has fought for increases to the amount of leave, which is now the equivalent of 5.6 working weeks (PDF).

Before the Employers and Workmen Act 1875, workers were the only ones who could be sued for breach of an employment contract. The increased organisation of trade unions and the Great Reform Act prompted both Tory and Liberal governments of the time to take a renewed interest in employment laws. Ultimately this brought about greater parity in the relationship between employer and employee.

Trade unions were instrumental in lobbying government for the provision of leave for new parents - at workers' own discretion. In 1998, the Trades Union Congress launched a campaign to ensure that proposed parental leave would be flexible and well promoted to employees.

Cases of discrimination aren't uncommon, but they'd be a lot more if it weren't for trade unions. As the European Commission says: "Trade unions play a primary role in fighting against discrimination through a variety of actions and tools". They negotiate with employers, support victims, and monitor discrimination cases - keeping up-to-date with the latest case law so that we don't have to.

Although trade unions had reservations about the effect of a national minimum wage, they declared their support for the policy in the mid-1980s. By the 1990s, scholarly evidence caught up with the unions - arguing that a minimum wage would not reduce adult-age employment (PDF). And through the Labour Party, trade unions were able to influence policy in government after the 1997 election.

In the 1840s, unions that were highly centralised and which employed full-time officers brought about negotiation and arbitration as their preferred method of achieving a good deal for their members. This had a significant effect in improving worker/industrialist relations, and while not always successful, they fundamentally changed workplace relationships for the better.

In the 1830s, a Chartist movement was organised around 6 clear principles - and mobilised mass support for its aims through petitions. Just like trade unions, the Chartists' relied on collective aims amongst like-minded people - most visible in the form of three 'monster' petitions presented to Parliament. These contained millions of signatures and proved a desire amongst workers for improved working conditions.

The history of the working week lies in industrial practices, and in Britain factories operated 6 days a week to maintain efficiencies of scale. Sundays were always the day of rest. But trade unions fought to secure the Saturday for workers, too. And now the Monday-to-Friday work week is accepted across industries, as the LSE notes.
Follow Jerry Dias on Twitter: www.twitter.com/JerryPDias