Ottawa Must Allow MPs A Free Vote On Free Trade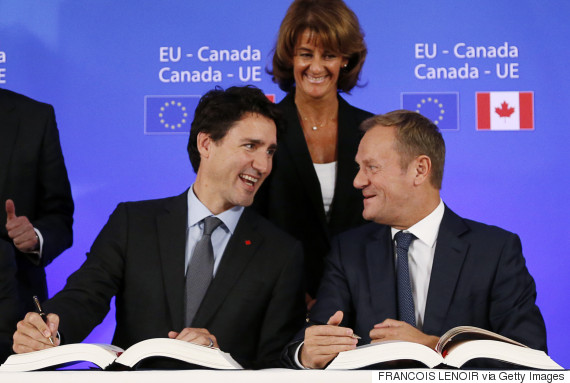 Prime Minister Justin Trudeau (L) talks with EU Council President Donald Tusk during the signing ceremony of the Comprehensive Economic and Trade Agreement (CETA) on Oct. 30, 2016. (Photo: Francois Lenoir/AFP/Getty Images)
Free trade rarely comes cheap, and too often the price is just too high.
Unifor members from across Canada are bringing this message to Ottawa this week as they meet with members of Parliament to talk about the Trans-Pacific Partnership.
Public consultations on the TPP -- a 12-member trade deal of Pacific Rim nations including Canada, Australia, Brunei Darussalam, Chile, Japan, Malaysia, Mexico, New Zealand, Peru, Singapore, the U.S. and Vietnam -- were due to end October 31, but have now been extended to the end of January.
After that, debate on the deal moves to Parliament Hill toward a possible ratification vote in the House of Commons in 2017. Unifor is in Ottawa this week in anticipation of that vote.
We are urging the government to live up to another promise and to strengthen electoral democracy by allowing a free vote on the TPP. All MPs should be able to vote their conscience on the TPP, rather than having their votes dictated to them by party leadership. During the last federal election, the Liberals promised more free votes in the House so MPs could more effectively represent their constituents.
The TPP is an issue that demands our representation. It will affect every Canadian, but will have specific and diverse impacts on different parts of the country.
The only way for MPs to properly represent their ridings is with a free vote.
Auto communities will be particularly hard hit by the TPP, but this trade deal will hurt those communities with strong dairy and aerospace industries and others, as well.
While the TPP's impact on health care and the cost of prescription drugs should be a concern to all Canadians, MPs with large numbers of aging constituents might want to pay particular attention to this issue.
Those from ridings where the environment is a key issue, for instance, might want to consider the impact of the TPP's Investor State Disputes Settlement (ISDS) system on Canada's ability to pass new laws.
For those concerned about the impact of modern technology in our lives, the concerns raised by Open Media about our digital rights and threats to an open Internet under the TPP might be of interest.
With so many distinct and varied ways the TPP might affect constituents, the only way for MPs to properly represent their ridings is with a free vote.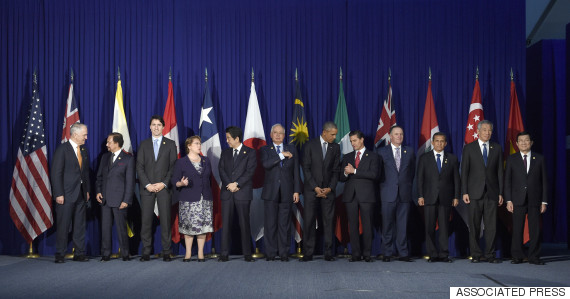 Leaders of the Trans-Pacific Partnership countries pose for a photo in Manila, Philippines, ahead of the start of the Asia-Pacific Economic Cooperation summit. (Photo: AP Photo/Susan Walsh)
Despite all the high costs that come with the TPP, the potential payoff is very low. Even the most optimistic projections show only anemic growth from this deal . If the TPP won't boost trade in any meaningful way, there's really no reason to risk its potential high costs.
In short, the payoff for ratifying the TPP is insignificant, and the price is too high. It's just too dangerous.
We have heard similar concerns coming out of Europe over the past few weeks as the people of Wallonia, a region of Belgium, stood up against Canada's trade deal with the European Union, the Comprehensive Economic and Trade Agreement (CETA).
There, the parliament of Wallonia threatened to scuttle the entire CETA, in large part over objections to the deal's investor-state dispute mechanism -- which allows corporations to sue governments if laws hurt their profits, even if those laws are in the public interest.
While a compromise was reached allowing the prime minister to fly to Brussels over the weekend to sign the deal, CETA is still a long way from being ratified or implemented.
Under the Wallonia deal, CETA's investor rights provisions must be sent to the European Court of Justice to test its legality. It is far from certain that these provisions can survive this test.
The government should work for us - the residents of Canada.
As well, the entire deal must be ratified by all 28 member states of the EU, including 10 regional parliaments, and Canada. Achieving that will be difficult, and could take years. The debate in Wallonia has reawakened opposition across Europe, particularly in Germany and France, where an election next year is expected to focus heavily on CETA.
The fact is that people are increasingly recognizing the need for fair trade deals that protect their rights, and not just the rights of corporations. Fair trade is needed to provide and maintain good jobs instead of forcing a race to the bottom. This rings true for CETA, and it's true for the TPP.
Both of these trade deals are remnants of the Harper government, which was thrown out of power more than a year ago for failing to hear or address the needs of ordinary Canadians.
Unifor is in Ottawa this week to remind MPs that the government should work for us -- the residents of Canada. Our union will continue to urge MPs to be part of the movement for a fair trade future, which begins with voting against the TPP.
Follow HuffPost Canada Blogs on Facebook
Also on HuffPost:
Canada-EU Free Trade Deal: What You Need To Know
Then-Prime Minister Stephen Harper preliminary signed CETA with European Commission president Jose Manuel Barroso in 2013. The deal has been slowly moving through the ratification process ever since. Pictured: Canadian Prime Minister Stephen Harper and European Commission President Jose Manuel Barroso shake hands following a joint media availability Friday, October 18, 2013 at the European Commission in Brussels, Belgium.

Canada will partially extend patent protection for brand-name drugs, which would delay the introduction of cheaper generics by up to two years. Officials say it will be eight years before any impact of these changes show up as higher costs for provincial drug plans. Earlier reports have suggested the cost to the health care system of extended drug patents could run between $1 billion and $3 billion annually.

Domestic car producers will be able to increase sales into Europe to 100,000 units from about 10,000 today under relaxed rules. The EU will phase out its 10-per-cent tariff on imports, and Canada will phase out a 6-per-cent tariff on European car imports. That could be good news for Canadian fans of European luxury cars, as those vehicles will be cheaper. But that, in turn, could be bad news for Canadian auto manufacturers.

Canadian beef farmers can increase their quota by 50,000 tonnes, in addition to 15,000 tonnes for high-quality beef. Pork farmers will see their quota rise to 80,000 tonnes from the current 6,000. But producers will have to convert to hormone-free product for the European market, which experts say can add about 15 per cent to costs.

Companies will be allowed to bid on major government procurement contracts right down to the municipal level. A joint study showed the new access will give European companies leeway to bid on federal contracts worth between $15 billion and $19 billion an year, and municipal contracts worth $112 billion a year. Critics say that, because of the common practice of "hiring Canadian" in government contracts, EU access to them could mean job losses in Canada.

Foreign takeovers of Canadian firms now require a formal federal government review if the deal is worth $1 billion or more, but this agreement will raise that to $1.5 billion.
Follow Jerry Dias on Twitter: www.twitter.com/JerryPDias