Why Prom Is Worth All The Fuss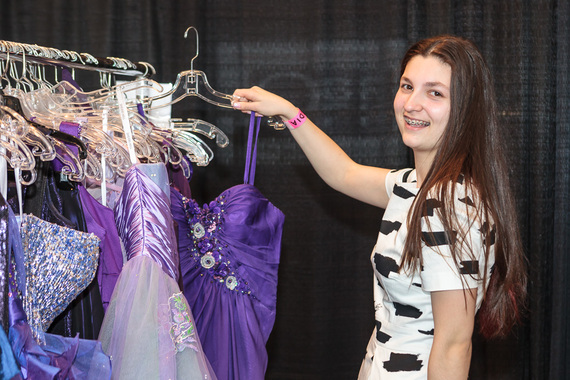 Did you know that the average cost of attending a high school prom today is now more than $500? Thousands of young women and men across the country won't attend their graduation formal this year because they cannot afford to. In addition to juggling classes, homework, extracurricular activities and part-time jobs, many young people simply cannot afford the added stress of financing their prom. Some of these students have faced great adversity; their adolescence marked by financial struggles, fragile family ties and uncertainty.
There are people who say, "why all the fuss about prom?" I have heard this argument countless times. It is important to understand the significance of this experience for young people today. For many, prom is considered a rite of passage. After close to 15 years of school, prom not only marks the end of secondary school, but an opportunity to celebrate this milestone with friends. For many students who choose not to pursue college or university, high school will mark the end of their formal education. Prom can be one of the most memorable events in a young person's life. Unfortunately for some young people attending is not an option. Prom is just too costly.

Fortunately there are many alternatives for young graduates today who don't have the financial means to purchase formal attire. There are many non-profit organizations from coast to coast that have been established to assist young people to "even the playing field" and ensure this experience is accessible to as many deserving students as possible. These groups rally their local communities including individuals, retailers and corporations to volunteer their time and to donate merchandise and funds. From The Cinderella Project in British Columbia to New Circles and Inside the Dream in Ontario, there are many players across the county dedicated to making a difference.
The Toronto-based Corsage Project, for example, in partnership with the Children's Aid Foundation, hosts an annual Boutique Ball where 300 economically disadvantaged young women come to shop for prom attire -- free of charge. The event has been described as an experience of a lifetime that helps to instil confidence and pride in those who attend.
"There are thousands of vulnerable youth across Canada who can't afford to take part in programs or access services that are vital to boosting their self-esteem and encourage them to reach their full potential," says Linton Carter, Chief Development Officer, Children's Aid Foundation. "Working with partners such as the Corsage Project, enables these young people to enjoy the same rite of passage that their peers experience and allows them to celebrate this high school milestone without stigma attached."
The promise of prom and the ability to attend can brighten the life of a young person and enable them to feel special, sometimes for the very first time. It provides them with hope and the knowledge that their community cares about them, and inspires many to give back in a meaningful way when they reach adulthood. If you know of a young graduate in need simply search online for a project near you. In my opinion, it is worth all the fuss!
Photography by: Mark Beauchamp Photography
ALSO ON HUFFPOST:
In February, we found this Tron-themed prom dress on Reddit. Only fans of the '80s sci-fi movie understand how epic this getup is!

One high schooler from Michigan made a prom dress out of thousands of Starburst wrappers. Between collecting all of the wrappers for the top half of her dress and putting it all together, it took the student about five months to complete.

Back in June 2012, Brooke Wallace and Mark Aylward were finalists in a national duct tape prom contest. They wore duct-tape attire to their prom from head to toe, including the entire dress, suit, and shoes. Wallace spent over 200 hours creating both outfits.

In 2010, Elizabeth Rasmuson from Iowa made her junior prom dress and her date's vest out of blue and white Wrigely's gum wrappers. Rasmuson told the Associated Press that she got the idea from hearing about duct tape prom dresses, and that she started collecting gum wrappers in the fall of 2009 before her prom took place the following spring.

Maura Pozek turned her senior prom dress into an arts and crafts project by using cardboard, hot glue, tacky glue, spray paint, brown shopping bags and glitter to create this one-of-a-kind ensemble.

The year before making her cardboard dress, Maura Pozek wore a dress made out of Doritos bags and soda can tabs. Even though school officials gave her some grief because they wanted to make sure the dress was going to be appropriate, it was still Maura's favorite dress. "I got to eat a lot of Doritos," she said.

Regan Kerr had never made a dress before creating her senior prom attire in April 2012. It took her five months to collect 5,114 soda can tabs -- with the help of friends and family members -- and then she sewed them all together.

The Today Show featured another kind of light-up dress in a segment that talked about wearable technology. Obviously you would have to be extra careful of liquid spills when donning this outfit...

One teen from Tennessee -- Texanna Edwards -- didn't even make it into her prom because of the dress she picked out. Last April, the senior at Gibson County High School was turned away from the school dance when she showed up in a custom-made dress that looked like the Confederate flag. School officials did not want the symbol to cause any kind of controversy at the dance.

Even though it's technically not a prom dress, Jenna Smith made waves recently when she created a dress entirely out of condoms and condom wrappers. Jenna's goal was to spread the word about "Spreading the Love, not the Disease" -- a seven-day Aids Life Cycle Rid -- and garner support from her friends, family and community members.
Follow Joanne Sallay on Twitter: www.twitter.com/TeachersonCall_