Canada's Flawed Refugee System Gives New Arrivals A Half Welcome
In the autumn of 2015, folks at my church got very excited about the opportunity to sponsor refugee families from Syria. The photo of Alan Kurdi washed up on a Turkish beach as his family attempted to flee across the Mediterranean created a groundswell of concern.
The four or five usual members of the Refugee Support Committee at the parish were joined by over 80 others for an information evening -- and 20 more people who could not come that evening requested updates and offered to help. Plans were made, funds raised, paperwork submitted -- and at one point, an apartment was rented.
And then, we waited... and waited. Finally, a Syrian family arrived that our parish could sponsor -- in March 2017.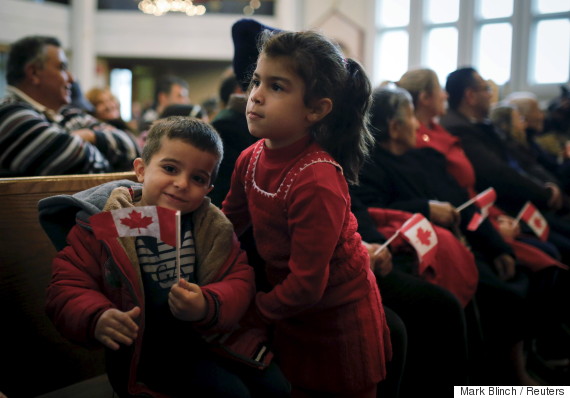 Syrian refugees take part in a welcome service at the St. Mary Armenian Apostolic Church in Toronto, Dec. 11, 2015. (Photo: Mark Blinch/Reuters)
As it turns out, this situation is not unusual at all. Through private sponsorship, over 14,000 Syrian refugees have been resettled to Canada since 2015, part of the 25,000 Syrians our country received in total during this period. Yet, despite public interest and a huge outpouring of goodwill to assist, a new study reports that there remain serious flaws in the system that deserve immediate attention and serious reform.
This week, Citizens for Public Justice (CPJ) released A Half Welcome: Delays, Limits and Inequities in Canadian Private Sponsorship. CPJ obtained data from Sponsorship Agreement Holders (SAHs) across Canada, by means of surveys and direct interviews.
The views expressed emanate from persons who have direct, hands-on experience with refugee reception and settlement in communities. In order to sustain public interest in the program, and to ensure refugees have the best possible chance of success here, the federal government would do well to eliminate the policy hurdles that block effective private sponsorship.
A community group willing to sponsor refugees cannot be kept waiting for years, or interest will wane.
Inspired by faith communities anxious to assist Indochinese "boat people" back in 1979, the private sponsorship of refugees began with agreements signed by Ottawa with the Mennonites, and then other Christian faith communities. Canada received the Nansen Medal in 1986 as a result of the population's response to the Indochinese refugees, and our country is still held up as an example other countries study as they consider private sponsorship options.
Today, community groups, faith communities, or even a group of five individuals can comprise a private sponsoring organization. They must show capacity to financially support the refugee or refugee family for a year, offering to accompany them in their orientation process in their new communities.
CPJ's study points to at least four major shortfalls in the design and operation of the private sponsorship system in Canada.
First, 97 per cent of SAHs are concerned with long wait times from when an application is filed with government and the eventual arrival of the sponsored refugees.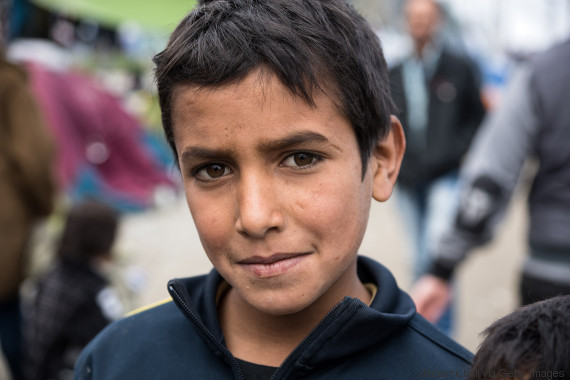 A boy from Syria poses near his tent on March 17, 2015 in the refugees camp of Eidomeni, Greece. (Photo: Dinosmichail via Getty Images)
Refugees face logistical challenges in supplying application information in arduous situations or conflict zones (such as the woman who was asked to provide expensive DNA testing for her children in an African refugee camp, in order to prove she was their mother.) But delays can also occur at processing centres overseas, often due to scarce resources at visa posts, or even at the Centralized Processing Office in Winnipeg. A community group willing to sponsor refugees cannot be kept waiting for years, or interest will wane and other uses will attract competing uses for the collected funds.
Second is the long wait times for non-Syrian applications.
Fully 94 per cent of SAH respondents reported concern with this issue. A Winnipeg-based SAH noted that they had been waiting for over six years to receive a refugee family from Africa! When priority was given by the Liberal government to the quick processing of Syrian applications, it proved that expedited processing was possible. But it also caused distress over the fact that urgent needs from other parts of the world were not being treated equitably.
Third is that requests for refugees eligible for sponsorship exceeds the government-imposed allocation limits.
There is no reason to assume that the system is perfect or perfectly fair.
Sponsors request better communication from government, as well as advance planning (perhaps over three years) so that communities know what allocations government may allow in the various sponsorship categories. Over 87 per cent of respondents cited concern these allocation limits.
The fourth concern has to do with Canada's policy to offer refugees loans to cover transportation, medical exams, travel documents.
Refugees must start to repay these loans within 30 days of their arrival in Canada. However, when the Liberals promised to expedite Syrian arrivals, the travel loans were waived. Seventy-five per cent of SAHs noted that this policy is of concern, as it imposes an unfair burden on those coming, often with nothing, from other parts of the globe. Statistics Canada reports that 34 per cent of newcomers to Canada live in poverty -- so why add this burden on newly arrived refugees?
Canadians can be proud that our country facilitated the entry of so many Syrian refugees in 2015-2016. Yet, there is no reason to assume that the system is perfect or perfectly fair. An engaged society and culture can continue to improve our capacity to assist vulnerable asylum-seekers. Globally, human migration is now at unheralded levels. It will only grow due to economic inequality, climate change and environmental destruction and international conflict.
Given the massive human need we are invited to confront, this CPJ study recommends useful avenues for communities seeking to better collaborate in the government's responsibilities to receive and successfully settle asylum-seekers in Canada.
Follow HuffPost Canada Blogs on Facebook
Also on HuffPost:
Great Things Canadians Have Done So Far For Syrian Refugees
Joe Woodsworth, a senior manager with Surrey, B.C.-based Options Community Services picks up dozens of backpacks, each filled with school supplies for Syrian children. Operation Backpack is the idea of former 24Hours columnist Laila Yuile.

Malak arrived with her family in July after living in a Jordanian refugee camp for two years. Her teeth were so decayed the 5-year-old girl was kept up at night because of the pain until a local dentist stepped forward to help the family for free.

"Hopefully, together, we can prove that Canada in general and the Maritimes in particular are as generous and welcoming as the rest of the world thinks we are," P.E.I. artist Amy Seymour told HuffPost Canada.

In November, the Edmonton Oilers captain gave $10,000 to Edmonton's Mennonite Centre for Newcomers to support their work in helping to resettle incoming Syrian refugees. The donation helped the group meet its two-month goal in a single day.

The Guelph businessman made headlines last month after stepping forward to say he intended to spend $1.5 million to privately sponsor 50 Syrian refugee families to come to Canada. Estill explained he was tired of seeing refugee applications get snarled in long, bureaucratic processes. "I'm a businessperson, I'm very impatient, and we should just do it now," he said.

"It's really good to know that we're so compassionate and that we want to help," said Darrell McLeod of St. Clare's refugee family sponsorship group. "Everybody's very excited about it. Everyone's been really excited to make things happen."

Westbank Developments founder Ian Gillespie is behind many of downtown Vancouver's glitziest skyscrapers.A descendant of Irish immigrants, he made a pledge in November to furnish a 12-unit West End apartment complex and open it to incoming refugees. He also said he's exploring ways to help Syrians get jobs after they arrive in the city.

A small group of from the Keewatin Otchitchak traditional women's drum group gathered by baggage carousels to greet 17 Syrians to Treaty 1 with a song of welcome.

"I need to point out that the people who are desperate refugees are fleeing from the exact same people who perpetrated the kind of violence we saw in Paris and Beirut last week," the Calgary mayor told reporters a week after deadly attacks in France and Lebanon. "They're running away from the bad guys and, as such, we need to be able to open our arms to make sure that we can provide safety to these folks."

Christine Youssef (pictured) greets newly arrived Syrian relatives on a bus near Pearson International Airport in Mississauga on Dec. 11. Youssef and her mother are sponsoring 43 of their Syrian relatives to come to Canada. Thirteen have arrived and are staying at the family's small Scarborough, Ont. bungalow. Soon, nine of the relatives will move out, making room for more relatives to come in.

When CBC News reporter Eman Bare interviewed Mohamed Al-Noury, 21, and Athar Farroukh, 23, she realized the Syrian refugee couple had no wedding pictures. So Bare put a callout on soical media to surprise the high sweethearts with a wedding. Her request spread and within 24 hours people came forward donating a venue, suit, dress, and cake. "Grateful for a community that makes beautiful things happen," wrote Bare on Instagram below a photo taken at the couple's Saskatoon ceremony.
Follow Joe Gunn on Twitter: www.twitter.com/publicjustice