Delaying The Greening Of Canada's Oil Industry Will Cost Us
In recent weeks, I was part of the GLOBE Capital Summit in Toronto. Leaders from both the private and public sectors came together to discuss how to mobilize and accelerate the funding necessary to transform into a lower carbon economy. I was also in Washington meeting with leaders on Capitol Hill to discuss how Canada and the United States can work together to provide responsibly produced energy.
In my conversations with senators and policy advisers, I heard that the U.S. is eager to work with Canada to develop a sustainable energy supply and how the greening of the Canadian oil sector can help facilitate that outcome.

(Photo: Brennan Linsley/AP Photo)
The conversations in Washington and Toronto further validated the need for investment in Canadian infrastructure that will contribute to a greener future. We know that cleantech companies are developing and testing innovative technologies that have the potential to change the energy industry for the better. These companies, however, require buy-in from both the government and the industry to move to the next stage of implementation.
Nsolv, a made-in-Canada solution for sustainable in-situ heavy oil extraction, is one example of clean technology that has been tested and proven in the field. Its pilot plant, which is now winding down after three successful years, produced more than 125,000 barrels of oil while generating minimal greenhouse gas emissions and using no water. The solvent technology is proven and ready for a commercial-scale partnership.
We should really be worrying about the risks of not taking immediate action.
In my last post, I noted that commercialization is a major hurdle for any small or medium-sized technology company, especially in Alberta's oil and gas industry. Many companies are often content to leave their oil and gas assets underground until new technologies are de-risked by others.
This "first adopter syndrome" is detrimental to the future of our industry, and society as a whole. While it is positive that we are having conversations on a global, national and provincial scale, what we really need to see is action. The longer we wait for larger-scale adoption of cleaner technology, the longer we will have to wait to reap the benefits. While industry and government are worried about the risks of implementing these new technologies, we should really be worrying about the risks of not taking immediate action. We are missing out on the potential exponential growth of economic and environmental benefits -- and it's going to cost us in more than one way.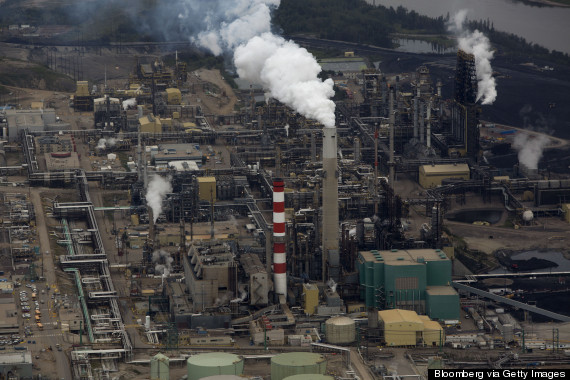 Views of Fort McMurray and the oil sands. (Photo: Brent Lewin/Bloomberg via Getty Images)
Environment
As we wait for the large-scale adoption of clean technologies, Canada continues to be among the top 12 global emitters of greenhouse gases (GHGs). Among the provinces, Alberta is by far the largest contributor of GHGs. While both the federal and provincial governments are introducing measures such as carbon caps and levies, these are punitive measures and they will not be enough to bring about change. A fundamental shift needs to happen to allow industry to continue producing the country's resources, while also significantly reducing its environmental footprint.
An example of a significant environmental risk is the use of water in the oil sands. One of the challenges of steam-assisted gravity drainage (SAGD) operations is managing the volume of water that is used to bring oil to the surface. According to the Canadian Association of Petroleum Producers, the industry uses an average of 0.4 barrels of fresh water for every barrel of in-situ bitumen produced. In 2014, that amounted to a total of 75 million barrels, or 3.17 billion gallons, of freshwater consumption.
There is a huge opportunity for companies to take bold action in cutting emissions while also reducing their supply cost in the long term.
While much of the water is recycled in the SAGD process, generating steam is both high in cost and can have a negative impact on the environment. Steam generation consumes large volumes of water and generates considerable greenhouse gas emissions. As a result, technology companies like Nsolv have developed alternative solutions that use a solvent to cut water out of the recovery process entirely while minimizing any greenhouse gas generation.
Supply costs
Supply cost is the constant dollar price needed to recover all capital expenditures, operating costs, royalties and taxes, and earn a specified return on investment. The goal for oil sands producers today is to lower their supply costs and improve their environmental footprint while also supporting oil sands development and remaining competitive.
According to a CIBC Institutional Equity Research Report, the supply cost for a SAGD project based on a 15-per-cent internal rate of return is estimated at more than US$65 per barrel. In comparison, solvent-only projects have the potential to lower supply costs to below US$50 per barrel. Based on these projections, there is a huge opportunity here for companies to take bold action in their commitment to cutting emissions while also reducing their supply cost in the long term.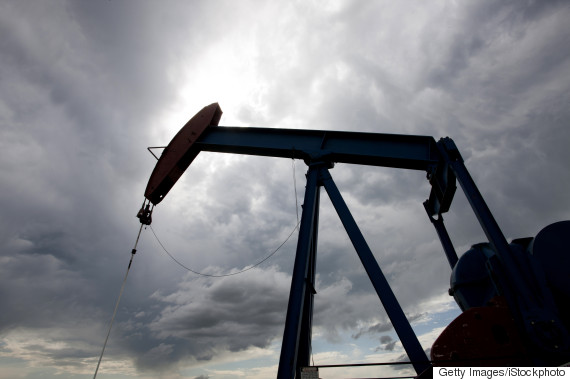 (Photo: Istockphoto via Getty Images)
Royalty revenue
While producers have an opportunity to reduce supply cost, government has an opportunity to generate more revenue in the form of royalties. Over the next 20 years, the oil sands industry is expected to pay $1.2 trillion in provincial and federal taxes which includes royalties. These royalty revenues contribute to government spending on infrastructure, social services and other important programs across the country.
According to analysis conducted by Nsolv, over the 30-year life of a 30,000-barrel-per-day plant, which is typical for a SAGD commercial-scale project, solvent-only based technology would bring in over one billion dollars more in royalty revenue than a SAGD project. Solvent-only processes would pay out faster and generate more profit for the industry. This means government would earn more in royalty revenue and would have the funds necessary to build the infrastructure our country needs.
Added revenue provides an opportunity for government to introduce tax or monetary incentives for first adopters of clean technology solutions. By working together with the industry, the government can help push our climate goals forward while also earning more revenue and providing support to small, cleantech companies.
Competitive edge
Canada as a country faces many risks if we continue on this path of slow incremental change. While many countries are taking bold action to reduce their environmental footprint, the current U.S. administration is planning to take a different approach. Canada needs to decide where we stand. Are we going to follow the U.S.? Or are we going to be leaders who use innovative technologies to cut emissions and move closer to our climate goals?
As a current leader and the most secure supplier of energy products to the U.S. including crude oil, refined petroleum, natural gas, electricity and uranium, Canada can remain competitive in this market. We have technologies that can allow Canada to lead and become more competitive with less responsible energy producers. We just need to allow industry, the government and technology providers to overcome the challenges facing first adoption.
The solution is within grasp, and Canadians should be asking the industry and government why it isn't happening.
The risks of not enacting change significantly outweigh the risks of implementing new technologies. Holding back is already costing us money and causing further damage to the environment, and the longer we wait, the worse it will get. Canada has an opportunity to be a leader and to show the world that it is possible to combat these larger-than-life challenges we face. Replacing the first adopter syndrome with a trailblazing attitude is a first step.
Government and large industry have a role to play in speeding up the adoption of technologies to solve the environmental and economic problems of heavy oil extraction. Leadership is required in this area to meet environmental objectives and create an economically sustainable oil and gas industry.
After my discussions with leaders in Washington and Toronto, I can say with confidence that there is alignment in our goals to work towards a cleaner energy future. Clean technology is the clearest path forward, and the sooner we act, the sooner we will begin to build the momentum that is needed to make significant change over time. The solution is within grasp, and Canadians should be asking the industry and government why it isn't happening.
Follow HuffPost Canada Blogs on Facebook
Also on HuffPost:
The Oil Sands and Canada's Environment
Twenty four hours a day the oil sands eats into the most carbon rich forest ecosystem on the planet. Storing almost twice as much carbon per hectare as tropical rainforests, the boreal forest is the planet's greatest terrestrial carbon storehouse. To the industry, these diverse and ecologically significant forests and wetlands are referred to as overburden, the forest to be stripped and the wetlands dredged and replaced by mines and tailings ponds so vast they can be seen from outer space.

This area, located in the extreme northwest of British Columbia, marks the western boundary of the Boreal region. On the border of the Yukon and Southeast Alaska, the western flank of these mountains descends into Alaska's Tongass Rainforest and British Columbia's Great Bear Rainforest. Far from the oil sands, the greatest remaining coastal temperate and marine ecosystem is imminently threatened by the proposal to build a 750-mile pipeline to pump 550,000 barrels per day of oil sands crude to the coast. Once there, it would be shipped through some of the most treacherous waters, virtually assuring an ecological disaster at some point in the future.

Even in the extreme cold of the winter, the toxic tailings ponds do not freeze. On one particularly cold morning, the partially frozen tailings, sand, liquid tailings and oil residue, combined to produce abstractions that reminded me of a Jackson Pollock canvas.

Photographed in late autumn in softly falling snow, a solitary spruce is set against a sea of aspen. The Boreal Forest of northern Canada is perhaps the best and largest example of a largely intact forest ecosystem. Canada's Boreal Forest alone stores an amount of carbon equal to ten times the total annual global emissions from all fossil fuel consumption.

The refining or upgrading of the tarry bitumen which lies under the oil sands consumes far more oil and energy than conventional oil and produces almost twice as much carbon. Each barrel of oil requires 3-5 barrels of fresh water from the neighboring Athabasca River. About 90% of this is returned as toxic tailings into the vast unlined tailings ponds that dot the landscape. Syncrude alone dumps 500,000 tons of toxic tailings into just one of their tailings ponds everyday.

In an effort to deal with the problem of tailings ponds, Suncor is experimenting with dry tailings technology. This has the potential to limit, or eliminate, the need for vast tailings ponds in the future and lessen this aspect of the oil sands' impact.

So large are the Alberta Tar Sands tailings ponds that they can be seen from space. It has been estimated by Natural Resources Canada that the industry to date has produced enough toxic waste to fill a canal 32 feet deep by 65 feet wide from Fort McMurray to Edmonton, and on to Ottawa, a distance of over 2,000 miles. In this image, the sky is reflected in the toxic and oily waste of a tailings pond.

The Caracajou River winds back and forth creating this oxbow of wetlands as it joins the Mackenzie flowing north to the Beaufort Sea. This region, almost entirely pristine, and the third largest watershed basin in the world, will be directly impacted by the proposed Mackenzie Valley National Gas Pipeline to fuel the energy needs of the Alberta Oil Sands mega-project.

Oil sands pit mining is done in benches or steps. These benches are each approximately 12-15 meters high. Giant shovels dig the oil sand and place it into heavy hauler trucks that range in size from 240 tons to the largest trucks, which have a 400-ton capacity.

The Alberta oil sands are Canada's single largest source of carbon. They produce about as much annually as the nation of Denmark. The refining of the tar-like bitumen requires more water and uses almost twice as much energy as the production of conventional oil. Particularly visible in winter, vast plumes of toxic pollution fill the skies. The oil sands are so large they create their own weather systems.

Located just 70 miles downstream from the Alberta oil sands, the Athabasca Delta is the world's largest freshwater delta. It lies at the convergence of North America's four major flyways and is a critical stopover for migrating waterfowl and considered one of the most globally significant wetlands. It is threatened both by the massive water consumption of the tar sands and its toxic tailings ponds.

This network of roads reminded me of a claw or tentacles. It represents for me the way in which the tentacles of the tar sands reach out and wreak havoc and destruction. Proposed pipelines to American Midwest, Mackenzie Valley, and through the Great Bear Rainforest will bring new threats to these regions while the pipelines fuel new markets and ensure the proposed five fold expansion of the oil sands.

Here's a look at oil spills since the Gulf Disaster:

In Nigeria's Akwa Ibom State, an ExxonMobil pipeline ruptured on May 1 and spilled over a million gallons of oil, reported the Guardian. The leak continued for seven days before it was stopped. HuffPost blogger Omoyele Sowore explained in July 2010 that an oil spill from ExxonMobil operations was nothing new to the country. He wrote that an "environmental catastrophe [had] been going on since December 2009." He described the toll on Nigeria: "There's oil on the surface of the ocean, wildlife coated in crude, fishermen losing their businesses."

In May 2010, several thousand barrels of oil spilled from the Trans-Alaska pipeline "during a scheduled pipeline shutdown at a pump station near Fort Greely," explained AP. No injuries were reported and officials said the spill was likely "limited to the gravel on top of the containment area's line."

In June 2010, a Chevron pipeline ruptured and spilled oil into a creek near Salt Lake City, Utah. It was first estimated that over 400 to 500 barrels spilled into the creek, which leads into the Great Salt Lake, reported AP. Around 150 birds were "identified for rehabilitation." The oil did not reach the Great Salt Lake, however. Chevron was later cited for the spill, which released an estimated 33,000 gallons in total. In March 2012, a group of 66 residents of a Salt Lake City neighborhood sued Chevron for damage caused by the Red Butte Creek spill and a smaller spill in December 2011.

In late July 2010, an Enbridge pipeline in southwestern Michigan sprung a leak and spilled over 800,000 gallons of oil into a creek which flows into the Kalamazoo River. By August, a regional EPA administrator said that significant progress had been made at the site, but "the agency cautioned that it will take months to complete the cleanup," reported AP. By the end of September, the pipeline -- which travels from Ontario to Indiana -- was back in operation. The EPA later reported that about 1.1 million gallons of oil were recovered, but pipeline operator Enbridge said that it would stick with previous estimates that only about 843,000 gallons were spilled.

In July 2010, China experienced what was reported as the "country's largest reported oil spill" after a pipeline rupture near the northeastern port city of Dailan. Several days after the spill, cleanup efforts were underway over a 165 square mile (430 square kilometer) area of the Yellow Sea. The Chinese government reported that about 1,500 tons or 461,790 gallons of oil had spilled, but experts contended that the spill could have been "dozens of times larger," reported AP.

In late April 2011, a pipeline in northwestern Alberta began leaking, and created the worst spill in the province in 36 years, reported the Calgary Herald. About 28,000 barrels of oil were reportedly spilled from the Rainbow pipeline, which is operated by Plains Midstream Canada. The Globe and Mail revealed that the pipeline operators "detected a potential problem nearly eight hours before halting the flow of crude." A nearby school in a First Nation community was closed after residents reported "nausea, burning eyes and other symptoms," and several animals were found dead. In late July, Plains Midstream requested to re-open the pipeline and begin to ship oil to Edmonton again.

In June 2011, an oil spill occurred about 25 miles off the coast of China's Shandong province in Bohai Bay. A second spill followed in July. In late August, it was reported that ConocoPhillips had discovered more oil seeps in Bohai Bay, although only "1 to 2 liters (a quarter to a half-gallon) of oil and drilling mud were being released each day." The company reported that the 2011 spills released 700 barrels of oil and 2,500 barrels of drilling mud into the bay and that most of it was recovered. In September, China's State Oceanic Administration claimed that oil was still seeping underwater. In early 2012, Texas-based ConocoPhillips reached a settlement deal with the Chinese government for $160 million.

In July 2011, a pipeline beneath Montana's Yellowstone River ruptured and sent an oil plume 25 miles downstream, reported AP. Despite reassurances from ExxonMobil that the pipeline was safe, the July spill released what was originally estimated to be 42,000 gallons of oil. With other 1,000 workers assisting the cleanup, ExxonMobil estimated that it would cost $135 million to clean the river. In January 2012, it was reported that ExxonMobil had increased its estimate of the spill size by 500 barrels. AP later reported the estimated spill size as 63,000 gallons. CORRECTION: A previous version of this slide stated the estimated spill size as 63,000 barrels instead of gallons.

In August 2011, an oil rig off the eastern coast of Scotland began leaking oil into the North Sea. Royal Dutch Shell, which operates the Gannet Alpha oil rig, initially reported that 54,600 gallons of oil were spilled. A second leak soon occurred, turning the spill into the worst in the North Sea in a decade, reported AP. Several days later, Shell announced that it had "closed a valve from which oil was spilling into the North Sea," according to AP. The spill released about 1,300 barrels of oil, which spread out over a 2.5 square mile (6.7 square kilometer) area.

In mid-November 2011, Brazilian authorities began investigating an offshore spill near Rio de Janeiro, reported AP. Chevron initially reported that between 400 and 650 barrels of oil had spilled into the Atlantic, while a nonprofit environmental group using satellite imagery estimated that the spill rate was at least 3,738 barrels per day. Chevron soon claimed full responsibility for the spill. The brazilian division's COO said, Chevron "takes full responsibility for this incident," and that "any oil on the surface of the ocean is unacceptable to Chevron," reported AP. In December, Brazilian prosecutors announced that they were seeking $10.6 billion in damages from Chevron for the spill that leaked nearly 3,000 barrels of oil. In March 2012, a Brazilian federal judge allowed prosecutors to file criminal charges against Chevron and Transocean and 17 executives from both companies were barred from leaving Brazil.

In October 2011, a Liberian-flagged cargo ship ran aground on a reef in Northern New Zealand and began leaking oil. With oil washing up on shore, a government minister deemed it the country's largest maritime environmental disaster a week later. Although over 2,000 sea birds were killed by the spill that spilled about 400 tons of fuel oil, 343 little blue penguins were rescued and cleaned of oil. [Watch video of the penguins' release into the wild here.] In January, half of the stricken Rena began sinking into the sea after breaking apart and spilling over 100 cargo containers.

The spill, which took place near the coast of Nigeria, was reported as "likely the worst to hit those waters in a decade," according to AP. After two days, the spill had affected 115 miles (185 kilometers) of Nigerian coastline. Several days after the December 20 spill, Shell reported that the leak -- which occurred about 75 miles offshore -- had been contained before it reached the Nigerian coast. The spill, which covered 350 square miles of ocean at its peak, was reported as having released less than "40,000 barrels -- or 1.68 million gallons" of oil.