Universities Encourage Mob Censorship By Blaming The Victims
Canada's university presidents are helping to spread the cancer of mob censorship.
Western University is the latest offender, imposing a $1,040 security fee on students who are hosting University of Toronto professor Jordan Peterson. Dr. Peterson made national headlines for refusing his university's edict to use gender-neutral pronouns.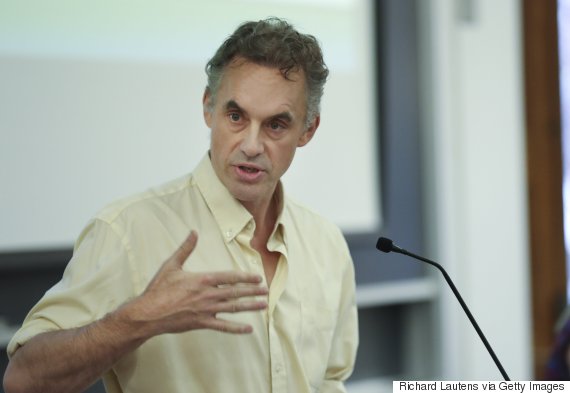 Professor Jordan Peterson speaks at the University of Toronto during a debate on gender-specific language. (Photo: Richard Lautens/Toronto Star via Getty Images)

Universities point to the violent mobs that gather to silence politically incorrect speech. Universities blame the speakers and their audiences. But blame rightfully lies with criminals who threaten violence, and with mobs that intimidate and shut down the events of those with whom they disagree.

University presidents reinforce the sentiment which says "I can't stand what you're saying, so I will silence you." Rather than teaching students how to think and debate, universities create a daycare where young adults are "safe" from having their beliefs challenged.

It is becoming increasingly popular -- and effective -- to impose security fees on student groups that seek to host a controversial speaker, or to express an unpopular view. For example, free speech has been priced out of existence at the University of Alberta, which charged a student pro-life club security fees of $17,500 to erect a stationary display on campus for a day or two. Predictably, the event was cancelled.
While it's true that certain neighbourhoods invite gangs and crime, we don't single out residents of high-crime neighbourhoods for additional police fees. By extorting "security fees" from those who seek only to exercise their legal rights to express their opinions and to listen to others, universities are blaming the victims and encouraging the bullies.
There is no legal right to silence those you disagree with by disrupting their speaking engagements and shutting down their events.
Former Israeli Prime Minister Golda Meir knew better. When asked to place a curfew on women to help end a series of rapes, she replied: "But it is the men who are attacking the women. If there is to be a curfew, let the men stay at home."
In 1957, U.S. President Eisenhower grasped the difference between the illegal demands of a mob, and the freedom of citizens to exercise their legal rights. He ordered federal troops to escort nine black students into Little Rock Central High in furtherance of the U.S. Supreme Court decision of Brown v. Board of Education. This court ruling to de-segregate American schools was highly unpopular in the American South. When school started in September, Arkansas Governor Orval Faubus sided with the large, jeering and violence-threatening mob surrounding the school, which until then had been attended only by whites. Maintaining his popularity with voters, Faubus ordered the Arkansas National Guard to keep the now-famous "Little Rock Nine" out of Central High.
Rather than pander to the mob, Eisenhower sent federal troops to uphold the rule of law, declaring: "This challenge must be met, and with such measures as will preserve to the people as a whole their lawfully protected rights, in a climate permitting their free and fair exercise ... the troops are there pursuant to law." To the chagrin of Faubus, federal troops arrived in Little Rock on September 24. The troops protected the black students from the hostile mob, and ensured the Nine's safe entrance into Central High.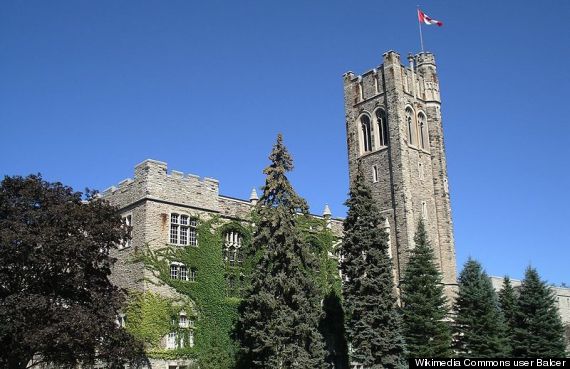 The University of Western Ontario. (Photo: Balcer/Wikimedia Commons)
University presidents should ponder "the free and fair exercise" of "lawfully protected rights" enjoyed by "the people as a whole." Expressing your opinions on campus and listening to speakers are fundamental legal rights. There is no legal right to silence those you disagree with by disrupting their speaking engagements and shutting down their events.
What if president Eisenhower had demanded that the Arkansas Nine should pay for the costs of the federal troops? What if he had blamed these blacks for "provoking" the hostile mob? Yet Western University president Amit Chakma does exactly this: demanding that the victims of intimidation, who merely seek to exercise their legal right to speak and to listen, must pay for the bad behaviour of an angry mob.
Golda Meir understood the difference between those who engage in misconduct and those who are victimized by it. If Golda Meir were president of Western University, she would say "But it is the mob which attacks free expression. If there is to be a security fee, let the mob pay for it."
Calgary lawyer John Carpay is president of the Justice Centre for Constitutional Freedoms (www.jccf.ca).
Follow HuffPost Canada Blogs on Facebook
Also on HuffPost:
Censored: Top Ten Pics Too Hot for Campus
Perhaps out of determination to sap as much fun out of one of the nation's oldest sporting rivalries as possible, Harvard shot down the Yale Freshman Class Council's (FCC's) approved design for the T-shirts honoring the storied annual football game between the rival schools. For the 2011 game, the FCC selected this design poking fun at Harvard's famous dropouts, parodying Bill Gates, Matt Damon, and Mark Zuckerberg as "liking" the design. In a somewhat surreal decision, Yale's licensing office told the FCC that it had to run the design past Harvard's licensing office -- which in turn killed the design, stating that it would not "permit the use of Harvard's trademarks with third-party trademarks or celebrity names." In other words, Yale required its students get permission from the target of its satire before satirizing them, giving the butt of the joke veto power over the joke. The FCC removed the names from the final design (and Harvard trounced Yale, 45-7).

In 2002, Harvard Business School (HBS) wildly overreacted to a cartoon that appeared in the school's student newspaper, The Harbus. The cartoon criticized the school's Career Services office for a computer meltdown surrounding the business school's interview week -- understandably labeled by some in the school as "hell week." The cartoon prompted administrators to call the The Harbus' editor-in-chief, Nick Will, into a meeting to warn him that he potentially violated Harvard's "community standards" for publishing the cartoon and would be held responsible for future objectionable content in The Harbus. He was instructed that The Harbus should provide more "positive" coverage to HBS and steer clear of "questionable content" in the future. Rather than accept these demands, Will chose to resign two days after the meeting. After the dean of the business school sent a warning to all students, the Foundation for Individual Rights in Education (FIRE, where I work) sent a letter to Harvard administrators, reminding them of Harvard's extensive promises of free speech. Soon after, the dean announced that charges would not be forthcoming, promising instead to reaffirm the school's commitment to freedom of expression.

Sinclair Community College, in Dayton, Ohio, rightfully earns its place on this list for its treatment of the protesters at a June 2012 "Stand Up For Religious Freedom" rally in protest of new health coverage mandates. Police were photographed and recorded ordering attendees at the rally to put down their signs, saying that SCC policy prohibited their use. Remarkably, as an article in SCC's own student newspaper pointed out, SCC officials freely admitted to having this across-the-board prohibition on signs in place since 1990. That's more than 20 years of censorship...and that was their best excuse! Worse still, SCC doesn't actually publish this sign ban in any of their materials, choosing instead to expansively interpret the Campus Access Policy to fit its needs. SCC hasn't been shy in enforcing the ban, either, using it to suppress peaceful protest of members of a GLBT rights group at a recent on-campus event—ironically, one hosted by the same group that staged the religious freedom rally in June. SCC now finds itself the subject of a First Amendment lawsuit and, if the record of college speech policies being challenged in court is any indication, its chances of prevailing are very slim.

At Tufts University's Spring Fling this year, members of the Tufts men's crew team were spotted wearing this T-shirt — a reference to the team's coxswain with an obvious innuendo mixed in. However, someone reported the T-shirt to the administration using the school's "bias incident" reporting system, claiming that the shirts promoted violence against women. Tufts' director of rowing — possibly after getting a nudge from the Tufts administration — suspended the crew team for an upcoming race, relieved two senior captains of their positions, and forced team members to write individual letters of apology. Fortunately, the team was reinstated by Tufts' president following a torrent of well-deserved criticism.

Of all the cases involving the censorship or punishment of students or faculty for cartoons (and there are many), this 2004 case at Southern Missouri State University (now Missouri State University) remains the most puzzling to me. This cartoon led to an investigation of the student newspaper that published it and the forced resignation of the paper's faculty advisor. I have looked at this cartoon over and over again throughout the years and I still cannot figure out what's so offensive about it. Sure, it could be funnier, but the First Amendment even protects jokes that don't land.

In the fall of 2011, James Miller, a drama professor at the University of Wisconsin-Stout, discovered one of my most beloved science-fiction shows of all time, Joss Whedon's short-lived space western, Firefly. He was so impressed with the dialogue that he put this poster on his door, but it was quickly torn down by the campus chief of police, who informed Miller in an email that "it is unacceptable to have postings such as this that refer to killing." Shocked by this response, Miller responded by email, "Respect liberty and respect my first amendment rights." But the chief of police refused, instead claiming that the poster could be interpreted as a threat to others and threatening Miller with criminal charges: "If you choose to repost the article or something similar to it, it will be removed and you could face charges of disorderly conduct." I covered this case extensively in The Huffington Post and you can read about it here and here. Meanwhile, be sure to check out what happened next in the following slide.

And even if you believe that the previous image from the case last fall at the University of Wisconsin-Stout could understandably be misinterpreted as some kind of threat — and again, I don't think a plain reading of the quote allows for that — there can be no mistaking the message of Professor Miller's follow-up post. After being warned of punishment by the chief of police for his Firefly poster, Professor Miller put up this poster to mock the university for acting like a bunch of, well, fascists. Amazingly, the university willfully misinterpreted this and claimed that the obvious critique of the administration was actually essentially a pro-fascist and pro-violent statement. I mocked this on The Huffington Post last year, but it was only due to the help of people like Nathan Fillion, Adam Baldwin, and, perhaps most importantly, Neil Gaiman, that the university backed down. In fact, we made a video about the case featuring Gaiman that you can see here.

In a classic FIRE case, University of New Hampshire (UNH) student Tim Garneau was found guilty of disorderly conduct, violating the university's affirmative action policy, and harassment for placing this flyer in his dorm. (Here's a re-creation of the image above.) Because of this flyer, Tim was sentenced to two years probation and mandatory psychological counseling, kicked out of the dormitories and forced to live in his car for weeks, and required to write a university-approved apology, even though he'd already apologized on his own well before. Tim's case is also particularly notable because, as I mention in Unlearning Liberty, "The Daily Show" actually played a role. We wrote the University of New Hampshire and explained that its treatment of Tim was unconstitutional and we even took the case public in a press release when we were ignored, but the university only backed down after receiving a call from "The Daily Show," which was interested in covering the case. Apparently, UNH was willing to fight the Constitution, but didn't want to be mocked on Comedy Central.

In the second position, we have a case of a college literally judging a book by its cover. As Indiana University-Purdue University at Indianapolis (IUPUI) student Keith John Sampson worked his way through his degree in 2008, he had a habit of reading books during his lunch. When a co-worker saw him reading this book — which celebrates the defeat of the Klan in a 1924 street fight with Notre Dame students — Sampson was reported to the administration and subsequently found guilty of racial harassment without even so much as a hearing. It took the combined efforts of FIRE, the ACLU, and The Wall Street Journal to get IUPUI to back down. You can read more about this astounding case in my Huffington Post articles about it over the years and in Unlearning Liberty.

And for our number one spot, the infamous Facebook collage that got one environmentalist student kicked out of Valdosta State University in Georgia. Those of you who have read my columns over the years, or those of you who read Unlearning Liberty, know well the harrowing story of Hayden Barnes. This collage was used as an excuse for expelling the decorated EMT student. And while he has won at every stage of litigation, his legal saga, which began in 2007, is still ongoing. Note: This is a precise re-creation of Hayden's original Facebook collage. The existing copy of the old one is pretty beat up, so we put together this facsimile to better illustrate just how ridiculous the university's overreaction was.
Follow John Carpay on Twitter: www.twitter.com/JCCFCanada