Fellow Canadians, Let's Show The World That Peace Matters In 2017
The whole world is watching Donald Trump now that he has assumed the position of most powerful man on earth. As we ponder what the future will bring, it's worth reflecting on two facts. Last year the British people finally learned about the web of deceit that surrounded Tony Blair's decision to invade Iraq; while in the U.S. Donald Trump was elected with a pledge to be the retaliator-in-chief against any country who dares challenge American supremacy. In a world with too much violence -- and the possibility of far more -- it's worth knowing why peace matters.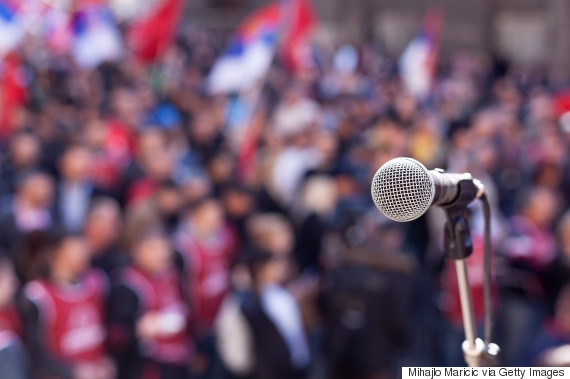 (Photo: Mihajlo Maricic via Getty Images)
Back in 2003 the people of Toronto joined millions of others in the global demonstrations against the planned invasion of Iraq. We knew the so-called weapons of mass destruction were either a ruse or a convenient excuse to invade an oil-rich country that failed to fall in line with the Bush doctrine. We knew that Saddam Hussein had nothing to do with Bin Laden and those who destroyed the World Trade Centre. In our hearts, we also knew that nobody could predict how this saga would unfold.
Hundreds of thousands of lives later, with a country in ruins and suffering from ongoing turmoil, the consequences are obvious. The massive oil reserves, second largest in the world, have been effectively privatized for American and European energy giants. The U.S.-imposed regime in Iraq alienated huge sections of the population, plunging the country into vicious civil war. Eventually that dynamic gave rise to the group known as Daesh, which has brought so much grief to the Middle East and Europe.
U.S. foreign policy then supported regime change in Libya and Syria, with dramatic impact on the entire world. It was not just politics at play. A terrible drought linked to climate change forced millions of Syrians off the countryside and into cities that soon became cauldrons of dissent. The Assad regime responded to unrest with brutal force. Civil war engulfed the region, with foreign interests deeply involved. Sadly the chain of events connects directly to the surge of refugees into Europe and the rise of extremist anti-immigrant parties whose rhetoric echoes that of Donald Trump.
Canadians have a proud history of standing for peace and solidarity.
Canadians may have been astounded by the tone of the American election, but vitriol and xenophobia has become a shameful new norm. Many observers credit the Brexit vote and Trump's success to the anger of a white working class betrayed by global restructuring. The billionaire class left millions unemployed and communities in crisis, while right-wing populism blames immigrants and Muslims for the problems instead of the real culprits.
Canadians have a proud history of standing for peace and solidarity, including supporting refugees who refuse to serve in unjust wars. Not all Canadians, of course -- Steven Harper would have taken us into Iraq, applauded militarism and pursued the deportation of U.S. war resisters.
When I was a TV spokesperson for the peace marches in 2003, there were callers who insisted that I could never have also served as an infantry sergeant in Canada's military reserve. What they could not understand was that the labour movement was out in full force in those marches, with hundreds of union flags among the crowds.
We were there because we understood that war can be unjust, and unjust wars can have immense consequences. The world is still paying the price for the arrogance of individual leaders and the ignorance of too many others. Those lessons need to be reviewed today, at a time when wedges are being driven daily between people due to race, religion and nationality.
In the year 2017, all of us need to reach out to our families and neighbours who feel uneasy about the changing world, and patiently challenge prejudice or intolerance whenever it appears. If the worst happens south of the border and the drums of war and belligerence beat more loudly, the future of the world will be at risk. We need to build bridges between all communities and work hard to affirm our shared humanity in the face of adversity. We owe that and much more to the next generation.
John Cartwright is the President of the Toronto & York Region Labour Council.
Follow HuffPost Canada Blogs on Facebook
Also on HuffPost:
9 Things Trade Unions Have Done For Us
Without trade unions promoting the aim of a 40-hour work week, there would have been no pressure on employers to limit the amount of time employees spend working. While of course employees are free to choose how long they spend working, trade unions worked to ensure this was the choice of a worker, not their boss. The movement for an 8-hour work day peaked at the turn of the 20th century, just before the First World War. And more recent moves towards re-imagining the working day have seen big businesses use technology to limit after-hours email traffic. Arguably such ideas are borne out of trade union campaigning more than a century ago.

While European rules introduced the basic legal right to paid-for annual leave, it is the trade unions which fought for enhanced entitlements over and above the basic EU provision. Since the early 2000s, the Trades Union Congress has fought for increases to the amount of leave, which is now the equivalent of 5.6 working weeks (PDF).

Before the Employers and Workmen Act 1875, workers were the only ones who could be sued for breach of an employment contract. The increased organisation of trade unions and the Great Reform Act prompted both Tory and Liberal governments of the time to take a renewed interest in employment laws. Ultimately this brought about greater parity in the relationship between employer and employee.

Trade unions were instrumental in lobbying government for the provision of leave for new parents - at workers' own discretion. In 1998, the Trades Union Congress launched a campaign to ensure that proposed parental leave would be flexible and well promoted to employees.

Cases of discrimination aren't uncommon, but they'd be a lot more if it weren't for trade unions. As the European Commission says: "Trade unions play a primary role in fighting against discrimination through a variety of actions and tools". They negotiate with employers, support victims, and monitor discrimination cases - keeping up-to-date with the latest case law so that we don't have to.

Although trade unions had reservations about the effect of a national minimum wage, they declared their support for the policy in the mid-1980s. By the 1990s, scholarly evidence caught up with the unions - arguing that a minimum wage would not reduce adult-age employment (PDF). And through the Labour Party, trade unions were able to influence policy in government after the 1997 election.

In the 1840s, unions that were highly centralised and which employed full-time officers brought about negotiation and arbitration as their preferred method of achieving a good deal for their members. This had a significant effect in improving worker/industrialist relations, and while not always successful, they fundamentally changed workplace relationships for the better.

In the 1830s, a Chartist movement was organised around 6 clear principles - and mobilised mass support for its aims through petitions. Just like trade unions, the Chartists' relied on collective aims amongst like-minded people - most visible in the form of three 'monster' petitions presented to Parliament. These contained millions of signatures and proved a desire amongst workers for improved working conditions.

The history of the working week lies in industrial practices, and in Britain factories operated 6 days a week to maintain efficiencies of scale. Sundays were always the day of rest. But trade unions fought to secure the Saturday for workers, too. And now the Monday-to-Friday work week is accepted across industries, as the LSE notes.
Follow John Cartwright on Twitter: www.twitter.com/torontolabour