Canada's Fight Against ISIS Is Far From Over
The Chief of the Defence Staff, General Jonathan Vance, believes there is no end in sight in the fight against Islamic State.
"I don't think it's in sight, I think we are thinking through the problem, we understand more and more and when you say ISIS, or ISIL or Daesh, it comes in many forms," Vance said during an interview on CBC News Network's Power & Politics.
I cannot agree more with General Vance on this, the fight against Islamic State is far from being done. As a matter of fact, it could take decades, if not more. Canada pulled out of Afghanistan too early and I believe the same will happen in Iraq. Although the mission is completely different, our contribution to training troops remains almost identical.
When we left Kandahar for Kabul, Canada ended its combat mission and started a training one. This time, I believe the plan will be similar to Operation ATTENTION in Kabul. Canadian soldiers train local fighters to fight for their own turf while we provide them with logistics and training.
Vance also believes that Canadians should prepare to see casualties due to the newly established ground operations.
"Canadians need to be prepared for the fact that there will be confrontation, there will be fighting, I am certain of it, there has been already," Vance said during the interview. "This represents an expansion of our mission on the ground, so it stands to reason that there will be fighting, and potential casualties as we face this mission."
Will the training be enough? Are we going to stay as long as needed to see a difference? I don't think so, unfortunately.
As a matter of fact, I believe General Vance is right. Although the Liberals call the mission a training one, having troops on the ground exposes them to possible clashes with Islamic State militants. Fighting Islamic State militants and dealing with improvised explosive devices (IED) like in Afghanistan will most likely occur on a regular basis.
When General Vance said its soldiers are allowed to "engage a hostile act ... or an intent before it materializes," mostly to defend themselves, it was a proof of possible fighting.
"When you are using the rules of engagement that allow you to defend yourself and you are fighting, it's combat. But it's not a combat mission. If it was a combat mission we would be doing things very differently," Vance added during the interview.
Deemed a train, advice and assist mission, the Canadian soldiers on the ground will expose themselves. The plan itself lacks so much details that it is hard to say whether it will be an "inside the wire" mission or a mentoring mission such as what Canada did in Kandahar with the Afghan National Security Forces.
Even if the mission is to be conducted "inside the wire," training local fighters could potentially create "green on blue" attacks, meaning that trainees would attack the trainers.
This happened on many occasions in Afghanistan. Nevertheless, when I deployed to mentor Afghan soldiers in Kandahar back in 2009, it never happened and I can proudly say that Canadian soldiers were excellent mentors and were very respected by our Afghan counterparts.
The experience acquired in blood and tears by our soldiers in Afghanistan will truly reflect their professionalism and I am convinced they will only engage potential threats if they are 100 per cent sure.
Having said that, despite the possibility of casualties, I believe Canada's plan to train locals is great.
But in reality, will the training be enough? Are we going to stay as long as needed to see a difference? I don't think so, unfortunately.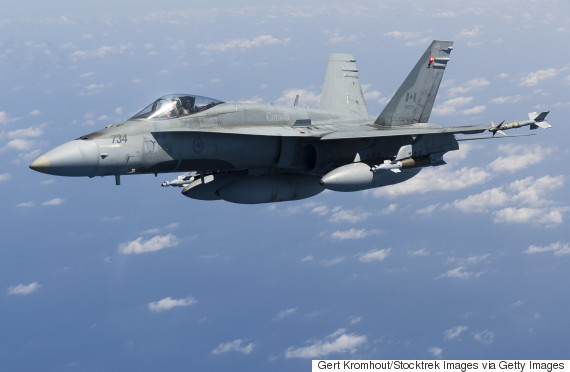 Pulling out the CF-188 Hornets was a huge mistake
However, I don't agree with the Liberals pulling out our CF-188 Hornets from the U.S.-led coalition.
The removal of the CF-18 fighter aircraft does not only engage Canada in a supporting role instead of a combat one, it also send a message to our allies that "we're done with combat and everyone else should do it for us."
Trudeau might pretend our allies are satisfied with our new plan, but I still find it very hypocrite to bring back our fighters while keeping an aerial refueling tanker in the air to support other nation's air strikes.
Basically, Trudeau pulled the CF-18 on a promise he made to get elected, regardless of the consequences it will have on Canada's reputation within the Allied circle. While it might only be less than three per cent of the air strikes, Canada's contribution was a proof of its willingness to actively take part in the destruction of IS.
The same CF-18s, along some Canadian Special Forces operators, were able to help the Kurds kill 70 Islamic State fighters in a failed surprise attack. With troops on the ground soon, the CF-18s would've been a great close-air support asset to support them in case of future surprise and coordinated attacks.
As a combat veteran of Afghanistan, I would've loved to have had Canadian fighter aircraft supporting our operations, especially since they would've been made available right away for us. This is something Minister Sajjan knows, but I guess Trudeau was insistent on keeping its promises regardless of the possible close-air support possibilities for Canadian ground troops.
Follow HuffPost Canada Blogs on Facebook
MORE ON HUFFPOST:
Canada's ISIS Mission: Then & Now
Her'es a look at some of what's been said — recently and otherwise — about Canada's evolving role in the U.S.-led mission against the Islamic State of Iraq and the Levant, which was officially retooled by the new Liberal government. (Information from The Canadian Press)

"Our efforts should better reflect what Canada is all about; defending our interests and freedoms alongside our allies and working constructively with local partners to build real solutions for the longer term." — Trudeau, announcing a larger training and development mission and the withdrawal of CF-18 fighter-bombers.

"ISIL would like us to see them as a credible threat to our way of life and to our civilization. We know Canada is stronger — much stronger than the threat posed by a murderous gang of thugs who are terrorizing some of the most vulnerable people on earth." — Trudeau.

"Left unchecked, this terrorist threat can only grow, and grow quickly. As a government, we know our ultimate responsibility is to protect Canadians and to defend our citizens from those who would do harm to us or our families." — Former prime minister Stephen Harper on Oct. 3, 2014, as he announced in the House of Commons a plan to send Canadian aircraft to fight in Iraq.

"Canadians did not invent the threat of jihadi terrorism and we certainly did not invite it; nor, as this global threat becomes ever more serious, can we protect ourselves, our communities, by choosing to ignore it. That is why a strong majority of Canadians have supported our government's mission against ISIL. Canadians understand that it is not merely in the wider interests of the international community, but specifically in Canada's national interest." — Harper on March 24, 2015, telling the Commons of a plan to extend and expand the mission.

"It is important to understand that while airstrike operations can be very useful to achieve short-term military and territorial gains, they do not, on their own, achieve long-term stability for local communities. Canadians learned this lesson first-hand during a very difficult decade in Afghanistan where our forces became expert military trainers renowned around the world." — Trudeau on Monday.

"Along with our allies and through the auspices of the United Nations, Canada should provide more help through a well-funded and well-planned humanitarian aid effort. The refugee crisis alone threatens the region's security, overwhelming countries from Lebanon to Turkey, from Syria itself to Jordan. Here at home, we should significantly expand our refugee targets and give more victims of war the opportunity to start a new life in Canada." — Trudeau as Liberal opposition leader in the Commons, March 2015.

"Our allies want us in the fight against ISIS, that is clear. This is a despicable terrorist group. And Canadians want us in the fight against ISIS because it is our fight and that is clear. When our friends and our allies are attacked, it is our fight and when our values are threatened and our country is threatened and our friends are threatened, it is our fight. And when human rights are trampled and human dignity is trampled, then it is our fight." — Interim Conservative leader Rona Ambrose.

"The prime minister likes to say he cares about diversity, but there is nothing that threatens diversity more than ISIS — whether it is the rights of women, cultural and religious freedoms, or the rights of gays and lesbians." — Ambrose.

"The Canadian announcement is the kind of response the secretary has been looking for from coalition members as the United States and our coalition partners push to accelerate the campaign against ISIL ... the United States is willing to lead the coalition in the fight against ISIL, but the barbaric group poses a threat to every nation, so every nation should join this fight. If countries are unwilling or unable to contribute militarily, then they should consider the important non-military ways they can contribute to this effort." — Pentagon press secretary Peter Cook during Monday's Department of Defense briefing.

"We are concerned that the Liberal government has chosen to place Canadian Forces personnel deeper into an open-ended combat military mission in Iraq — a mission that fails to even define what success would look like. And while we welcome the government's announcement today of increased humanitarian assistance to the region, we are concerned that this aid is being linked to the military mission." — NDP MP Helene Laverdiere.

"I commend Prime Minister Justin Trudeau for committing to increase humanitarian and military aid for the nearly 4.6-million Syrian refugees who have been displaced by five years of brutal war in the region." — Green party Leader Elizabeth May.

"As a founding member of the coalition, Canada has been a valued and willing partner in the mission to degrade and destroy (ISIL) and has played an important role across all lines of effort." — Bruce Heyman, the U.S. ambassador to Canada.

"We're pleased Canada is continuing to invest and play a leadership role in educating and protecting children affected by crises in Syria and Iraq." — David Morley, president and CEO of UNICEF Canada.
Follow Jonathan Wade on Twitter: www.twitter.com/JonathanWadeCD