Why You Don't Look Like a Fitness Model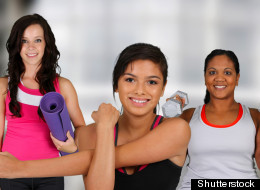 Have you ever seen a model on a cover of a magazine and thought, "Would I love to look like that!"? Then you open the magazine, flip to the workout routine with the model, cut it out, post it on the mirror and commit do doing the 30-minute butt-buster workout. Six weeks go by and you don't look like the photo, why?
Here is the problem. Fitness models don't do those workouts. My expertise is weight loss, and high performance athlete training (strange mix I know, but it's what makes www.onefitcity.com unique). When I get an e-mail from someone wanting to get into fitness modelling, I send them to an different trainer. It's a sport unto itself, and my pick in Winnipeg is Darla Caligiuri. She and I are working on busting myths and opening eyes into what really goes into making a fitness model and their program.
When I make a program that's 30-45 minutes long, three times a week for a regular person to perform, I explain to them that this is not going to make them look like a cover model. Models like Lise Aquin work out 6 days a week, measure their food meticulously and never miss a workout. My favorite quote from the female fitness world is "I would rather cheat on my boyfriend than on my workout."
Three workouts a week at 30-45 minutes is the bare minimum you need to do to get results like lower cholesterol, increased heart health, increased bone density and decreased risk of certain cancers. Making your body a sculpted piece of art is a whole other story. The reason someone as skilled as Lise works with a trainer like Darla, she needs the outside perspective on what she should be doing to perfect her physique. For a regular women looking to be healthy, you want a trainer for form, motivation, and to keep things fun. I encourage women to work out in groups. Personally, I love running my small group sessions in Winnipeg, it's the best way to get results. They are fun, intense, and focused on fitness. Participants leave sweaty. The business people I train keep coming back because of the energy and mental focus aspects. One of my clients increased his earning potential 200% by training regularly and changing his diet. The energy he had let him work more focused and successful hours.
Lise is getting ready for Fitness Star's competition in Brandon Manitoba . Her workout and diet are not focused on increasing energy, and improving her functional fitness. She is training her body to be lean, and to have muscle definition. As I said, it is a sport unto itself. Hockey players train to play hockey, fitness models train to be fitness models. What you see on the cover of a magazine was not built in 45-minute workouts, three times a week. The workouts are far more intense and the workload is often done to failure.
When you see someone with an upper body to die for showing you a quick workout to tone your shoulders, it's misleading. The model is demonstrating the exercises, and she has the perfect shoulders, but odds are she has done a lot more than the workout you are reading about for six weeks. If it was that easy, we would all be walking around with perfect physiques.
In the case of sculpting the perfect legs and butt. It takes a lot of squats and a lot of focus on the hamstrings.
The workouts you read about will give you fantastic health benefits and change your body. They just are not going to change your body to look like the model demonstrating the workout. That is the point I want to get across. Fitness models work hard, are focused, and have will power beyond belief. Their ability to maintain a program day in and day out is incredible. If that is not what you are prepared to do, modify your goals and expectations. If you won't give up wine and carb-based snacks, or if you are not willing to be at the gym for an hour or two every single day, then don't expect to get a body like a model. If you want to and strength to a few specific areas, feel more energy, and increase your health, then keep reading magazines and adding those short workouts into your life.
Darla was very clear about what it takes. She said her athletes have to be prepared to take the 1 hour or more as prescribed for the results they desire to win competitions. That time in the gym must be distraction free: Leave the cell phone, kids, and work out of the gym. Go into that room thinking and focusing on your program and your results.
If that isn't something you are willing to do, it's time to sit down with a good trainer and talk goals. Have a clear understanding of what it will take to reach your dreams, then have a real conversation with yourself about if you are willing to do what it takes. Fitness models work a lot harder than they get credit for. That fact needs to be understood by the general public. You can't get those results without the effort and commitment.
Don't let it stop you -- you can still change your body and be healthier in 30-45 minutes, three times a week. The purpose of this article is to give fitness models like Lise Aquin and her trainer Darla Caliguiri the credit they deserve and to help people start setting more appropriate goals. It's time for us to peel back the marketing mask and realize what health is, and what goes into modeling health.
Work to be healthy, and comfortable in your own skin. Take your physique and health as far as you want, and have as much fun as you can on the way. Work with experts, bring a friend and who knows where you will be in a year. Maybe the fitness model thing is for you -- you won't know unless you try.
Spoga? Not really, but combination classes are one trend to look out for in 2013, according to personal fitness trainer Jessica Zapata of Edmonton, Alta. Zapata says people who love yoga and spinning, for example, can incorporate both types of exercises in one — something she has already seen at her own gym with a class called 'Spinyasa Yoga.' "Other popular ones are spinning class and pilates, those are wait-listed every week," she says.

Get ready to sweat! While already on the radar for the past few years, hot yoga will continue to soar in popularity next year. Composed of yoga positions performed in hot or humid conditions, for 2013, the experts at GoodLife Fitness say this kind of yoga, along with more accessible types, will allow consumers to both exercise and be zen with their minds, bodies and spirits.

Sure, kids are cute, but you probably don't want them in your gym with you. The experts at GoodLife Fitness predict more demographic-specific programming for the year ahead, including targeted classes for older adults, children and youth, and sport-specific classes for teens.

Think of it like one-on-one training with five other people. Zapata says small group training (with an average class of six people) will also be popular in 2013, as it will let fitness lovers focus on their individual strengths and goals, while being in a class with others to support them.

Sometimes, you only have 30 minutes to spare. In 2013 (and every year, we would argue) people are looking for the most effective and speedy workout, according to GoodLife fitness experts. Classes like CXWORX, for example, can burn up to 230 calories in 30 minutes, and are being offered at all sorts of gyms. Focusing on the core, as well as the butt, these workouts are meant to hit as much as possible in a minimal amount of time.

TRX is a suspension trainer program that uses your body weight to perform a variety of exercises and allows you to control your own challenge levels. "TRX is already popular but it will grow even more in 2013," Zapata says.

Your fitness goals will follow your every step in 2013 — at least if you want them to. Experts at GoodLife predict there will be more apps, computer programs and websites in 2013 that will help both beginners and fitness professionals track their progress levels. For example, Adidas's miCoach collects cardio movement data and builds targeted training programs for users.

Zapata also says that 2013 will have people going back to the basics. So yes, those sit-ups, push-ups and jumping jacks you hated in gym class will be showing up at your gym more often. "It's not just going to be about the trends. People want variety and they want results," she says.

It's time for Atkins and the Dukan Diet to say goodbye for good. In 2013, people will more likely stick to healthier eating habits than relying on fad diets, says Brad Taylor, fitness trainer and owner of Fit Living in Regina, Sask. "People are beginning to see that dieting doesn't work and it takes a lifestyle change to get results."

Experts at GoodLife predict that in 2013, more and more offices will take the initial step to provide wellness and fitness programs for employees both inside the office and out. "With a healthy and active workforce, Canadian organizations will be able to increase productivity and morale," they said in a press release.
Follow Jordan Cieciwa on Twitter: www.twitter.com/fitcityjordan