My Grandmother Recognized Me As Trans The Day We Said Goodbye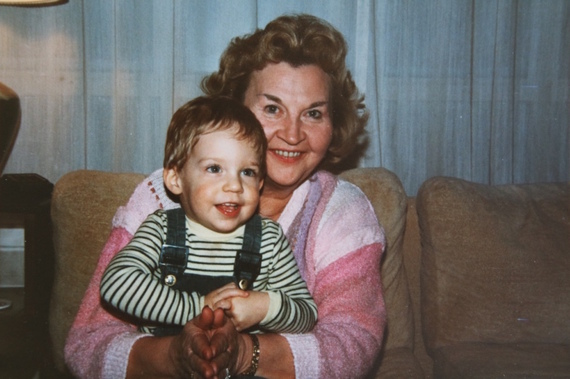 (Photo: Copyright Joshua M. Ferguson 2016)
Making the journey to visit a loved one in the last days or weeks of their life is a difficult and emotional experience. The act of saying goodbye before a loved one has departed life can feel artificial, hollow and unfair when they are living and breathing. But I experienced something uniquely beautiful about love related to tolerance and acceptance. My story shines a light on appreciating a generation that often lacks the words to understand us as trans people.
I did not want to say goodbye to my grandmother, who was also my dear friend.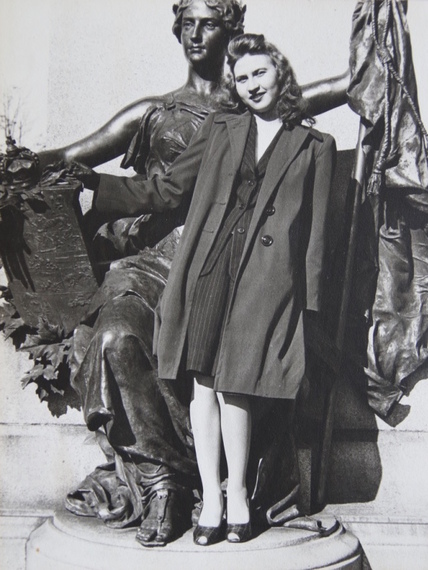 (Photo: Copyright Joshua M. Ferguson 2016)
Our weekly conversations with her throughout my life, hand-written letters during childhood, in-person visits in my early adulthood and then weekly phone calls were a force of unique positivity and companionship in my life.
I adored my grandmother for her elegance, beauty and quiet strength. Her Dietrich-esque eyebrows penciled with precision. Her body adorned by furs, chic shoes and gold accessories. Her presence emboldened by a scent of sophistication thanks to Chanel Nº5 and her sharp manicured fingers accentuated further by extra-slim menthol cigarettes.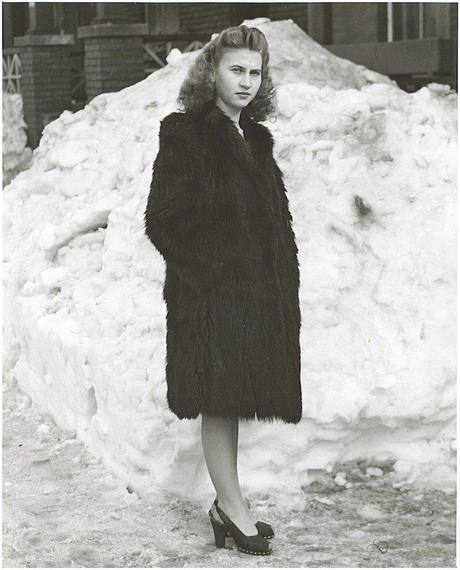 (Photo: Copyright Joshua M. Ferguson 2016)
She was a powerful role model of femininity and grace. She was my grandmother. She was an empathic warrior. She was also a survivor who faced many challenges throughout her life. I always wanted to be physically close to her during visits as if her feminine elegance, strength and precise intuition would somehow rub off on me due to this proximity.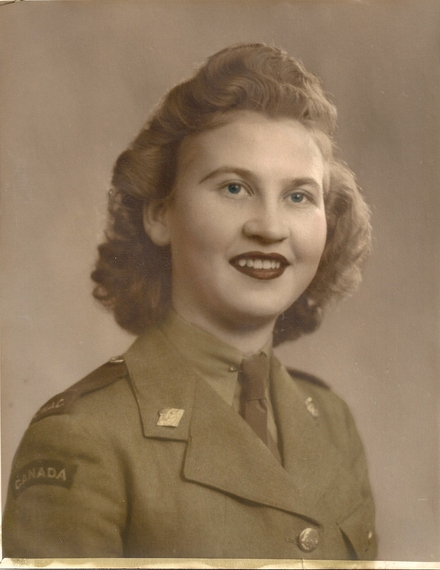 (Photo: Copyright Joshua M. Ferguson 2016)
But, I had to say goodbye to my grandmother, my friend and my inspiration. I had to see her in person to express my depth of gratitude. I would never have expected that my last moments spent with her would be the most beautiful and meaningful of my life with her, a life we had shared happily full of laughter, smiles and conversations.
"Goodbye, Nan. I will miss you. Thank you for loving me and for always being there for me," I said to her with hesitation and sadness at the end of my visit in palliative care.
My grandmother said hello to me on the day I said goodbye to her.
I sensed that she suddenly received a wave of energy as she looked into my eyes and said, "Be a good girl, Joshua. Be a good girl."
My grandmother said hello to me on the day I said goodbye to her.
I froze in that moment. Here she was at 91 years old, recognizing me as a trans person in the best way she could. Seeing me through her suffering with empathy to make me feel respected and appreciated. My grandmother gave me the greatest gift when she greeted me, for the first time and on the level of language, on the day that we also said goodbye to each other.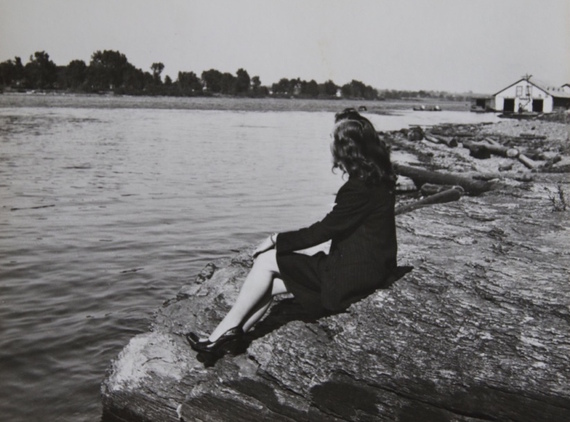 (Photo: Copyright Joshua M. Ferguson 2016.)
I am a non-binary trans person. I know that many people do not yet understand what this means. Many people refuse to acknowledge my existence. But if you look at me and truly see me, will you expand your understanding? Being seen as I am by people is a remarkable feeling, and my grandmother gave this gift to me in the most unexpected moment.
I wanted so much to tell her that I appreciate her for seeing me. My grandmother spent her minute of clarity, while suffering in a state of almost perpetual dementia and physical exhaustion, to give me a beautiful gift of cross-generational respect as a trans person.
To see me as I am.
During a phone call in the last few days of her life, my grandmother also told me that it was important to "buckle down and face it." I have never shared the challenges I face due to my trans identity and expression with her. How did she know to say this during our last conversation?
I want to tell you that love is powerful and it always finds a way to transcend ignorance.
Family can bestow courage in unexpected ways. They can make us feel good about who we are in a world intolerant towards difference. They can stand up and recognize our uniqueness as a gift rather than a weakness. My grandmother not only affirmed my trans identity and expression, but she also suspended her suffering to give me courage and hope.
My grandmother always knew when I was trying to hide difficulties in my life. She was inquisitive and curious. She would often gently nudge me on the phone and encourage me to explain what was bothering me in my life even while she was experiencing her own physical and emotional challenges.
Her last words and advice to me on this phone call made me realize that our goodbye wouldn't last forever.
"If things get tough, I'm two steps behind you, always there."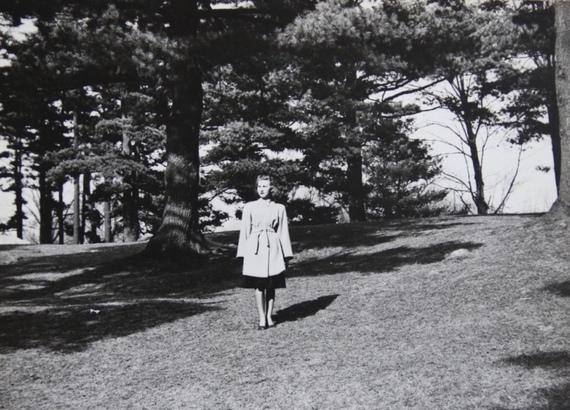 (Photo: Copyright Joshua M. Ferguson 2016)
We don't lose the ones we truly love. They join us on our journeys through life. The memories they imprinted upon us, the love they shared with us, and the appreciation and respect they had for us continue in a way that we can always count on. My grandmother will live with me for the rest of my life, "just two-steps behind me," while she embarks on a new beginning of her own.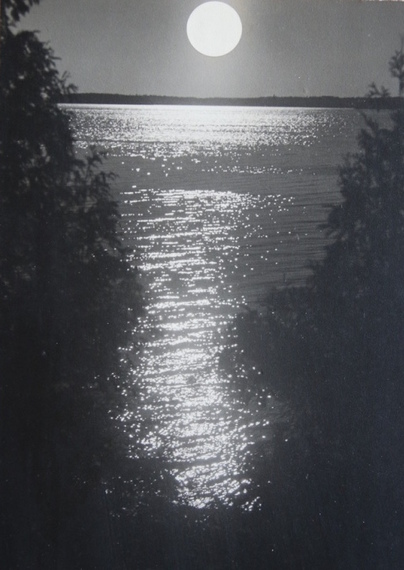 (Photo: Copyright Joshua M. Ferguson 2016)
I want to tell you that love is powerful and it always finds a way to transcend ignorance. Your loved ones likely see you and you are not alone. Some people neither want to understand nor respect us. They may not say it at all or they may say it in their last moments, but they do see you. It may just take them some time.
Love will always find a way to win over fear.
Follow HuffPost Canada Blogs on Facebook
Also on HuffPost:
Munroe Bergdorf is a London DJ, designer, model and activist. She has spoken out about the difficulties and abuse she has faced as a transgender woman, shedding light on the issues facing the trans community, as well as bravely discussing her own experience as a victim of attempted rape. Bergdorf has encouraged transgender people not to be afraid of their identity, speaking out for Pride London's #FreedomTo campaign earlier this year. After experiencing bullying as a teenager, Bergdorf said she had a lightbulb moment when she realised she had to "start being true to herself". She has since described the decision to begin her transition as the "best decision I've ever made". She told the Daily Mail: "I'm so much happier now than I was growing up. "I want people to know that it's okay to be different, and that you shouldn't be scared of being the person you are. "I talk quite openly now about what's I've been through and frequently speak publicly about trans rights and community issues. "I think it's important that the world understands and respects transgender people, the struggles that they face and the rights that they deserve."

Paris Lees is a journalist, presenter and transgender rights campaigner who has challenged how the media talk about transgender issues. She founded the first British magazine aimed at the trans community, META, as well as working for a number of other publications. Lees has also made appearances on Question Time and Newsnight, as well as speaking at the Oxford Union. She currently works with Trans Media Watch to help Channel 4 remove transphobic material from its content. She has also spoken out over a number of incidents deemed transphobic, including media coverage of transgender teacher Lucy Meadows and a column by Julie Burchill in which she described trans people as "a bunch of bed-wetters in bad wigs". She was awarded the Positive Role Model Award for LGBT in the 2012 National Diversity Awards, Ultimate Campaigner at the Cosmopolitan Women of the Year Awards, and also topped the Independent on Sunday's Pink List in 2013. After a tough start in life, which culminated in a spell in prison, Lees spoke of the change in media coverage of transgender people. Speaking when she was named Young Campaigning Journalist of the Year award at the MHPC 30 To Watch awards earlier this year, Lees said: ""When I first transitioned I was depressed and isolated. I looked to the media for inspiration and all I saw were people like me being ridiculed. "Five years on and things are looking very different."

Dr Jay Stewart was honoured for his services to the trans community with an OBE in 2014. He is a co-founder of Gendered Intelligence, a not-for-profit group which aims to increase understandings of gender diversity through creative ways, working with the trans community and those who have an impact on the lives of trans people. The group particularly specialises in supporting young trans people aged 11-25. Stewart led 'What makes your gender? Hacking into the Science Museum' – a £10,000 project funded by Heritage Lottery Fund with London's Science Museum - as well as a number of other projects. As well as chairing Gendered Intelligence' board of directors, Stewart also acts as a mentor and youth group session leader. Gendered Intelligence also provides age-appropriate workshops and assembles for primary school children to help them explore gender roles. When the initiative was criticised by a select few, Stewart spoke out on the importance of such education. In a statement on Gendered Intelligence's blog, he said: "It's so important to teach children in schools that they can be anything that they want to be, regardless of the gender that they have been given at birth. They can be engineers, nurses and politicians; they can be caring and kind, strong and forthright; they can wear what they like and look how they like. It's okay for all children to be girlish, boyish or anything in-between. "Our work at Gendered Intelligence includes going into primary school settings. It's important because gender stereotyping and reinforcing gender norms start from a young age. "If we are going to tackle the prejudice in society towards those who express their gender differently from what is considered the norm, we need to introduce teaching early on in a person's education. He added: "Trans people – like all people – have a right to an education in a safe environment. The only way to make school safe for trans pupils, and safe for everyone to express their gender, is to start talking about gender variance at the earliest possible opportunity."

Sabah Choudrey helped found Trans Pride Britain, the first trans march in the UK. They also founded the QTIPOC Brighton Network for queer, trans and intersex people of colour, and desiQ for queer South Asian people in the London/South East area. Choudrey works for Allsorts Youth Project in Brighton as an LGBT/Trans/POC Youth Support Worker challenging racism in LGBT scenes, providing advocacy services and 'Unlearning Racism' training in LGBT spaces. They also work with Gendered Intelligence, providing support and mentoring for young trans people of colour. Choudrey speaks out about their experience of being trans and Muslim, as well as speaking at events such as TEDx talks. In a blog on HuffPost UK, Choudrey explained: "It has always been apparent to me that queerness is not something visible in non-white cultures. This was the history I was told. But this was the history rewritten by those that colonised the land of my mother and father, who criminalised queer in our land, and from then on, queer became synonymous with sin. "It is no surprise to me that it has taken me three more years to speak publicly about being Muslim and trans. "We're in a culture that teaches queer people that we don't deserve to be religious. We are taught to put faith only in ourselves because self love is the only love we will feel. Queer people don't deserve faith or hope, because why pray when you're already queer? Choudrey continued: "What society teaches us about religion is that it's a weakness, and I felt for years that it was being an Atheist that kept me strong. It wasn't until I was in a relationship with an Atheist and I finally talked about my Muslim background did I feel like Atheism had taken something from me I never wanted to let go of. "Accepting that I am Muslim again has been the hardest part of my journey. Accepting Islam back into my life has been the most challenging part of my identity. It does not feel easy yet. But it does feel true."

Rebecca Root is an actress who appeared in the lead role in BBC romcom 'Boy Meets Girl', and has also appeared in a range of programmes including Hollyoaks, Casualty and Midsomer Murders. She will also be appearing in the upcoming film 'The Danish Girl' alongside Eddie Redmayne. However the actress is also a qualified voice coach - the only trans person to work as a voice and speech specialist in the UK today. She runs transgender voice adaptation sessions to help people to find a voice that they feel fits their gender. Her thesis, 'There and Back Again: Adventures in Genderland' has also attracted international attention and Root resented it at Harvard University. Speaking about the benefit of speech therapy for people who are transitioning, Root told the Telegraph: "The voice is more evident than what's between your legs, or on your chest. "I know some girls [people who have transitioned to female] who just don't care, who really don't mind sounding like what's considered a typical bloke. "But some say they simply won't talk because they haven't got what they think is the 'right' voice. "They won't make phone calls, and when they have to go to the shops they don't answer questions, they just mumble something. They're afraid of opening their mouths and that's such a shame." Root is also a mentor for young transgender people through Gendered Intelligence.

Fox Fisher starred in Channel 4's documentary 'My Transsexual Summer' in 2011, which revealed the journey of a number of transgender people as they undertook a range of gender affirmation procedures. He went on to become the co-founder of My Genderation, an ongoing documentary project exploring gender variance. Fisher told the BBC: "Not only are we also trans* [written with an asterisk to denote a catch-all term for those defining across the gender spectrum] people, we have our own experience on the other side of the camera, as documentary subjects, on My Transsexual Summer, Channel 4, 2011. "These factors give us a very unique perspective and we are in a trusted position within a growing community. "We work alongside many UK and global gender support groups which share our vision of changing public perceptions already clouded by existing media fabrications and negative reporting of trans* people. Although things really are changing, there is a long way to go. "We make films independently, to humanise the process of transition, to allow the audience to empathise with trans* issues. We provide a platform to consider gender and all its constructs. We aim to provide engaging films on various aspects of being trans* and coming to terms with gender variance." He is also an ambassador for All About Trans - a project that "looks at creative ways to encourage greater understanding between trans people and media professionals to support better, more sensitive representation in the UK media." Fisher continues to speak out about the issues facing trans people in the UK. He also helped to found Trans Pride Brighton and has co-written a children's book, entitled 'Are You A Boy Or Are You A Girl?'.

Hannah Winterbourne (R) is the most senior transgender officer in the British Army. After a successful nine year career in the Armed Forces, which saw her graduate from Sandhurst and join the Royal and Mechanical Engineers, Winterbourne was in the middle of a tour of Afghanistan in 2012 when she decided she wanted to begin her transition. Despite the potential difficulties of such a masculine environment, she said that the army was "very, very supportive". She told Wales Online: " It is a great place for transgender personnel. They don't care if you are LGBT, black or white, as long as you can do your job." Winterbourne is now the Army's transgender representative, which involves dealing with education and welfare, as well as helping with issues any trans soldiers may have. She is also a patron of Mermaid, a support group for children and teenagers with gender identity issues, as well as an ambassador for LGBT Sport Cymru. She told Wales Online: "A lot of inroads are being made with LGBT people breaking out into the mainstream. "I would say to someone reading this, 'you are who you are and no amount of worrying or angst is going to change that so understand that who you are is absolutely fine. "Try to find someone you can confide in. "I want to show people what it looks like to be trans and happy."

Alex Bertie is a trans YouTuber who has documented his experience of his transition since he was a teenager. Although just 20, Bertie has developed a strong following online with more than 150,000 subscribers and over nine million views on his channel TheRealAlexBertie. In his videos, Bertie describes various aspects of life as a transgender man, including medical appointments, relationships and coming out. He also provides helpful practical guides on his channel on topics such as buying chest binders, hair styling and coming out. As well as providing advice and support to young trans people, Bertie also gives tips to people who may have trans friends, family or colleagues, including how not to offend people and appropriate words to use. He told Ten Eighty magazine: "I've actually had a lot of parents talking to me. Like, parents have inboxed me on Facebook, which is so weird. They're, like, older than my mum, and they're open to talking about it, which is just amazing. They're willing to reach out to young people, which I think is really, really cool. "Some people come to me with queries. They think their child might be going through what I'm going through, and they want to help them with that as much as possible. Other times, they've been directed by their kids to come and talk to me, or to watch my videos." He added: "I think I do get a lot of positivity. More than I thought I'd get. Now and then, I do get the odd bit of confusion, or some hate, but that's easily nipped in the bud just by information, just by education."

Roberta Francis, an underground queer poet, helped to set up London TAGS (Trans And Gender Non-Conforming Swimming) to give trans and non-binary identified people safe and positive space to enjoy swimming. After getting fed up with being misgendered by local leisure providers, Francis took the initiative and set up TAGS, working with Gendered Intelligence and in partnership with Lewisham Council. The sessions involve the private hire of a pool with both gender specific and gender neutral changing rooms available. Pool staff are also given training to ensure that gender issues are treated sensitively. Francis told Pink News: "I felt there was a big need for a swimming group in London to allow trans and gender non ­conforming people the opportunity to have access to a safe space. "Being able to swim is a basic right but for many trans people it can be really difficult because of how we are treated in the community as a whole." She told xoJane that she knew that she was doing the right thing after the first session, She said: "The first night was wonderful. We got fantastic feedback from everyone who attended. The Fusion staff, reception, and lifeguards were helpful and friendly, which made everyone feel comfortable." Francis is also determined to tackle discrimination in the classroom through her work as a supply teacher and has spoken out about the difficulties she has faced as a transgender person working in education.
Follow Joshua M. Ferguson on Twitter: www.twitter.com/joshuamferguson