Children and Religion: Should They Have a Right to Choose?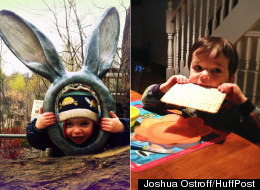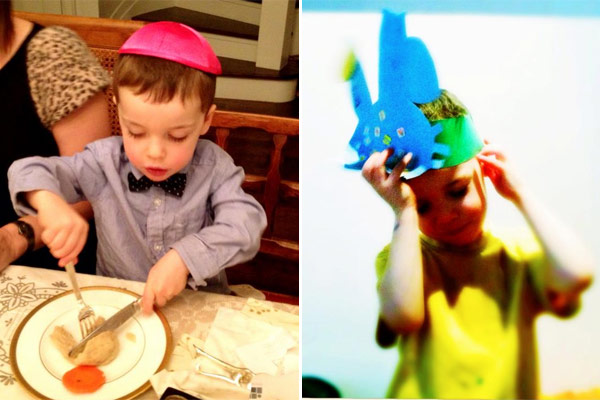 Easter and Passover usually land pretty close on the calendar, which makes sense considering Jesus' Last Supper happened to also be a Passover Seder. This also makes sense for my family because I was raised Jewish and my wife was raised Catholic and now we have a son who is, well... we dunno. Emile is three, so he believes in Totoro and the Lorax which, I guess, makes him an animist.
Despite not believing in the supernatural stuff in the bible, I've always strongly identified as Jewish, albeit as an ethnicity. I'm Jewish because my parents are, and their parents and so forth back, eventually, to Moses. Retaining and passing on my Jewish heritage is important to me not because I believe in God or that we are the Chosen People, but because the Holocaust nearly wiped us out and, even today, some folks still hate me because of the blood in my veins.
But, technically, Emile isn't Jewish because that bloodline is matrilineal -- which is why my sister, who also married outside the tribe, has a pair of Jewish daughters. That is, of course, all kinds of messed up -- and indicative of how ridiculous organized religion is. (Also: Orthodox Jews wouldn't care for my tattoos.)
If Judaism is an ethnicity, then it shouldn't matter and, if it's a religion, well, how can faith be passed on through blood? For that matter, should it be passed on at all or is that indoctrination?
Atheist activists like Richard Dawkins and Christopher Hitchens have likened a religious upbringing to child abuse, primarily because of the use of Hell as a scare tactic and but also for the mere act of forcing a religious worldview on a person too young to make up their own mind. (Dawkins goes so far as to say that he suspects sexual molestation by priests "may do them less lasting damage than the mental abuse of bringing them up Catholic in the first place.")
Rev. Kevin Flynn made a counter-argument last year in the Ottawa Citizen, saying, "I often wonder whether the people who maintain this view also withhold food, clothing, shelter, education, and health care from their children until such time as they can 'make up their own minds' about these things."
My own upbringing was, shall we say, Jewish Casual: We celebrated the major holidays and hit the synagogue for weddings, funerals, and bar and bat mitzvahs, but otherwise took a pass. I did have my own bar mitzvah at 13 but I was given the choice -- as was my sister, who declined -- and we did it down at the beach rather than in a temple. My wife went to Catholic school, which was enough to turn her off organized religion altogether, holidays notwithstanding.
That brings us back to this Judeo-Christian week during which Emile has enjoyed matzo ball soup, gefilte fish, choclate bunnies and rainbow-coloured eggs (albeit with decidedly non-orthodox dinosaur tattoos within). But it is because of tradition, not religion.
I am not opposed to religion, at least in its disorganized state. I have no interest in joining a temple or congregation or sending E to Sunday school, but respect religion as a repository of cultural (if not necessarily factual) history.
Blog continues after slideshow
10 Celebrities You Didn't Know Were Jewish
Aubrey "Drake" Graham was born to an African American father and a Jewish Canadian mother. Before he was breaking hearts and topping charts, the Young Money star attended a Jewish day school and had a Bar Mitzvah. (Photo by David Livingston/Getty Images)

After a 1954 car accident that almost took his life, Sammy Davis Jr. went to a hospital in California and began studying Judaism. He later converted to Judaism, telling TIME magazine "Talk about handicap--I'm a one-eyed Negro Jew."

Rashida Jones has an African-American father (music mogul Quincy Jones) and an Ashkenazi Jewish mother (Mod Squad beauty Peggy Lipton) Growing up, she attended a Hebrew School before being accepted to Harvard University.

After his mother informed him of his own family's Jewish heritage, Amar'e Stoudemire, traveled to Israel to learn more about his culture. While the specifics of his Jewish lineage remain unknown, the Knicks power forward has embraced his roots and even has a Star of David tattooed on his hand.

Jamal Michael Barrow, better known by his stage name Shyne, stepped into the spotlight as a rapper with Sean "P. Diddy" Combs' Bad Boy Records. While serving a ten-year prison sentence for attempted murder, Shyne changed his name to Moses Michael Levi to reflect his grandmother's Jewish heritage and practice Judaism.

Lauren London, an actress and model, was born in Los Angeles to an African American mother and Jewish father. She is most known for her roles in ATL and her parts on 90210 and Entourage.

Born in New York City in May 1964, Lenny Kravitz has an African American mother and a Jewish father. He has won several "Best Male Rock Vocal Performance" Grammy Awards.

Tracee Ellis Ross was born in Los Angeles to African-American singer/actress Diana Ross and Jewish music business manager Robert Ellis Silberstein. Her big break came in 2000 when Ross landed the role of Joan Carol Clayton on the sitcom series "Girlfriends." She currently plays the wife of Malcolm Jamal Warner in the BET sitcom "Reed Between The Lines."

Lisa Bonet is an actress best known for playing Denise Huxtale on the NBC sitcom "The Cosby Show." She was born in San Francisco, to an African American father, Allen Bonet, and a Jewish mother, Arlene Litman.

British musician Craig David's maternal grandfather was an Orthodox Jew and his maternal grandmother converted to Judaism.
For me, Passover is about ritual, about reenacting the same ceremony that my relatives have conducted each spring since the Exodus era. The Seder brings tradition to life through oral storytelling and edible symbolism -- unleavened matzoh represents the flight from bondage, salt water acts as tears, horseradish embodies the bitterness of slavery, and so on. Passover does get pretty dark -- God's killing of first-born sons, which gives the holiday its name as Jewish homes were "passed over" by Yawheh's murderous hand, is particularly hard for me to take as a father of one myself -- but the annual holiday ties me and my family and my ancestors together.
Easter is a similarly dark-hued holiday. When we eventually get beyond the bunny, I'm not sure how we'll explain the savagery of Christ's crucifixion. But we definitely won't teach Emile that Jesus died for his sins, but rather that Christ was a pacifist radical who fed the poor and opposed usurious bankers -- basically, the ringleader of Occupy Jerusalem.
Some argue that religion makes for better-behaved children, but following tenets such as the 10 Commandments doesn't require fire and brimstone, or even God. Even if you're a religious sort, it's easy to see that murder, stealing, and wife-coveting are not wrong because God said they were wrong. Rather, The Big Guy was just pointing out the obvious.
Parents of all faiths and no faiths can and do raise equally moral children.
I've done my research here. Long before I became a father I studied comparative religions and moral relativism in university. I've also sojourned in Jerusalem, sleeping on a rooftop cot in the old city's Arab Quarter along the Via Dolorosa, a shockingly short walk from the Western Wall, Dome of the Rock and Al-Aqsa Mosque, and the Church of the Holy Sepulchre. (I made it Armageddon, too, which is an actual hillside near Syria surrounded by towering sunflowers as far as the eye can see.)
I've seen and appreciated the intensity of these religions from their holiest sites -- and seen their ugliness, too, having been around when a Christian church was shot up by a Jewish radical and been warned to ride Arab busses because the Jewish ones kept getting blown up, not to mention having experienced incidental anti-Semitism while growing up.
Religion should be a personal choice, and eventually Emile will be able to make that choice himself without us having imposed upon him anything more than the cultural traditions from both sides of his family.
In the meantime, E gets to celebrate "Eastover" and happily hunt for both Easter eggs and the Passover afikomen.
A version of this blog was originally published by The Grid. Listen to an interview with Joshua Ostroff about "Eastover" on CBC.
Follow Joshua Ostroff on Twitter: www.twitter.com/joshuaostroff