America's Shining City On A Hill Has Gone Dark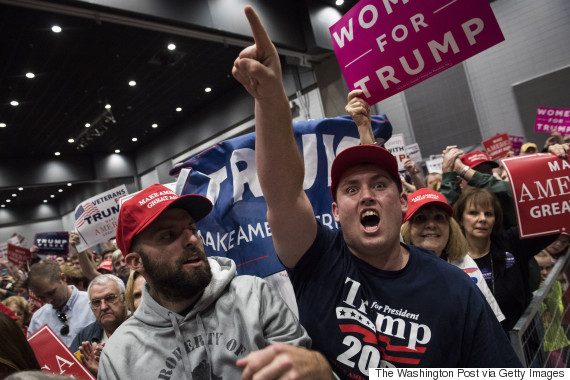 Supporters yell as Republican presidential candidate Donald Trump speaks in Sioux City, Iowa on Nov. 06, 2016. (Photo: Getty Images)
In Hillary Clinton's final speech of this slow-motion car crash of a campaign, she declared that "love trumps hate."
Turns out she was wrong.
There were no Jaws of Life to pry Clinton from the fiery wreckage of the nation's drunken drive towards fascism. America did not choose the eminently qualified incrementalist who understands equality but not email.
Instead, hate trumped love and so they picked Donald Trump, a vengeful demagogue running on a fear-fueled platform of racism, xenophobia, misogyny, and Islamophobia alongside a running-mate known primarily for his anti-LGBTQ radicalism.
This tragic car crash is not the metaphor that the Republicans' patron saint Ronald Reagan famously used to describe America and justify its role as a global superpower.
In 1974, when the Cold War carved the planet into ideologically opposed factions, Ronald Reagan famously said, "America is a shining city upon a hill whose beacon light guides freedom-loving people everywhere."
"Needless to say, this was not the vision for America that Donald J. Trump campaigned on -- and won with. That is, unless you dig deeper."
He elaborated in his 1989 presidential farewell address, describing the shining metropolis as "teeming with people of all kinds living in harmony and peace; a city with free ports that hummed with commerce and creativity. And if there had to be city walls, the walls had doors and the doors were open to anyone with the will and the heart to get here."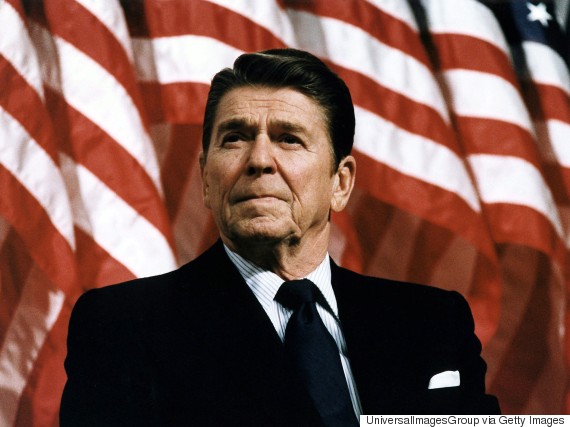 Ronald Reagan had a different vision of America than Donald Trump (Photo: Getty Images)
"And she's still a beacon," Reagan added, "still a magnet for all who must have freedom, for all the pilgrims from all the lost places who are hurtling through the darkness, toward home."
Needless to say, this was not the vision for America that Donald J. Trump campaigned on -- and won with.
That is, unless you dig deeper. The shining city actually originated in a 1630 sermon by John Winthrop, governor of the Massachusetts Bay colony. Turns out he was something of a proto-Trumpist.
"There has been darkness at the heart of America since day one, but in recent times it had been seemingly reduced to subtext, somewhat de-powered by the lack of overt support from the top political ranks."
Winthrop, who declared that democracy was "the meanest and worst of all forms of government," kept American Indian slaves and helped write the first law in North America legalizing African slavery.
Then there was the trial he presided over of "American Jezebel" Anne Hutchinson, an influential midwife and proto-feminist who the New York Times says he banished for c̶h̶a̶l̶l̶e̶n̶g̶i̶n̶g̶ ̶m̶a̶l̶e̶ ̶a̶u̶t̶h̶o̶r̶i̶t̶y̶ "heresy, political anarchy and witchcraft."
America voted for a new president on Nov. 8, 2016.

Democratic presidential canadidate Hillary Clinton casts her ballot in New York state on Nov. 8, 2016.

Clinton greets supporters outside the New York polling station.

Republican presidential candidate Donald Trump casts his ballot at a polling station in Manhattan of New York City on Nov. 8, 2016.

Melania Trump, Donald's wife, casts her ballot alongside her husband in Manhattan.

Two guests at an election viewing party in Berlin, Germany.

Preperations take place before Trump holds his election night event at The New York Hilton Midtown on Nov. 8, 2016 in New York City.

The stage is prepared for Clinton at the Jacob K. Javits Convention Center in New York City on Nov. 8.

A voter studies the ballot before making her choice at a voting station on Nov. 8, 2016.

Clinton and her husband, former U.S. President Bill Clinton, leave after casting their ballots at a polling station in Chappaqua, New York.

Clinton speaks during a rally on Nov. 7, 2016 in Philiadelphia.

Trump holds up a mask of his face during a speech on the day before the election.
There has been darkness at the heart of America since day one, but in recent times it had been seemingly reduced to subtext, somewhat de-powered by the lack of overt support from the top political ranks.
Then in 2008 it looked like the U.S. was finally living up to its shining city promise, and the world rejoiced as America elected its first black president on a wave of hope and change.
That year's campaign certainly got ugly, though it now seems quaint in hindsight. Sarah Palin blew her share of dog whistles, but when a racist Republican attacked Obama during a town hall, then-presidential candidate John McCain responded that "He's a decent family man [and] citizen that I just happen to have disagreements with on fundamental issues."
During that same town hall, Senator McCain said Obama was "a person you don't have to be scared of as president of the United States" and "I admire Senator Obama and his accomplishments, and I will respect him."
Each time, the crowd booed and called Obama "liar" and "terrorist." Those people, stirred up by Sarah Palin, Rush Limbaugh and Fox News, did not go away.
They became the Tea Party, and more recently the alt-right, a decentralized collection of white supremacists, Islamophobes, misogynists, anti-LGBTQ bigots and message board trolls. Now also inspired by Breitbart.com, conspiracy theorist Alex Jones and the rest of the alt-right echo chamber they believe immigrants, Muslims, gays, Jews, black and the amorphous "threat" of political correctness are siphoning power from straight white males.
The Top 20 Craziest Quotes by Tea Party Candidates
"I hope that's not where we're going, but you know if this Congress keeps going the way it is, people are really looking toward those Second Amendment remedies and saying my goodness what can we do to turn this country around? I'll tell you the first thing we need to do is take Harry Reid out." —Nevada GOP Senate candidate Sharron Angle, floating the possibility of armed insurrection by conservatives, interview with right-wing radio host Lars Larson, Jan. 14, 2010 (Source)

"American scientific companies are cross-breeding humans and animals and coming up with mice with fully functioning human brains." —Delaware GOP Senate candidate Christine O'Donnell, discussing cloning with Fox News Channel's Bill O'Reilly, 2007 (Source)

"I've always been fascinated by the fact that here was a relatively small country (Nazi Germany) that from a strictly military point of view accomplished incredible things." —Ohio GOP House candidate and Tea Party favorite Rich Iott, explaining why for years he donned a German Waffen SS uniform and participated in Nazi re-enactments as part of a group that calls itself Wiking, Oct. 2010 (Source) Iott later said the Nazi soldiers "were doing what they thought was right for their country." (Source)

"People ask me, 'What are you going to do to develop jobs in your state?' Well, that's not my job as a U.S. senator." —Sharron Angle, May 14, 2010 ( Source)

"It is not enough to be abstinent with other people, you also have to be abstinent alone. The Bible says that lust in your heart is committing adultery. You can't masturbate without lust! ... You're going to be pleasing each other. And if he already knows what pleases him and he can please himself, then why am I in the picture?" —Christine O'Donnell, advocating against masturbation in a 1996 MTV interview (Source)

"The first thing that has to be done is secure the border ... East Germany was very, very able to reduce the flow. Now, obviously, other things were involved. We have the capacity to, as a great nation, secure the border. If East Germany could, we could." —Alaska GOP Senate candidate Joe Miller, on how to deal with illegal immigration, Oct. 17, 2010 (Source)

"Do you know, where does this phrase 'separation of church and state' come from? It was not in Jefferson's letter to the Danbury Baptists. ... The exact phrase 'separation of Church and State' came out of Adolph Hitler's mouth, that's where it comes from. So the next time your liberal friends talk about the separation of Church and State, ask them why they're Nazis." —Glen Urquhart, the Tea Party-backed Republican nominee for the Delaware House seat held by Rep. Mike Castle, April 2010 (Source)

"I'm not a witch...I'm you." —Christine O'Donnell, in a 30-second ad responding to a video clip from a 1999 appearance on Bill Maher's "Politically Incorrect," in which she said, "I dabbled into witchcraft — I never joined a coven. But I did, I did... I dabbled into witchcraft. I hung around people who were doing these things. I'm not making this stuff up. I know what they told me they do... One of my first dates with a witch was on a satanic altar, and I didn't know it. I mean, there's little blood there and stuff like that. We went to a movie and then had a midnight picnic on a satanic altar." (Source)

"Our nation was founded on violence. The option is on the table. I don't think that we should ever remove anything from the table as it relates to our liberties and our freedoms." —Tea Party-backed Texas GOP congressional candidate Stephen Broden, suggesting the violent overthrow of the U.S. government if Republicans don't win at the ballot box, interview with Dallas's WFAA-TV, Oct. 21, 2010 (Source)

"So that's what we want is a secure and sovereign nation and, you know, I don't know that all of you are Latino. Some of you look a little more Asian to me. I don't know that. What we know, what we know about ourselves is that we are a melting pot in this country. My grandchildren are evidence of that. I'm evidence of that. I've been called the first Asian legislator in our Nevada State Assembly." —Sharron Angle, speaking to a group of Hispanic high school students, Oct. 15, 2010 (Source)

"You're telling me that's in the First Amendment?" —Christine O'Donnell, questioning whether the Constitution calls for separation of church and state during a debate before an audience of legal scholars and law students at Widener University Law School, Oct. 18, 2010 (Source)

"We needed to have the press be our friend ... We wanted them to ask the questions we want to answer so that they report the news the way we want it to be reported." —Sharron Angle, during an interview with Fox News Channel's Carl Cameron, Aug. 2, 2010 (Source)

"I was dabbling into every other kind of religion before I became a Christian. I was dabbling in witchcraft, I've dabbled in Buddhism. I would have become a Hare Krishna but I didn't want to become a vegetarian. And that is honestly the reason why — because I'm Italian, I love meatballs!" —Christine O'Donnell, on ''Politically Incorrect,'' July 19, 1999 (Source)

"Instead of handing out the welfare checks, we'll teach people how to earn their check. We'll teach them personal hygiene ... the personal things they don't get when they come from dysfunctional homes. These (prisons) are beautiful properties with basketball courts, bathroom facilities, toilet facilities. Many young people would love to get the hell out of cities. You have to teach them basic things — taking care of themselves, physical fitness. In their dysfunctional environment, they never learned these things." —GOP New York gubernatorial candidate Carl Paladino, arguing that the state's poor should be housed in prisons (Source)

"I absolutely do not believe in the science of man-caused climate change. It's not proven by any stretch of the imagination...It's far more likely that it's just sunspot activity or just something in the geologic eons of time. Excess carbon dioxide in the atmosphere 'gets sucked down by trees and helps the trees grow.'" —Wisconsin GOP Senate candidate Ron Johnson, Aug. 16, 2010 (Source) Johnson has also said, "I'm glad there is global warming." (Source)

"You know what, evolution is a myth. Why aren't monkeys still evolving into humans?" —Christine O'Donnell, during a 1998 appearance on Bill Maher's "Politically Incorrect" (Source)

"I think that two wrongs don't make a right. And I have been in the situation of counseling young girls, not 13 but 15, who have had very at risk, difficult pregnancies. And my counsel was to look for some alternatives, which they did. And they found that they had made what was really a lemon situation into lemonade." —Sharron Angle, explaining why she is against abortion even in cases of rape or incest, July 8, 2010 (Source)

"It sounds funny, but you need to be paying more for your health care." —Kentucky GOP Senate nominee and Tea Party favorite Rand Paul, on his version of health care reform, which calls for high-deductible insurance plans and people paying out-of-pocket for health care (Source)

"[China has a] carefully thought out and strategic plan to take over America ... There's much I want to say. I wish I wasn't privy to some of the classified information that I am privy to ... A country that forces women to have abortions and mandates that you can only have one child and will not allow you the freedom to read the Bible, you think they can be our friend? We have to look at our history and realize that if they pretend to be our friend it's because they've got something up their sleeve." —Christine O'Donnell, in a debate during Delaware's 2006 Senate primary, which she lost (Source)

"As your governor, you're going to be seeing a lot of me on the front page, saying 'Governor LePage tells Obama to go to hell.''' —Maine Republican gubernatorial candidate Paul LePage, Sept. 29, 2010 (Source)
Fast-forward to 2016 and McCain himself said Obama was "directly responsible" for the Orlando terror attack and said he would never even hold a hearing on a Supreme Court justice nominated by Hillary Clinton.
McCain's always represented the reasonable wing of the Republican Party and, relatively speaking, perhaps he still does because the party and their supporters have moved that far from sanity and civility.
What happened in between was that the Tea Party protesters -- white voters beset by the Great Recession and fear of a black president -- took over the Republican Party while an orange reality show star and self-styled billionaire began his ugly rise to political prominence with racist birther claims about Obama's birthplace.
But the fix was already in. The 2010 midterm landslides allowed Republican governors to gerrymander the House of Representatives to the extent that In 2012 they got 33 more seats despite 1.4 million less votes.
These safe seats allowed the Tea Party Republicans to hold the Obama administration hostage and use primaries to boot moderates and scare the rest to the far right. That was the price for the party legitimizing their anger.
Donald Trump raised those stakes even further as his election campaign legitimized their hate because now it was coming from the top of the ticket.
Trump began by calling Mexicans rapists, and ended with an anti-Semitic ad and an Islamaphobic attack on Somali refugees in Minnesota.
The months in between were filled with misogyny, racism and xenophobia, including that shocking promise to ban 1.6 billion Muslims from entering a country literally founded on religious freedom.
But perhaps the scariest part of this was that Trump installed alt-right provocateur and Breitbart News CEO Steven Bannon at the top of his campaign, giving the presidential candidate an unprecedented propaganda wing and giving Bannon, a white nationalist, access to the White House.
Over the length of the campaign, Trump incited his angry white followers and they responded on cue, beating up protesters, shouting Nazi slogan "lügenpresse" at members of the media and turning politics into a grotesque reality show.
No wonder he was endorsed by the KKK.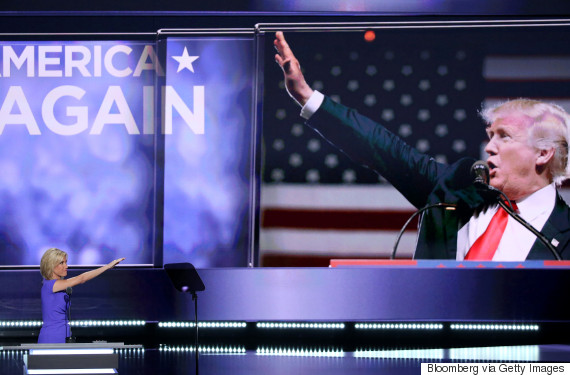 Radio Host Laura Ingraham gestures while speaking during the Republican National Convention (RNC) in Cleveland, Ohio on July 20, 2016. (Photo: Getty Images)
The Republican convention was practically a witch trial of Hillary Clinton, with its incessant "lock her up" chants over the email non-scandal -- and if you think that's going a bit far, well, a poll found that 84 per cent of Trump supporters think should be in jail and 40 per cent literally think Hillary is a demon. (A demon!)
I wrote at the time that Trump was fuelling the rise of white fright. That turned out to be the phenomenon that won him the presidency and it will further metastasize just like it did after McCain lost but far worse because there's nobody left on the right to try and bring sanity, much less respect, back.
"With a Republican controlled congress and an alt-right controlled Trump, new Supreme Court judges may start rolling back other civil liberties like Roe v. Wade and marriage equality."
The Republicans have been on this trajectory since Nixon's southern strategy used racism as a campaign tactic, though it ramped up in 1994 when Hillary's failed attempt to bring Canadian-style health care incited the Newt Gingrich-led Republican revolution that got her husband Bill impeached.
That disdain for democracy was amplified this year as Trump repeatedly claimed the election was rigged despite the Republicans being the ones who were trying to rig it with voter suppression tactics facilitated by the Supreme Court gutting the Civil Rights Act.
And that's just the start. With a Republican controlled congress and an alt-right controlled Trump, new Supreme Court judges may start rolling back other civil liberties like Roe v. Wade and marriage equality.
One of the ugliest parts of the election night coverage is the Trump surrogates claiming that this was the American people saying they want their government back from the elite. That's not true. It was straight white America saying they want their supremacy back from minorities (not that they ever lost it) and it was men saying they want women to know their place.
"The chances of the Republicans holding Trump and his alt-right deplorables in check is dim."
Now if the Republican leadership truly revered Reagan, if they really wanted America to be a shining city that can inspire the world -- one that has the moral authority to promote democracy and human rights abroad -- then they need to defend democracy and human rights at home.
But given their spinelessness during the campaign, and their tradition of choosing divisiveness over diversity, the chances of the Republicans holding Trump and his alt-right deplorables in check is dim.
With at least four years of dystopia to look forward to, who knows when, or if, that beacon of freedom will light up again.
Follow HuffPost Canada Blogs on Facebook
Also on HuffPost:
Hate trumped love.
Follow Joshua Ostroff on Twitter: www.twitter.com/joshuaostroff