Sticky Situation: Asking Bridal Shower Guests for Cash Is a Definite Don't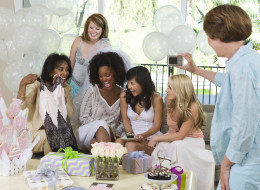 Sticky situation:
I am a soon to be mother-in-law to a beautiful woman. A late summer wedding is planned. The bride and groom recently decided that a "stag and doe" was too much work. They opted for separate affairs: a wedding shower for the women and a camping weekend for the men.
My son and his future wife, live together in a small apartment. They are hoping to soon purchase a house.
When we discussed the shower, she told me that she is thinking of a money shower. She wants to ask guests for cash, in lieu of a gift, to contribute to their down payment.
When asked about my thoughts on her idea, I requested time to think about it, but I think my shocked face gave away my opinion. This seems very tacky to me. Close confidantes that I have mentioned this to also had a surprise look on their faces.
Is this a new trend?
I am mortified. I would be embarrassed to send invitations to a money shower to my friends and family.
What should I do?
Solution(s):
I completely agree with you -- asking for money at a shower is tacky. I too, like you and your friends, would have had a shocked face.
There is no such thing as a "Money Shower."
Imagine the scene. The room is beautifully decorated. A circle of women surrounds the bride-to-be. All eyes are on her for the main wedding shower activity, the opening of the presents. Friends, family members and maybe colleagues are holding a tea cup or a champagne flute.
A wedding shower is "all about the gifts," that is the "main attraction."
Her Maid of Honour, her BFF and the hostess of the gathering, is sitting to her right. She ceremoniously passes her a white scalloped laced envelope from a round table that has a basket full of other envelopes. The bride-to-be carefully opens it, as the women nibble on delicate treats.
She takes out the card and reads it. She then politely smiles as she discreetly peeks at the token amount on the check, or sits back with eyes wide, surprised by the generosity of the $1000 bill that is inside. She looks up at the wedding shower attendees in search of the one that donated this gift of money. She puts the card back in the envelope and hands it back to her "lady-in-waiting." As a dutiful wedding shower hostess she notes the amount on the shower gift record, to make sure that all gifts get a thank you note.
The future bride gets up. Personally thanks and hugs or kisses the giver, and then "Please pass the next envelope"... Yikes!
Bridal shower gifts are based on the bride's personality, her likes, needs, values and passions. They are more intimate and personal than wedding gifts.
Traditional wedding shower themes are kitchen, lingerie and bathroom. Modern themes can be Wine and Dine, Books and Music, Backyard, Beach and Barbecue, or Charity donations.
As for your soon to be daughter in law's wish for cash, you can let her know that it is acceptable for wedding gifts, by word of mouth only, when wedding guests inquire.
Note that unlike a shower that focuses on gifts, it is never acceptable to mention gifts on a wedding invitation. Read this previous blog post for more information on how to spread the news for cash wedding gifts.
The only way to approach this sticky situation is to speak from your heart. Address your concern and inform gently.
Have this conversation with both your son and his bride-to-be.
Let them know that what you are about to say is difficult, but that you have their best interest at heart. Explain that you would not want them to do something that may insult their guests or have them be judged negatively.
Mention that you have thought about it. Add that to make sure your opinion was not an unusual one, you also spoke to close friends and even researched it.
Inform them, based on the information above.
According to their needs and likes, suggest a wedding shower theme that may appeal to her.
Lastly, I commend you for your poise and consideration for your future daughter-in-law's feelings. You were wise to ask for time and to seek advice. They, she and your son, are lucky to have you, a kind and considerate councillor, mother and soon-to-be, mother-in-law.
You have a sticky situation at work or at home? This is your forum. Write to Julie and she will reply promptly. Want more solutions to sticky situations? Go to Facebook, Twitter, Pinterest, or order your autographed copy of Etiquette: Confidence & Credibility. Planning a conference? Julie happily travels coast to coast and beyond, to present customized activities. With Julie's help gone will be awkwardness, embarrassment and faux-pas.
ALSO ON HUFFPOST:
Does the bride have seasons tickets for the local baseball team? Is she always found on the couch in front of a football game on Sundays? Incorporate her sports fandom into the shower theme. Decorate in her favourite team's favourite colours, and encourage guests to wear jerseys and other gear repping their own favourites. (Hopefully team rivalries don't spark any showdowns!) You may even be able to hire the local team's mascot to make an appearance. Check out this inspiration from Celebrations At Home.

For a bride who happens to be a big fan of the gang from Central Perk, this shower theme is genius. You can incorporate the show from start to finish. Serve coffee, of course, in paper mugs with custom Central Perk sleeves. Use the episode-naming convention on the invites and signage ("The One Where X Gets Married"). And incorporate details from the show's weddings into the decor. Check out the Mrs. & the Misc. for seriously impressive inspiration.

Does the bride love a good meal? Then this shower theme with a culinary focus will be perfect. Send a pretty recipe card along with the invites and encourage guests to write down one of their home-cooking favourites; you can pin all the cards into a scrapbook to present to the bride after the shower. Put together a food trivia challenge or have a taste-test game. And suggest that guests bring a kitchen item off the registry, or gift the bride with a favourite cookbook. Get some more great ideas from Catch My Party.

If you want a theme that ties the shower's parts together but isn't too overpowering, this is perfect. It also has the benefit of making your decisions easier: just go with the blue option! You can work the colour into everything from the invite stationary to the cupcake icing. Put together a candy bar with all blue candies, and serve blueberry tea. Check out this inspiration and many great ideas from Hostess With The Mostess.

There's plenty of inspiration to take from this classic film, considering how stylish it is (and maybe ignoring some of its lessons). Ask guests to wear their favourite little black dress, and put together a photo backdrop with props: faux pearls, cocktail gloves, big black sunglasses. And of course, work that iconic robin's egg blue into the decorations. Get more great ideas from Jenna Benna Bear Post.

If you're planning a party for an oenophile, you can work wine into the theme for more than just the drinks. Serve sangria, of course — maybe one white, one red. Encourage guests to bring a favourite bottle of vino as a gift. And set out a great spread of wine-friendly foods like cheese, bread, and charcuterie. If your budget allows, you can even bring in a local wine expert for a tasting. Get more inspiration at Yellow Suitcase Studios.

This is the perfect theme for a fun-loving bride, especially if she likes tea. Serve a variety of brews in a mix of pots and teacups — the less they match, the better. Bring in a local expert from a tea shop to host a tea tasting or show guests how to make tea-based cocktails. Decorate with colourful blooms and serve tiny sandwiches and fun desserts like multicoloured macarons. Get more ideas at Green Wedding Shoes.

You don't have to throw the shower at night for this to be fun. (Though that's fun too!) Tell guests to arrive in their favourite PJs and slippers, and play favourite movies from your teen years. Serve popcorn and finger foods, and do each others' nails. If you can find a vintage board game like Mall Madness or Girl Talk, even better.

If pastels aren't the bride's speed, go all out on colour with a Mexican-themed fiesta. Hire a local Mexican restaurant to cater, or keep it simple by setting up a DIY taco bar. Decorate with bright paper flowers and banners. Fill a piñata with candy and have the bride bust it up at the end. And of course, serve margaritas! Find more inspiration at Hostess With The Mostess.

Has the bride been bitten by the travel bug? For a globe-trotter, you can put together a shower that celebrates her wanderlust and brings in elements from different trips. Serve food and play music from her favourite destinations, and put together a slideshow of vacation photos. Play a trivia game featuring global facts, or have guests compete to match flags with the correct country. Alternately, if the honeymoon has been booked, you can plan the shower to reflect that specific destination. See some gorgeous ideas at Celebrations At Home.

This will be a lot of fun if the bride was in college or high school during the 1990s. Ask guests to dress like they did during that decade, and to tell you their favourite '90s song when they RSVP: you can work them into a great playlist of the best (and worst) music of the decade. Serve cake or cupcakes decorated with neon icing. And give out copies of R.L. Stine or Babysitters' Club books as prizes or favours. Get more inspiration for neon decor at Style Me Pretty.

Craft beer is booming. If the bride loves a pint, put together a shower that celebrates her favourite drink. Select brews from cities that mean a lot to the couple — their honeymoon destination, their alma maters, their hometowns — or hold the shower at a local brew pub. Serve food that goes great with beer, like cheese, wings, and pretzels. You can even look for a beer expert or cicerone to host a tasting. Put together fun beer trivia for a game, or have guests match the bottle label to the country the beer comes from. Get more ideas at From Hello To Hitched.

A lot of couple-oriented gifts can seem cheesy, but if your pals drink coffee together every morning, these sweet spoons (and scoop) can make it a true ritual. $45, Etsy.

A sweet and simple statement that will make the bride-to-be tear up, this glass says it all. $11 plus shipping, Etsy.

With weddings come a lot of little pastries, and a cake stand tends to be one of those things people never get around to buying. Give your gal pal a place to display her cupcakes (or doughnuts). Small Cake Stand by Donna Hay, $47, Indigo.

Though for those who prefer an earthier tone to their serving dishes, this wooden pedestal (which can be used for anything from cheese and crackers to a layer cake) will set the right tone. Acacia Wood Pedestal XL, $39.50, Indigo.

If your bride loves art, and cartoons, and a combination of the two, this will be an amazing personalized gift to commission for her and her betrothed. The price point makes it a perfect option to go in on with another friend. $121 plus shipping, Etsy.

It's not the sexiest gift, but some good picture frames will be heartily appreciated by the bride once those wedding snaps come in. She'll love the options for different sizes. Wood Gallery Multiple Opening Frames, $25 to $100, Pottery Barn.

For the gal who loves all things retro, this adorable piggy bank is a sweet addition to a hallway table to store loose change. (Note: We are in no way advocating only separate bank accounts. Or that women only buy jewelry, and men only bowl.) $17, Etsy.

Whether your bride adores soft-boiled eggs or she'll like the look of these cups in her kitchen, this cheery gift is a fun option. Egg Cups, $49.99, Le Creuset.

We all know how easy it is to lose important papers, or let them get faded. If your bride has her wedding invitation ready in time for her shower, this is a beautiful way to commemorate it for the couple forever. $45, Etsy.

For all those special occasion dinners she and her love will have, these linen love letter napkins will make for entertaining conversation if things get dull. Also, they can read them to each other on particularly shmoopy nights. Love Letter Napkins, $50, Uncommon Goods.

For the couple who loves to entertain in their backyard, there will be no accessory for adorable this summer than this drink dispenser. Mason Jar Drink Dispenser, $39.50, Indigo.

Merging your lives doesn't only mean fighting over the covers and figuring out the shower schedule — it also means figuring out how to merge your cooking styles (or lack thereof). The Newlywed Kitchen: Delicious Meals For Couples Cooking Together, $17, Amazon.

Admit it — when you pictures couple in the summer, you picture them traipsing through a park and having a tasteful picnic. Give your friends the tools to help make that happen. Barrel Picnic Basket, $70, Bed Bath & Beyond.

Whether your pal and her partner are hosts with the most, or just love sitting on their porch sipping cocktails, this mojito set will inspire them to finally something with all that excess mint they have growing this summer. Mojito Cocktail Set, $68.95, Teatro Verde.

How many of the towels in your friend's house are the same ones she was using in university (or stole from her parents' linen closet)? Give her the gift of sumptuous luxury for the everyday. Ralph Lauren Greenwich Bath Sheet, from $27, The Bay.

Salad becomes a lot less boring when you serve it in a boat with oars — so for the friend who enjoys housewares with personality, this is the right gift. Row Boat Salad Bowl With Wood Serving Utensils, $64, Uncommon Goods.

This might be the classic wedding shower gift, but it's also one that will come in handy on Sunday mornings when the couple is hosting brunch. To personalize, include your favourite waffle recipe in the card. Cuisinart Classic Round Waffle Maker, $49.99, Bed Bath & Beyond.

What makes a house a home more than a personalized set of wooden blocks that show exactly when the pair joined together? Save this one for friends who are changing their last names (and be sure to verify beforehand!). Personalized Wood Name Block, $28, Etsy.

We all know these hangers are far better suited for the inevitable photo ops on the day of the wedding than actually holding the bride's wedding dress, but won't those pictures look great? $28, Etsy.

This gift looks small, but when you consider that the couple will be staring at these magnets on their fridge every day (and gratefully using them to post up shopping lists, photos and the like), it becomes so much bigger. Glass fridge magnets, $39, Etsy.

Obviously this gift is more beneficial to the bride than groom, but ... doesn't she deserve a (mother-in-law friendly) porn gift of her very own? Porn For Women, $16, Amazon.

You might want to leave the really sexy gifts to a time when family members won't be present, but this modest pair of underwear for her to surprise her husband with are sweet and sassy. Bridal Hiphugger Panty, $18.50, Victoria's Secret.

This is sexy, but still doesn't veer into "oh my gosh, my mom doesn't need to see that!" territory. This set of thong underwear works for both before and after the wedding — the gift that keeps on giving! Bride And Mrs. Rise Thong Gift Set, $56, Hanky Panky.

The bride will not be able to thank you enough for saving her from writing out her address again and again on her thank you cards. Trust us. $34 plus shipping, Etsy.

For couples who are just moving in together, or have purchased a house, this gift can be a beautiful symbol of their new union (in anticipation of their bigger one with the wedding!). There are tons of options for design. House numbers, from $22, House Proud Signs.

NEXT: 20 Best Gifts For Your Bridesmaids

If your bridesmaids are always making to-do lists or love to write, these personalized budget-friendly notebooks will keep them busy. Bridesmaids journal, $10.20, Etsy

Not only is this teapot absolutely adorable, but it's also something your bridesmaids will put to use every day. Lacy teapot, $20, Pier 1 Imports

If all of you have a favourite band or singer, why not plan a concert night out? There's nothing they'll love more than to see their favourite artist play live — maybe after the wedding is over.

You could always get your bookworm bridesmaids a new book or two (we suggest something non-wedding related), but what they'll love more is a vintage or signed copy of their all-time favourite book. And hey, you can always start an impromptu book club!

If you're planning a destination wedding either somewhere tropical or the country you grew up in, a travel-inspired gift will remind your friends of this newly discovered culture. For example, if you're heading to India, we suggest a set of bangles.

We all enjoy our Hershey chocolates, but pamper your bridesmaids with something a little fancier for their gift. Better yet, take them to a chocolate-making course and have everyone personalize their own treats.

Give your environmentalist friends bamboo plants that are beautiful, long-lasting and symbolize good luck. For something more budget-friendly, we suggest getting flower seeds and mini planters.

After the wedding is over, all of you deserve a break. If you're up for it, take a weekend road trip with your bridesmaids. It doesn't have to be anything fancy — just rent a car and a hotel for a day or two.

This present will encourage your bridesmaids to take on yoga just so they can show off their awesome new yoga mats. Custom yoga mat, $40, mycustomyogamat.com

Weddings are emotional, especially if your friends are already prone to crying. This fun hanky will help them wipe away tears and hopefully put a smile on their faces. No ugly crying embroidered hanky, $21, Etsy

This will definitely come in handy on the day of the wedding when everyone's rushing to get ready. This cute little ready-to-use jar comes with everything from tampons to nail files. Wedding day emergency kit, $40, Etsy

Give these handmade infinity bracelets to your bridesmaids on the day of your wedding while reminiscing on your life-long friendship. Set of eight bracelets, $67, Etsy

These Swahili bracelets aren't just beautiful — they're also handcrafted by Maasai mamas in Kenya. Not only will your bridesmaids appreciate the gesture, they'll be happy to know all proceeds go to Free the Children. Swahili wrap bracelet, $60, Me to We

Give your bridesmaids stylish matching clutches that they can carry on your wedding day and hopefully for years to come. Bridesmaid clutch set of three, $143, Etsy

If your bridesmaids have been running around to help plan your wedding, treat them to a spa day. If your bachelorette doesn't include a day of relaxation, it may be a good idea to book a Saturday massage or nails day.

Who doesn't love candles? If you're looking for a budget-conscious and thoughtful present, these monogrammed candles are a sweet way to go. Mongram Votive, $11, Illume

Let's face it, we all love pretty pens. This gorgeous pen will make note-taking (in any context) a lot more fun. Cross click pen, $70, Indigo

For the friends who carry everything from a wallet to an extra pair of shoes "just in case," there is no present more fitting than this over-sized, personalized tote bag. Monogramed tote bags (set of two), $40, Etsy

Whether your bridesmaids love being the photographers or taking dozens of selfies, these photo frames are a great way to capture all those memories. Wedding party photo frame, $29, Personalizationmall.com

You can never have enough stuff with your name (or wedding day title) on it. These cups aren't just cute, but they're customizable and ideal for booze. Wedding party tumblrs, $20, Shopglitzyglam.com

NEXT: 20 Best Websites For Unique Gifts

Wondermade: Gourmet marshmallows in unusual flavors. Check out: Bourbon Marshmallows, $7.95 for 16. You're welcome.

Given Goods: This marketplace is filled with unique gifts (home goods, kitchenware and accessories for women and men) that give back. Each product includes detailed info about the artisan or brand, the product's origin and the cause you're supporting. Check out: Lapis Lazuli Studs, $99. (Proceeds help create sustainable job opportunities for women in Afghanistan.)

PopChart Lab: You've probably seen their awesome infographic-inspired prints, but they also have tees and accessories. Check out: "The Very Many Varieties Of Beer" pint glass, $12.

Pink Olive: A super-cute site founded to turn the spotlight onto creative entrepreneurs. You'll find thoughtful gifts, but also the Olive Box, a monthly subscription box geared towards paper lovers. Check out: "You Are Loved" mug, $16.

Uncommon Goods: Fun gifts for everyone on your list, for nearly any budget. Think of it as a quirky Pier 1. Check out: Scratch Map, $20.

The Grommet: This e-tailer helps undiscovered products ("grommets") find their markets. You'll find really unique stuff here that you often won't find anywhere else -- just yet, at least. Check out: Everyday Artifact Silver Jewelry, $38.

Olive & Cocoa: Gift sets shine at this catalog, which covers everything from business gifting to seasonal finds. Check out: Bianca Grace floral arrangement, $94.

Leif: This online store is simply gorgeous to look at -- along with its well-edited selection of beautiful gifts. Perfect for that stylish but hard-to-shop-for friend. Check out: Gemstone Magnet Set, $38 for a set of 8.

Young Republic: You'll discover new designers from the worlds of fashion, jewelry, home decor and more at this site. Check out: Love Energizer iPhone Sleeve, $20, from Goodluckgoods.

ShanaLogic: Another great place to discover new handmade artisans and independent designers, boasting a cool selection of everything from housewares to "collectible plushes." (If you're near Ann Arbor, Michigan, you can also visit their shop.) Check out: Chemistry Cat Mousepad, $15.

Plasticland: Like Spencer's Gifts, but not shameful. Check out: Squirrel Tabletop Nightlight, $12.

Banquet: Awesome prints with retro-indie flair. Check out: Large Print Sea Animals Of The Gulf Coast, $60.

RH Signature: Pricey-but-stunning gifts for those you need to impress (or reward). Check out: Iconic Coco Chanel Quote Simplicity, $250.

Paloma's Nest: This shop features a selection of perfectly tasteful personalized keepsakes that are worlds away from your typical Hallmark offerings. Check out: Where We Met/Where You Were Born map ornament, $42.

Polka Dot Club: OK, so these are bears. But the adorable stuffed creatures are made of only natural fibers, using heritage techniques inspired by the turn of the 20th century. They are very fancy. Check out: PDC Classic Bear Well Dressed Girl, $230.

Mignon Kitchen Co: A simply gorgeous online shop for foodies and the people who love them. You'll find lovely gift sets, heavenly sweets and even a few cute packaging options for the DIY-type in your life. Check out: Handmade Felt Coasters, $20 for a set of 4.

Craftfoxes Marketplace: A well-curated marketplace filled with all things handmade. You'll mainly find small gifts here (jewelry, home accessories, aprons), but also supplies for your crafty friend. Check out: Small Monogram Vase, $62, from MaidOfClay.

CustomMade: An online destination for, well, custom-made anything. You'll find everything from hand-hewn dining tables to jewelry. Still not finding what you're looking for? Describe your idea and the site will connect you to a maker. Check out: Wallet Made From Car Seat Leather, $40-80, by Sven Schlegel.

Perpetual Kid: Ever need a VW Camper Van Tent? This is where to go. Think: Silly gifts at a wide range of price points. Check out: Yep, the VW Camper Van Tent, a splurge at $529.

One Kings Lane: The selection varies by the day at this e-tailer, which is part flash sale, part marketplace. Look here for vintage, one-of-a-kind and luxurious gifts. Check out: Sheepskin throws, starting at $99.
Follow Julie Blais Comeau on Twitter: www.twitter.com/EtiquetteJulie