Sticky Situation: A Lesson In Handshaking For The Trumps Among Us
Sticky Situation:
The water cooler talk is still about U.S. President Donald Trump. And this time it's about his handshakes.
This newfound fascination is interesting considering that it was not that long ago that this president was almost a self-declared germaphobe, like Howie Mandel. The Donald, entrepreneur with a pink silk tie, avoided these exchanges for fear of contracting viruses and preached reverence as a greeting of choice.
Now at the head of the United States, he has completely reversed his tactics. Instead of pushing back, he pulls others into his bubble. He "sandwiches" the other's right hand with his left or "affectionately" burps their backs, like we do to a baby.
His counterparts and even the members of his own entourage are visibly uneasy with these tows. Some have even strategized ways to maintain their professional space. The prime minister of Japan rolled his eyes. Vice President Mike Pence jumped up and stayed on his "X" while Trump tugged him in to finish the accolade with a thumb twist to his chest.
Our own Prime Minister Justin Trudeau was obviously prepared and maybe even role-played his handshake. With direct eye contact and a confident handshake, Trudeau firmly placed his left hand on his host's right shoulder to quickly define "his bubble." We almost heard him say, "This, is my border Mr. President."
Trump's handshake talks. Trudeau's does, too. And yours, do you know what it says about you? What about those of your team's members? What do your clients feel or your potential partners perceive?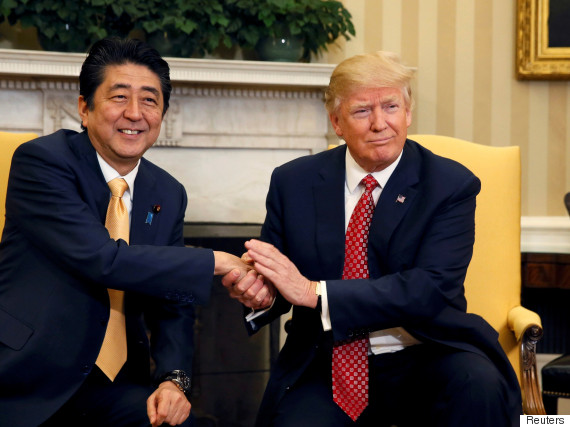 Japanese Prime Minister Shinzo Abe shakes hands with president Trump (R), Feb. 10, 2017. (Photo: Jim Bourg/Reuters/TPX Images of the Day)
Solution(s):
As surveyed among my coaching and conference participants, here is the list of the five worst handshakes. Read on for my advice on what to avoid when giving or receiving a handshake.
The crusher
GIVING: Adjust your handshake to respect the other's size.
RECEIVING: Communicate the tightening of your hand. No, not by grinding your teeth, but by but gently spreading your fingers to inflate your hand. Ahh, better now. Right?
Oops, there it goes!
GIVING OR RECEIVING: Offer to start over. "Oh, la la, please excuse me. I think we can do better. How about starting over again?" Then go for it. Shake.
The slippy shake
GIVING: If you tend to have sweaty hands, write to me julie@etiquettejulie.com and I will send you tips to make sure that your stays dry.
RECEIVING: Look at the other person's face to detect clues, non-verbal signs of proximity discomfort, pain or nervousness.
Your handshake should announce equality, not domination or submission.
The pumper
GIVING: Be aware. Stay focused and in the moment. A couple of "pumps" are just perfect.
RECEIVING: Gently relax the grip and spread your fingers. The other will instinctively soon release the pressure and remove his hand.
The damsel in distress
GIVING: Unless you are in a position, role or social situation where you expect to receive a "baisemain," present your palm as well as your forefingers. Make a complete palm-to-palm contact.
RECEIVING: Gently shake the hand that is presented to you, as is. Do not force your palm in.
I am always amazed at the small number of people who have had an official lesson in this universally recognized professional greeting, that announce intentions of peace, builds loyal ties and concludes contracts.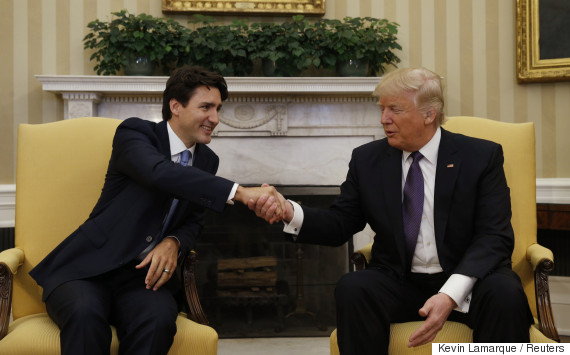 Prime minister Trudeau (L) shakes hands with president Trump, Feb. 13, 2017. (Photo: Kevin Lamarque/Reuters)
For you or whoever needs it on your team, here is an eight-step lesson on shaking hands:
Whether you are a man or a woman, a good handle that broadcasts confidence and credibility:
Begins with clean dry hands. Basic yes and a definite must. Do it.
Is done standing. Your posture is paramount.
Is introduced with direct eye contact and a sincere smile.
Starts with the thumb of your right hand, straight up. A thumb to the side, not aligned to the hand of the other, will quickly become an Oops, there it goes (see above)!
Gathers your fingers together. There is no gap between them.
Shows an open palm that slightly faces upwards.
Makes complete contact with the inside of the other's palm, while your fingers firmly enclose it, without crushing.
Shakes simultaneously, in sync with the other, once or twice, from top to bottom.
Your turn now. Practice. Ask for feedback. Teach it to your subordinates or recruits.
From "Hello! " to "Done deal," your handshake should announce equality, not domination or submission.
You have a sticky situation at work or at home? This is your forum. Write to Julie and she will reply. Want more solutions to sticky situations? Go to Facebook, Twitter, Pinterest, or order your autographed copy of Etiquette: Confidence & Credibility. Planning a conference? Julie happily travels coast to coast and beyond, to present customized activities. With Julie's help gone will be awkwardness, embarrassment and faux-pas.
Follow HuffPost Canada Blogs on Facebook
Also on HuffPost:
Questionable Political Handshakes
President Harry Truman shakes hand with Soviet General Secretary Josef Stalin (right) and British Prime Minister Winston Churchill during the Potsdam Conference, which took place between July 17 and 25, 1945. Stalin's record on human rights was atrocious, with the death toll directly attributable to his rule reaching around 20 million people. He was also obviously a communist.

This photo shows Churchill and Stalin mid-hand shake at Livadia Palace in Yalta, Ukraine, on Feb. 13, 1945, but FDR, seated behind the two, also shook hands with the brutal dictator during the conference.

President George W. Bush was very close with King Abdullah of Saudi Arabia throughout his time in the White House, during which Bush was seen greeting his counterpart with a customary bow, kiss and even the occasional hand-hold. A close ally of the United States, Saudi Arabia has had a controversial record on human rights Abdullah's rule.

Obama shakes hands with then-Libyan Leader Muammar Gaddafi during the Group of Eight (G8) summit in L'Aquila, central Italy, on July 9, 2009. Less than two years later, international forces including the U.S., helped topple Gaddafi over concerns about his brutal suppression of a civil war. Gaddafi would ultimately be killed by rebel forces in October of 2011.

Bush laughs as he shakes hands with then-Egyptian President Hosni Mubarak during a bilateral meeting at the Four Seasons Resort in Sharm el-Sheikh on May 17, 2008. Mubarak had a terrible record on human rights. In 2012, following a military coup, the former strongman was sentenced to life in prison for his role in a crackdown that killed hundreds of protesters during the Arab Spring. He was later released from jail.

U.S. Vice President Richard Nixon and Cuban Prime Minister Fidel Castro leave Nixon's office April 19, 1959, after a two hour and 20 minute chat behind closed doors. The meeting had been listed on Castro's program as a 15 minute visit. In answer to a question, Castro said the meeting had been "very friendly."

Gingrich, then speaker of the House, shakes hands with then-Palestinian Leader Yasser Arafat at the beginning of a two-hour meeting in the West Bank town of Ramallah on May 27, 1998. Gingrich spoke out loudly and frequently against Arafat and the Palestinian role in peace talks throughout the 1990s, though he did also embrace the leader of the Palestinian Liberation Organization in 1993. During his run for president in 2011, he would say that he believed we had "invented Palestinian people who are in fact Arabs and historically part of the Arab community and they had the chance to go many places."

U.S. President Richard Nixon shakes hands with Chinese communist party leader Chairman Mao Tse-Tung, right, during Nixon's groundbreaking trip to China, Feb. 21, 1972, in Beijing.

Nixon puts his arm around the shoulder of President Nicolae Ceausescu of the Socialist Republic of Romania as the two men wave to cheering crowds at Otopeni Airport following official farewell ceremonies for Nixon on Aug. 3, 1969.

Chilean President Augusto Pinochet greets Secretary of State Harry Kissinger on his arrival at the President's office on June 8, 1976. Kissinger took up the issue of the Human Rights Commission which has raised objections to Chilean abuses of civil liberties, but stopped short of taking any direct American action against Chile in the Organization of American States meeting here. Thanks in part to Kissinger's help orchestrating the coup that led to the death of the democratically elected Salvador Allende, Pinochet's dictatorial rule extended up until 1998, though he relinquished the title of president in 1990. More than 3,200 people were executed or disappeared under his reign.

Syrian President Bashar Assad, right, greets then-U.S. House Speaker Nancy Pelosi, in Damascus, on April 4, 2007. Pelosi held talks with Syria's president despite White House objections, saying she pressed Bashar Assad over Syrian support for militant groups and passed him a peace message from Israel's prime minister. Assad has since been accused of widespread human rights abuses and war crimes in his attempts to suppress a violent civil war. The U.S. threatened to mount military action against Assad earlier this year following allegations that he had launched a chemical weapons attack on civilians.
Follow Julie Blais Comeau on Twitter: www.twitter.com/EtiquetteJulie