Sticky Situation: Eloping Without Mom's Approval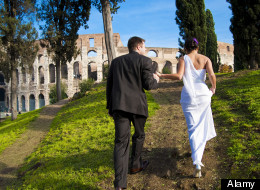 Sticky situation:

Dear Julie,

I've met a wonderful guy and we're planning on getting married sometime this fall. This will be a second wedding for both of us. Neither of us would like a large, elaborate wedding. We both had that the first time around. In fact, we want to simply elope and have a private ceremony with just the two of us.

Unfortunately, both my mother and his mother do not like this idea. His mother feels that weddings are not for the bride and groom, but for their family and friends (particularly family). My mother keeps saying things like "your dad and I could come, and we don't have to tell anybody."

I know that they both just want to help us celebrate our special day, and quite frankly if we could have a small family wedding, we would.

Unfortunately, we both have fairly large immediate families. On my side, I have nearly 50 people composed of parents, grandparents, siblings, nieces and nephews. I also have several very close first cousins, whom I would feel obligated to invite. This also means inviting all of my aunts and uncles, so as not to offend anyone. And, we would of course, have to reciprocate with all of his cousins and aunts and uncles, which would quickly spiral out of control.

Our solution is to have no one.

Is there anyway to convince our mothers? What do other couples who elope do?

Thanks
Solution(s):
Congratulations on your upcoming wedding!

I completely understand you wanting to forego all the pomp and circumstance of an elaborate wedding, especially since this is an encore wedding for both, you and your fiancé. As a mother of two sons, I also understand both of your mothers for wanting to share in the ritual of your union.

Elopement is not always the best marriage choice for a couple, but for a second wedding, it is a popular option.
Running away with the one you love, to privately get married, can have many benefits for the couple.
At the top of the advantages of a celebration just for two, come reduced costs and stress. These pluses provide the newlyweds with the possibility of spending their money and energy doing what they love.
Another bonus for this nuptial getaway is that no one, from your closest friends to your more distant cousins and colleagues, will feel that you are playing favourites. As your mother and future mother-in-law are expressing, this also means that some feelings may get hurt but, all are treated equally.
In the list of advantages, let's also not forget the romantic and exciting feelings that may be associated with the secrecy of this intimate and quick celebration.
And lastly, since it is only you and your significant other, what could go wrong? And, if something did go wrong in your special celebration just for two, who cares? You at least have the guarantee that your wedding gaffe will not find itself on Aunt Edna's Facebook page, for all to laugh at.
Without being a drive-through wedding, with Elvis as the officiant, an elopement wedding can be full of fairy tale moments that will be shared exclusively, with solely you and your future husband. By immortalizing your union with photos and video you will also have the possibility of sharing them, at a later date, if ever you wish to.
I have no desire to discourage you from your elopement. A wedding should be celebrated according to the choice of the future spouses.
Since you asked, a contemporary solution to your 'Sticky Situation' could be to hold a post-wedding party. To keep the fuss and fluff level down on the extravaganza meter, it could be a simple get-together with a guest list as long as you both agree to. Some ideas could be:
a potluck,
an afternoon tea,
a lobster bake by the beach or
an outdoor hockey game.
As proposed earlier, you could also share the love by showing the pics and clip of your wedding in an indoor or even outdoor setting. That visual show, with a cake and goodies, could be a simple and appreciated celebration.
Another suggestion, that could appease both mothers, could be to spend your last meal before, or first meal after, your wedding, with both set of parents.

Whatever you decide, I recommend that you speak to the matriarchs, from your heart and explain, as you did to me, your reason for elopoing. You could also add the list of benefits that I cited above. This will be an excellent opportunity for all of you to discuss and maybe even compromise. Isn't that what family does?
Although I wish you forever after love, I am sure that this will not be last time that you and your guy will have to discuss family affairs with your moms.
Good luck and best wishes!
Have a Sticky Situation yourself, write to julie@etiquettejulie.com and Julie will reply promptly. You can also ask your questions on her Facebook page. Julie also travels to give interactive conferences.
Javier Bardem and Penelope Cruz wed in July 2010 in a private ceremony in the Bahamas. They started dating in 2007, but did not confirm their relationship until after they tied the knot.

Orlando Bloom and Miranda Kerr were engaged for only a month before they sealed the deal in July 2010.

Megan Fox and Brian Austin Green wed on the beach in Hawaii in 2010 with only one guest -- Green's 8-year-old son.

Carey Mulligan and Marcus Mumford took the plunge in April 2012. The couple began dating in 2011, but met each other years earlier as childhood pen pals.

Julia Roberts married cameraman Danny Moder in a surprise ceremony on Roberts' New Mexico ranch in 2002. Moder proposed to Roberts in front of 60 close friends and family members at midnight on July 4. The guests then watched the pair go straight from engagement to wedded bliss.

Daneil Craig and Rach Weisz made their bond official in June 2011 in front of two guests -- two friends, plus Weisz's 4-year-old son and Craig's 18-year-old daughter.

Beyonce and Jay-Z married in April 2008 in New York after dating for six years. The pair had a small ceremony and then celebrated with a party at Jay-Z's Tribeca apartment.

Ben Affleck and Jennifer Garner got hitched in secret in June 2005 while Garner was pregnant their first child.

Facebook's creator Mark Zuckerberg and Priscilla Chan kept their nuptials secret and told guests they were attending a surprise graduation party for Chan in May 2012. The couple wed just after Chan had graduated from medical school in a backyard ceremony.

Harrison Ford and Calista Flockhart kept their June 2010 wedding under the radar and very low key. They married on the grounds of the Governer's Mansion in New Mexico, while Ford wore Wranglers and Flockhart, a white sundress.

Reese Witherspoon tied the knot for a second time in March 2011. She wed Jim Toth in a private ceremony while wearing a blush-colored gown.

Mandy Moore married musician Ryan Adams in a quiet wedding in March 2009 in Savannah, Ga. The ceremony only lasted eight minutes, but it had Moore teary-eyed by the end.

Gwyneth Paltrow and Chris Martin didn't have any family members at their Santa Barbara wedding in December 2003. The pair were expecting their first child at the time, and tied the knot shortly after making the baby announcement.

Brooke Shields and Chris Henchy were married on Catalina Island in a ceremony that surprised friends and family in April 2001. Shields' Vera Wang dress tipped off guests to the couple's wedding plans.

Will Smith and Jada Pinkett Smith tied the knot on New Year's Eve in 1997. Their nuptials were so secret that guest's IDs were checked not once, but twice before entry.
Follow Julie Blais Comeau on Twitter: www.twitter.com/EtiquetteJulie