There's Nothing Religious About Banning Gay-Straight Alliances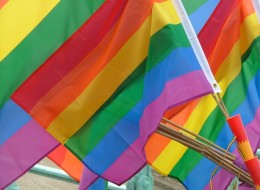 Recently, Liberal MLA Laurie Blakeman proposed Bill 202 that would allow students to start a Gay Straight Alliance club in their schools. Such a practice is already part of the policy of the Alberta New Democrats.
However, Alberta Premier Jim Prentice wants to counter the "unfair and unbalanced approach" of Bill 202. He believes that Bill 202 conflicts with parental rights on children's education. While he asserts that parents have a right to withdraw their children from discussions on matters of religion and human sexuality, he also wants to provide students with legal recourse if schools stand in the way of GSAs.
Likewise, the Wildrose party is proposing an amendment to Bill 202 that would allow exceptions for faith-based schools. Wildrose MLA Rob Anderson opined that there might be a more "effective way" to address student concerns on bullying in faith-based schools.
It is shameful that instead of affording protection, the Tories would want vulnerable youth to jump legal hoops for a safe space. Likewise, it is baffling that the Wildrose party would sideline GSAs, whose effectiveness is touted in the academic literature, in favour of vague "effective ways" to stem the bullying of LGBTQ students.
It seems that both the Wildrose and the Tories are trying to "balance" the "religious values" of their constituents with the need to protect our vulnerable children. However, this necessitates a reflection on the kind of "religious values" that are dictating the Wildrose and the Tories to pussyfoot around a simple bill whose objective is to curb harm to vulnerable students.
For Canada's LGBTQ youth, whose suicide statistics are startlingly high, GSAs may make a difference between life and death. Studies indicate that schools with GSAs have less instances of binge drinking, car crashes, arguments with family, and suicide risk among sexual minorities and even straight students, two thirds of whom experience anti-gay bullying.
Last year, Ottawa-based Muslim student Inshar Khan mentioned in his slam poetry on how homophobia affects the lives of straight students.
GSAs serve as safe spaces for both our LGBTQ and straight children. As such, believers, whose faith is shaped by love, have no choice but to support GSAs. A few years ago, Muslim MPP Yasir Naqvi stated in the context of a similar Bill 13 in Ottawa that "the issue of protecting kids from bullying transcends all faiths."
Jews inspired by Hillel the Elder's words, "That which is hateful to you, do not do to your fellow," Christians inspired by Christ's teaching, "Whatever you do unto the least of my brothers you do unto me," and Muslims inspired by the Prophet's words, "The best of people is one from whom good accrues to humanity," all staunchly support GSAs without hindrance.
About 50 Catholic colleges and universities in the U.S. have GSAs. Given Muslim families struggling with the religious and sexual identities of their children, Universalist Muslims and their allied progressive groups have come out in strong support of GSAs.
In Alberta, Rev. Nancy Steeves at Southminster Steinhauer United, Rabbi Kliel Rose of Temple Beth Shalom, Rabbi Shimon Moch of Temple Beth Ora, Rev. James Ravenscroft at St. Albert United, Rev. Brian Kiely of the Unitarian Church of Edmonton and the University of Alberta Unitarian Chaplain, Rev. Audrey Brooks fully support Bill 202.
Rabbi Moch states, "LGBTQ students, who often live in fear and confusion, need all the support they can get in every kind of school environment." He feels that since this initiative is not about acceptability of "gay sex," advocating for Bill 202 "should be within the reach of all our lawmakers, regardless of their personal and religious judgments."
Rev. Brooks asserts that in her experience as a teacher in junior and senior high schools, she did her best to help suicidal LGBTQ youth. She further states, that there was only so much teachers and counselors could do for "it was from their peers that they needed support and encouragement to be themselves with both family and community."
Rev. Ravenscroft opines, "Jesus reached out to those who were being ostracized for their difference. They were in a sense bullied in that context. How can Christians do other than Jesus?"
Indeed, the cardinal principle of many religions is to love our neighbours as we love ourselves. If we cannot show grace for our LGBTQ neighbours and families, are we really living up to that hallowed principle of our own faiths?
As such, perhaps the Wildrose and the Tories may wish to reflect on what type of "religious values" are they trying to "balance" against the lives of vulnerable youth.
ALSO ON HUFFPOST:
43 LGBT-Friendly Companies To Support
After the repeal of a major section of DOMA, Apple released a statement informing the public that, "Apple strongly supports marriage equality and we consider it a civil rights issue. We applaud the Supreme Court for its decisions today." Apple also reportedly expanded their insurance options for employees in 2011 to cover gender confirmation surgery. In October 2014, Apple CEO Tim Cook came out as gay stating, "I'm proud to be gay, and I consider being gay among the greatest gifts God has given me."

In May 2012, Target announced that 100 percent of the purchase price of any of its Pride merchandise would be donated to the pro-LGBT Family Equality Council. They also released this ad in early 2013. It should be noted that Target has also come under fire from gay rights advocates. In 2011, Lady Gaga nixed a deal with Target for an exclusive special edition of her "Born This Way" album after it was revealed that the brand had donated $150,000 to MN Forward, a group that was backing Tom Emmer's gubernatorial bid in Minnesota. Emmer was known for being especially conservative and not supporting equal rights for LGBT citizens.

In March 2013, Starbucks CEO Howard Schultz vocalized his public support for gay marriage when an investor complained that the company's support was eroding its bottom line. He reportedly told the investor, "If you feel respectfully that you can get a higher return [than] the 38 percent you got last year, it's a free country. You could sell your shares at Starbucks and buy shares in other companies."

Budweiser released this advertisement in March 2013, echoing the Human Rights Campaign's viral equality logo.

Prior to the Boy Scout's elimination of sexual orientation as youth membership criterion, Levi's found itself at odds with the organization's 'Three Gs' principle that guided the Scouts' membership model for more than 80 years -- that everyone is welcome, provided they are not gay, godless, or a girl. San Francisco-based Levi's pulled its Boy Scout funding due to the group's exclusion of gay and lesbian members. In response, Republican Dana Rohrabacher encouraged a "grassroots" counter-boycott of Levi Strauss. His Texan colleage, Tom DeLay, was even more extreme in his reaction: "When Texans find out that the Levi's they have on go toward attacks on the Boy Scouts of America... they'll take off those Levi's and burn them in the streets."

In 2005, Microsoft came under fire from anti-LGBT activists, including evangelical preacher Ken Hutcherson, for its support of a bill in that would outlaw discrimination against homosexuals at work in the state of Washington. In response, Microsoft withdrew its support of the bill, prompting outrage from gay and liberal activists and criticism from its staff and other big businesses. In response, Bill Gates backtracked again and admitted that he was surprised by the vehemence of the reaction. When the bill was defeated by a single vote, Microsoft's liberal critics blamed its withdrawal of support for the loss. Following the repeal of a major portion of DOMA, the company released the following statement: "Today's decision turns the page on a law that made it more difficult for us to treat all of our employees, regardless of sexual orientation, equally. Microsoft joined dozens of corporations, organizations and governments in support of the challenge to DOMA because of the significant costs and administrative burdens it imposed on employers and because it interfered with our efforts to promote diversity and equal opportunity in the workplace."

Amazon solidified their support for LGBT couples with this gay-inclusive Kindle Paperwhite ad, released in early 2013.

In 2009, American Apparel put its "Legalize Gay" t-shirt in storefront windows in Washinton, D.C. When a group of anti-LGBT vandals broke the store's windows, the company didn't back down, but rather agreed to send shirts to any group in D.C. that was fighting for gay rights.

Although Walt Disney World's Gay Days are not officially sanctioned by the theme park, they were the object of a Florida Family Association warning. The anti-LGBT group paid to have two planes fly over the park, with warning banners, to deter unsuspecting families from attending the park during Gay Days.

In 2005, the American Family Association launched a boycott campaign against Ford for being "the company which has done the most to affirm and promote the homosexual lifestyle." The group criticized Ford for donating money to gay-rights organizations (Ford offered to give up to $1,000 to the Gay and Lesbian Alliance Against Defamation for every Jaguar and Land Rover it sells to a member of GLAAD) and complained that Ford had sponsored Pride celebrations, advertised in gay-oriented publications and was "redefining the definition of the family to include homosexual marriage."

A May 2012 post on the American Family Association web site proclaimed, "AFA is promoting a boycott of Home Depot until it agrees to remain neutral in the homosexual culture war. The total number of people who have signed the Home Depot boycott pledge is 719,037." The pledge condemned Home Depot for giving "financial and corporate support to open displays of homosexual activism," because this helps expose "small children to lascivious displays of sexual conduct by homosexuals and cross-dressers." In response to the pledge, which was delivered at Home Depot's annual shareholder meeting, Chairman Blake responded, "We are, and will remain, committed to a culture that fosters an inclusive environment for our associates, our customers and communities in which we exist."

Expedia touched hearts around the world with this incredible advertisement, in which a father shares his process of coming to understand his daughter's lesbian identity and traveled across the country to attend her same-sex wedding.

Procter and Gamble, the owner of products such as Tide, Pampers diapers and Crest toothpaste, angered conservatives by opposing an anti-gay rights statute that would exempt gays and lesbians from special civil rights protection in its hometown of Cincinnati. In response, the American Family Association issued a boycott of some of P&G's most popular products and gathered petition signatures from almost 365,000 families urging Procter & Gamble to change its policy.

When Gap launched an ad campaign featuring two men pressed together under a shared t-shirt, anti-LGBT group called One Million Moms, which is part of the American Family Association, launched a boycott. The group stated, "GAP Inc. Brands, including Old Navy, Banana Republic, Piperlime and Athleta, does not deserve, nor will it get, money from conservative families across the country. Supporting GAP is not an option until they decide to remain neutral in the culture war. GAP needs to seriously consider how their immoral advertising affect the youth of our nation."

After it was discovered that PepsiCo gave a combined $1,000,000 to the Human Rights Campaign and PFLAG (Parents, Families and Friends of Lesbians and Gays) to promote the so-called "homosexual lifestyle" in the workplace, the American Family Accociation posted a "Boycott Pepsi Pledge," urging conservatives to stay away from Pepsi drinks, Frito Lay chips, Quaker Oats and Gatorade.

Following the Barilla Pasta backlash after chairman Guido Barilla made comments that the company would not feature LGBT families in their advertisements, and those who disagreed could "eat another brand of pasta," several other pasta companies came out in support of marriage equality. First Buitoni...

...then Garofalo...

...and finally Bertolli. What a branding moment!

Clothing company Banana Republic posted this image on their Facebook following the Supreme Court's repeal of a major portion of DOMA.

In 2011, when Old Navy planned to sell shirts to benefit the anti-suicide, anti-bullying It Gets Better project, the American Family Association urged members to "drop by your Old Navy store in your community and tell them you're not going to shop at Old Navy until they get their minds right."

The company that owns Oreo, Mondelēz International, posted a photo of a rainbow sextuple-stacked cookie to its Facebook page in honor of Pride month in June 2012. Additionally, following the repeal of DOMA the company released the following statement: "At Mondelēz International, being open and inclusive is one of our core values and essential to our growth strategy. Our commitment includes welcoming each employee's unique skills and perspectives. And it extends beyond the workplace, too, where we have a long history of support for underrepresented communities. We heartily support equal rights for LGBT people."

In December 2011, a Macy's dressing room attendant prevented a transgender woman from using a female dressing room because it violated her religious beliefs. Macy's went on to fire the employee.

General Mills has a long history of supporting LGBT rights as both a parent company and through its individual products. In October 2013, Betty Crocker, owned by General Mills, released this video in conjunction with its Families Project, an initiative that seeks to evidence their support for LGBT families. Other products owned by General Mills that contributed to LGBT equality, and have subsequently been boycotted by the The National Organization for Marriage, include Cheerios, Wheaties, Pillsbury and Green Giant.

After J.C. Penny chose Ellen DeGeneres, an openly lesbian celebrity, as its spokesperson, One Million Mom's spearheaded an infamous boycott of the department store.

In 2006, Walgreen's was a Platinum-Level sponsor of the Chicago Gay Games.

Fashion designer and activist Kenneth Cole has long been an activist for LGBT rights, having partnered with the Human Rights Campaign in 2013 to encourage Americans to support marriage equality.

Absolut Vodka has long been a supporter of the LGBT community, and also released this advertisement in conjunction with the Human Rights Campaign's viral equality logo. Other vodka companies followed suit...

...including Smirnoff.

"As a signatory to the amicus brief in support of Edith Windsor and the overturn of the Defense of Marriage Act, Citi welcomes today's ruling from the U.S. Supreme Court. Citi promotes a work environment where diversity is embraced and where our differences are valued and respected." -- A statement from Citi after the Supreme Court ruled a major portion of DOMA unconstitutional

Nike has been a highly visible supporter of the LGBT community for quite some time, and released the following statement after the repeal of a major portion of DOMA: "NIKE, Inc., has long supported the recognition of same-sex civil marriage, domestic partnerships and workplace non-discrimination, and we are pleased the Supreme Court has ruled in favor of marriage equality. NIKE, Inc., endorsed and signed the business coalition amicus brief opposing the Defense of Marriage Act because we are a company committed to diversity and inclusion, and we believe all of our employees should be treated equally."

Ben & Jerry's has been a vocal supporter of LGBT rights for quite some time. Not only did the company post this on their Facebook following the Supreme Court's repeal of a major portion of DOMA, but they've released ice cream flavors to reflect their position, including "Apple-y Ever After" and "Hubby Hubby."

Marc Jacob's sent out this Tweet after the Supreme Court ruled a major portion of DOMA unconstitutional.

Following Pride month in June 2013, Google changed its search box to a rainbow whenever a user searched for a "LGBT"-related term.

After the Supreme Court's repeal of a major portion of DOMA, eBay released the following statement: "eBay is pleased with the Supreme Court's decision strike down part of DOMA. As a growing global company with a diverse workforce of 31,500 employees worldwide, eBay embraces the core values of non-discrimination, diversity and inclusion. Our support for marriage equality is a natural extension of our support for eBay's LGBT employees and a reflection of our company's commitment to diversity, inclusion and equality in the workplace."

Orbitiz released this statement following the repeal of a major portion of DOMA: "Orbitz has a long-history and deep commitment to promoting tolerance, non-discrimination and equality as an integral part of our employment practices as well as our marketing efforts... we applaud today's Supreme Court decision."

jetBlue released the following statement in support of LGBT rights after the repeal of a major portion of DOMA: "We joined other leading companies in signing the amicus brief in support of the alignment of state and federal law, and are pleased to see today's ruling in line with streamlined business practices and the general direction of the country."

Mastercard offered this ad in response to the repeal of a major portion of DOMA by the Supreme Court.

Facebook posted this image and accompanying statement following the Supreme Court's repeal of a major portion of DOMA.

...as did Instagram.

AT&T declared that their company believes "Love Is Love" following the repeal of a major portion of DOMA.

In June of 2009, Safeway honored Pride by putting large gay/lesbian Pride posters in its stores across America. In response to this celebration of the "gay lifestyle," the American Family Association urged conservatives to contact their local Safeway, asked it to "stop promoting homosexuality" and "let Safeway know if they continue, you will consider grocery shopping with their competitors."

"We are pleased with the Supreme Court's decision... We believe that all lawfully married employees should be treated by our company in the same way." -- Johnson & Johnson following the Supreme Court's repeal of a major portion of DOMA

Yes, we're owned by AOL, but you get the idea.