Hateful Muslim Imams Do Not Speak For Islam
A few weeks ago a video surfaced on YouTube about a Canadian imam who supported the death punishment for apostasy. Such videos, of which there is no dearth, capture the comments of Canadian imams who preach wife beating, condemn gays and support medieval punishments and the Caliphate.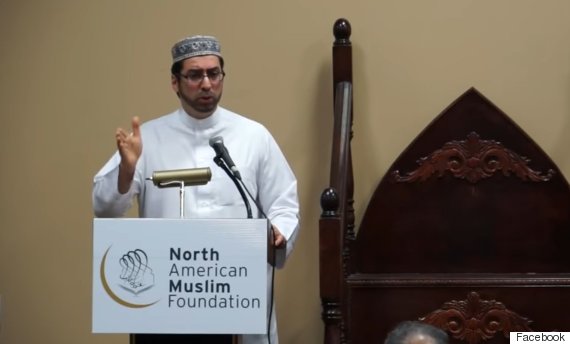 (Photo: Facebook)
These videos stoke Islamophobia, as evident from online comments that call for the exile or extermination of Muslims. This has dire consequences especially under the current climate where mosques have been burned, Muslim women have been assaulted, worshippers have been murdered and a Muslim MP has been threatened for her motion on condemning Islamophobia.
Muslims are tired of being constantly on the defence, having to answer for the crimes of radical groups like ISIS, and experiencing prejudice from bigots in Canada.
Those who circulate such videos paint all Muslims with the same hateful brush. The contribution of Muslim researchers, doctors, teachers, engineers, taxi drivers, janitors, et al. are ignored and Muslims are reduced to the viewpoints of rabid Shaykhs who confirm Orientalist tropes by selling Islam as a caricature of a medieval past.
Critics of Islam cannot paint millions of diverse Muslims in Canada with the viewpoints of a few clerics.
Yet, this is no time to play hot potato in relinquishing responsibility for the vicious cycle of hate where religious supremacism and xenophobia feed off each other.
Islamophobia does not end by apprehending bigots just as terrorism does not end by bombing terrorists. They end when systems of oppression are dismantled. That happens when everyone plays their part -- less foreign intervention and bombing on the one hand and less supremacist speakers and putrid ideologies on the other hand.
Critics of Islam cannot paint millions of diverse Muslims in Canada with the viewpoints of a few clerics while ignoring the voices of Muslims that do not fit their agenda. Likewise, Muslims cannot remain quiet when supremacist speakers speak on behalf of their religion.
The Canadian cleric whose video on death for apostasy was circulated last month, had the following to say on apostasy:
"When a person in an Islamic state apostasizes, leaves religion, let Allah be a witness that I am telling the truth that the punishment for apostasy is death. Anybody telling you on a minbar (pulpit) anything else, wallahil azeem (and Allah is great), they are lying to you, this is an Islamic law, if you apostasize, if you turn your back from Islam, according to the law it is death ...
The viewpoints of this imam are completely at loggerheads with hundreds of other Muslim imams, scholars and academics, as follows.
1. Imam Mohamad Jebara
Ottawa based Imam Jebara clearly refers to those who reject critical thinking and isolate their devotees with threats of death for apostasy as those who follow a cult. He opines:
We are looked upon with suspicion by those on the outside, while being viewed as traitors and deviant apostates by extremists who claim to be Muslims. We stand between a rock and a hard place.
2. Dr. Shabir Ally
Toronto based Dr. Shabir Ally has many videos on apostasy. In one video he goes to explain how the texts attributed to the Prophet may not be authentic and should be confined by time and circumstance by the Qur'anic verse on there being no compulsion in religion. In another video he expresses:
"The apostasy law has been much misunderstood in Islam, it became a standard law that the apostate should be put to death, ... quite the contrary the Qur'an speaks of people embracing Islam, leaving it, toying with it, going back and forth, and if the Prophet Muhammad himself were killing people for doing such thing, they wouldn't dare to do it in Medina where Prophet Muhammad had risen to power, so it's very clear from the Qur'anic evidence that there should have been no such law in Islam that the apostate should be killed."
3. Dr. Khalid Zaheer and Al Mawrid Canada
Like Dr. Shabir Ally, Dr. Khalid Zaheer, who is affiliated with Al Mawrid Canada, has expressed that the popular Muslim understanding on apostasy goes against the Qur'an. He asserts that the Qur'an restricts capital punishment to only two cases, murder and creating disorder, and that apostasy does not fall in either category.
Muslim community stakeholders need to send out a strong message that such speakers, some of whom are quite popular, do not speak for them.
4. Alia Hogben
The Executive Director of the Canadian Council of Muslim Women (CCMW), Alia Hogben, has written in her blog that women groups experience hostility from conservative, traditional Muslims and that the awful punishments for apostasy and adultery prescribed by jurists are not mentioned in the Qur'an.
5. Dr. Mohammad Fadel and 100+ notable Islamic voices
The blog post on 100+ notable Islamic voices captures Muslim voices across time from the 8th century Caliph Umar ibn Abdul Aziz and from academics, scholars, imams, community leaders and students that indicate how the apostasy law is contrary to Islamic values and principles. The blog post mentions:
"The longstanding problem of the traditional position, as held by Classical jurists or scholars, can be explained and excused as not being able to see apostasy, an issue of pure freedom of faith and conscience, separate from treason against the community or the state."
Among these voices is that of University of Toronto Law Professor Dr. Fadel, who mentions that the death punishment for apostasy was not a universal position. He reiterates that apostasy was viewed in the context of political and military treason and defection instead of freedom of conscience.
The above indicates how the viewpoints of the hateful Canadian cleric are in stark contrast to hundreds of Muslim academics and community leaders.
This means instead of milking hateful imams for political gains and stoking more hatred in Canada, critics of Islam should work with Muslim community stakeholders to isolate such hateful voices.
On their part Muslim community stakeholders need to send out a strong message that such speakers, some of whom are quite popular, do not speak for them. This necessitates nurturing the tradition of critical thinking and refusing the pulpit to hatemongers.
Follow HuffPost Canada Blogs on Facebook
Also on HuffPost:
Muslim Leaders Condemn Terrorism
"The truth is that killing innocent people is always wrong — and no argument or excuse, no matter how deeply believed, can ever make it right. No religion on earth condones the killing of innocent people, no faith tradition tolerates the random killing of our brothers and sisters on this earth. ... Islamic law is clearly against terrorism, against any kind of deliberate killing of civilians or similar 'collateral damage.' " -What's Right With Islam Is What's Right With America, via The New York Times

"We will never allow ourselves to be hijacked by this attempt, and we will not allow the perception to be that there is any religion in the world that condones the taking of innocent life," said Nihad Awad, national executive director of the Council on American-Islamic Relations.

"Islam does not allow terrorism at any cost. Islam condemns all violence and terrorism plaguing the world today. Muslims should demonstrate a love for peace and unity." -Hajj Sermon 2013

Mustafa Mashhur, General Guide, Muslim Brotherhood, Egypt; Qazi Hussain Ahmed, Ameer, Jamaat-e-Islami Pakistan, Pakistan; Muti Rahman Nizami, Ameer, Jamaat-e-Islami Bangladesh, Bangladesh; Shaykh Ahmad Yassin, Founder, Islamic Resistance Movement (Hamas), Palestine; Rashid Ghannoushi, President, Nahda Renaissance Movement, Tunisia; Fazil Nour, President, PAS – Parti Islam SeMalaysia, Malaysia; and 40 other Muslim scholars and politicians: "The undersigned, leaders of Islamic movements, are horrified by the events of Tuesday 11 September 2001 in the United States which resulted in massive killing, destruction and attack on innocent lives. We express our deepest sympathies and sorrow. We condemn, in the strongest terms, the incidents, which are against all human and Islamic norms. This is grounded in the Noble Laws of Islam which forbid all forms of attacks on innocents. God Almighty says in the Holy Qur'an: 'No bearer of burdens can bear the burden of another' (Surah al-Isra 17:15)." MSANews, September 14, 2001

"We condemn the criminal and terrorist act that targeted a church in Baghdad", Foreign Minister Nasser Judeh told a news conference Monday. "We condemn all forms of terrorism, particularly targeting civilians. Jordan supports all efforts seeking to enhance Iraq's security," he pointed out. Judeh said King Abdullah II hd expressed his sympathy and heartfelt condolences to the victims of the attack and wished the injured a speedy recovery. -Aina.org

Shaykh Yusuf Qaradawi, Qatar; Tariq Bishri, Egypt; Muhammad S. Awwa, Egypt; Fahmi Huwaydi, Egypt; Haytham Khayyat, Syria; Shaykh Taha Jabir al-Alwani, U.S.: "All Muslims ought to be united against all those who terrorize the innocents, and those who permit the killing of non-combatants without a justifiable reason. Islam has declared the spilling of blood and the destruction of property as absolute prohibitions until the Day of Judgment. … [It is] necessary to apprehend the true perpetrators of these crimes, as well as those who aid and abet them through incitement, financing or other support. They must be brought to justice in an impartial court of law and [punished] appropriately. … [It is] a duty of Muslims to participate in this effort with all possible means." Statement of September 27, 2001.

See more statements from Muslim leaders from around the world here And here Here Also And here.