I'm Grateful For These Unsung Straight Allies Of LGBTQ Muslims
Sometimes atheists, feminists and LGBTQ rights activists create a new orthodoxy when they demean those who do not share their views. In their critiques they also dictate how allies should think and when they should talk. Battling others for being judgmental and lacking compassion, they become the very embodiment of what they oppose.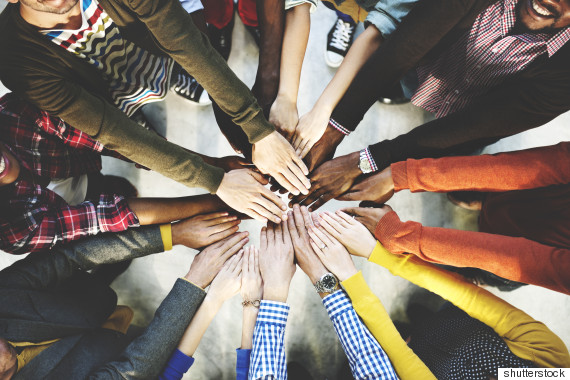 (Photo: Shutterstock)
Not all traditionally conservative people are judgmental, sexist or homophobic. They may reject a worldview without God and traditional rules of ethical conduct while being compassionate neighbours and friends.
Disagreement is part of the human experience. Therefore, belittling allies in aggressive tones, dictating their conduct and thought process as if we were the fonts of wisdom by virtue of being oppressed is unwarranted.
Muslim activist Amanda Quraishi aptly captures this new culture of constant haranguing as follows:
"The problem with giving a shit about anything is that as soon as people see that you do, they start complaining that you don't give enough of a shit ... or that you should be giving more of a shit about something else. This never happens to people who give no shits at all."
In order to resist this toxic culture of demeaning others we have to harness the spirit of simple gratitude. Here is a list of unsung straight Muslim allies who have stood by the LGBTQ Muslim community against Islamophobia, homophobia and transphobia in their respective capacities.
1) Ayman Fadel
Muslim activist Ayman Fadel has carefully reviewed our Journal of Homosexuality article and the book Islamic Law and Muslim Same-Sex Unions. He caught errors that escaped our eyes and painstakingly edited and formatted our text. Post-Orlando, he promoted our book, suggesting that Muslim communities should keep it in their libraries.
Fadel is very intellectually honest and an excellent human being. In his blog "My Journey from Homophobe to Less Bad of a Human!", he wrote:
"I knew how to pray, fast, read the Qur'an and abstain from pork and alcohol, but I did not know to avoid insulting people. ... I wish I could claim that through repentance and study and prayer I changed, but it was actually a non-Muslim friend who told me that the next day she would be identified in the student newspaper at University of Virginia as a leader of an LGBT group on campus. She was worried what I'd think, no doubt because she had heard me spouting off with anti-gay slurs. I immediately told her it would not change my affection for her in the least."
2) Laury Silvers
Muslim academic Laury Silvers helped co-found the religiously plural, gender-equal and LGBTQ-affirming prayer space in Toronto known as the el-Tawhid Juma Circle. She has participated in several dialogues and initiatives on Muslim LGBTQ concerns and contributed to a chapter in the book, "Struggling in Good Faith: LGBTQI Inclusion from 13 American Religious Perspectives."
She includes discussions on sexual minorities in the courses she teaches at the University of Toronto. This year, she invited me to speak to her class. She often asserts:
"LGBTQ Muslims have been in the forefront of supporting Muslim women's rights. ... Yet they are often left out of our telling of that history. ... Too many progressive Muslim women (and men) see LGBTQ Muslims as the third rail in 'progress' because either they make them feel uncomfortable or they are afraid of alienating more conservative elements."
"Dads with hennaed beards and dark sadjah marks have turned out to be some of the most fervent supporters."
-- Nakia Jackson
3) Nakia Jackson
Muslim activist Nakia Jackson is a proud mother of an autistic son. She has been quite active on issues pertaining to Muslim women, black Muslims, LGBTQ Muslims and their intersections. She has led prayers in gender equal and LGBTQ affirming Muslim spaces on the basis on what she calls "shared authority." Supporting a bisexual Muslim on coming out, she wrote:
"Be prepared to be surprised. Wine-drinking Muslim moms have proven to be curiously homophobic or biphobic. Dads with hennaed beards and dark sadjah marks have turned out to be some of the most fervent supporters of their gay, lesbian, bisexual and transgender children."
4) Ani Zonneveld
Ani Zonneveld of U.S.-based Muslims for Progressive Values has been a staunch ally of LGBTQ Muslims. She works relentlessly on the issue and has offered affirming resources along with officiating Muslim same-sex unions.
5) Shahla Khan Salter
A single mother and a lawyer, Shahla Khan Salter of Canada based Universalist Muslims has marched in Pride parades, offered reflection for Pride service and continues to offer her unstinted support to LGBTQ Muslims. Writing against bullying of LGBTQ students, she mentioned:
"In Muslim communities, we may not all agree on whether same-sex sexual relations are permissible. Certainly discord on this issue is not unique to Muslims. But all that schools are doing to promote tolerance must not be undone in the name of religion. There is no room for hatred and intolerance in any religion -- and in my humble opinion, especially in Islam."
One hopes that as the LGBTQ Muslim community matures, they will remember and honour these courageous straight Muslim allies.
6) Khaleel Mohammed
Imam Mohammed developed and taught a course in Muslim sexuality at San Diego State University. He has given several presentations on LGBTQ concerns in Islam and has offered "methods of arguing against the fundamentalist interpretations of proscription."
7) Jeewan Chanicka
In 2015, a Muslim school principal in Toronto, Chanicka, resisted conservative parents when they attacked the sex education curriculum in Ontario. He firmly expressed that "in the school system, children must learn that there are different kinds of families and to learn to respect those differences."
He expressed his solidarity again when he rallied dozens of Muslim organizations and faith leaders across Canada to sign onto a public statement against homophobia and transphobia in the wake of the Orlando shooting.

Other straight Muslim allies include Spain based Abdennur Prado, U.K. based Farouk Peru, U.S. based Pamela Taylor and the Grand Mufti of Zambia, Sheikh Assadullah Mwale.
However, this is not an exhaustive list of straight Muslim allies. One hopes that as the LGBTQ Muslim community matures, they will remember and honour these courageous straight Muslim allies.
Follow HuffPost Canada Blogs on Facebook
Also on HuffPost:
Muslim Women Who Made A Difference In 2016
Ilhan Omar was born in Somalia and immigrated to the U.S. at the age of 12 after spending four years in a refugee camp in Kenya. On Nov. 8, she became the first Somali-American Muslim woman elected to a state legislature, with a victory in Minnesota. The 34-year-old campaigned on a progressive platform, advocating for affordable college, criminal justice reform, economic equality and clean energy."It is the land of liberty and justice for all, but we have to work for it," Omar told The Huffington Post in October. "Our democracy is great, but it's fragile. It's come through a lot of progress, and we need to continue that progress to make it actually 'justice for all.'"

Fencer Ibtihaj Muhammad made history this year as the first U.S. athlete to compete at the Olympics in a hijab. Though she didn't win a medal, Muhammad still scored an important victory as one of the most recognizable athletes entering the Rio Olympics and an important reminder of the obstacles Muslim athletes often have to overcome to pursue their dreams."It's a tough political environment we're in right now. Muslims are under the microscope," Muhammad said during the U.S. Olympic Committee summit in Los Angeles. "It's all really a big dream — I don't think it's hit me yet. The honor of representing Muslim and black women is one I don't take lightly."

Prominent Muslim activist Linda Sarsour is one of three women co-chairing the Women's March On Washington, scheduled to take place in Washington D.C. on January 21, 2017. The event will fall a day after President-elect Donald Trump is sworn into office and aims to send the message that activists "will not rest until women have parity and equity at all levels of leadership in society." More than 100,000 people have rsvped saying they plan on attending, according to the Facebook event page."Donald Trump's administration is a nightmare being manifested into an administration," Sarsour told The Huffington Post. "It's important we women show we are not afraid."

No one can forget Ghazala Khan's graceful presence at the Democratic National Convention in July, nor how then-Republican nominee Donald Trump attacked her for not speaking as her husband described their son, U.S. Army Capt. Humayun Khan. Khan responded to Trump's bigoted statements in an op-ed published on The Washington Post shortly after the convention."Without saying a thing, all the world, all America, felt my pain," Khan wrote. "I am a Gold Star mother. Whoever saw me felt me in their heart." The incident inspired hundreds of other Muslim American women to fire back at Trump on social media with the hashtag #CanYouHearUsNow. Their voices rang loud and clear.

Writer and entrepreneur Amani Al-Khatahtbeh is just 24 years old and has already made a name for herself as one of the most prominent Muslim media personalities in the U.S. today. Al-Khatahtbeh is editor-in-chief of MuslimGirl.com, a website she founded when she was 17, and she recently published a memoir describing what it was like growing up Muslim in a post-9/11 America. Al-Khatahtbeh regularly opines about issues of Islamophobia, diversity and representation in the media. During a panel at The White House's first United State of Women Summit, Al-Khatahtbeh said: "One of the most important things for us to do to amplify [Muslim] voices is to pass the mic whenever we have it. If there's someone that can speak to a lived experience that you cannot, do not take up that space, do not speak on their behalf, let them speak for themselves." Preach.

The multi-talented Rana Abdelhamid, founder of the Women's Initiative for Self-Empowerment, has dedicated her life to helping Muslim women find strength within themselves to combat Islamophobia. Not only did she create inspiring photography series "Hijabis of New York," a Humans Of New York-spinoff, but she also teaches self-defense workshops for Muslim women, who are overwhelmingly targeted in acts of Islamophobic violence. "There's something to it when [Muslim women are] leading our own empowerment movement,"Abdelhamid told The Huffington Post in January.

Well-known Muslim beauty blogger Nura Afia made history in November by becoming CoverGirl's first ambassador who wears a hijab. With her CoverGirl contract, Afia will appear in commercials as well as a giant billboard in New York's Times Square alongside celebrity representatives like Sofia Vergara and Katy Perry. "I feel proud to be part of a movement that is showing the hijab in a positive light for once. The more of us who can wear them as representatives of these big household names on TV or billboards the better," Afia told The New York Times.

Teen poets Kiran Waqar, Balkisa Abdikadir, Hawa Adam and Lena Ginawi comprise the slam poetry quartet, Muslim Girls Making Change, and that's exactly what they do. The teens participated in the international youth poetry festival Brave New Voices, where they presented powerful poems on topics ranging from identity to bigotry."Whenever you hear the word terrorism I don't want the first thing you think about is Islam, because Islam, to me, is a religion of peace," Ginawi told the Associated Press.

Noor Tagouri, a 22-year-old journalist, became the first woman featured in Playboy wearing a hijab in September. Noor took part in the magazine's Renegades issue, a spread devoted to risk-takers and rule-breakers. The journalist "makes a surprising bold case for modesty," Playboy said in its article."I believe in rebellion as a form of honestly," she said during a Tedx Talk in 2015. "To be our most authentic self is to rebellious."

Chicago-based self-defense instructor Zaineb Abdulla responded to the fear many in the Muslim community were feeling after the election by launching a "Hate Crime Survival Seminar" in November. Abdulla hosts the two-hour long self-defense workshops for Muslim women at Deaf Planet Soul, a Chicago non-profit that works with people who are deaf and hard-of-hearing. She also posted two guide videos on how to deflect attackers who try to grab a woman by her hijab -- both of which went viral in a matter of days."Our self defense classes and Hate Crime Survival Seminars are designed to give women the tools they need to stand up and fight back," she told The Huffington Post. "By working to increase self esteem and self confidence in addition to basic self defense knowledge, we are strengthening women in body, mind and spirit."

Islamic fashion has reached mainstream clothing outlets like H&M and Dolce & Gabbana in recent years. But Lisa Vogl, a photographer who converted to Islam in 2011, took it a step further by opening her own modest clothing boutique in a mainstream mall in Florida. Vogl's Verona Collection designs and sells hijabs, dresses, cardigans, and activewear, and celebrated the grand opening of its new shop at Orlando Fashion Square mall in May.