Muslim Community Should Stand Behind Its Progressive Bloggers
Recently, ex-Muslim atheists complained that their pages are increasingly being blocked on Facebook. They have created a petition here to ask Facebook to protect one of its most vulnerable communities.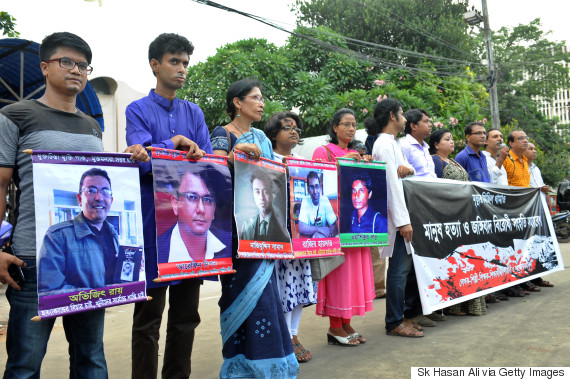 Bangladeshi social activists gathered in a protest against the recent gruesome killing of bloggers, writers and minority people, in Dhaka, Bangladesh on June 10. (Photo: Sk Hasan Ali/Corbis via Getty Images)
This mob behaviour is not innocuous for it has led to the death of secular bloggers in Bangladesh and Maldives. A Christian governor in Indonesia was also recently sentenced to imprisonment for blasphemy.
While a tiny minority perpetrates these heinous acts, it is the narrative stoked by a sizable mass of Muslims that pushes those at the cusp to engage in the unthinkable. Even a scholar who rejects mob lynching and capital punishment leaves "room for lighter sentences."
This narrative affects not just atheists but also progressive believers with viewpoints disdained by the mob majority.
Consistency demands that those who defend Islam through identity politics and freedom of expression in secular countries actually support the same for others living under precarious conditions in Muslim countries.
However, many such defenders of Islam claim that secular bloggers should respect the law of the land. For them Muslim countries have the right to abide by their own laws without dictations by the West. One Muslim academic writes:
"Why must we judge our values by their standards? And what right do they really have to judge us."
Engaging in apologetics on hudud (Islamic punishments), another academic writes that such punishments in Saudi Arabia "are still very rare."
Once they are declared non-Muslim, their blood could technically be spilled through judicial process.
Bloggers who engage in satire and critique of religion are often targeted through blasphemy and apostasy charges. Once they are declared non-Muslim, their blood could technically be spilled through judicial process.
Such apostasy charges are promoted not only by reactionary young Muslims but also esteemed scholars of Islam. The following shows how differences of opinion can easily lead to apostasy and blasphemy charges.
1) Supporting evolution
Muslim philosopher Seyyed Hossein Nasr states:
"Anyone who identifies paradise with some place in Africa where Adam gradually evolved is guilty of the worst kind of heresy theologically speaking. Such people are not serious Muslims anymore."
The late Saudi scholar Bin Baz also declared that Muslims who claim that man descended from apes are heretics. Other scholars like al-Hawali hold similar opinions.
2) Justifying homosexuality
Commenting on the punishment for homosexuality, popular Muslim scholar Bilal Philips expressed in Germany:
"I am not calling for the application of that law here, that is in a society where people have agreed to live by that law ... any Muslim who says I don't stand for this law, I don't believe in this law, then you have to question that person's Islam, is he really a Muslim, or is she really a Muslim."
Likewise, commenting on homosexuality, Muslim academic Yasir Qadhi writes that, "to stand up and justify it, or defend it, or write articles claiming that it is Islamic, without a doubt constitutes kufr (apostasy), and not merely sin."
Qadhi is not alone in this opinion. Many contemporary Muslim scholars can easily buttress this position from classical legal manuals.
3) Reproaching another for taking a concubine
Muslim academic, Dr. Kecia Ali quotes a 17th century chief jurist of Damascus, Haskafi, in her book Sexual Ethics and Islam, as follows:
"If a man has four free [wives] and a thousand concubines and wants to buy another [concubine] and a man reproaches him for that, it will be as if [the man] had committed unbelief."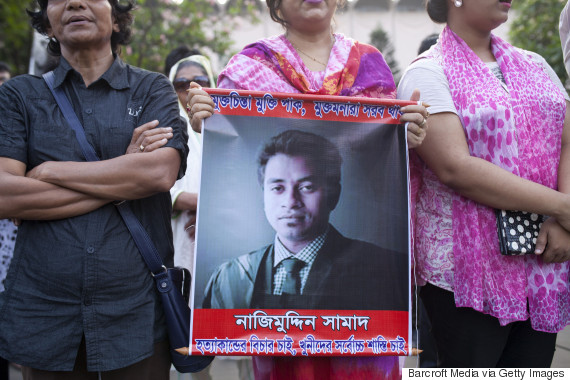 Police suspect 28-year-old Nazimuddin Samad was targeted for his outspoken atheism in the Muslim majority countryof Bangladesh. (Photo: Zakir Hossain Chowdhury/Barcro/Barcroft Media via Getty Images)
4) Contextualizing inheritance laws
The express Qur'anic text awards male offsprings twice the share in inheritance as women. There are many Muslim scholars who contextualize such texts based on the socio-economic milieu and therefore apportion equal shares especially when women bear equal financial responsibility in contemporary times.
However, academics like Yasir Qadhi state:
"I would be unwilling to call for reform in, say, the Islamic laws of inheritance, since these have been explicitly laid out in the Sacred Texts. If some people consider rejecting the explicit texts of the Quran to be 'Islamic feminism', then I view it as being a manifestation of kufr (apostasy), and you count me an ardent opponent of any such endeavor."
5) Rejecting Slavery
Mufti Taqi Usmani, one of the most influential clerics in the Indian subcontinent, writes on the permissibility of slavery in Islam as follows.
"Thus, the clear manifest truth is that taking slaves is permissible in Islam, with its laws and its limits which have preceded, and nothing has abrogated it, and there are wisdoms in this which we have explained, and the opinion of its abrogation is rejected and is against consensus ..."
While he does not explicitly call for apostasy charges, rejecting consensus potentially invites such charges.
Apologists go at great length to defend classical Islamic positions. The same concern, however, is muted when real people suffer under apostasy and blasphemy charges. In some sense, they are tacitly complicit in the oppression of free thinkers.
There is no level playing field between Muslim apologists and secular bloggers.
Atheists in general are a brave lot for they do not console themselves on the injustices and suffering in this life with a Hereafter.
However, Ayatollah Murtaza Mutahhari writes:
"In my view, if there are individuals who do good to other people ... without any expectation, ... even if they know that no benefit will accrue to them and not even a single person will come to know of what they did or say so much as 'God bless you' to them ... love of good and justice and doing good because it is good and just and worthy, ... it is not far-fetched that such people actually will not be resurrected among the unbelievers, though by their tongues they are considered deniers."
There is no compulsion in religion. But can Muslim apologists overcome their perceived victimhood to support vulnerable bloggers?
Follow HuffPost Canada Blogs on Facebook
Also on HuffPost:
Muslim Women Who Made A Difference In 2016
Ilhan Omar was born in Somalia and immigrated to the U.S. at the age of 12 after spending four years in a refugee camp in Kenya. On Nov. 8, she became the first Somali-American Muslim woman elected to a state legislature, with a victory in Minnesota. The 34-year-old campaigned on a progressive platform, advocating for affordable college, criminal justice reform, economic equality and clean energy."It is the land of liberty and justice for all, but we have to work for it," Omar told The Huffington Post in October. "Our democracy is great, but it's fragile. It's come through a lot of progress, and we need to continue that progress to make it actually 'justice for all.'"

Fencer Ibtihaj Muhammad made history this year as the first U.S. athlete to compete at the Olympics in a hijab. Though she didn't win a medal, Muhammad still scored an important victory as one of the most recognizable athletes entering the Rio Olympics and an important reminder of the obstacles Muslim athletes often have to overcome to pursue their dreams."It's a tough political environment we're in right now. Muslims are under the microscope," Muhammad said during the U.S. Olympic Committee summit in Los Angeles. "It's all really a big dream — I don't think it's hit me yet. The honor of representing Muslim and black women is one I don't take lightly."

Prominent Muslim activist Linda Sarsour is one of three women co-chairing the Women's March On Washington, scheduled to take place in Washington D.C. on January 21, 2017. The event will fall a day after President-elect Donald Trump is sworn into office and aims to send the message that activists "will not rest until women have parity and equity at all levels of leadership in society." More than 100,000 people have rsvped saying they plan on attending, according to the Facebook event page."Donald Trump's administration is a nightmare being manifested into an administration," Sarsour told The Huffington Post. "It's important we women show we are not afraid."

No one can forget Ghazala Khan's graceful presence at the Democratic National Convention in July, nor how then-Republican nominee Donald Trump attacked her for not speaking as her husband described their son, U.S. Army Capt. Humayun Khan. Khan responded to Trump's bigoted statements in an op-ed published on The Washington Post shortly after the convention."Without saying a thing, all the world, all America, felt my pain," Khan wrote. "I am a Gold Star mother. Whoever saw me felt me in their heart." The incident inspired hundreds of other Muslim American women to fire back at Trump on social media with the hashtag #CanYouHearUsNow. Their voices rang loud and clear.

Writer and entrepreneur Amani Al-Khatahtbeh is just 24 years old and has already made a name for herself as one of the most prominent Muslim media personalities in the U.S. today. Al-Khatahtbeh is editor-in-chief of MuslimGirl.com, a website she founded when she was 17, and she recently published a memoir describing what it was like growing up Muslim in a post-9/11 America. Al-Khatahtbeh regularly opines about issues of Islamophobia, diversity and representation in the media. During a panel at The White House's first United State of Women Summit, Al-Khatahtbeh said: "One of the most important things for us to do to amplify [Muslim] voices is to pass the mic whenever we have it. If there's someone that can speak to a lived experience that you cannot, do not take up that space, do not speak on their behalf, let them speak for themselves." Preach.

The multi-talented Rana Abdelhamid, founder of the Women's Initiative for Self-Empowerment, has dedicated her life to helping Muslim women find strength within themselves to combat Islamophobia. Not only did she create inspiring photography series "Hijabis of New York," a Humans Of New York-spinoff, but she also teaches self-defense workshops for Muslim women, who are overwhelmingly targeted in acts of Islamophobic violence. "There's something to it when [Muslim women are] leading our own empowerment movement,"Abdelhamid told The Huffington Post in January.

Well-known Muslim beauty blogger Nura Afia made history in November by becoming CoverGirl's first ambassador who wears a hijab. With her CoverGirl contract, Afia will appear in commercials as well as a giant billboard in New York's Times Square alongside celebrity representatives like Sofia Vergara and Katy Perry. "I feel proud to be part of a movement that is showing the hijab in a positive light for once. The more of us who can wear them as representatives of these big household names on TV or billboards the better," Afia told The New York Times.

Teen poets Kiran Waqar, Balkisa Abdikadir, Hawa Adam and Lena Ginawi comprise the slam poetry quartet, Muslim Girls Making Change, and that's exactly what they do. The teens participated in the international youth poetry festival Brave New Voices, where they presented powerful poems on topics ranging from identity to bigotry."Whenever you hear the word terrorism I don't want the first thing you think about is Islam, because Islam, to me, is a religion of peace," Ginawi told the Associated Press.

Noor Tagouri, a 22-year-old journalist, became the first woman featured in Playboy wearing a hijab in September. Noor took part in the magazine's Renegades issue, a spread devoted to risk-takers and rule-breakers. The journalist "makes a surprising bold case for modesty," Playboy said in its article."I believe in rebellion as a form of honestly," she said during a Tedx Talk in 2015. "To be our most authentic self is to rebellious."

Chicago-based self-defense instructor Zaineb Abdulla responded to the fear many in the Muslim community were feeling after the election by launching a "Hate Crime Survival Seminar" in November. Abdulla hosts the two-hour long self-defense workshops for Muslim women at Deaf Planet Soul, a Chicago non-profit that works with people who are deaf and hard-of-hearing. She also posted two guide videos on how to deflect attackers who try to grab a woman by her hijab -- both of which went viral in a matter of days."Our self defense classes and Hate Crime Survival Seminars are designed to give women the tools they need to stand up and fight back," she told The Huffington Post. "By working to increase self esteem and self confidence in addition to basic self defense knowledge, we are strengthening women in body, mind and spirit."

Islamic fashion has reached mainstream clothing outlets like H&M and Dolce & Gabbana in recent years. But Lisa Vogl, a photographer who converted to Islam in 2011, took it a step further by opening her own modest clothing boutique in a mainstream mall in Florida. Vogl's Verona Collection designs and sells hijabs, dresses, cardigans, and activewear, and celebrated the grand opening of its new shop at Orlando Fashion Square mall in May.